Reading Time:
9
minutes
The level of romanticism in the Himalayas is different, and you can't deny it. Brace yourself if you think you can digest this reality! We have put together the perfect list of the best places to visit in Shimla for a honeymoon.
It is the first place that more than 80% of couples think of when considering romantic getaways near the NCR region. Consider it as your honeymoon location if you want to have a romantic date amidst the snow-capped peaks or quench your desire for lush flora. There are so many places to visit in Shimla.
1. Ice Skating
Shimla's picturesque city is known for its ice skating. Shimla Ice Skating Rink is well-known for being a naturally created rink in the town, as well as the largest and only naturally formed rink in South Asia. It is a popular place to visit in Shimla for couples as it attracts visitors from all around the world, not just locals. The thrill of participating in a sport in the foothills of the Himalayas is unforgettable. Families and friends frequently visit the rink to have some fun and precious time together while creating lovely memories.
2. Trekking
The stunning Himalayan range can enhance your trekking experience and when you're in a beautiful area like Shimla, why not make the most of it? And what better way to get to know a place than by going on a trek? Chadwick Falls, DhanuDevta Temples, Tara Devi Temples, Kamna Devi Temple, and Jakhoo Temple are some of Shimla's most famous short hikes. These short excursions are the best things for couples on their honeymoon in Shimla since they allow them to explore and get a sense of nature. In addition, prominent long trek routes include Shimla to Banjar, Shimla to Chakrata, Shimla to Rohru, and many more.
3. A Toy Train Ride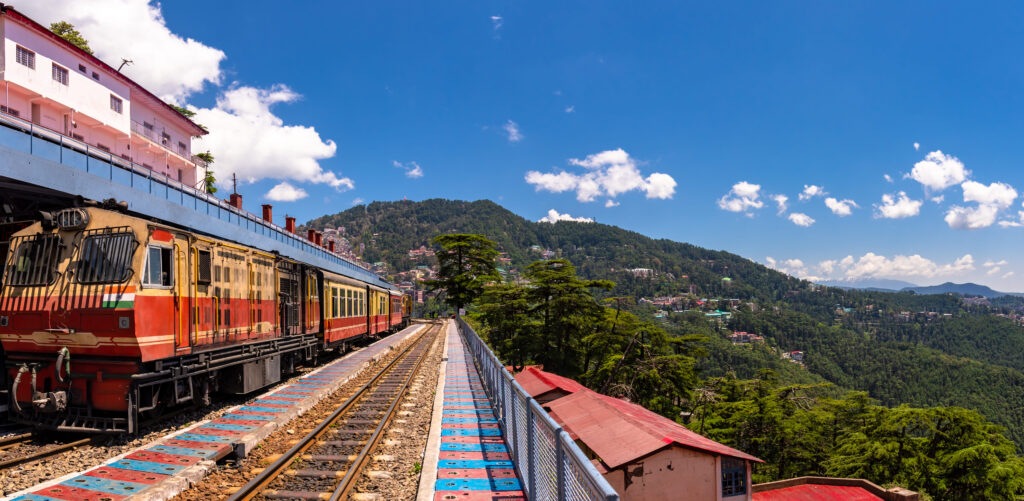 A toy train ride is a must-do experience in Shimla. The breathtaking vistas and nice weather will provide you with an unforgettable experience that no one should miss. The toy train journey is enjoyable for individuals of all ages. The toy railway travels 96 kilometres from Kalka to Shimla. A window seat is suggested since it provides an excellent view of the lovely hills and villages that you will pass through on your route to Shimla. The train travels through various tunnels and provides a fascinating experience that should undoubtedly be included in the Shimla package for couples.
4. Paragliding
Shimla is renowned as the Queen of Hills and is a popular destination for many tourists who want to get close to the hills and appreciate their natural beauty. Shimla paragliding provides an aerial perspective of the hill station, which is why the unique and quirky experience of Shimla paragliding is worth a try anytime you visit. This is one of the best activities for newlyweds to do together. This fascinating adventure will provide you with a birds-eye perspective of the city from 4000 feet above.
5. The Mall Road
Shimla's major roadway, built under British colonial control, is The Mall Road, lying directly below the hill. Most hill stations in India have a mall road as the main feature, but the one in Shimla is the longest, most picturesque, and most lively. Various retail stores, cafés, restaurants, and other booths offering handicrafts, clothing, jewellery, and other products may be found here. This is one of the best places to visit in Shimla for a honeymoon.
5 Places to Stay in Shimla during Your Honeymoon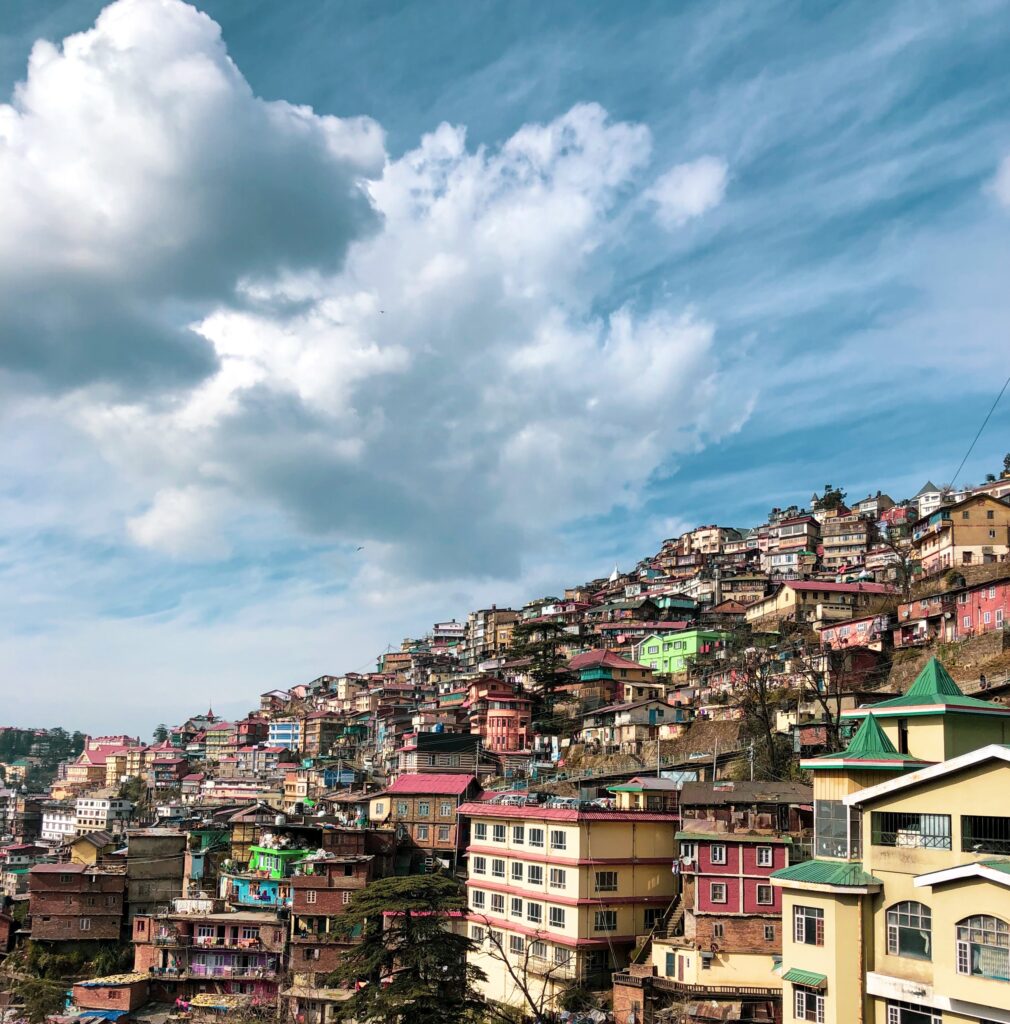 Shimla is home to many romantic places, from adventure activities to some of the best accommodations in India. Shimla is home to stunning vistas from an infinity pool, warm rooms, and the chance to try daring activities together in your Shimla tour package, from charming cottages to opulent resorts. Shimla hotels and resorts can make all of your honeymoon wishes come true.
1. Whispering Pines
For all the couples that stay here for their honeymoon, a weekend at the Whispering Pines may leave you with a sense of tranquilly that can only come from being surrounded by nature. It's a terrific site to take in the breathtaking vistas of wooded hills all around. Outside, the beautiful green grass is ideal for outdoor activities or relaxing around a bonfire. This stay is especially suitable for yoga aficionados. Relax throughout your stay with excellent yoga instruction from a qualified trainer, meditation, sound healing, yogic diet charts, and internal cleaning.
2. Daafi House
Daafi House, located on a hilltop in Theog, gets its name from "daafi," a sitting space near the windows. This lovely establishment has a "daafi" in every room. The property, which comprises three cottages, is flanked by lush deodar trees and apple orchards. These classic, ancient Himachali homes are composed of stone and wood, and every window offers breathtaking views of the valley and deep forests. At Daafi House, you will rediscover nature's long-lost tranquillity making it among the best places in Shimla for a honeymoon.
3. Wildflower Hill
Your honeymoon trip in Shimla is incomplete without a stay at Wildflower Hill. This manor-style, five-star Oberoi resort was previously Lord Kitchener's estate, commander-in-chief of the colonial British Army under the British Raj. It retains an old-world opulence, from its spotless suites with Victoria-era touches to the special chef-catered meals that may be arranged in the beautiful hall or outside the gazebo. The spa has an open-air whirlpool tub with Himalayan views and regular yoga classes.
4. Woodsmoke Resort and Spa
Shimla's Woodsmoke Resort & Spa, located at a height of 6,200 feet, is one of Shimla's greatest resorts. This magnificent house is reached by winding pathways and a trek through dense woodlands. Winters are undoubtedly the best time to visit Shimla's resort where from foggy mornings to bright days, the location of this resort will provide you with all of the world's joys. This Shimla resort offers spa amenities, great restaurants, and a fitness club, making it an ideal spot to stay.
5. Violet Hill
Violet Hill is a great destination for any party seeking elegance and seclusion. When you opt to stay here, you will have not only a villa but the entire hill to yourself. Elegant furnishings, breathtaking vistas, and a plethora of facilities make this the ideal escape. The property's employees can lead you on a wonderful hike around the region, and other activities such as golfing, rafting, and cycling are also available. It wouldn't be surprising if you preferred to spend all of your time at the villa, sipping your morning tea outside, socialising with the group in the huge living area, or resting in the bohemian-style TV room.
Shimla honeymoon packages have the utmost of everything: vistas, weather, attractions, activities, and accommodations. So, don't think too much; just choose your dates, pack all you can, arrange your honeymoon vacation to Shimla, and depart as soon as possible with your sweetheart!