Reading Time:
10
minutes
Hill stations provide relief to travellers from the scorching summer heat that engulf the entire Indian sub-continent during the months of May, June, July, and August. These tourist destinations are perfect for getting away from the hustle and bustle of everyday life. The magnificent Himalayan mountains in the hill stations of north India are perfect for honeymooners, solo travellers, and families alike. This is because there is an undeniable charm in the hilly simplicity of these places that is simply beyond comparison.
Every hill station in Indiasituated in the north has a distinct characteristic that makes it ideal for a vacation. While some happen to be inhabited by a large number of people from varied demographic backgrounds, there are a few hill stations in north India that still have tribes living in a compact universe of their own. From mouth-watering delicacies to awe-inspiring handicrafts, these hill stations make the most happening tourist destinations in the country. All year round, you will travellers flocking to the states of Himachal Pradesh, Uttarakhand, and Jammu & Kashmir where the top hill stations in north India are located. If you are planning to relax and unwind on your next vacation, then take a look at the 10 best hill stations in north India mentioned below:
1. Shimla 
It is almost impossible to talk about hill stations in north India and not discuss Shimla! Set in the heart of Himachal Pradesh, this is one of the most-visited tourist destinations in the state since Independence. Every family has a story about their last trip to Shimla, so yes, it is very popular among tourists. A walk along the Mall Road with a vanilla softy in your hand is an experience that you need to have, as soon as possible. Another place to visit in this hill station is Jakhoo Hill and Temple where you will come across hundreds of monkeys! Make sure to keep your mobile phones and other valuables in a bag before stepping inside this holy place.
2. Mussoorie 
Next up is Mussoorie, a hill station that has made Uttarakhand one of the primary tourist attractions in the country. In the 1990s, travellers who wanted to vacation in a hill station either visited Shimla or Mussoorie because tourism in both these places was well-established. All other hill stations in north India were "hidden" away for most people. Mussoorie still remains to be a favourite because of its iconic tourist spots such as Kempty Falls, Lal Tibba, Company Garden, and of course, the Mall Road. Experiencing snowfall in this hill station during the winters is something that will stay with you for a long time! Travellers who would like to book a north India tour package must consider including Mussorie in their itinerary.
3. Manali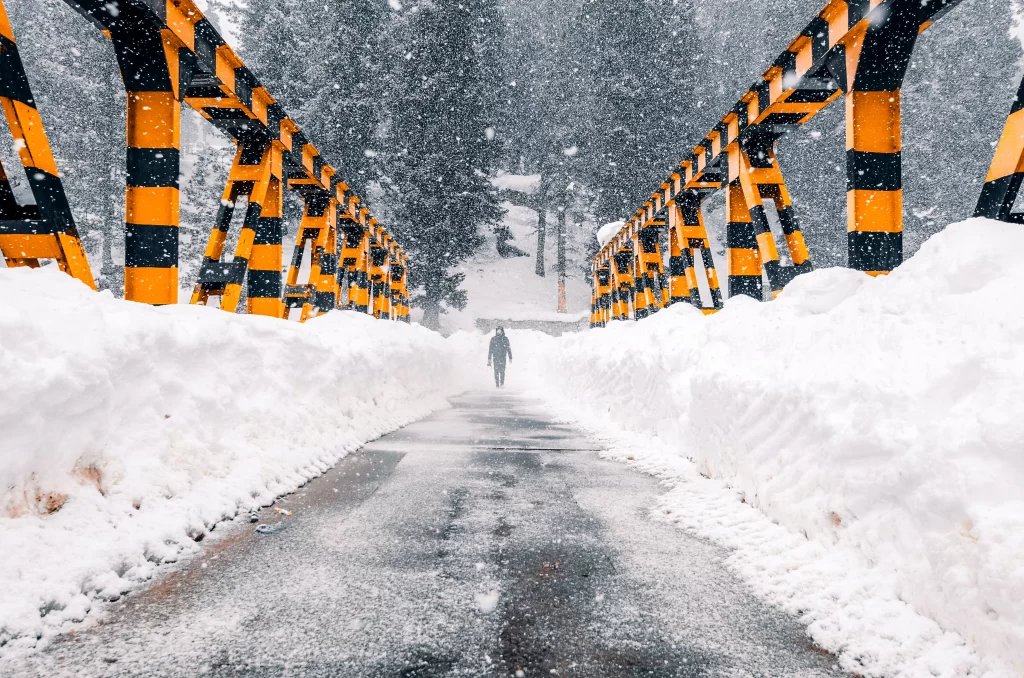 A lot of people feel that Manali falls in the category of offbeat hill stations in north India simply because of its distance from cities like Delhi, Jaipur, and other metropolitan areas. When you look for "places to visit north India", the most exciting ones are situated in and around this hill station. Whether it is taking a drive to Rohtang Pass or paying your respects at the Hadimba Temple, Manali and its sibling hill station, Kullu are perfect for a vacation with your friends and family. You can even include Kasol in your itinerary and trek on various trails near this hamlet.
4. Dharamshala
When it comes to unique travel destinations in north India, Dharamshala is one place that has to top the charts. Home to the 14th Dalai Lama, ​​Gyalwa Rinpoche, this hill station has also come to the rescue of the Tibetan government-in-exile. You can hike along the Triund trek, participate in paragliding, and shop for Tibetan souvenirs at the Mcleodganj market area. The locals are very friendly and eager to make your try their traditional food items such as momos, shaphalay, laphing, and so many more! You will be able to find budget-friendly family and honeymoon tour packages in Dharamshala during the summer months, so make sure to book one in advance.
5. Rishikesh 
Rishikesh is one of the best hill stations to visit in august in north India because it is among the few places in the country where the monsoon is fairly manageable. The only thing that you need to be careful of is water sports such as river rafting, paragliding, etc., are not operational during this month. The coolest place to visit in Rishikesh is the Beatles Ashram where you will graffiti made by artists from all over the world. You can explore the area around Laksham Jhula during the day and pay your respects at the Ganga Aarti in the evening as well.
6. Lansdowne
People who are looking for offbeat hill stations in north India can have a gala time in Lansdowne as it is a treasure trove of unique experiences. It used to be a military garrison during the British Raj, so the old-world charm can be felt in a lot of places here. A boat ride with your loved ones at the Bhulla Lake will make you fall in love with Lansdowne for sure! Along with this, the months between October and March are ideal for exploring the Kalagarh Tiger Reserve, the northern part of the Jim Corbett National Park.
7. Nainital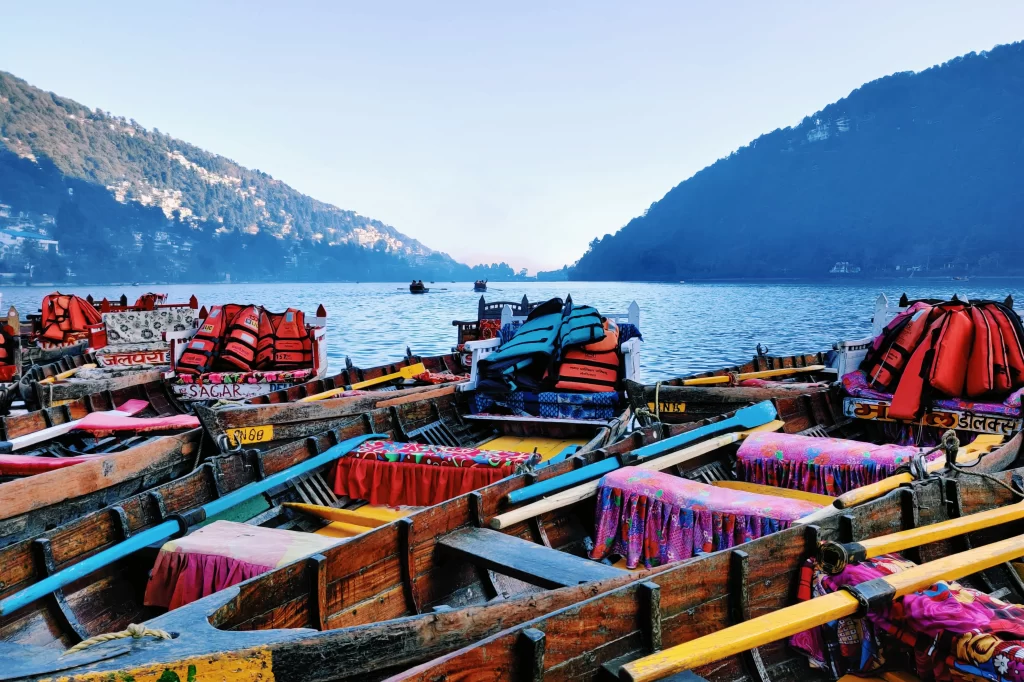 Named after the serene Naini Lake, this hill station in Uttarakhand is a perfect holiday destination for families and large groups of friends. There is a reason why it is among the best hill stations in north India. You can spend a weekend or an entire week in Nainital and still have a lot of activities to do. Our recommendation would be to gorge on some masala bhuttas from a local vendor at mall road because they are simply delectable! You can explore the Tibetan Market, Nainital Zoo, and Pangot and Kilbury Bird Sanctuary in a single day if you are truly up for making the most of your trip.
8. Mukteshwar 
In the quest to find the most beautiful hill stations in north India, you need to learn more about Mukteshwar and we are ready to help! Part of the Nainital district, this is a quaint village where time stops for all. You can spend days amidst the clouds and not care about a single thing in the world! There are a number of north India tour package deals that include Mukteshwar, so it is best to choose one with a comprehensive itinerary that includes places like Bhalu Gaad Waterfalls, Mukteshwar Temple, and Mukteshwar Inspection Bungalow.
9. Auli
A paradise for skiing enthusiasts, Auli is a delightful hill station to visit during the winter season. You will find a lot of trustworthy adventure sports companies with trainers who will help you learn skiing. Besides this, you can visit Auli Artificial Lake which happens to be the highest man-made lake in the world. Nanda Devi National Park, a UNESCO World Heritage Site is located very close to Auli, so you can spend a day exploring the flora and fauna of Uttarakhand near the Nandi Devi peak.
10. Gulmarg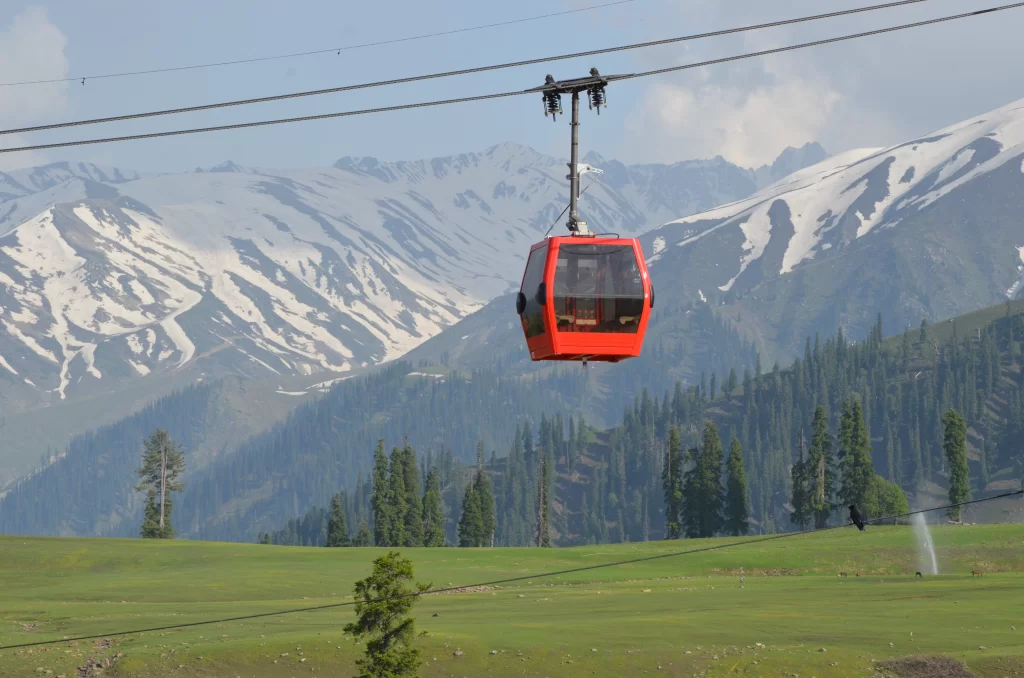 Although there are several hill stations in Jammu & Kashmir, Gulmarg has our heart! This is simply due to untethered beauty that has remained the same for centuries. Romantic holiday packages and family vacations in this hill station are best enjoyed in the months of December, January, and February. A true Kashmiri holiday should include skiing at Apharwat Peak and taking a ride on the Gondola (the second-highest cable car in the world!). You can buy traditional handicrafts from the local market and help Kashmiri artisans promote their artform. Do not forget to devour authentic dishes such as haleem, goshtaba, rista, haak, and Kashmiri dum aloo on your next vacation to Gulmarg.
Now that you know everything about the most popular hill stations in north India, it is time to book a holiday package. Stop procrastinating and plan your hill-station vacation!