Reading Time:
8
minutes
Just as Americans, South Indians are head over heels in love with their coffee. Coffee was introduced to India, particularly to the hills of Chikmagalur in Karnataka, back in 1670, thanks to an Indian Sufi saint Baba Budan, who carried the coffee beans along with him from Yemen. Since then coffee plantations have become established in the region, extending south to Coorg. Nature has blessed the four South Indian states with that perfect climate and soil that nurture the growth of the world's favourite beans. Indian coffee, grown mostly in southern India under monsoon rainfall conditions, is also termed as 'Indian monsooned coffee'. It's said that the best Indian coffee reaches the flavour characteristics of Pacific coffees. The two well-known coffee species grown are – 'Arabica' and 'Robusta'.
Coffee production in India is dominated in the hill tracts of South Indian states, with the state of Karnataka accounting 53% followed by Kerala 28% and Tamil Nadu 11% of the production of 8,200 tonnes. Almost 80% of the country's coffee production is exported. Of that which is exported, 70% is bound for Germany, Russian Federation, Spain, Belgium, Slovenia, United States, Japan, Greece, Netherlands and France, and Italy account for 29% of the exports. Did you know, Indian coffee is said to be the finest coffee grown in the shade rather than direct sunlight anywhere in the world?!
The many unique accommodation facilities and luxury resorts that have come up in the region over the years have only added to the merriment of the brew. This International Coffee Day, let's walk the 'Kappi' trail in India and find out some milestone gems that one encounters on the way. The highlights of each of these resorts are as irresistible as that cup of steaming hot and refreshing coffee itself.
1. Coorg, Karnataka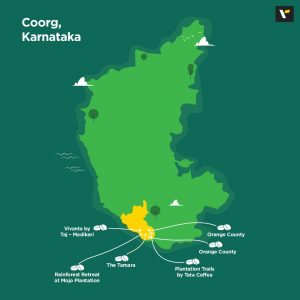 1.1 The Tamara

Brew your own cuppa
Pluck the berries in season, before pulping, blending and roasting the beans to make your own blend to take home
Take the guided tour of the 180-acre coffee, pepper and cardamom estate
Wind down with a coffee-bean spa therapy
1.2 Plantation Trails by Tata Coffee
Tee off at a 9-hole golf course amid hills and coffee plantations
Go birding in the plantations, where you can also pick coffee in the season (Apr-Nov- for Arabica; Dec-Mar for Robusta)
1.3 Vivanta by Taj – Madikeri
Check-in for a strong, steaming cuppa over jungle views
Follow your nose to the coffee-tasting experience
Trek through surrounding coffee and spice plantations
1.4 Orange County
Learning to tell Arabica apart from Robusta is a skill you could pick up on the plantation tour at Orange County
Lose track of time at the coffee lounge overlooking paddy fields
1.5 Rainforest Retreat at Mojo Plantation

Among Rainforest Retreat's many charms is their own version of Kopi Luwak or Civet Coffee
A tour of the coffee plantation is a great introduction to organic cultivation
1.6 Old Kent Estates

Experience a day in the life of a coffee planter in one of the country's earlier estates
At 200-acre colonial-era property, coffee, cardamom and pepper plants grow in the shade of centuries-old rosewood and silver oak
Finish your meals with estate's speciality coffee, otherwise exported to an Italian roaster
2. Chikmagalur, Karnataka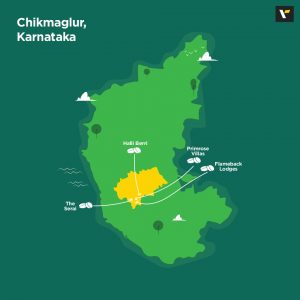 2.1 The Serai
It is the luxurious source of Café Coffee Day and is owned by this bean company
Explore by bicycle or on a coffee plantation tour, and unwind with a coffee scrub and massage at the spa
2.2 Primrose Villas  
Linger over coffee after dining under the stars or at an in-villa barbecue
Indulge in coffee estate walks, treks through the hills, and a visit to Primrose Farm
2.3 Flameback Lodges
Pet owners can get their caffeine kicks at this place, which welcomes animal guests and is home to friendly German shepherds
Trek through the coffee estate, go birding or drive an ATV to the nearby hills and waterfalls
2.4 Halli Berri
It's Rainforest Alliance Certified for its sustainable farming
An all women-owned concern, Halli Berri has been growing coffee in Karnataka's Baba Budan range since 1948
Go on a coffee estate walk, and keep an eye out for birds
Passing through Chikmaglur? Make a pit stop here for brews with views at the charming Coffee Barn Café
3. Wayanad, Kerala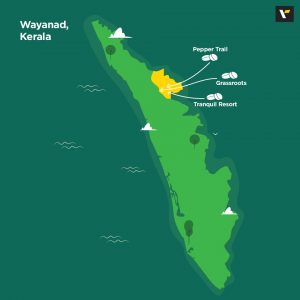 3.1 Pepper Trail
Explore the 200-acre coffee, tea and spice plantation on a canoe, coracle, bicycle or jeep
Choose to fall asleep in the restored 140-year-old colonial bungalow, or perched 40 ft. up in a treehouse, where you can awake to sweet birdcall and a strong cuppa
3.2 Grassroots
Five Swiss luxury tents set in a three-acre coffee, areca nut and pepper plantation, overlook misty tea gardens are mountains.
Take a four-wheel-drive through the rainforest, picnic on a hilltop, and visit the 300-year-old plantation home where Mahatma Gandhi also stopped by
3.3 Tranquil Resort
Go on a guided tour of the 400-acre coffee and spice plantation
Choose from cottages, rooms and treehouses to stay in and keep an eye out for the Malabar hornbill on the 13 walking trails that wind through the estate
4. Palani Hills, Tamil Nadu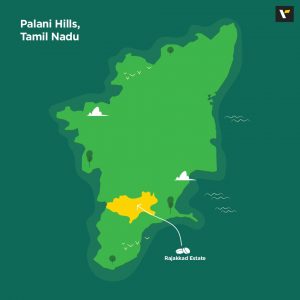 4.1 Rajakkad Estate:
Indulge in a dash of history with your morning cuppa
Get a guided tour of the coffee and spice estate and farm, trek to nearby ridges, or doze over a book in a hammock.
5. Araku Valley, Visakhapatnam, Andhra Pradesh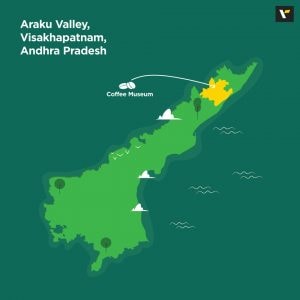 5.1 Coffee Museum

One of its kind coffee museum in India
Manned by educated tribal staff, the museum showcases a series of pictures detailing the origin and history of coffee
60 varieties of coffees and an array of 600 coffee-chocolates are marketed here
Satiate your hunger and appease your craving by indulging in chocolates, sandwiches, brownies, mousses, tarts, etc. and savour stimulating coffees
It's high time we washed away all our blues with a kick of caffeine and that too, in the land where the brew grows. Whenever you plan your getaway, with so many options to choose from, you'll surely be spoilt for choice. And on your coffee getaway find yourself fortunate and remember the golden words, 'It's amazing how the world begins to change through the eyes of a cup of coffee.'