Reading Time:
7
minutes
Nothing can be as soothing as the calm evenings of Hussain Sagar; you wouldn't find such a ritzy legacy as Niẓām ul-Mulk anywhere else, and no other place can offer you such range of delectable delicacies as your very own Sheher-e-Hyderabad.
Prominently sitting in the southern part of Telangana in south-eastern India, Hyderabad is the capital and largest city of the Indian state. Hyderabad is the fourth-most populous Indian city with a population of 6.9 million citizens. Established in 1591 by Muhammad Quli Qutb Shah, Hyderabad is also known as the City of Pearls owing to its supply of the finest pearls all around India.
Hyderabad is also quite popular amongst tourists and travellers alike, for it is home to some of the most notable monuments. And when we are talking about monuments, how can we miss out on the most exemplary, Hyderabad ka Charminar. There are many places to visit in Hyderabad but Charminar is more than just a tourist destination. Surrounded by local markets and several other tourist attractions, Charminar of Hyderabad can be an enriching experience for travellers.
Let's explore more about Charminar, the iconic monument and what all makes Charminar of Hyderabad so famous.
About Hyderabad ka Charminar
Constructed in 1591, Charminar is both a monument and mosque. Perched on the east bank of the Musi river, Charminar in Hyderabad represents the city and is officially affiliated as the Emblem of Telangana. Apart from being a famous tourist spot, Charminar holds significant importance with a rich history. Charminar was built by the fifth ruler of the Qutb Shahi dynasty, Muhammad Quli Qutb Shah.
The history behind Charminar's construction is as interesting as the Charminar itself. There's not one but multiple theories. One of the theories about Charminar is that it was built to celebrate the eradication of the plague during that time. While according to a French traveller, Jean de Thévenot, the Charminar was constructed by Qutb Shah who also founded the city of Hyderabad to commemorate the commencement of the second Islamic millennium year in the year 1591 CE. For people who take an interest in history, Charminar can be a rewarding experience and with a Hyderabad tour package, they can explore this monument and more.
An Architectural Marvel
The architecture of Charminar is another stunning element. With a mosque at the western end of the top floor which is an open roof, The Charminar masjid is a square structure. There is also a Vazu, right in the centre with a small water fountain for Wudu, which means ablution before the prayer.
Made of granite, mortar, limestone, pulverised marble, each corner of Charminar has a grand arch, facing the street in front of it. Also, there is a finely designed minaret with a double balcony. These minarets are built into the main structure and this entire style of architecture is why Charminar is also called The Arc de Triomphe of the East.
Attractions To Explore Here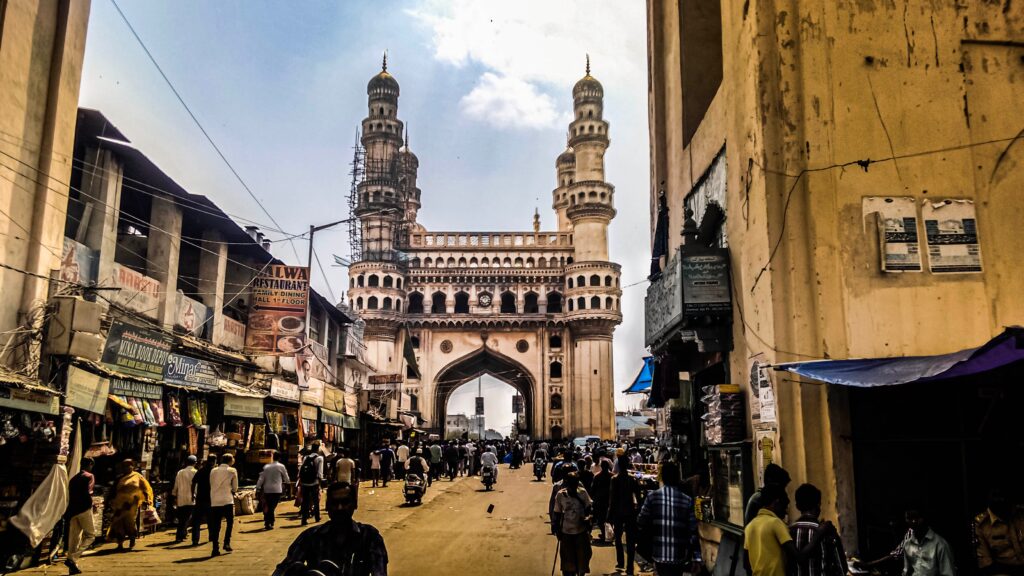 Makkah Masjid
Charminar overlooks Makkah Masjid. The bricks used in the construction of the central arch of Makkah Masjid were made from the soil brought from Mecca, the most sacred site of Islam. And that is how Makkah Masjid got its name. Makkah Masjid happens to be one of the largest mosques in India. Tourists visiting Charminar in Hyderabad should definitely witness the grandeur of Makkah Masjid. Anyone on a Hyderabad sightseeing tour must not miss Makkah Masjid as this place is counted amongst the finest specimens of architecture.
Laad Bazaar
Whether you like shopping or not, Laad Bazaar near Charminar, Hyderabad, is something that you must not skip on. Also known as Choodi Bazaar, Laad Bazaar is a very old market, popular for its wide variety of traditional dresses, bangles, pearl jewellery, etc. on offer. Laad Bazaar is very close to Charminar and hence, becomes a must-visit place for people visiting Charminar.
Begum Bazaar
The biggest commercial market in Hyderabad, India, Begum Bazaar is within walking distance from Charminar. Begum Bazaar is the perfect place if you wish to experience that old world charm. With old shops selling brassware to copperware to spices to handicrafts, Begum Bazaar is a shopaholic's haven. If you are visiting Charminar in Hyderabad, you must not miss out on Begum Bazaar.
Char Kaman
Char Kaman means four gates in a literal sense are four arches located to the north of Charminar. The names of these arches are Kali Kaman, Seher-E-Batil Ki Kama, Machli Kaman, and Charminar Kaman. Built in 1592, Char Kaman is another interesting place in Hyderabad, near Charminar.
Charminar Timings
Before visiting this priceless heritage in Hyderabad, it is better to confirm the timings beforehand. Although the Charminar is open on seven days, from 9:30 am TO 5:30 PM, it would be wise to visit the monument during weekdays as there would be less crowd as compared to the weekends. So, the perfect timing to visit Charminar would be Monday to Friday in the early hours.
Charminar Entry Fee
The ticket price for Charminar for Indian visitors is INR 5 per person and for foreign nationals, it is 100 per person.
How to Reach Charminar
Charminar is one of the most popular monuments in Hyderabad and thus, it is easily reachable. Located in Char Kaman in the Ghansi Bazaar, you can reach Char Minar by auto-rickshaws and taxis.
Along with Charminar, many other places in the city are perfect for all kinds of travellers. As a matter of fact, newlyweds often book a Hyderabad honeymoon package to explore the city with their significant others and then, some families tour the city with their near and dear ones. It is a place for everyone.
Hyderabad is a wonderful destination for travellers. There are hill stations near Hyderabad, there's a myriad of finely built monuments, the food is good, the weather is even better, and the city welcomes its guests with open arms. And no other place is better to begin the excursion than Hyderabad ka Charminar.