Reading Time:
9
minutes
Las Vegas is a magical city sparkling with resorts, fine dining restaurants, and world-famous casinos. There is a huge influx of tourists in this city of meadows to try their luck at gambling. These luxurious casinos have everything that lures tens of thousands of people every day for a thrilling night. People from all around the world come to Las Vegas to experience the glittery life of these casinos, where there is a generous variety of options for gambling. Other than this, these casinos have marvellous restaurants, dazzling shows, and other attractions to keep you entertained.
If you are an ace player of gambling games or want to try a game or two, visit the ginormous gambling rooms of casinos in Las Vegas. Let's have a look at the Las Vegas casino list that has some of the most famous property names in the world.
Wynn Las Vegas Casino
Wynn is one of the biggest casinos in Vegas, spread across 110,00 square feet of area. This casino has traditional and contemporary table games where you can have a good time playing blackjack, roulette, and many other gambling games. Whether you are a seasoned player or a newbie, you will be drawn to the high-spirited energy of this place. The majority of first-timers come here to try their luck at the enticing gambling games. rather interesting to know that this gambling venue is featured in numerous best casino hotel lists in Vegas.
Wynn Casino is equipped with table games, poker, slot machines, and a huge poker room. The interior of this casino has a royal look with a high-end 27-table poker room. Besides this, the casino features a sportsbook and a lounge area where you can watch sports on a big screen and enjoy sports betting. It's also important to know that Wynn Casino is a little pricy due to its class and popularity. However, if you want to have a good time in Vegas, this one will be your best bet—no pun intended!
The Venetian and Palazzo Casinos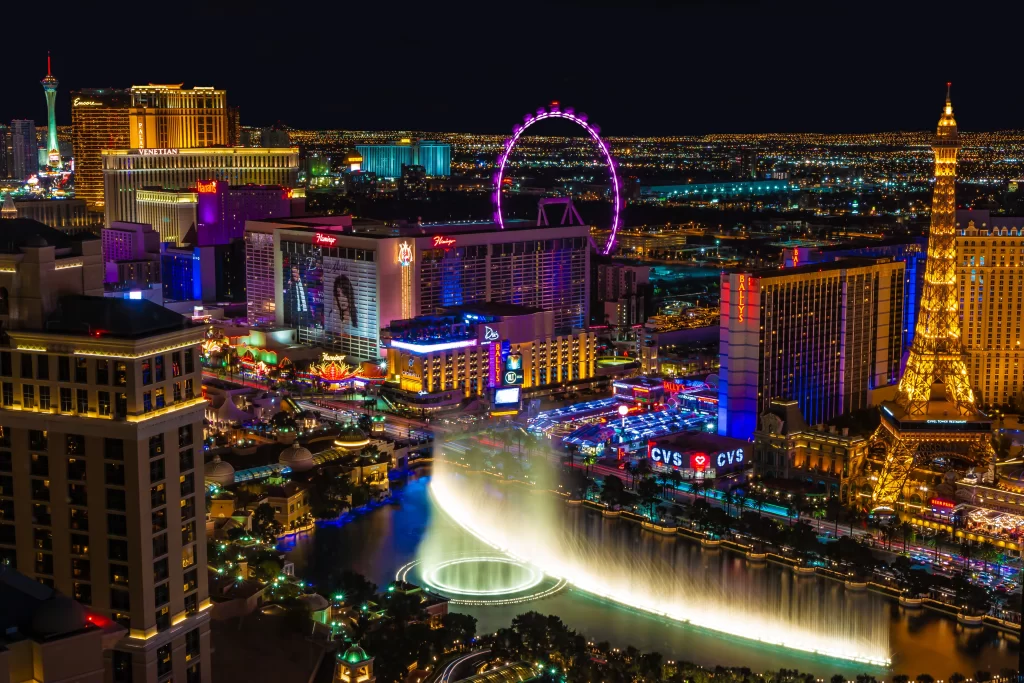 These casinos are considered one of the top casinos in Vegas, with an Italian-inspired interior. The Venetian and Palazzo have the most extensive variety of gaming slots and video poker machines. These neighbouring casinos have a combined gambling area of around 225,000 square feet. The Venetian and Palazzo casinos are the best casinos in Vegas for new players as they provide educational classes on specific games during the weekends.
The Palazzo is an interesting place to visit in Las Vegas as it has many other things to offer you, such as a relaxing spa session, fitness classes, lip-smacking cuisine at the restaurant, and many more. Other than this, this casino is home to the most famous poker tournament in the world. This is the right place for you if you want a well-balanced trip with equal weightage on relaxation and thrilling experiences.
Luxor Hotel & Casino
Las Vegas is home to numerous theme-based casinos that have their own charm. Luxor Casino is located within the premises of a giant 30-storey building. The interior of the casino is as fascinating as the games. This Egyptian-style casino is spread across an area of 120,000 square feet. You can find traditional and contemporary video machines in the gambling area. This is one of those casinos in Las Vegas where you get free cocktail service during the entire game time. The Luxor Hotel and Casino is regarded as one of Las Vegas' best casino hotels. This place has a spacious lounge area as well for the non-gambling players. You can also have a good time in a private cocktail session.
The Cosmopolitan Casino
Cosmopolitan Casino is the best place to go if you booked your Las Vegas tour package with good food and a good time in mind. This gambling venue is a big hit in Vegas as it is a perfect place for socializing and gambling at the same time. With a floor area of around 110,000 square feet, Cosmo features a wide array of table games, video poker, slots, and much more. You can also enjoy some tasty food, from tapas to burgers. It is always a good idea to take a little binge break between gaming sessions.
This casino has a very different vibe than any other casino in Las Vegas. It is more of a popular hangout place among tourists and the local crowd who enjoy betting, eating, and having a good time.
Red Rock Casino Resort and Spa
Red Rock Casino is located on the Las Vegas valley's spring mountain, which makes it the first billion-dollar project built outside the strip. This casino is famous for slots and electric table games. This casino has a poker room with 20 tables and a separate lounge with 16 seats. Come here to enjoy a long drive down the mountain, watch the starry sky, and play the game of your choice once you reach this venue. It is not your typical Las Vegas sightseeing but rather a more relaxed way to explore the city.
Red Rock Casino Resort and Spa has a host of facilities at the venue. Turn on your vacation mode by watching a movie in the movie theatre or rejuvenating at the famous spa. You can also enjoy bowling, playing games, and eating your favourite cuisine at the restaurant.
Aria Resort Casino
Aria Resort Casino is counted amongst the best casinos in Vegas for gaming. It is the most spacious gaming venue, with a floor area of around 150,000 square feet dedicated solely to gaming. Aria Resort Casino has 2000 slots and 151 table games. If you are someone who wants to experience the extravaganza Vegas gaming life, visit this casino to get an idea of it. This property has over 4,000 beautifully designed rooms that allow you to stay at the hotel and enjoy the nightlife in the casino. If you are wondering about the array of table games available to you, Craps, Let it Ride, Baccarat, and Blackjack are some of the games that you may find interesting.
This property is highly rated by the visitors for its gaming experience, food quality and room service. Make sure to include a stay at this property in your USA tour package.
The Mirage Casino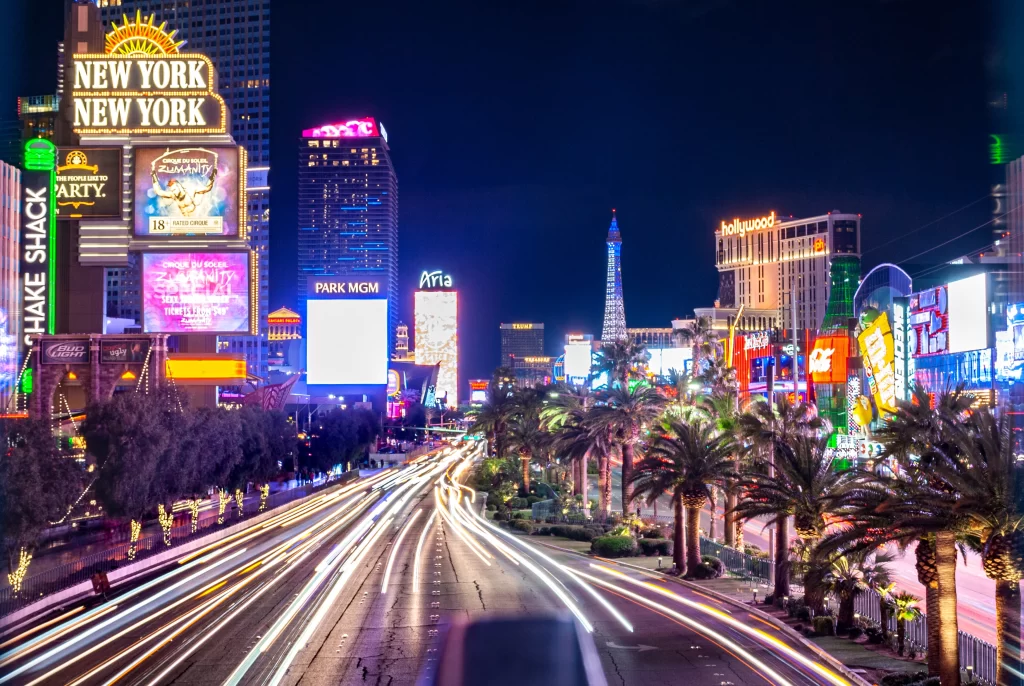 The Mirage Casino has a picturesque setting, a shining interior, and a classic form of entertainment. It is spread across a 100,000 square foot area dedicated to the gaming space. Decked up with a series of casino games like craps and roulette, this place has it all. If you are not a very keen casino player, you can always dabble in sports at the sportsbook. This place hosts a few gaming tournaments and cash games.
Mirage Casino has a tropical vibe and is a place you can visit to have a good time and have a bit of fun.
If you are looking for the most exciting city in the USA, then look no further than Vegas. You will have the best time of your life, exploring the glitz and glamour of the streets, energetic nightlife and much-talked-about casinos. Plan your trip to explore this city, famously known as "Sin City." You can visit any of these casinos in Las Vegas to have an exciting time and play different games.