Reading Time:
8
minutes
If you want to visit a far-flung destination to awaken your inner water baby, America is the best place to fulfil this dream. Innumerable beaches, majestic sea views, and top-level amenities make it one of the most desirable destinations for a beach vacation.
If you are curating your American tour package specifically for a beach vacation, you must know about the beautiful beaches in the USA that are a must-visit:
1. Coronado Beach, San Diego, California
This beach is a dream for beach lovers. If you are looking for famous beaches in America that do not feel too crowded, Coronado Beach will be perfect for you. This beach is located in San Diego, California, which is also known as the "Crown City".
The long coastline and ocean resemble a canvas painting of nature with turquoise blue dominance. Many tourists are attracted to this well-kept, pristine beach with easy access to restaurants, local stores, and other neighbouring attractions. You can easily spend the day here, shopping from nearby places, flocking around the coastline and trying some fun water activities.
Popular activities: Skim boarding, surfing, swimming, and fishing
2. Ocean City Beach, Maryland
Next on the list is Ocean City beach, located in Maryland. This is amongst the cleanest beaches in America. You can feel the freshness in the air and have a relaxing time away from the hustle and bustle of city life.
Many local families love to spend their time at this quiet and beautiful beach. The clean beachfront, clear waters and fresh breeze make it one of the best beaches in the USA to visit with friends and families. If you are on a solo vacation, you can unwind on the seaboard or enjoy some water sports at Ocean City beach.
Popular Activities: Kayaking, jet skiing, tram ride
3. Cape May Beach, New Jersey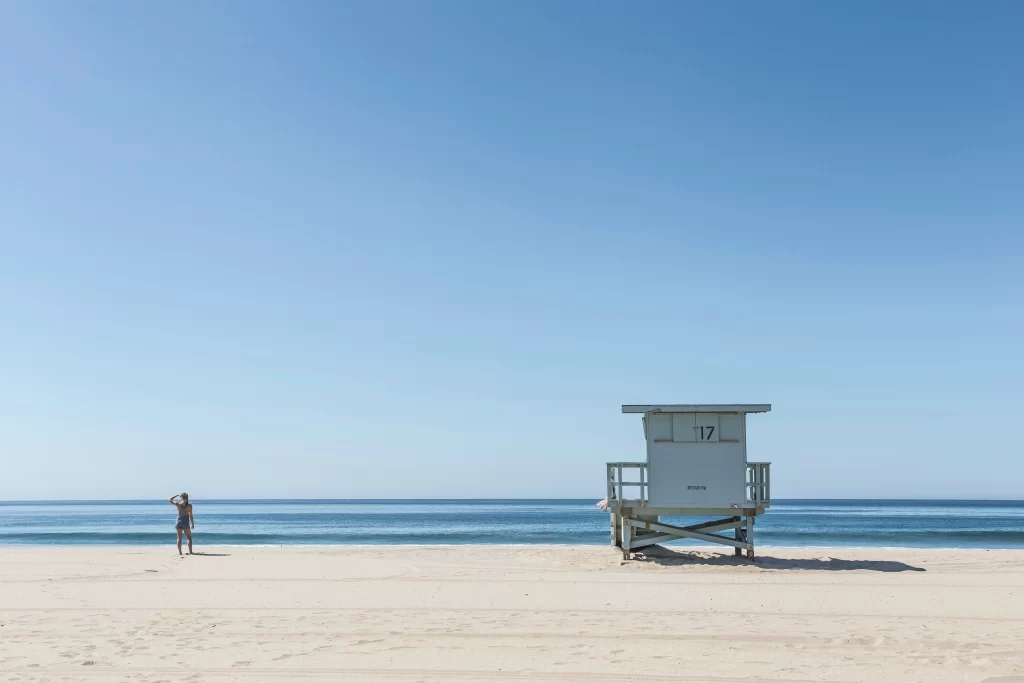 Cape May Beach, located in New Jersey, houses many bars and restaurants. It's counted among the vibrant beaches in the USA. This stunning, coarse-sand beach is ideal for catching some sun rays and enjoying a walk around the beach. One of the fascinating things about Cape May Beach is that it has an interesting game room that lures in a lot of travellers.
You can occasionally spot dolphins along the magnificent coastline, which enhances the overall experience of a beach vacation. If you are an adventure lover and want to enjoy some water-based activities, then surfing and skimboarding are some of the activities available at Cape May beach. You must include a visit to this beach in your USA tour package for an ecstatic experience.
Popular Activities: Dolphin watching, Kayaking, Skimboarding and surfing
4. Clearwater Beach, Florida
Clearwater is one of the most popular American seaside resorts. It is a favourite among families and groups of friends due to the revitalising experience. The laid-back vibe and adequate space around the seashore attract countless visitors all year round. Shallow water with gentle waves touching the seashore is perfect for a picnic at the beach.
There are numerous water sports on the beachside. You can try them to feel an adrenaline rush. The soft white sand is ideal for a cycle ride as well. Many people visit this beach just to participate in these fun sports and have a good time.
Popular Activities: Volleyball, Cycling, Paddle Boarding
5. Ka'anapali Beach, Lahaina, Hawaii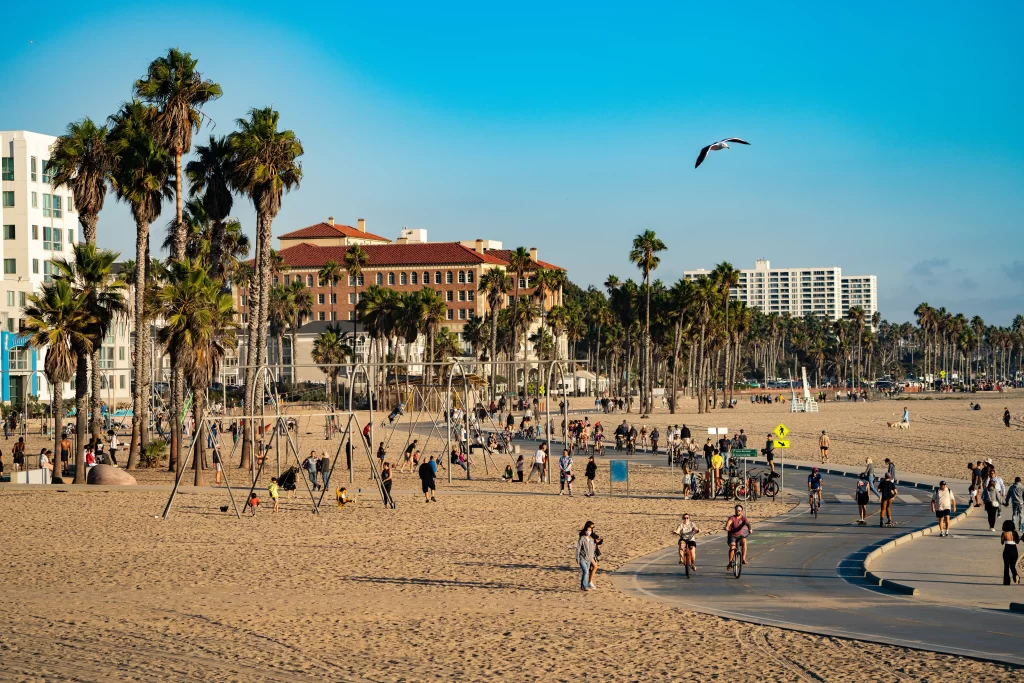 You will fall in love with this beach located in the heart of Hawaii. Tourists love to visit this beach to get a suntan and enjoy a quiet time lying on the soft white sand. The cool ocean waves and beautiful surroundings magnify the beauty of nature and set a relaxing tone for the day. It is one of the best places to visit in the USA  for beach lovers.
Ka'anapali Beach is a well-connected beach with many restaurants and hotels in close proximity. Many local travellers love to spend their time at this beach to revive their minds and bodies at the weekend. You can enjoy some authentic cuisine at the restaurants or a nice drink at the bar at the end of the day. Shopping lovers can spend their time at Whalers Village, located near this beach, to buy some beachwear and accessories.
Popular Activities: Ziplining, Snorkelling, Whale watching
6. South Beach, Miami
 One cannot make a list of American beach names without mentioning South Beach. This beach is most famous for its night party scenes and energetic vibe with a lot of glamour and glitz. If you want to enjoy with your friends a beach night party, South Beach is the perfect spot for you. You can see young people having the best time of their lives in the pubs and bars located at this beach.
This beach is not only counted as one of the most famous beaches in the USA but also among the world's most famous beaches.
Popular Activities: Five-star dining experience, Walk on the Ocean Drive and shopping at luxury boutiques
7. Lanikai Beach, Hawaii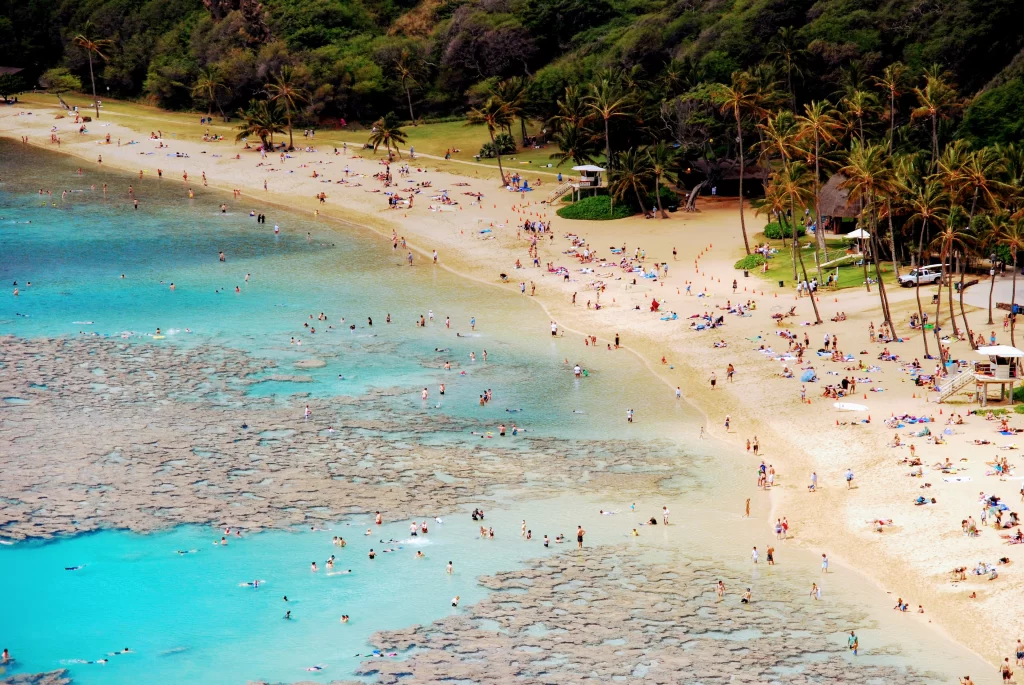 Lanikai Beach is a very prominent name among the top beaches in America. This beach has crystal clear aqua blue water, offering excellent swimming conditions. Counted as one of the hottest beaches in the USA, Lanikai Beach is located in the beach town of Kailua on Oahu's windward side.
This beach has something for everyone, from fun-filled water sports to the perfect lounging space. You can also visit bird sanctuaries located on small islands near this beach.
If you are going to this beach, you should know that parking is limited, so you might have to look for an alternative parking space.
Popular Activities: Snorkelling, Swimming
8. Orange Beach, Alabama
Orange Beach, located in the Gulf of Mexico, has a long stretch of beachfront with powdery white sand. This beach is open to visitors from three entry points: Cotton Bayou, Romar Beach, and Alabama Point East. You can also stay in the hotel located on the beachside with private access to the beach. If you love to build sandcastles and stroll on the long stretch of soft sand, Orange Beach is the right spot for you. Enjoy a phenomenal sunset view and dine at the restaurant overlooking the magnificent ocean. The perfect orange sky at sunset makes it one of the best beaches in America for a stunning sunset view.
Popular Activities: Parasailing, Deep-sea Fishing and Diving
There are a lot of things to do in America that you can explore on your vacation. There are many iconic beaches in the USA where you can rejuvenate and relax before heading back to your normal city life. Make sure to plan your trip to get the most out of your beach vacation.