Reading Time:
9
minutes
Travelling is universal! It can be done by anyone, anytime, anywhere. Travelling for the sake of vacation or holiday does not require any specific reason except the need to travel, explore and discover new places. The purpose could be relaxation, vacation, rejuvenation, new experiences, adventure activities or simply a break from your routine life; travelling has been and will always be the perfect escape from the mundane!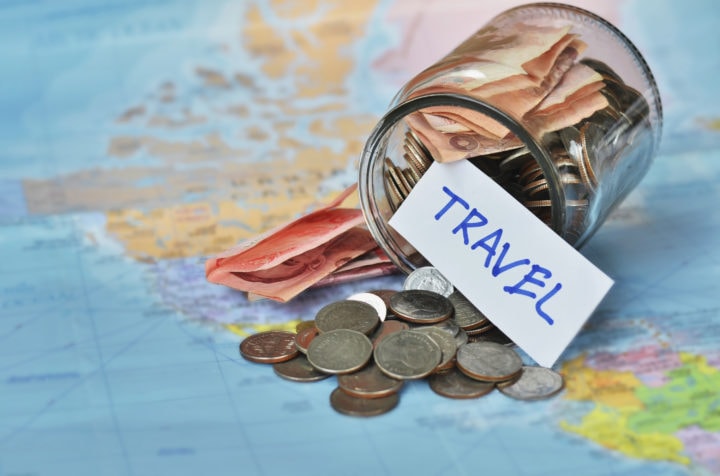 Sometimes, it so happens that you are all set to plan a trip, the perfect long weekend is around the corner, your friends and family (for once) have not backed out from the plan, you even have the permission from your boss but you just do not have sufficient budget to travel to your desired destination, at that time. In such cases, would you really cancel the whole trip just because it does not fit in your budget? How about trying some budget-friendly options instead? A travel buff would most definitely search for alternate destinations that would fit his/her budget and would not let this perfectly aligned holiday go to waste! So, why not explore some affordable options around the country and take advantage of budget holiday packages in India? Your desired holiday or your ideal summer vacation on a budget is very much possible if you just alter your destination instead of cancelling the whole travel plan!
So, here are a few budget travel destinations in India you can cover under a budget of approximately INR 25000 (give or take a few thousand) with your trusted travel companion, Veena World. We present to you 6 budget-friendly options for a travel duration of around 3-4 days in our very own 'Incredible India':
1.) Hampi Badami Bijapur
Journey across Karnataka & explore the heritage towns of Hampi, Badami and Bijapur that feature the rustic yet magnificent ruins of ancient civilizations. Witness the iconic remains of the Vijayanagara Empire at Hampi, which have been declared as UNESCO world heritage sites owing to their austere yet grandiose appeal. Also, get the opportunity to explore the rock-cut structural temples of Badami and two of the most famous monuments in Bijapur – Gol Gumbaz, the largest dome ever built in India and Ibrahim Rauza Tomb, known as the 'Taj Mahal of Deccan'.  All these marvellous destinations combine together to give you one of the most budget holiday packages in India.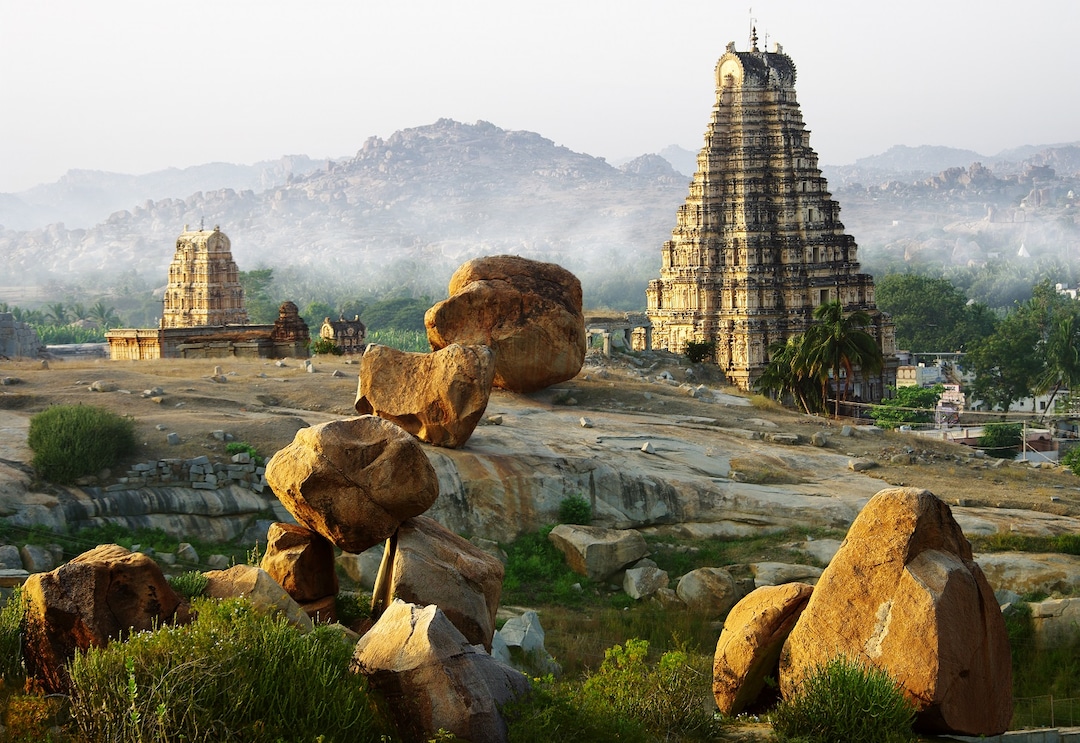 Tour Duration: 3 Nights, 4 Days (1 Night Hampi/Hosapete, 1 Night Badami, 1 Night Bijapur)
Do Not Miss: Virupaksha Temple, Vijaya Vitthala Temple, Lotus Mahal, Elephant Stables, Badami Caves Temple, Ruins of Aihole & Pattadakal, Gol Gumbaz, Ibrahim Rauza Tomb
Best Time to Visit: October to March (winter) is the best time to visit Hampi, Badami and Bijapur. The weather during this season is quite pleasant with sunny days and chilly nights. This is also the time when several festivals are held in the heritage town of Hampi, such as Hampi Festival or Vijay Utsav (Nov/Jan), Purandaradasa Aradhana (Jan/Feb) and Virupaksha Car Festival (Mar/Apr).
2.) Rann Utsav Gujarat
Gujarat is the land of legends and lions! It is also home to one of the largest salt deserts in the world – The Great Rann of Kutch. Explore this unique landscape and experience culture at its best at Rann Utsav. This festival brings together the amazing culture, heritage, traditions, festivities, local arts, music and dance forms of Gujarat and its local tribes, at one place. The Rann Utsav is an annual festival and lasts for a wonderful 3 months starting from November to February. (Dates for this year – 1st November 2018 to 20th February 2019). Along with an incredible cultural insight, the Rann of Kutch also makes sure that you enjoy to the fullest without burning a hole in your pocket. No wonder, why Rann Utsav packages are some of the most budget holiday packages from Mumbai! What's more? You also get a chance to discover the sights and sounds of Bhuj city along with the Rann of Kutch, on this incredible journey.
Tour Duration: 3 Nights, 4 Days (1 Night Bhuj, 1 Night Dhordo Tent City, 1 Night Muli)
Do Not Miss: Great Rann of Kutch, Dhordo Tent City, Sunset at White Rann, Vijay Vilas Palace, Vande Mataram Memorial, Aina Mahal, Mandvi Beach, Swaminarayan Temple, Modhera Sun Temple, Rani ki Vav
Best Time to Visit: Since, the Rann Utsav is held for 3 months only, anytime between these 3 months is a good time to visit the Great Rann of Kutch. The season is winter and the weather is extremely pleasant with warm sunny days and cooler nights. Enjoy one of the best budget travel packages that offer the best of adventure, excitement and sightseeing opportunities as well.
Also Read: Rann Utsav: A Tour Guide to the Mega Festival in Gujarat
3.) Bhubaneshwar Puri Konark
Have you ever wondered what the word 'Utkala' stands for in our national anthem? Go through the lines once again and in the 4th line 'Dravida Utkala Banga' you will find this word. Did You Know? Utkala is another name for the state of Orissa or Odisha. I was not aware of this fact until today and just like this little-known fact about Odisha, we are unaware of the many travel opportunities of this unexplored state. With the help of budget holiday packages from Mumbai, let's embark on a divine journey that takes us through the 'Golden Triangle' (Swarna Tribhuja) of East India! Visit the temple town of Bhubaneshwar along with the religious & architectural heritage sites of Puri and Konark. As part of these budget travel packages, get a chance to explore the true culture and history of Odisha and discover this eastern Indian state on a budget.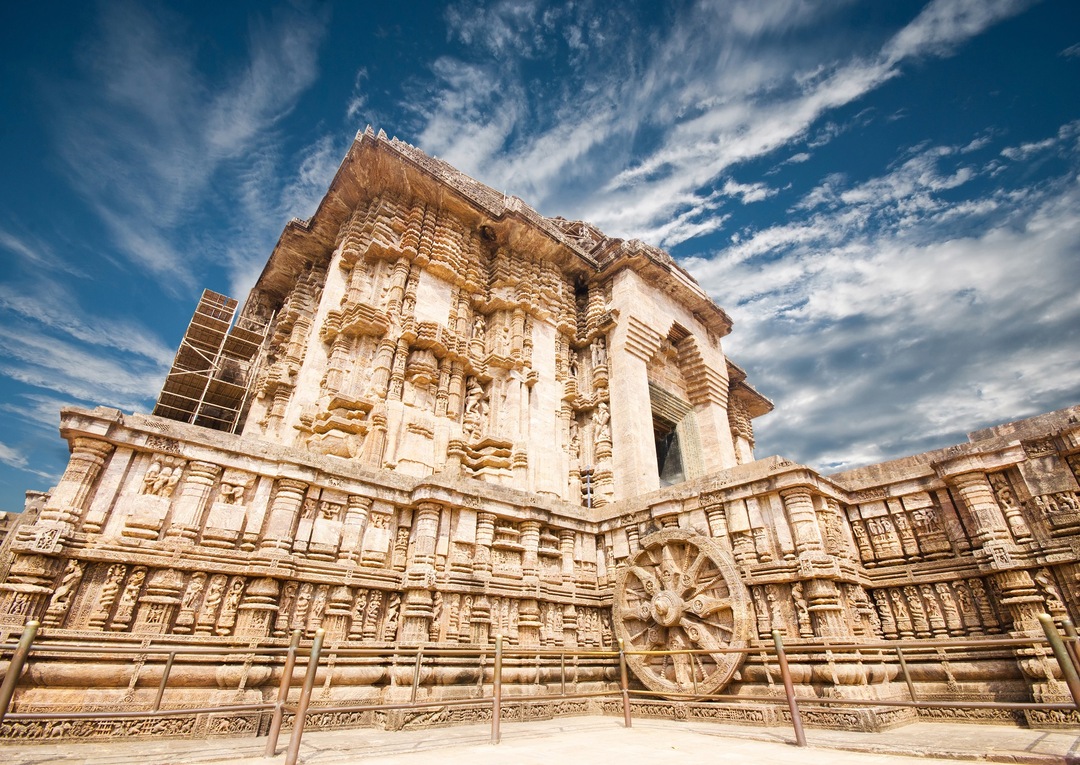 Tour Duration: 3 Nights, 4 Days (1 Night Bhubaneshwar, 2 Nights Puri with a day excursion to Konark)
Do Not Miss: Lingaraj Temple, Rajarani Temple, Jagannath Temple, Konark Sun Temple, Nandankanan Zoological Park, Puri Beach, Khandagiri & Udayagiri Caves
Best Time to Visit: Orissa is a coastal state, well-known for its temples, wildlife and beaches. Winters from October to March tend to be the best time to visit this region. The climate is extremely pleasant and cooler as compared to summers from April to June. Winter is also the time when migratory birds make Chilka Lake and other national parks in Orissa, their home for the season. Embark on this travel odyssey and figure out why Orissa is one of the most amazing budget holiday destinations in India.
4.) Pench National Park
How amazing would it be to explore the 'Jungle of Mowgli'? Pench National Park in Madhya Pradesh is said to be the inspiration of Rudyard Kipling's famous story 'Jungle Book'. Explore the wilderness and the far reaches of this incredible forest that is also one of the major tiger reserves of India. On this amazing wildlife tour, enjoy adventurous safari rides and gain valuable insights into the world of animals, jungles and forest reserves with the help of our dedicated wildlife expert. This is one journey that will ensure that you have the most memorable wildlife encounter and that too, on a budget! Get ready to spot animals such as Tiger, Wolf, Jackal, Leopard, Deer, Langur, Indian Gaur, Nilgai and various bird species that make the Pench National Park, their home. This is, without doubt, one of the most incredible budget holiday packages in India!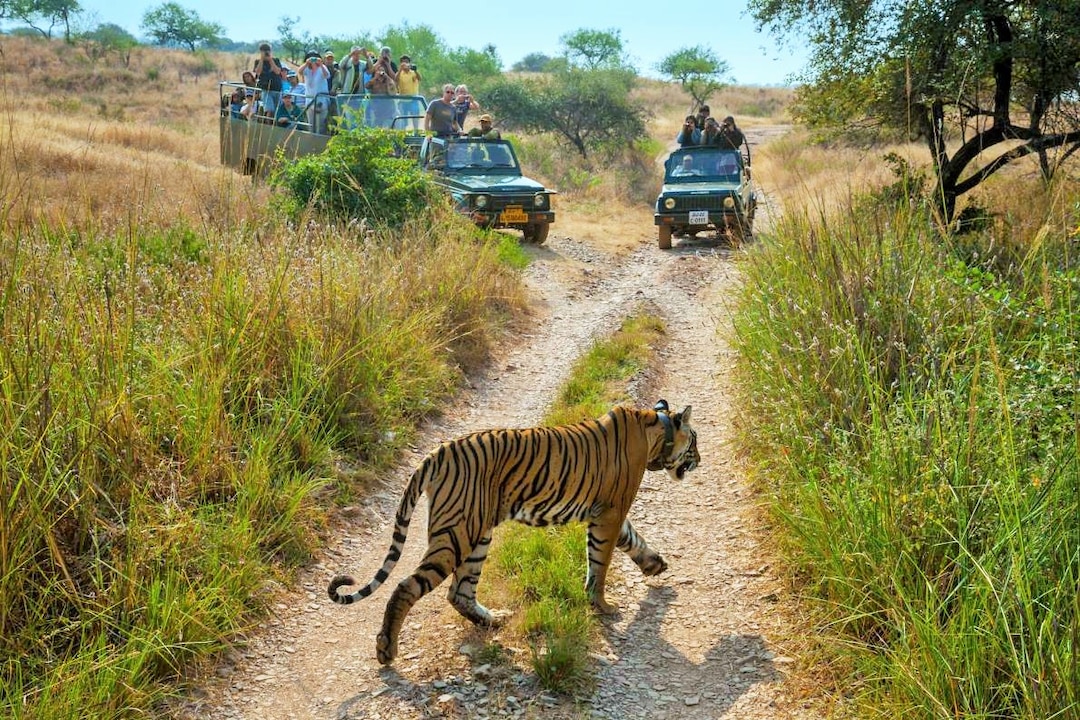 Tour Duration: 2 Nights, 3 Days (2 Nights at Pench National Park)
Do Not Miss: Morning Jungle Safari, Interactive Session with Wildlife Expert, Evening Jungle Safari
Best Time to Visit: The Pench National Park remains open for visitors from the months of October through June. Even then, winters from October to February are much more comfortable for visitors to explore the jungles and ideal for animal sightings. The national park is shut during the months of July through September on account of rainfall.
5.) Jaipur Mandawa
Padharo Mhare Des! Rajasthan is a colourful treat to all the senses. Welcome to the land of Rajput pride, exquisite palaces, historical forts, traditional flavours and rich heritage. Get a chance to explore the amazing pink city, Jaipur & the heart of Shekhawati region – Mandawa, in this short budget-friendly tour. Isn't it wonderful that you get to discover one of the most beautiful and architecturally rich cities of North India and that too, under a budget of 25k? Jaipur with its rich heritage and delightfully pink (Gerua) coloured palaces and structures, presents itself as a must-visit destination on this list. Combine the inviting appeal of the Pink City with the quaint charm of Mandawa and you have yourself a unique journey that you can experience in a short duration as well as, on a budget! The ease of travelling to these locations and the many tourist options available for accommodation, dining and sightseeing make Jaipur Mandawa, two of the most budget holiday destinations in India.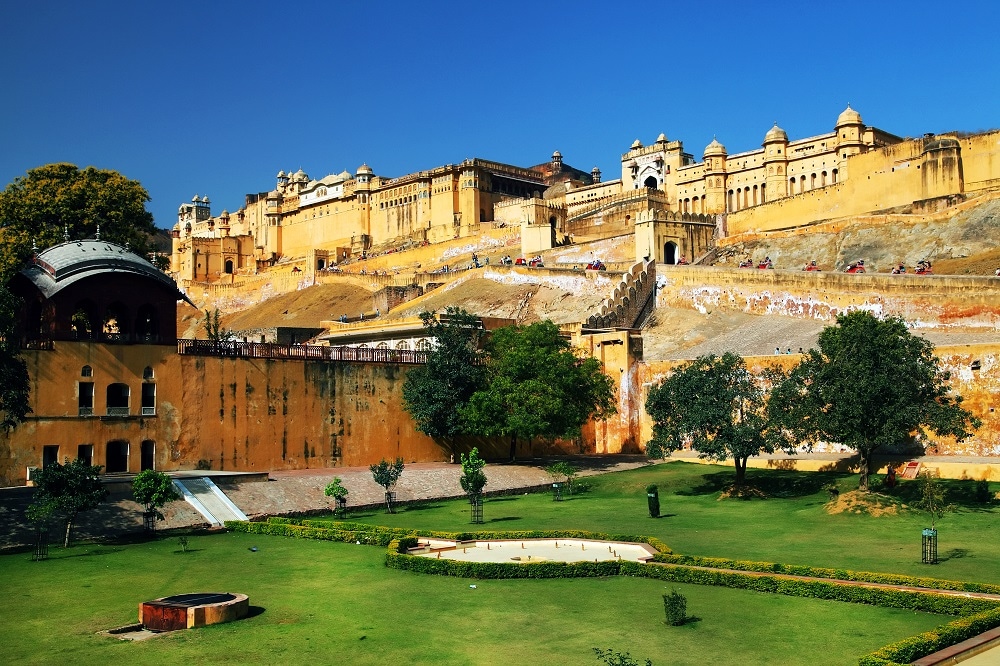 Tour Duration: 3 Nights, 4 Days (1 Night, 2 Nights Jaipur)
Do Not Miss: Hawa Mahal, Amer Fort, Jantar Mantar, Jaipur City Palace, Birla Mandir, Mandawa Fort
Best Time to Visit: Rajasthan is a desert state, therefore summers generally tend to be extremely hot and dry. Winter is the most preferred season to visit the state and thereby the cities of Jaipur and Mandawa. The winter season from October to February is when you can experience a cool climate and pleasant weather that is apt for sightseeing and exploring. Rajasthan receives low to medium rainfall in the monsoon season from July to September. This off-season can also be considered for travelling for visitors who prefer lesser crowds as compared to the peak season.
To plan an ideal weekend trip, also read: How About a Weekend Trip to Jaipur – Explore the Pink City in 2 days!
6.) Delhi Agra
If you haven't visited Delhi Agra yet, we recommend you put all your other travel plans on hold and explore our legendary capital city, first! Our history books narrated tales of the iconic monuments of Delhi and of course, the tragic love story of the magnificent marble mausoleum, Taj Mahal. One of the Seven Wonders of the World and the quintessential monument of love, this architectural masterpiece has managed to attract visitors from across the globe towards its enchanting grace and mesmerizing beauty. When people from all over the world visit the Taj Mahal, isn't it only fair that we visit this breathtaking monument, at least once in our lifetime? The capital city of Delhi is where we encounter the many prominent remnants of our historic nation. Right from Red Fort (Lal Qila) to Rashtrapati Bhavan and from India Gate to Raj Ghat, Delhi is as remarkable and poignant as its legacy. Explore monuments such as Qutub Minar, Lotus Bahai Temple and indulge in the splendid world of performing arts, drama and ultimate entertainment at Kingdom of Dreams in Gurgaon. And, all of this at a budget of around 25k to give you one of the most incredible travel experiences of your life. Pick Delhi Agra as your budget holiday destinations in India and be rest assured, that you will have the trip of a lifetime!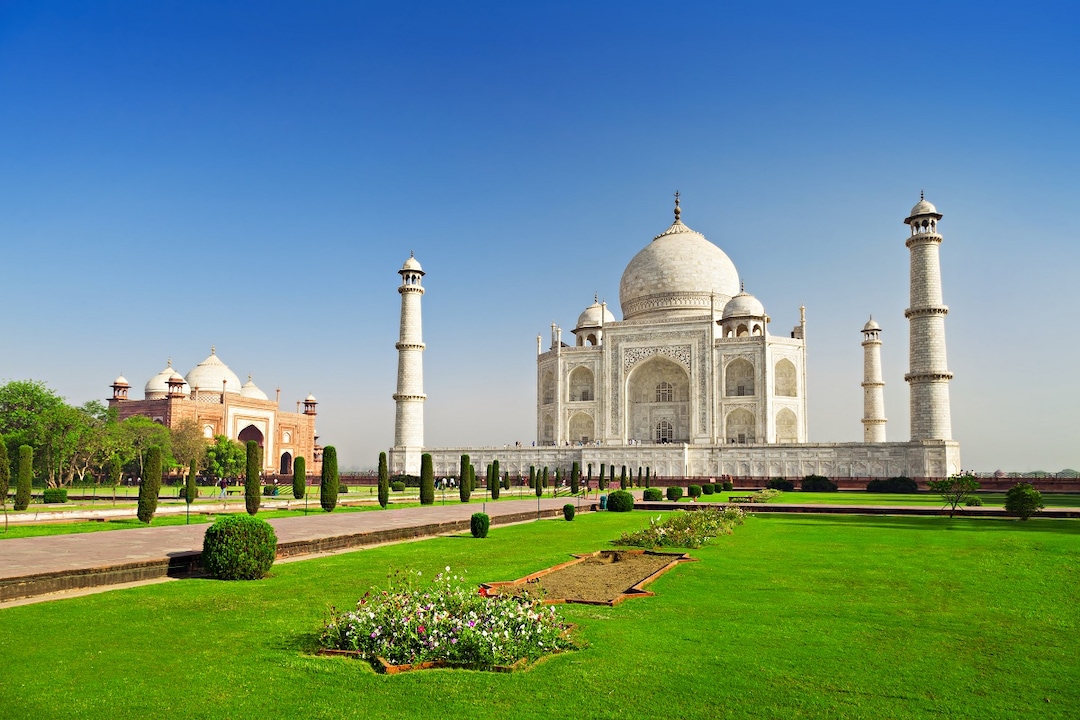 Tour Duration: 3 Nights, 4 Days (2 Nights Delhi, 1 Night Agra)
Do Not Miss: Red Fort, Akshardham Temple, Raj Ghat, India Gate, Rashtrapati Bhavan & Parliament House (from outside), Lotus Bahai Temple, Qutub Minar, Kingdom of Dreams, Madame Tussauds Wax Museum, Agra Fort, Taj Mahal
Best Time to Visit: The winters rule even here! The months from October to March prove to be the best time to visit Delhi and Agra. The weather is pleasant during the day and chilly at nights, making the whole sightseeing experience enjoyable as well as comfortable. This is also the peak tourist season for both, Delhi & Agra and you can expect to find a large number of crowds at both destinations. If you wish to explore these destinations sans the crowds, visit during the months of July to September where you can experience the capital city and the Taj Mahal in their monsoon glory.
Besides these, there are many other destinations across the country that you can travel on a low budget! Some of these budget travel destinations in India are Hyderabad Ramoji City (Telangana), Indore Ujjain Mandu (Madhya Pradesh), Amritsar Wagah Border (Punjab), Varanasi Allahabad (Uttar Pradesh) and Pondicherry Mahabalipuram (Tamil Nadu), to name a few. If you think of international travel on a budget, there are destinations such as Nepal, Bhutan, Sri Lanka, Thailand and even Dubai budget tour packages that you can cover at an affordable price. Although for such destinations, your total travel budget has to exceed more than 25k!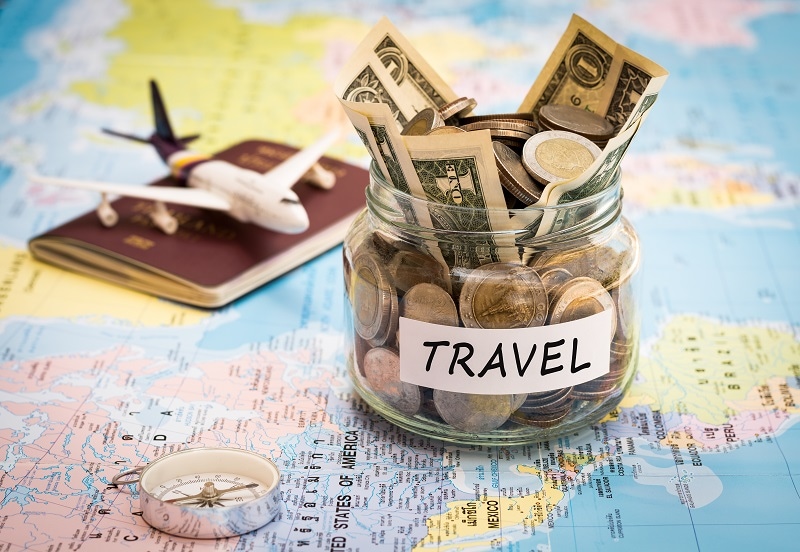 International travel invariably has many more expenses than domestic travel; visa processing fees, air tickets, foreign exchange, hotel accommodation, food expenses and season of travel are the many aspects you have to factor in when you plan an international budget trip. And, if you can't travel international on your budget right now, do not let that get you down! Try exploring the unexplored state of Orissa before you start planning your Dubai budget tour packages. In simpler words, make plans for budget holiday destinations in India and explore the many scenic wonders of our country!
"Budget does form an important part of your travel but at the same time, it should not be a roadblock standing in the way of your wonderful memories!"