Reading Time:
15
minutes
Uttar Pradesh was back in limelight just a few days ago, owing to the grand Bhoomi Poojan ceremony of the Ram Mandir in Ayodhya. Once constructed, this temple is certainly going to be one of the biggest draws for pilgrims and travellers alike and will add a feather in the hat of Uttar Pradesh Tourism. Uttar Pradesh is indeed special in so many ways. It's here that once Lord Rama, Lord Krishna and Lord Buddha walked among humans, making it the cradle of Indian mythology and civilization. Uttar Pradesh is such a vast state that many times, in the due course of visiting the world-famous Taj Mahal, the holy Kushinagar, bustling and vibrant Varanasi or the city of Tehzeeb Lucknow one may not realise that all these diverse places are a part of this single north Indian state. A beautiful kaleidoscope of monuments, architectural wonders, pilgrim centres, spiritual experiences and wildlife, if you haven't discovered the treasure trove that Uttar Pradesh is, it's high time you do it. In this blog, we bring to you 12 tourist places in Uttar Pradesh that you just can't afford to give a miss on your trip.
1. Agra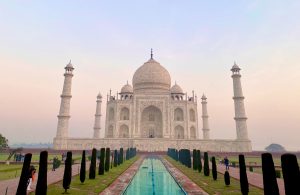 One of the most important places to visit in Uttar Pradesh and famous across the globe for being the home of the Taj Mahal, Agra is located on the banks of River Yamuna. Home to two more UNESCO World Heritage Sites – Agra Fort and Fatehpur Sikri, Agra is indeed a sneak peek into the architectural history and legacy of the Mughal empire. The city forms part of the popular Golden Triangle Circuit for tourists along with Delhi and Jaipur and also a part of the Uttar Pradesh Heritage Arc including Varanasi and Lucknow. Agra is a heaven for history fanatics, architecture buffs and foodies, all alike. It's famous for its Petha and also well-known for its marble artefacts. Agra is therefore among the must-visit destinations in Uttar Pradesh for anyone living in or visiting India.
2. Fatehpur Sikri
A city made of red sandstone, Fatehpur Sikri was founded in 1571 by Mughal Emperor Akbar. It's located at a distance of 40 km. from Agra and is rightly known as the pride of the Mughal Empire. Fatehpur Sikri is essentially a fortified city and had been the capital of the Empire for fifteen years. A unique blend of Indo-Islamic architectural excellence and religious beliefs adorns Fatehpur Sikri. Today, a UNESCO world heritage site, it is home to the three palaces for each of Emperor Akbar's favourite wives – one a Hindu (Jodha Bai), one a Muslim and one a Christian; Jama Masjid – a stunning mosque which is still in use today; Buland Darwaza; and tomb of Salim Chisti among many other famous monuments. Fatehpur Sikri looks magical and splendid, especially during the sunset. This one is certainly one of the best places to visit in Uttar Pradesh.
3. Varanasi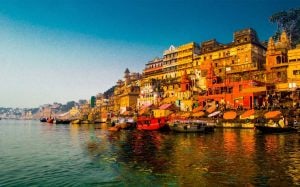 Varanasi, also known as Kashi and Benaras and considered to be the world's oldest living city is one of the most famous tourist places in Uttar Pradesh. Being one of Hinduism's seven holy cities, Varanasi is indeed the spiritual capital of India. While you would find temples at almost every turn in the city, the Kashi Vishwanath Temple, which is one of the 12 Jyotirlingas, is the most visited and the oldest of all. Varanasi is considered an auspicious place to die, as it is believed to grant moksha or liberation from the cycle of life and death. About 80 ghats along the banks of the Holy Ganges form the heart and soul of the city. The ceremony of immense grandeur and spiritual enlightenment, the Ganga Aarti is a must-experience when in Varanasi. Also, the hot chaat and cool lassi would be the perfect feast for your taste-buds.
4. Mathura
Being the birthplace of Lord Krishna makes Mathura one of Hinduism's seven sacred cities and therefore attracts a horde of pilgrims from all over the world, making it one of the most visited pilgrims and tourist places in Uttar Pradesh. Similar to the Ganga Aarti in Varanasi, the Yamuna Aarti is one of the highlights of Mathura. The town is flooded with tourists and pilgrims during the two main festivals – Janmashtami and Holi. Shri Krishna Janmabhumi is the most famous tourist attraction in Mathura, as this place is believed to be the exact place where Lord Krishna was born, and the prison where he was born is now on display for tourists to see. Other two most important temples in town are the Dwarkadheesh Temple and the Gita Mandir. Mathura also has a delicious history of street food. Some must-try local snacks are kachodis, aloo-puri, chaat, jalebis and gulab-jamuns.
5. Vrindavan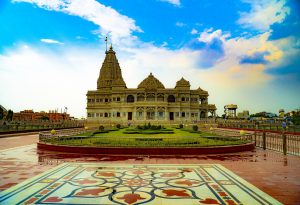 Located only 10 km. away from each other, Mathura and Vrindavan are often considered twin cities. One of the oldest cities on the banks of Yamuna, Vrindavan is considered to be one of the most important places of pilgrimage for the devotees of Lord Krishna. Considered to be his childhood abode, the city of Vrindavan, which is located along the waters of river Yamuna hosts hundreds of Lord Krishna and Radha temples scattered throughout. The most famous of them are Banke Bihari temple and the world-famous ISKCON temple. The name of the city has been derived from Vrinda (meaning basil) and Van (meaning grove) which perhaps refer to the two small groves at Nidhivan and Seva Kunj. Since Vrindavan is considered to be a sacred place, a large number of people come here to renounce their worldly life.
6. Lucknow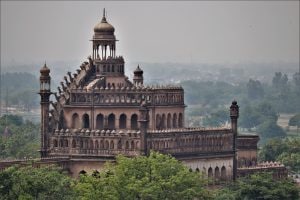 The capital and the largest city of Uttar Pradesh, Lucknow welcomes you with a heart-warming note of 'Muskuraiyein, kyunki aap Lucknow mein hai' (Smile, for you, are in Lucknow). Situated on the banks of river Gomti, this city of Nawabs and Kebabs is renowned for its architecture, history, literature and culture. The people of Lucknow are known for their courtly manners and endearing 'Pehle aap' (you first) culture, which always leaves behind a smile on the faces of the visitors. Rumi Darwaza, the Mughal Gateway built in the centre of the capital divides the city into its old and new part. While Old Lucknow is well-known for its bustling vibrant streets, authentic mouth-watering kebab and biryani outlets, Lucknowi Chikan (a form of embroidery) market and wholesale jewellery stores, New Lucknow hosts people of varied cultures, is urban and one of the most planned cities in Asia. Lucknow is certainly one of the most famous places not only in Uttar Pradesh but also in the whole of India.
7. Allahabad
Officially known as Prayagraj, Allahabad is famous for Triveni Sangam or the meeting points of three rivers – Ganga, Yamuna and Saraswati and therefore one of the important tourist spots to visit in Uttar Pradesh. Built on the site of the ancient town of Prayag, Allahabad has, since time immemorial, held the largest Hindu gathering on the banks of the Sangam – the Maha Kumbh Mela, which is held here every twelve years and is attended by millions of pilgrims from across the globe. Prayag or Prayagraj had been the ancient name of the city, however, after the Mughal invasion, Emperor Akbar, impressed by the location named the city 'Ilahabas which meant 'Abode of God'. Emperor Shah Jahan, his grandson, renamed the city to Allahabad. Other popular places to visit in Allahabad include the UNESCO World Heritage Site of the Allahabad Fort; Anand Bhavan – the ancestral home of the Nehrus; All Saints Cathedral;  Chandra Shekhar Azad Park; and Allahabad Museum among others.
8. Sarnath
Yet another holy tourist place in Uttar Pradesh, Sarnath is a quiet and spiritual city of historical marvel with numerous Buddhist stupas, museums, excavated ancient sites and beautiful temples… all adorned with a mystical and serene setting. One of the four holiest places to the Buddhists, Sarnath is just 10 km. from Varanasi and is often flocked with Buddhist, Jain and Hindu devotees, alike. It's the place where Lord Buddha preached his first sermon. The attractions that contribute to the spiritual significance of Sarnath are Ashoka's Pillar and Dharma Stupa built by Emperor Ashoka among many others. All of this makes Sarnath one of the must-visit places to see and experience in Uttar Pradesh.
9. Ayodhya
Yet another very famous place in Uttar Pradesh, Ayodhya has been in limelight since many years now and very recently for the grand Bhoomi Poojan of the Ram Mandir that is to constructed here. The birthplace of Lord Rama, Ayodhya is located on the banks of river Sarayu in Uttar Pradesh and is one of the seven sacred cities for Hindus. Ayodhya is also the birthplace of four of Jainism's 24 Tithankaras thus making it one of the most important tourist destinations in Uttar Pradesh for Jains too. The religious town is adorned with many serene ghats by the banks of the holy Sarayu river. Despite the controversy, Ayodhya has so much colour and spirituality to see and experience for its tourists and continues to be a significant pilgrim centre.
10. Jhansi
Popular as a place where Jhansi Ki Rani – Rani Laxmibai lived and reigned, Jhansi is located on the banks of the Betwa and Pahunch rivers, at the very south in the Bundelkhand region. Jhansi gets its name from the Jhansi Fort built by Raja Bir Singh Deo and was named so since the rulers could only see a shadow atop a distant hill when gazing at the fort. Jhansi was originally known as Balwantnagar, which was a walled city built around a fort. The interesting and glorious history of the city along with the variety of monuments and other essential landmarks make Jhansi one of the significant tourist destinations in Uttar Pradesh.
11. Kushinagar
One of the four holy sites of Buddhism and one of the most famous tourist places in Uttar Pradesh, Kushinagar is located in the north-eastern region of the state, near Gorakhpur. Kushinagar is named after 'Kush' grass, due to its plentifulness in the region. The religious town is believed to be the place where Lord Gautam Buddha attained Mahaparinirvana. Kushinagar is therefore rightly an international tourist destination, especially among the followers of Buddhism. Kushinagar's one main road is lined with temples run by Buddhist nations, where you can stay, contemplate or simply chat with the monks. Through its principal ruins, Kushinagar offers a view of fascinating ancient architectural expertise through the structures of strategically built monasteries and life-like sculptures of deities. Every year, on the occasion of Buddha Purnima, a grand fair is organised here which is thronged by the locals and pilgrims from far and wide.
12. Dudhwa National Park
Uttar Pradesh is such a diverse state that it offers something to everyone. Be it for history buffs, spiritual seekers, culture vultures and even for nature and wildlife enthusiasts. One of such important places to visit in Uttar Pradesh is Dudhwa National Park. Nestled in the Lakhimpur-Kheri District of the state on Indo-Nepal border, Dudhwa National Park is all about wildlife, nature and diversity. Home to a plethora of rare and endangered species including Hispid hare, Swamp deer, Bengal  Florican, Leopard and Barasingha, along with 400 varied species of exotic and migratory birds, this national park is mainly known for being one of the finest tiger reserves in India. The many options of exploring the wilderness and diversity of the place include safaris arranged by the park, hiring jeeps or minibuses from outside and even an elephant ride.
So, these were the 12 tourist places in Uttar Pradesh that you must visit. And mind you, this isn't an exhaustive list. Uttar Pradesh is a colourful bouquet of endless amazing places and experiences. Each of these places is so significant in themselves that they have carved out their niche in the world of tourism. Uttar Pradesh, just as discussed in the beginning is indeed the cradle of Indian civilization. Visiting here is a life-changing and enriching experience in many ways. If you wish to see and experience the real India and wish to walk the land which Gods once walked, it's high time you planned an Uttar Pradesh tour package for you and your family.