Reading Time:
10
minutes
Known for its beaches, picturesque views, and relaxing ayurvedic massages – Kerala is known as God's Own Country. Located on the Malabar Coast of Southern India, the state is rich in its cultural heritage. We have all been mesmerised by the colourful dance forms, gorgeous lagoons, and beguiling waterfalls in Kerala; now, let's get thrilled with these famous and breathtaking wildlife sanctuaries in the state.
1. Chinnar Wildlife Sanctuary, Munnar
Located in the Western Ghats and spread over an area of 90.44 km square acres, the Chinnar Wildlife Sanctuary is a part of the Idukki district in Munnar, Kerala. The wildlife sanctuary is densely populated with various ranges of flora and medicinal plants that are indigenous. The Chinnar Wildlife Sanctuary is one of the best places to visit in Kerala because it houses a myriad of fauna species like:
Spotted Deer, Gaur, Tufted Grey Langur, Crocodile, Leopard, Grizzled Giant Squirrel. 
The Chinnar Wildlife Sanctuary is a government-protected sanctuary, where you can enjoy the beauty of flora and the gorgeousness of fauna in their natural habitat. A mixed range of deciduous forests makes this wildlife sanctuary an ideal choice for trekking. 3-hour trekking and camping are offered to the tourists, which can be customised as per your interests. Apart from bird and wildlife watching, the trek also includes butterfly watching, exploring plants and herbs, archaeological sites, and so on. If you want to get thrilled during your trip to wildlife sanctuaries in Kerala, make sure to experience the trekking trails here.
2. Periyar National Park, Thekkady 
The largest wildlife sanctuary in Kerala, Periyar National Park is one of the most bio-diverse regions in the world. It is also the best-protected reserve in India that is well-known for its lush green beauties, gorgeous species of flora and fauna, and tranquillity. Spread across an area of 257 square miles, the Periyar National Park has the River Pamba and River Periyar flowing through it. Thousands of tourists from all across the globe visit this national park in Kerala to enjoy boat cruises, jungle safaris (jeep), elephant safaris, and other such activities, amidst the beauty of Mother Nature. Some of the other eco-tourism activities that you can undertake here are Border hiking, Bamboo Grove, Bamboo Rafting, Periyar Tiger Trail, Jungle Patrol, etc. This is also considered one of the places for trekking in Kerala. If you are an adventure junkie, then consider taking part in the activities.
The Periyar National Park houses White Tigers, Indian Elephants, Wild Pigs, Flying Squirrels, Fruit Bats, Sloth Bears and Jungle Cats. Along with this, you can also spot birds like Malabar Grey Hornbill, Sunbird, Great Hornbill, Black-Necked Stork, and Nilgiri Wood Pigeon; different species of reptiles and butterflies. Inside the Periyar National Park, you will also find the Mangala Devi Temple, Pullumedu (overlooking Lord Ayyappana temple of Sabari Mala), and Cardamom Hills that you can explore for a serene time.
3. Wayanad Wildlife Sanctuary, Wayanad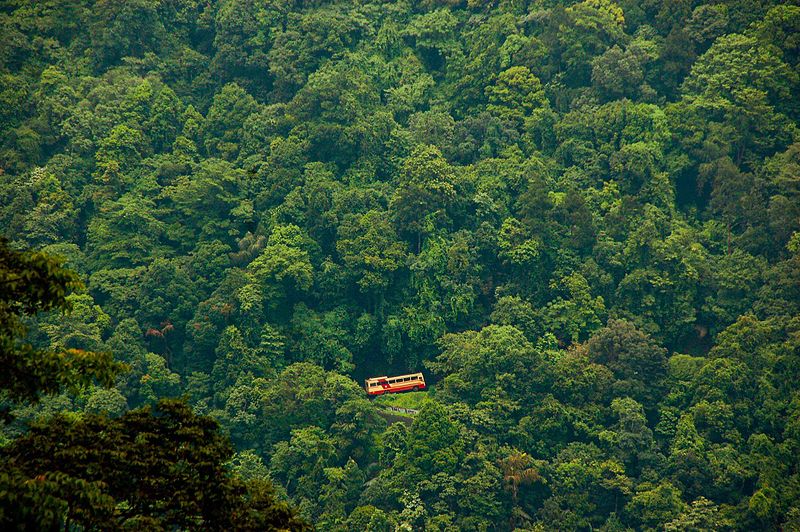 One of the most visited wildlife sanctuaries in Kerala, Wayanad Wildlife Sanctuary has rare and endangered species of both flora and fauna. The wildlife sanctuary is surrounded by the protected areas of Kerala's neighbouring states, Tamil Nadu and Karnataka. Mudumalai in Tamil Nadu and Nagarhole and Bandipore in Karnataka surrounds this magnificent beauty. The Wayanad Wildlife Sanctuary was found in the year 1973 and till today, it is an integral part of the Nilgiri Biosphere Reserve.
Spread over an area of 345 square km, the wildlife sanctuary comprises two sections –
Muthanga Wildlife Sanctuary
Tholpetty Wildlife Sanctuary
Muthanga falls on the southern side of the sanctuary, which is at a distance of 18 km from Sultan Bathery. Whereas, Tholpetty falls on the northern side, at a distance from Thirunelli. The Tholpetty Wildlife Sanctuary is surrounded by the Nagarhole Range, Karnataka. The Muthanga section is surrounded by the Bandipore Tiger Reserve, Karnataka and Mudumalai Wildlife Sanctuary, Tamil Nadu. Other than the Sultan Bathery range, the Wayanad Wildlife Sanctuary also borders the Kurichiat range in Kerala that renowned for its rich biodiversity. Both Tholpetty and Muthanga Wildlife Sanctuary are must-visit places in Kerala.
4. Silent Valley National Park, Palakkad 
A popular destination for nature and wildlife lovers, the Silent Valley National Park has lush green beauties that are complemented splendidly by the rich flora and fauna. Located in the Kundali Hills of the Western Ghats in Kerala, this national park holds the unique status of being a rainforest. The Silent Valley National Park is spread over an area of 89 square km and offers Safari rides to visitors. The gorgeous stop-overs during the Safari make your experience even better and enthralling. One of the reasons why the Silent Valley National Park makes it to the list of wildlife sanctuaries in Kerala is because it is the last representative virgin tract of tropical evergreen forests in the country. You can find different types of plant and animal species, some of which are endangered. The flora and fauna reside in the national park, unharmed from the hustles and bustles of the outer environment. During your trip, you will come across species like the:
Lion-tailed Macaque, Wild Pig, Panther, Sambar, and Elephant. 
The Silent Valley National Park has tropical evergreen plantations. River Kunti, descending from the Nilgiris Hills, passes through the Silent Valley National Park. The crystal-clear water, accompanied by the sweet gushing sound enchants the visitors even more.
5. Pampadum Shola National Park, Idukki
The smallest wildlife sanctuary in Kerala, Pampadum Shola National Park is located in the Idukki district and spread over an area of 11.75 square kilometres. The national park is managed and maintained by the Kerala Department of Forests and Wildlife and owns the alluring biodiversity of flora and fauna. The Papadum Shola National Park is being observed by UNESCO World Heritage Committee to consider it as a nominee for World Heritage Site. The area has cloudy weather all through the year, making it an ideal destination for trekking and picnics. Even though the Pampadum Shola National Park is smaller in size, the magnificent range of biodiversity will leave you in awe. It has over 22 species of trees, 22 species of herbs, and 15 species of climbers.
This national park is home to the highly endangered species of an exotic carnivore – the Nilgiri Marten. Make sure to include this place in your Kerala tour package for spotting Nilgiris's endangered beauty. Other than this, you can also find Indian wild dogs, Nilgiri Langurs, Leopards, Tigers, Lion-tailed Macaque, and so on. The Pampadum Shola National Park is also home to various species of butterflies, moths, and birds. Nilgiri Wood-Pigeon, Blue-capped Rock Thrush, Nilgiri Flycatcher, Vernal Hanging Parrot, etc., are some of the remarkable birds found here. You can also find cobras and pythons here, so be careful while you are exploring the wildlife sanctuary.
6. Thattekad Bird Sanctuary, Ernakulam
Known as the first bird & wildlife sanctuary in Kerala, the Thattekad Bird Sanctuary is located near Kothamangalam in Ernakulam. It lies on the northern bank of the Periyar River and is famous for its exclusive range of rich and varied birdlife. The bird sanctuary was surveyed by Dr Salim Ali, who is known as the Birdman of India. It is because of his recommendations that the Thattekad Bird Sanctuary came to light in 1983. It is spread across an area of 25 square kilometres, sheltering over 500 species of birds and rare birds like the Wayanad Laughing Thrush, White-bellied Blue Flycatcher, and Rufous Babbler. Some of the other birds that you can spot here are:
Ceylon Frogmouth, Created Woodpecker, Crested Goshawk, Changeable Hawk Eagle, Chestnut Headed Bee Eater, Ashy Wood Swallow, Black Headed Oriole, Ash Tail, Ashy Drongo, Bronzed Drongo, Blue Kingfisher, and Bronze Winged Jacana. 
This bird sanctuary in Kerala also houses a few species of fauna like leopards, sloth bears, porcupines, and elephants; however, spotting them depends on your luck as their population in the area is very low. Tropical semi-evergreen, tropical evergreen and deciduous plants surround the Thattekad Bird Sanctuary, amplifying its beauty even more.
Other than these, the Kottiyoor Wildlife Sanctuary, Peppara Wildlife Sanctuary, Kadalundi Bird Sanctuary, and the Chimmony Wildlife Sanctuary are some of the other wildlife sanctuaries in Kerala that you must visit for a thrilling and marvellous time.
Kerala is one of the best places to visit in South India for a splendid time, in the embrace of nature. With these gorgeous national parks and wildlife sanctuaries in Kerala, make your trip to the state even more fascinating.
#HappyExploring