Reading Time:
16
minutes
Green as far as the eyes can see! That would be the most appropriate and perfect way to describe Munnar – the picturesque and charming hill station getaway of Kerala. Nestled in the Western Ghat mountain ranges, Munnar hill station offers splendid views and an equally pleasant climate that compliments the aesthetic appeal of this beautiful tea town. No wonder it is popularly referred to as the 'Kashmir of South India'. Any journey to the honeymoon places in Kerala would be incomplete without a delightful escape to Munnar! Such is the beauty and popularity of this hill station that it has enthralled and encouraged several travellers to visit this destination and include it in their Kerala packages, at least once in their lifetime.
A particular favourite of honeymoon travellers, Munnar hardly disappoints and offers the perfect setting for newly-wed couples to embark on a new journey of their lives. The most prominent features of Munnar are the rolling green tea estates that dot the hills, mountains and horizons of this quaint and picturesque hill town. One of the prime reasons, it is known as the honeymoon capital of Kerala. Mesmerizing would be the perfect word if we ever have to describe this scenic hill station in one word!  A paradise hidden in God's Own Country, Munnar is one of the best places to visit in Kerala and has beautiful quaint spots to go around with your special someone.
Experience the 'joie de vivre' (joy of living) at God's Own Country with special Munnar honeymoon packages and exclusive Kerala honeymoon packages that will make your experience meaningful and memorable. To help you explore this heavenly destination to the fullest, with your special someone, here are 8 popular, must-see tourist places to visit in Munnar!
1.) Kolukkumalai Tea Estate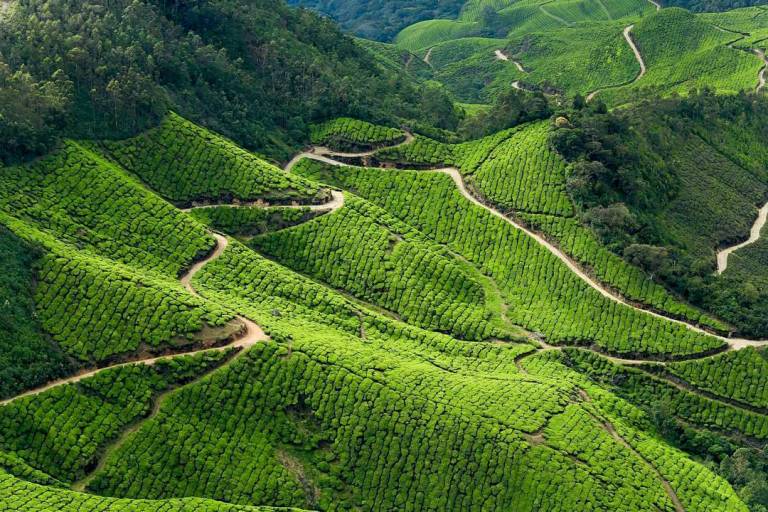 The first place on this list had to be a tea estate, of course! Kolukkumalai Tea Estate is an emerald-green sprawling tea estate located on the border of Kerala and Tamil Nadu. Although a fair distance away from Munnar (approx. 90 mins), it does offer some of the most breathtaking and picture-perfect views of the rolling tea gardens, surrounding 'Shola' forests and majestic mountains. Located at an astounding height of 7900 feet, this tea estate prides itself on being the highest tea plantation in the world. Started in the early 1900s by a Scottish planter, the tea estate still glows with an old world charm and transports you back to the erstwhile colonial era, the minute you step into the place. One of the best places to visit in Kerala, Kolukkumalai is the perfect place for couples to soak in panoramic views and savour flavoursome teas!
Best time to visit: Winter (October to March)
Do not miss: Factory Tour, Organic Handmade Tea, Scenic views of Anayirangal Dam, Meeshapulimalai trek
2.) Mattupetty Dam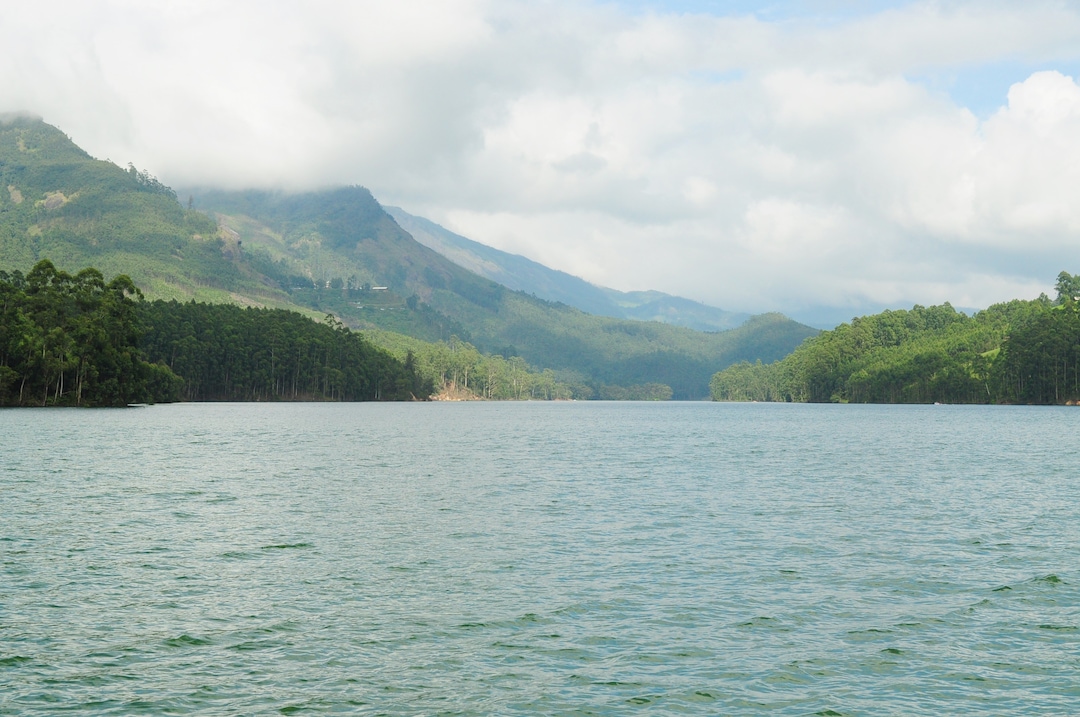 A must-visit destination in Munnar, Mattupetty Dam is one of the most popular and favourite tourist places to visit in Kerala. This beautiful spot is surrounded by the Anamudi peak, lush green rolling tea gardens and a picture-perfect lake set amidst this heavenly canvas. The dam is located at a height of almost 1700 meters, making it one of the highest dams in Munnar and a must-see among any Kerala packages. It was constructed as a storage concrete gravity dam, under the Pallivasal Hydro Electric Project in 1940, for the purpose of water conservation and power generation. Apart from the pristine serenity of the dam, you can also head to the famous, Indo Swiss farm project, located 3 km away and enjoy splendid views of rolling pastures, grazing cattle, green hills and blue skies. Abound with awesome views, heavenly climate, breathtaking surroundings and various activities such as speed-boating at the lake and trekking in the nearby Shola forests, Mattupetty Dam is definitely one of the most sought-after Munnar tourist places, ideal to be included in any Kerala honeymoon packages.
Best time to visit: Winter & Summer (August to May)
Do not miss: Speed boating at Mattupetty Lake, Trekking at nearby Shola forests, Indo Swiss Farm Project
3.) Lockhart Gap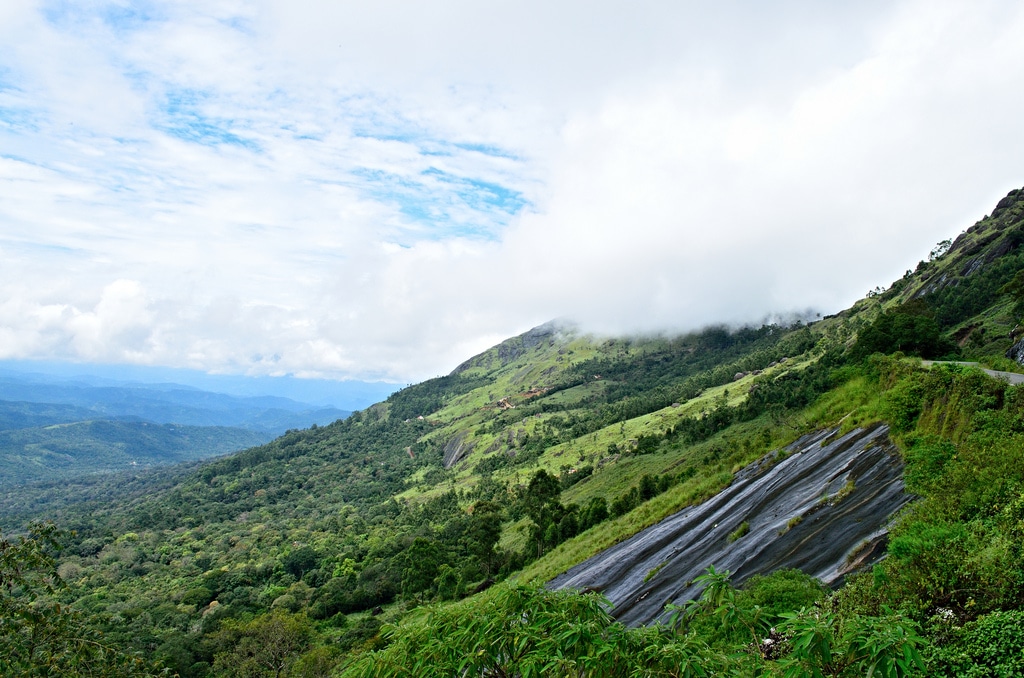 Another gem that lies on the way to Mattupetty Dam! The Lockhart Gap viewpoint is one of the most serene and soothing places to visit in Munnar and probably one of the topmost hiking places to visit in Kerala. It is named after a seemingly heart-shaped gap between two mountains which can be seen from this breathtaking viewpoint. Say hello to mist-clad mountains, undulating clouds, winding trails, emerald green valleys and the rows of never-ending tea gardens that are a sight to behold forever, at this point! Witness a majestic sunset with your special someone and you will feel as if you are experiencing nature in its purest form! Ideal for adventures and mountaineering, you can enjoy several hikes and treks through the scenic trails where you can observe the abundant flora and fauna of this region. Couples! Don't forget your cameras, when you go here; this place is an absolute photographer's delight! One of the best honeymoon places in Kerala you can experience with your special someone…
Best time to visit: Winter (October to March)
Do not miss: Sunset, Trekking/Hiking through the trails, Neelakurinji flowers (they bloom once in 12 years; 2018 is expected to be the year of the next bloom)
4.) Eravikulam National Park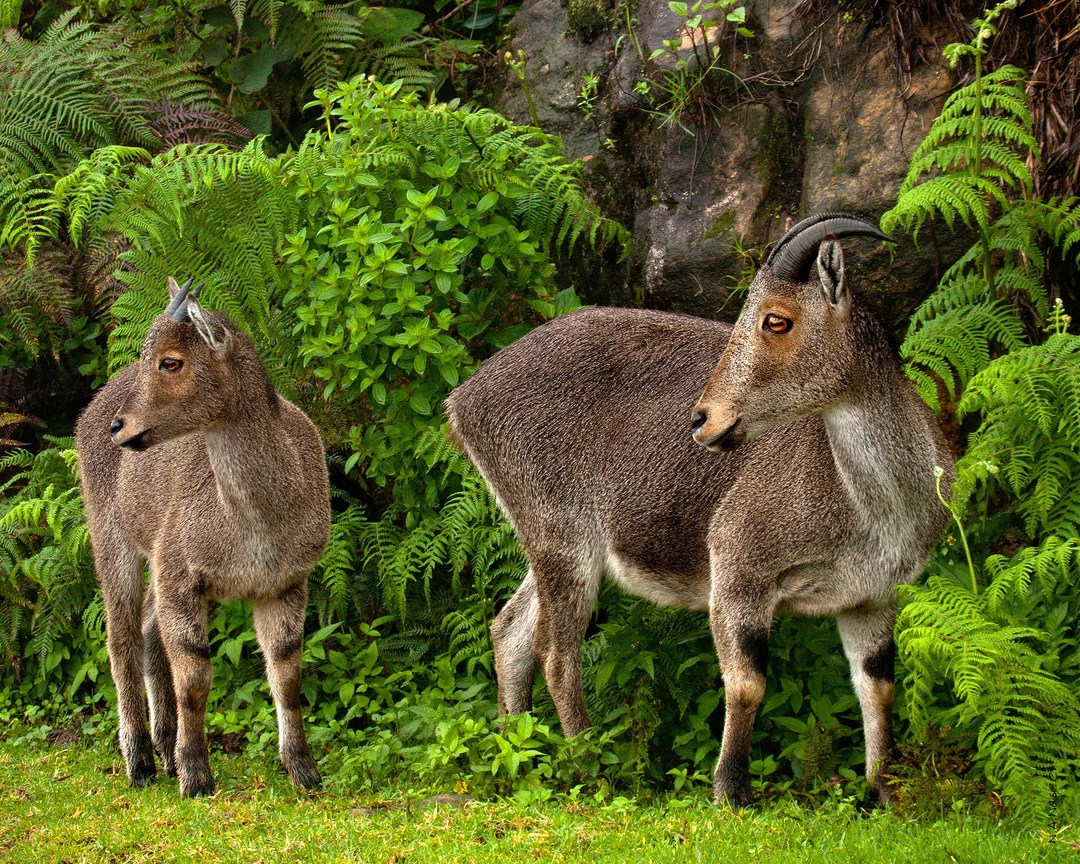 This national park is located in the Idukki district of Kerala, about 12-13 km away from Munnar. Considered to be one of the most prime tourist places to visit in Munnar, Eravikulam National Park is home to the exotic animal, Nilgiri Tahr that is endemic to the Nilgiri hills of Tamil Nadu & Kerala. The national park is also famous for the Neelakurinji flowers that bloom once in every 12 years (2018 is expected to be the year of the next bloom) and carpet the landscapes with vibrant shades of blue, violet and purple. The park plays host to the highest peak in South India, Anamudi peak, situated at a height of 8842 feet. Enjoy some of the most divine and mesmerizing views, as you stroll along the winding trails and scenic trekking paths of the national park. Rolling mist-covered hills, dense forests, lush green tea gardens, crystal clear waterfalls, rare species of butterflies, birds and animals are what you can expect to find at this incredible destination that is a hot favourite of many Kerala honeymoon packages!
Best time to visit: Winter (September to January) & Summer (April to June). The park is closed during peak monsoons (July & August) and during the calving season of the Nilgiri Tahr (February & March)
Do not miss: Nilgiri Tahr, Neelakurinji flowers, Spot the Anamudi Peak, Lakkam Waterfalls
5.) Echo Point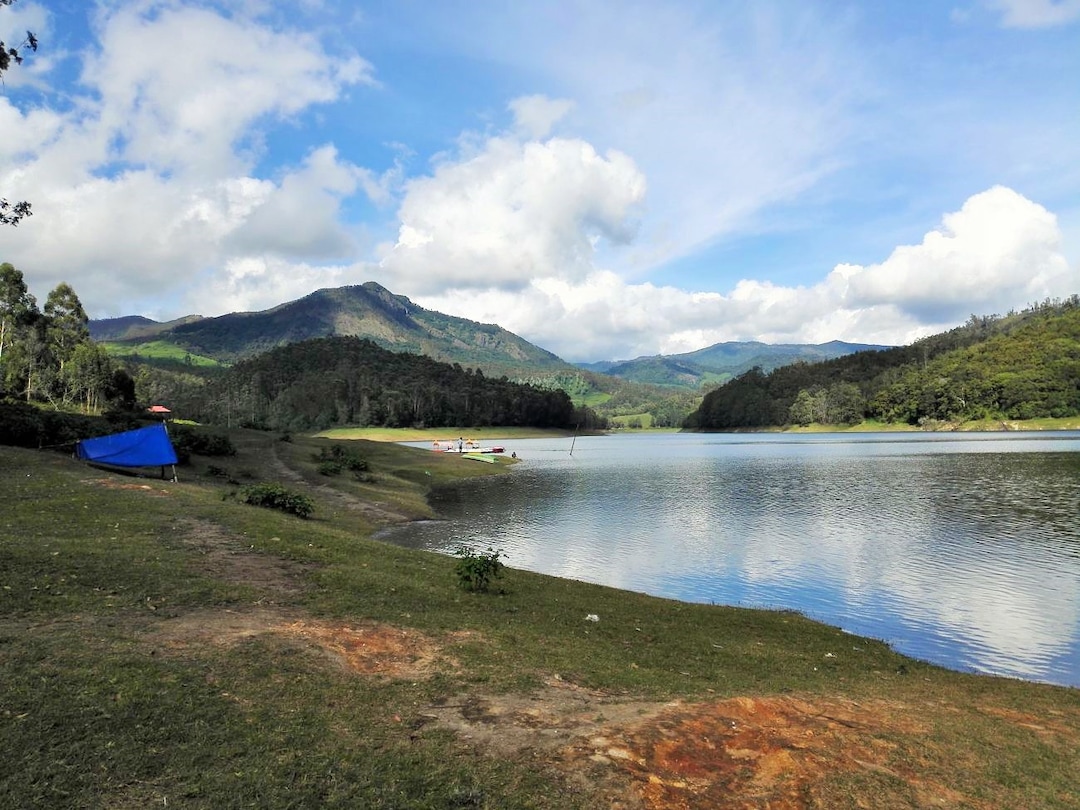 Do you want to yell, scream and shout like a child again? Then you must visit the scenic Echo Point, one of the most popular Munnar tourist places in Kerala. Travellers love to visit this unconventional spot and shout to their heart's content to experience the echo phenomenon! This point lies about 15 km away from Munnar and still finds a mention in almost all Kerala packages due to its natural beauty and popularity. It is best known for its scenic landscapes and natural echo phenomenon that drives all tourists, young and old alike, to this picture-perfect spot. A picturesque lake lies at this point, which makes it an ideal picnic spot for honeymoon travellers who wish to spend some quality time together! Enjoy a boat ride, stroll along the quiet river banks, shout at the hills for an echo or simply admire the stunning scenery of Echo Point, one of the most stunning honeymoon places in Kerala. Go further ahead and you can also visit Top Station, located on the Munnar-Kodaikanal road (about 32 km away from Munnar). As the name suggests, this is the topmost point in Munnar from where you can enjoy panoramic views of the Western Ghats and the valley of the Theni District in Tamil Nadu. The perfect place to unwind, relax and get to know your special someone, make sure to include the Echo Point and Top Station in your Munnar honeymoon packages!
Best time to visit: Winter (October to March) & Summer (April to June)
Do not miss: Echo phenomenon, Boating at Lake, Top Station, Kundala Lake
6.) Attukal Waterfalls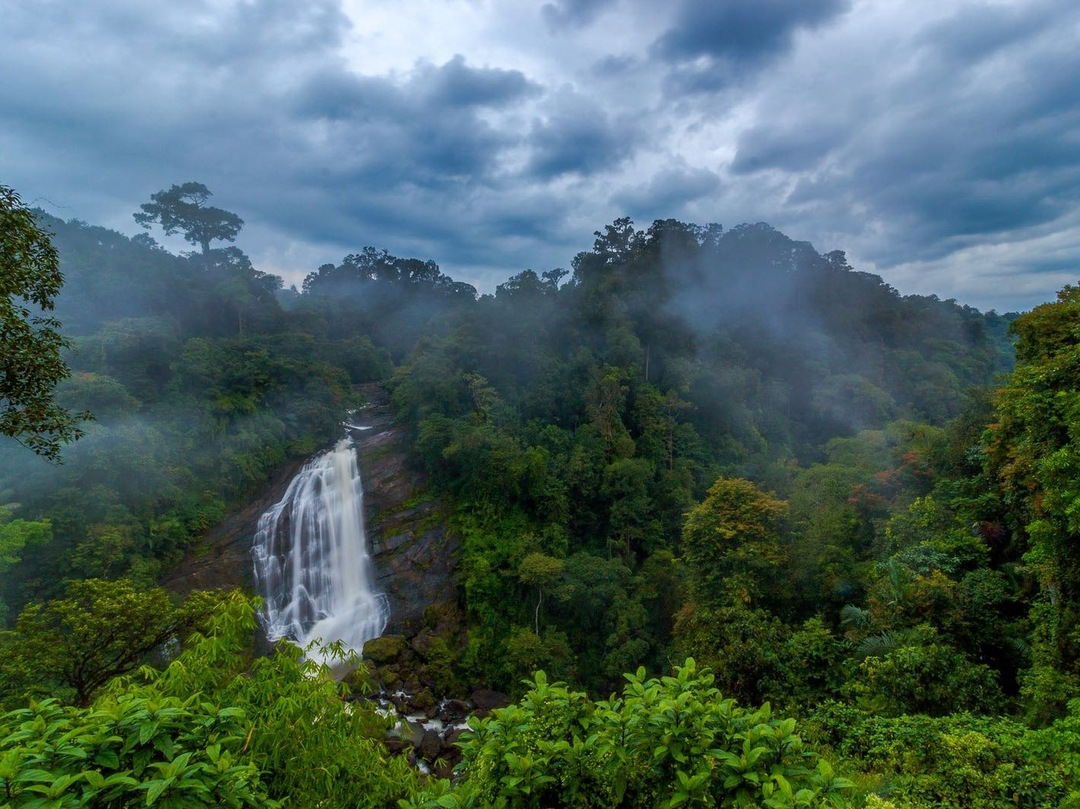 The beauty of a hill station simply cannot be complete without a stunning waterfall! Attukal waterfalls do justice to these words as they adorn and enhance the natural beauty of Munnar hill station. These spectacular waterfalls are located about 9 km away from Munnar, on the way to Pallivasal. It is one of the main waterfalls of the region and easily one of the most attractive places to visit in Munnar. Take a dip in the cool waters or simply have a fun time as you splash around the water and take in the breathtaking beauty of the waterfalls. The pool of water collected at the base of the waterfall, also makes it an ideal spot for swimming (be sure to carry your swimwear when you plan to visit Adukkal). The heavenly cascade will definitely tempt you and make you forget all your worries and melt your stress, right away! Go hand in hand with your significant other and don't forget to make Adukkal a part of your Kerala packages, because this is one spot you would definitely want to witness together…
Best time to visit: Monsoon (June to August) & Winter (October to March)
Do not miss: Trekking through the dirt mountain path, swim in the waterfall pool
7.) Photo Point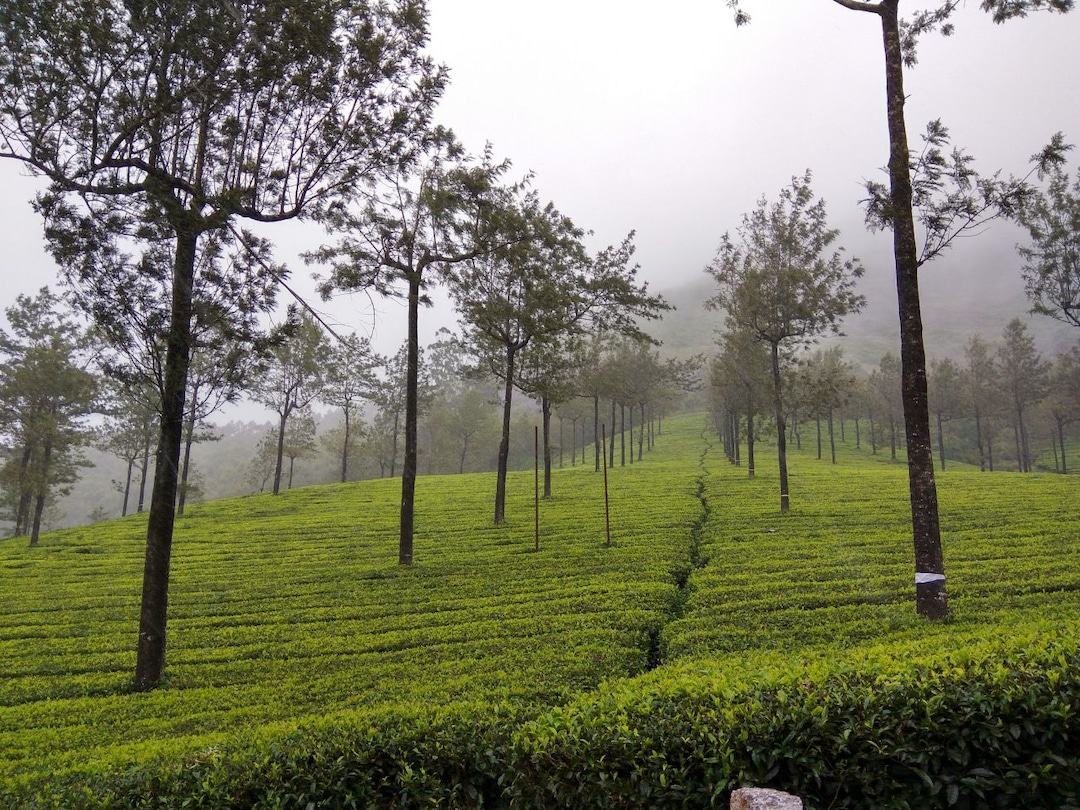 Munnar is one of the most-loved honeymoon places in Kerala and the 'Photo Point' is a favourite spot among all Munnar tourist places! The Photo Point is simply a curve located on the winding roads of the Nilgiri Hills, located about 3 km away from Munnar on the way to Mattupetty and Top Station. This picturesque vantage point is the perfect place to grab a wonderful picture of you and your loved one, against the backdrop of lush green tea gardens. The point has been aptly named, keeping in mind the beautiful canvas it provides for travellers to paint their wonderful memories. The spot is blessed with rolling tea gardens on one side and a view of the hills, mountains and valleys on the other. No extra effort would be required to reach here and there are no entrance fees since this is just a scenic bend on the road! However, the amazing views it provides can rival any other Munnar tourist places. Such is the humble yet elegant beauty of this place! So, grab your camera and pose with your loved one at this picture-perfect spot for some wonderful selfies and unforgettable memories.
Best time to visit: Winter (October & March) & Monsoon (June to August)
Do not miss: Amazing photo opportunities!
8.) Kalari Kshethra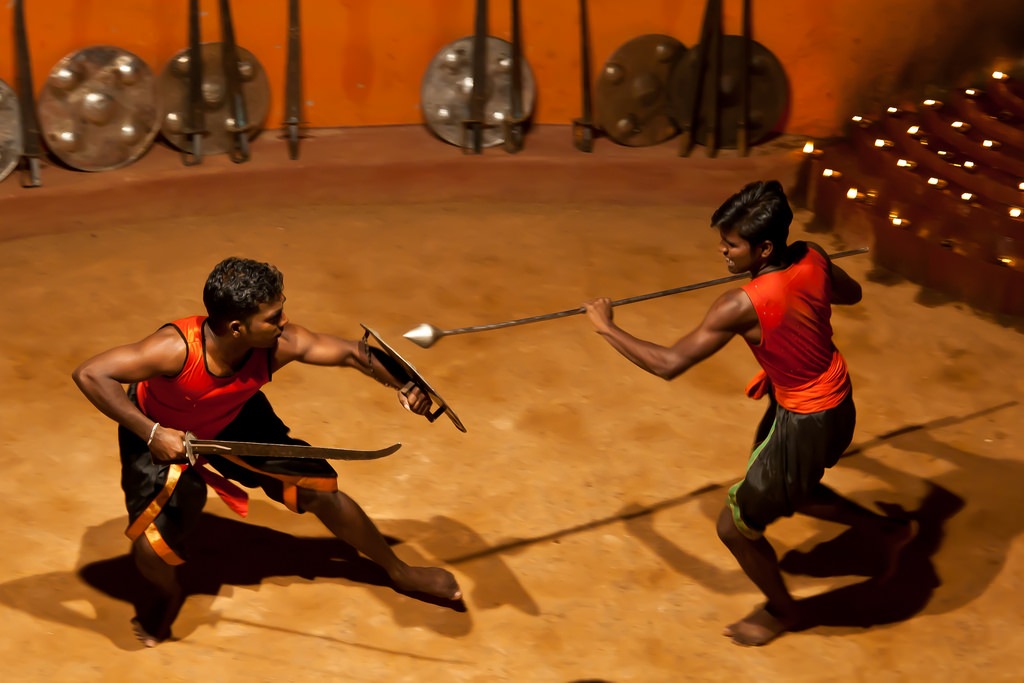 Kalari Kshethra is one of the most enlightening and inspiring experiences to treasure and one of the finest places to visit in Kerala, whether you are on your honeymoon or simply on a leisure visit! It is the home of Kalaripayattu, a traditional form of 'Martial Arts' that originated in Kerala about 3000 years ago. This art form incorporates strength, agility and beauty in a combat style, where performers fight using different kinds of weapons such as swords, shields, spears, trishula, gada etc. Kalaripayattu is further categorized into four subsections: Meypayattu (physical training), Vadipayattu (stick combat), Aayudhapayattu (weapon combat) and Adithada (hand combat). Global martial art forms such as Karate, Kung-Fu and Judo are said to be derived from the Adithada method. One of the major reasons why Kalaripayattu is said to be the 'Mother of Martial Arts'! You can also enjoy a traditional 'Kathikali' dance performance at Kalari Kshethra, one of the finest classical art forms of India. A perfect way to make Kerala honeymoon packages, a healthy mix of adventure, sightseeing, relaxation, tradition and culture!
Best time to visit: Throughout the year
Do not miss: Kalaripayattu show & Kathakali dance performance
Kerala honeymoon packages provide the perfect opportunity for travellers to enjoy nature's amazing creativity at Munnar. It's as if time stands still and you are left with no choice but to be one with nature at this breath-taking destination! A much-needed treat to the eyes, heart, mind and soul; a feeling which can be only experienced at the quaint and picturesque, Munnar hill station.
Such a peaceful encounter with nature is every honeymooner's wish and it can be achieved with our Munnar honeymoon packages. Lush green plantations, misty mountains, scenic views and just the two of you… Now doesn't that sound like something that you would want on your own honeymoon? Visit Munnar and experience what it truly feels like to be in the lap of nature, in God's Own Country!