Reading Time:
20
minutes
Easily one of the best places to visit in Japan is its capital city, Tokyo! Derived from the word 'to' and 'kyo', it literally translates to 'East Capital'. Very popular with tourists, Tokyo is best known for its fine-dining restaurants (it is the city with the most Michelin starred restaurants), best shopping experiences, bustling nightlife, interesting art scenes and the famous anime-pop culture. Just like there is no best time to visit Japan, there is no particular preferred season or time to explore the Tokyo points of interest; you can visit this metropolis all-year round!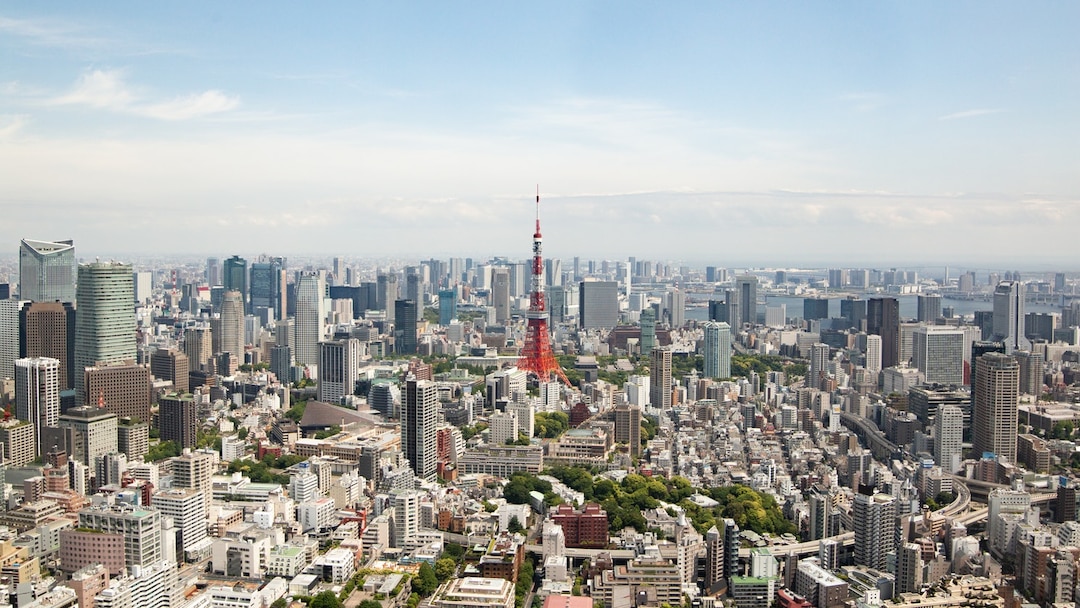 Now, it may happen that you are in Tokyo for a very short period and you want to soak in the best possible aspects of this mega city! Even if you are in this buzzing metropolis just for a day, it never fails to create a lasting impact. And if you really have just 1 day to explore Tokyo, how would you figure out, where to go, what to do, what to see and where to eat? Don't worry! We have you covered for your Tokyo one day trip. Check out our suggestive 1-day tour itinerary that will ensure you get the best Tokyo trip in a period of 24 hours!
Accommodation & Transport: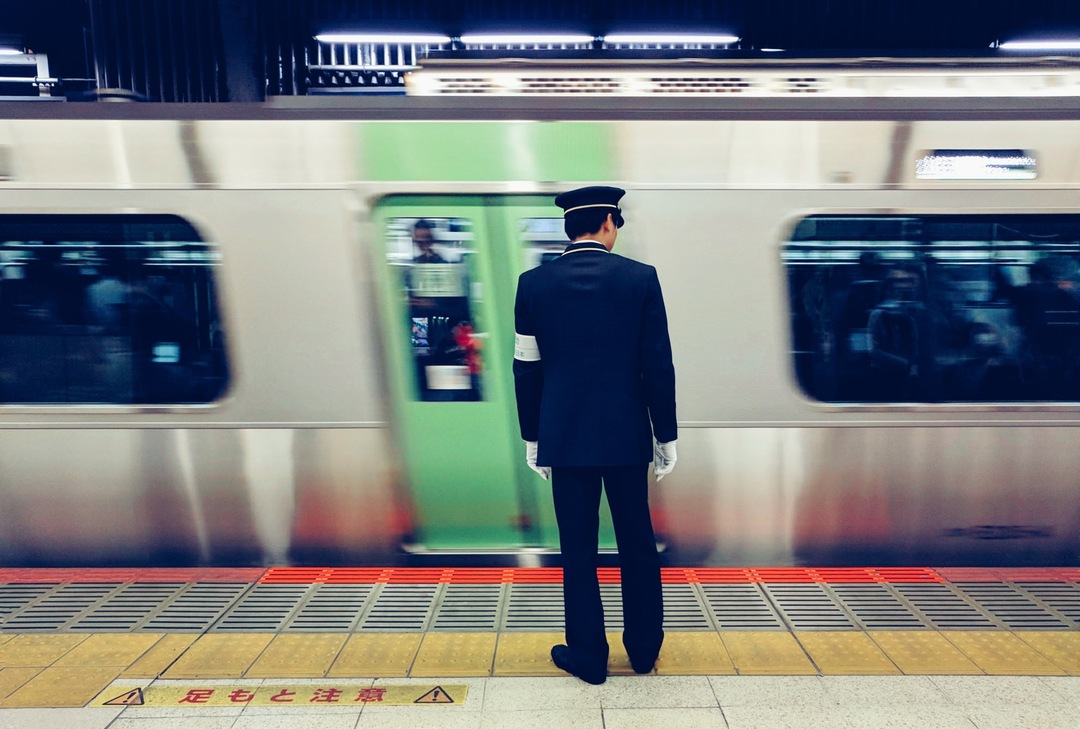 The best places to stay in Tokyo for first-time tourists, single travellers or family vacationers as part of their Tokyo holiday packages are Shinjuku, Shibuya, Ginza and Tokyo Station. These places are considered by many travel websites, frequent travellers and locals to be the most convenient and comfortable living options for tourists. Tokyo has a very efficient transportation system with subway lines and bullet train networks connecting all the major spots in the city. Take advantage of local transport when you travel and look for accommodation near the train lines so that it becomes convenient to hop from one place to the other. It also helps that these areas near the train lines always have plenty of shops and reasonably-priced restaurants and eating options.
---
Itinerary for the day
---
Shibuya – Tokyo Tower – Tokyo Station – Tokyo Station or Marunouchi (Lunch) – Imperial Palace or Akihabara – Senso-Ji Temple – Asakusa Shrine – Nakamise Shopping Street – Tokyo Skytree – Roppongi or Ginza District (Dinner)
*This itinerary will work best if you stay in Shibuya. You can have your accommodation in Shinjuku, Tokyo Station or Ginza and still manage to cover the Tokyo points of interest mentioned in this itinerary. The excellent train system in Tokyo will come to your rescue and will help you navigate even the extreme corners of the city. Now, I haven't mentioned the exact timings anywhere because that is something that every traveller has to manage by themselves. Just remember to begin your day early, stay hydrated, try out local delicacies, use local transport wherever possible, enjoy sightseeing at your own pace and experience the city to the fullest!
Let the Travels Begin: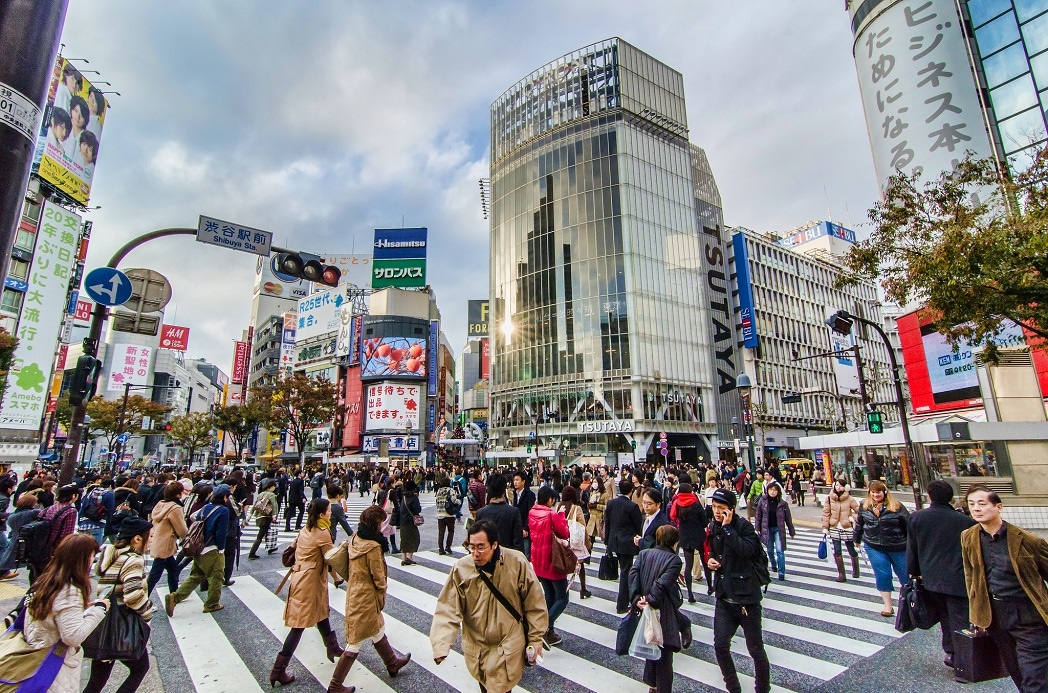 Shibuya (Breakfast) – Begin your day early and head to the JR Shibuya Station! You will find the Hachiko Exit on the north-west side of the station that opens out to Hachiko Square. Check out the famous statue of Hachiko, the Akita dog who was well-known for his loyalty to his master. The Hachiko square further opens out to the Shibuya Crossing or Shibuya Scramble that is famed for being the busiest pedestrian crossings in the whole world! Walk across the famous crossing and head to the shopping districts of Shibuya. Here you will find many restaurants and eating options where you can have a hearty and wholesome breakfast!
*Try World Breakfast Allday, Oichan (Asian street breakfast), Honke Shibusoba, Eggs'n Things, Viron Brasserie, About Life Coffee or Ivy Place (perfect for families) to enjoy a sumptuous breakfast and kick-start your Tokyo trip for some wonderful sightseeing!
Tokyo Tower: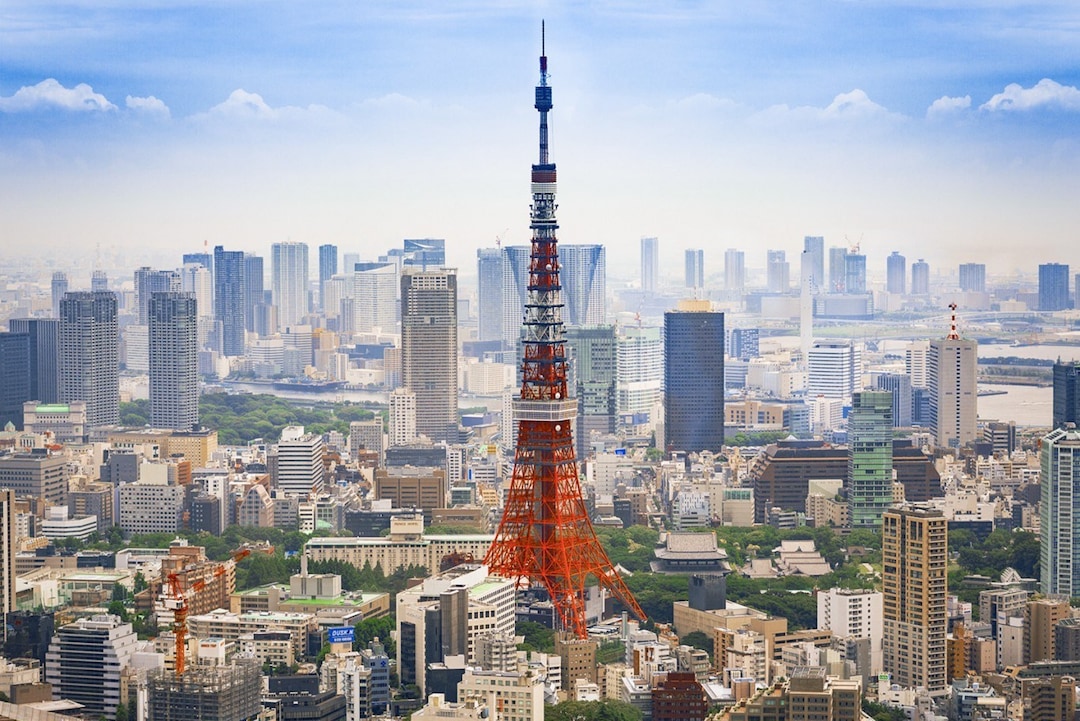 How to Reach?
Next stop is Tokyo Tower! The fastest way to reach Tokyo Tower from Shibuya is by road, which takes about 15-20 min. You can also take the JR Yamanote Line, change to Hibiya Line and get off at Kamiyacho station for a 5-10 min walk to Tokyo Tower.
This is the world's tallest self-supporting steel tower that stands at an amazing height of 333 meters in the heart of Tokyo. The observatory deck at Tokyo Tower offers a panoramic view of Tokyo city and on clear days, you can also spot Mount Fuji in the distance. The tower also hosts a souvenir shop and a café where visitors can enjoy some light refreshments. Not just your day tour but make sure to include this beauty of a tower in any Tokyo tour package and you will not regret it even a bit!
Tokyo Station: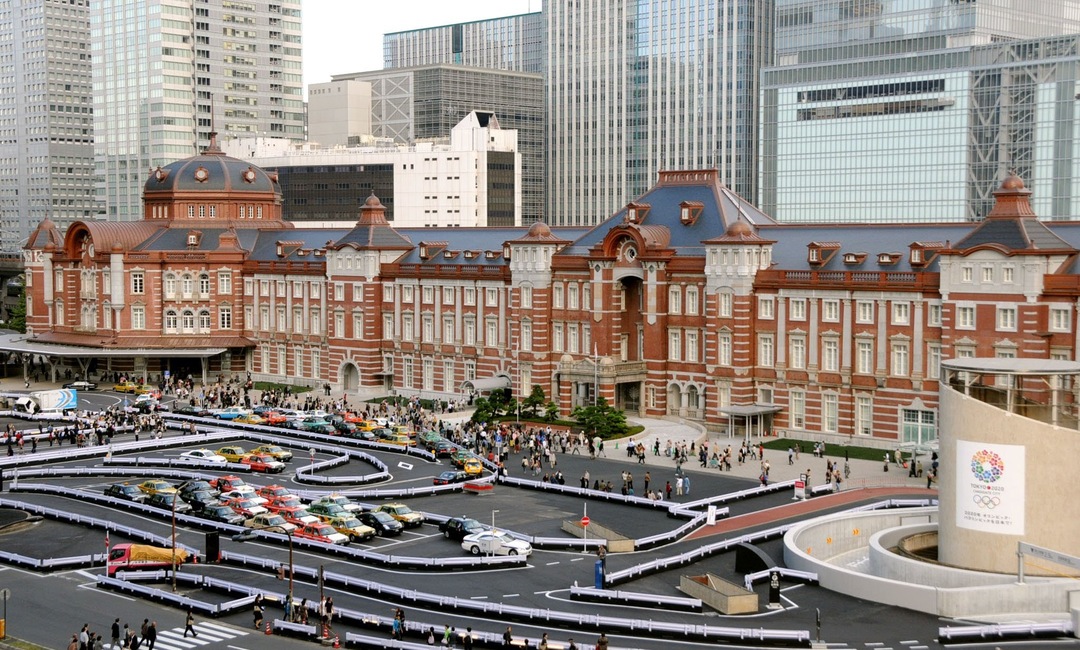 How to Reach?
Another 15 min by road and you will reach the famous, Tokyo Station! Alternately, you can also take the Hibiya Line from Kamiyacho station, change to Marunouchi Line and head to the Tokyo Station.
This station is located in the Chiyoda business district near the Imperial Palace grounds of Tokyo. The red brick façade of the train station is an architectural beauty and has been maintained perfectly since the train station opened in 1914. Tokyo Station is the main intercity rail-line of Tokyo and the busiest station in Japan that serves the very famous bullet trains of Japan also known as Shinkansen high-speed rail. When you opt for a Tokyo tour package from India (a longer itinerary than this one), do include an amazing ride on the Shinkansen (Bullet Train) that will give you the true feel of being in Japan! The station itself has a huge variety of dining areas; some of the popular areas to enjoy a great lunch are Kitchen Street and Ichiban Gai. The very popular Tokyo Ramen Street is also located at Ichiban Gai.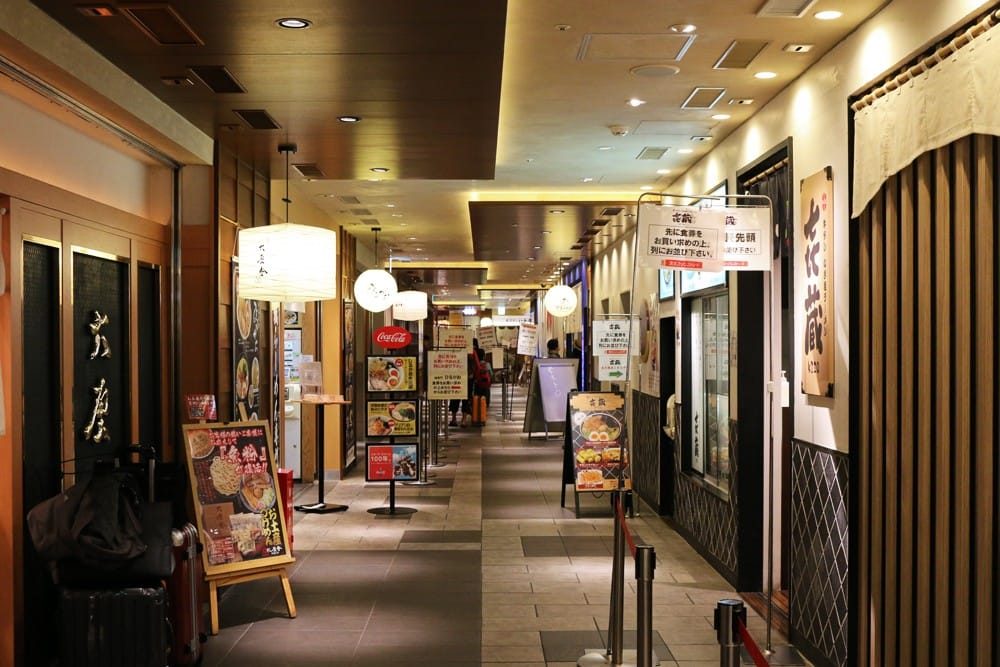 Marunouchi (for Lunch)
This area is located between the Tokyo Station and Imperial Palace Grounds. It has wide boulevards, huge office buildings and several newly-opened shopping as well as dining complexes. Some of the best restaurants around Tokyo station are located in this area! Marunouchi Building (Marubiru), Shin Marunouchi (Shin Marubiru), Kitte, Marunouchi Oazo, Nakadori Avenue and Marunouchi Brick Square are some of the best places to have a lovely afternoon meal and enjoy some shopping as well!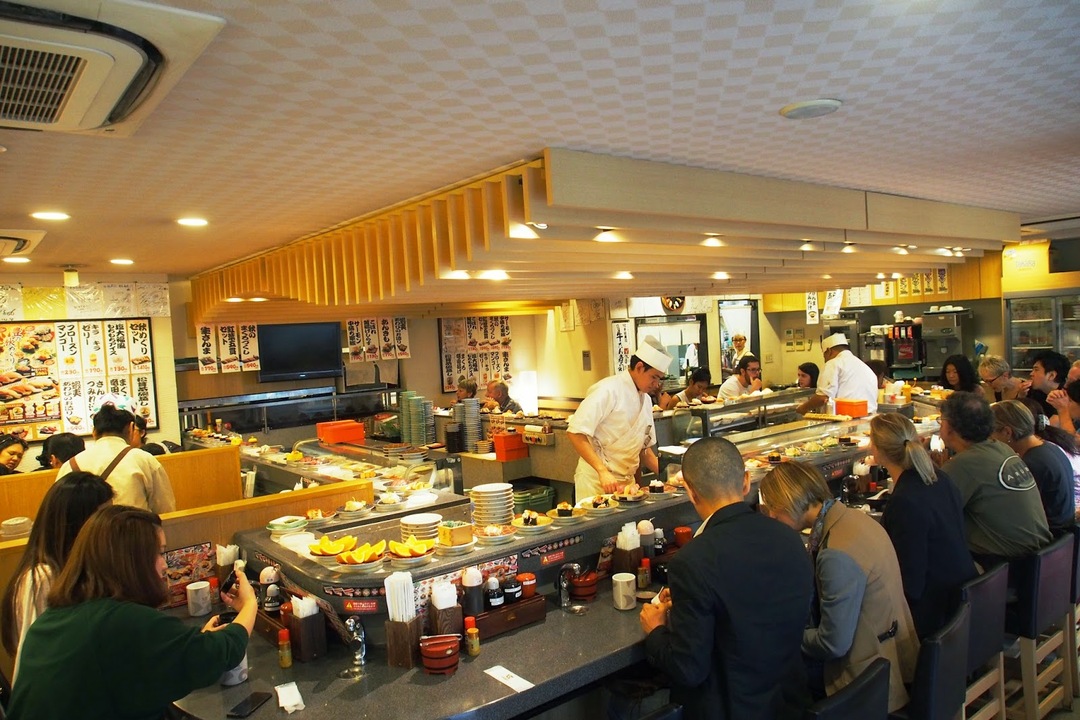 *You have 2 options after lunch! Either explore the Imperial Palace Grounds or head to Akihabara – a haven for electronic items in Tokyo. History and nature lovers would love exploring the historic Imperial Palace while technology geeks would be amazed by the sheer number of electronic products they can find and buy at Akihabara.
Tokyo Imperial Palace: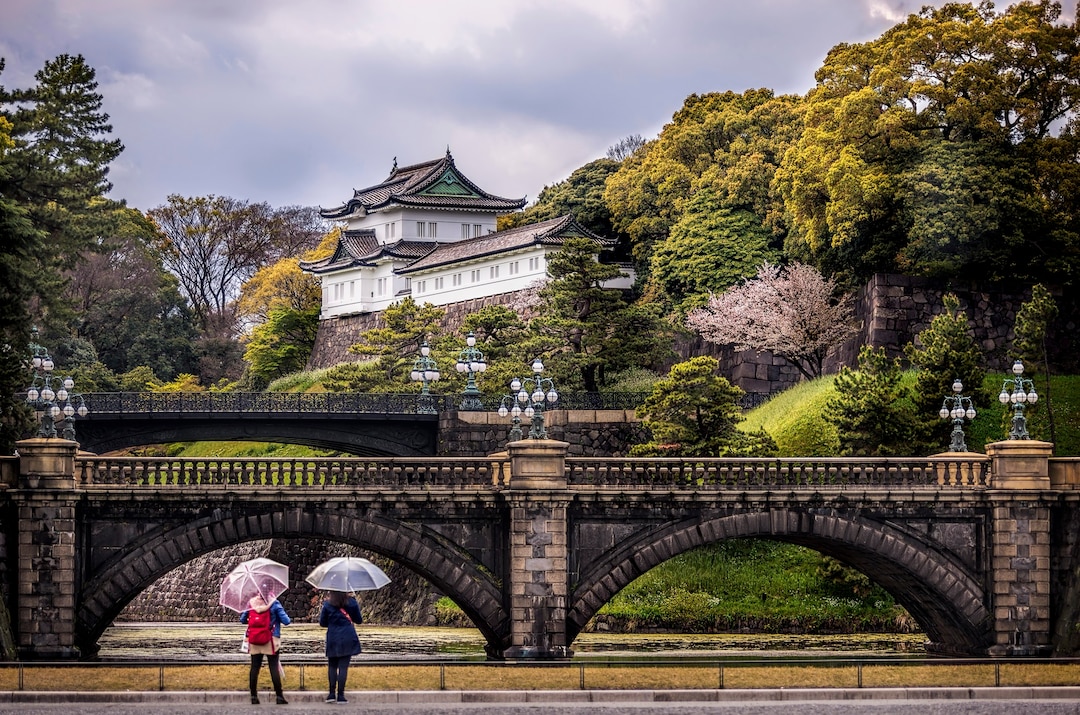 How to Reach?
The Tokyo Imperial Palace is located a short walking distance away from Tokyo Station. Kikyo-mon Gate and Ote-mon Gate are the two gates which are relatively closer from Tokyo Station and the Marunouchi area. Both gates are at a walking distance of approx. 15 min from Tokyo Station and around 20-25 min from the Marunouchi area.
It is the residence of the Imperial Family of Japan; a large park-like area surrounded by massive stone walls, bridges and moats. The palace grounds are vast and well-maintained consisting of several Hanami (cherry-blossom viewing) spots, gardens, art galleries and ancient ruins. The parks and gardens are divided into three sections; East Gardens, Kitnomaru Koen Park and Kokyo Gaien National Gardens. You can also spot the Nijubashi, two bridges connecting the inner palace grounds to the exterior from the Kokyo Gaien, the large plaza in front of the Imperial Palace. There are free guided tours available of the inner palace grounds but prior online registration is required. These tours generally take around 75 min and are conducted in Japanese, although headsets are available in English.
*The Hanami spots are active during the cherry blossom season that occurs during March-April. A traditional Japanese-style picnic under these cherry blossom trees features among the topmost things to do in Tokyo during cherry blossom season!
Akihabara: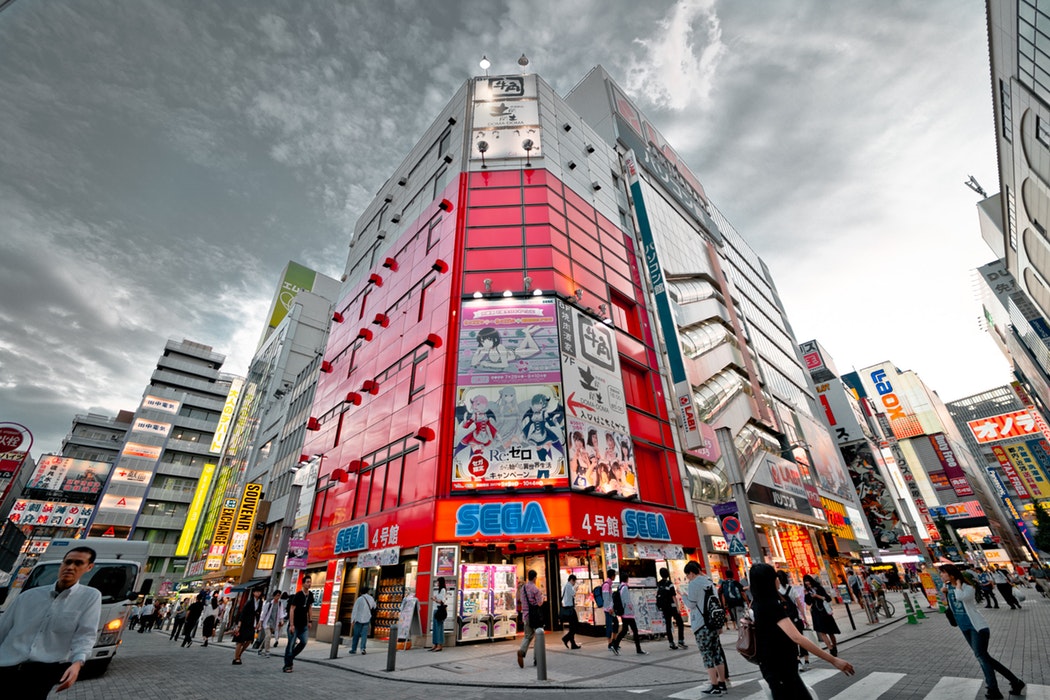 How to Reach?
If you love technology and electronics, then you can probably skip Imperial Palace from your Tokyo points of interest and head to Akihabara. (Even if you skip Imperial Palace in your day tour, make sure to include this iconic landmark in your Tokyo tour package from Mumbai). This district in central Tokyo is quite famous for its electronic shops. From Tokyo Station, take the JR Yamanote Line and get off at Akihabara station, which is just 2 stops away.
Akihabara is also famous for the anime and manga culture of Japan that reflects in the merchandise and general appearance of many shops and establishments of the district. You will find all kinds of electronic stores at Chuo Dori (the main street) and side streets of Akihabara – small time electronic stalls to large retailers and a large variety of electronic goods ranging from latest branded products to second-hand items and household appliances. Some of the famous stores in this district that you can head to for some good (sometimes tax-free buys) are Sofmap, Laox and Yodobashi Camera. No wonder this district has earned the nickname of 'Akihabara Electric Town'! Visiting and shopping for electronics at Akihabara is simply one of the best things to do in Tokyo!
Asakusa Shrine: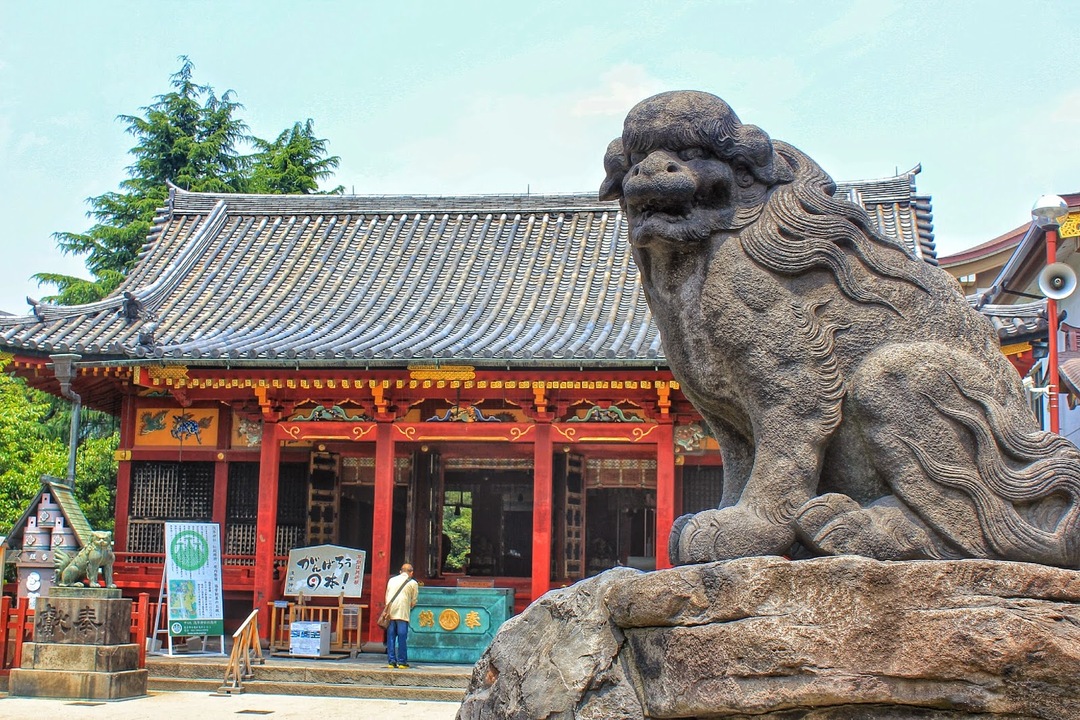 How to Reach?
It's time to get spiritual! We now head to the temple district of Tokyo – Asakusa. If you are at Imperial Palace, head to Tokyo Station and take the JR Yamanote Line to Kanda Station and then change to Ginza Subway Line to reach Asakusa station. If you are at Akihabara, take the Hibiya Line from Akihabara Station and change to Asakusa Line to reach Asakusa station (4 stops away).
Once you reach Asakusa, you will be amazed to find the contrast of this quaint yet charming district against the fast-paced city life of Tokyo! Visit the Asakusa Shrine, also known as Sanja-sama (Shrine of the Three Gods), one of the most famous Shinto shrines of the city. The shrine honours the three men who founded the revered Buddhist temple, Senso-Ji. The Asakusa Shrine is one of the only two buildings in this area that survived the air-raids of World War II. Asakusa along with Senso-Ji Temple and Nakamise Shopping Street are the must-visit attractions of your Tokyo tour package; then it can be 1 day or 1 week!
Senso-Ji Temple: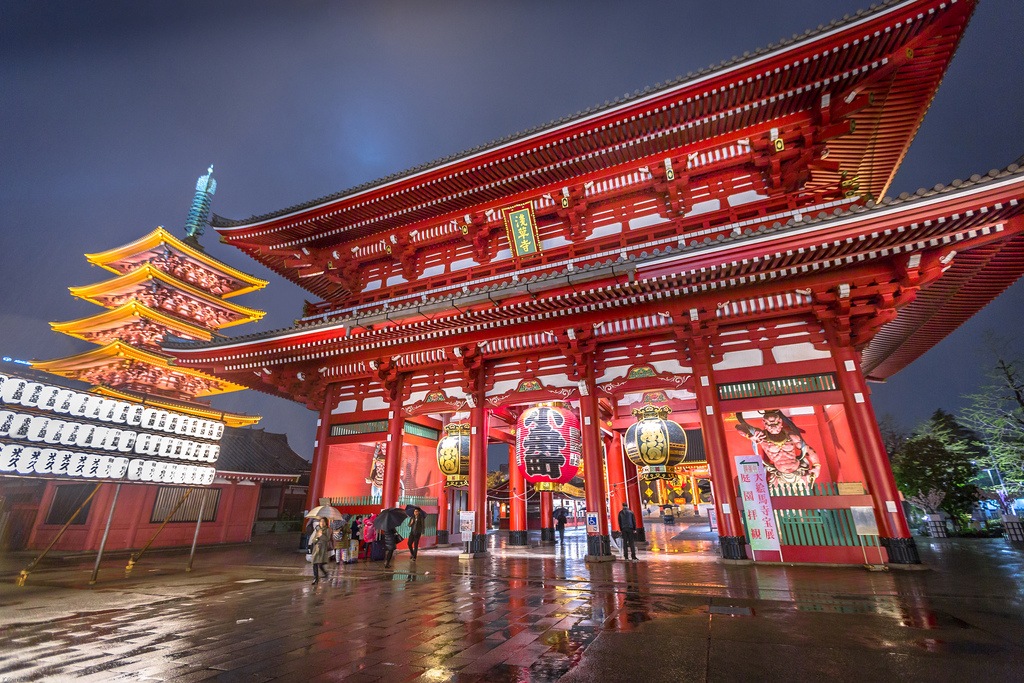 How to Reach?
Just a short walking distance away from Asakusa Shrine is the oldest temple of Tokyo – Senso-Ji Temple!
Also known as Asakusa Kannon Temple, Senso-Ji is one of the most popular and prominent temples of Japan. The temple is also counted among the most widely visited spiritual sites in the world with over 30 million people, who visit the temple annually. While approaching the temple, enter through the Kaminarimon (Thunder Gate), the outer gate of the Senso-Ji Temple and the prominent symbol of not just Asakusa district but the entire Tokyo city! This temple was damaged during the Second World War, however, it was rebuilt again in the original style and till date, stands as a reminder of the resilience of the Japanese people. With an attractive 5-storey pagoda, the fragrance of numerous incense sticks and the holy atmosphere of this temple complex, visiting Senso-Ji is one of the prime things to do in Tokyo!
Nakamise Shopping Street: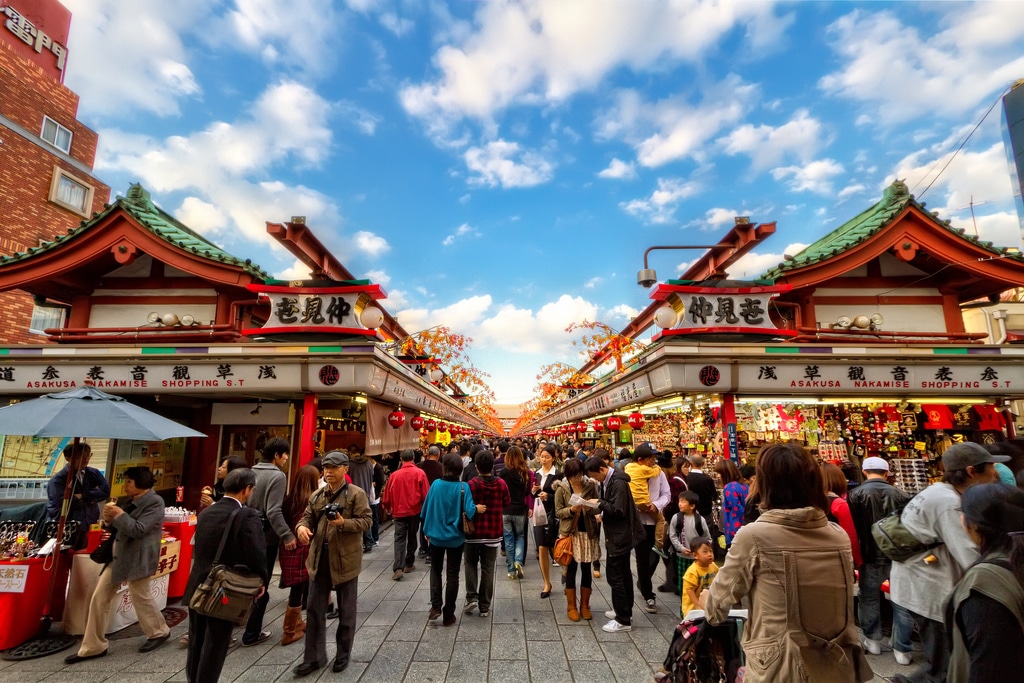 How to Reach?
This 200 meters long shopping street is situated outside the gates of Senso-Ji Temple.
Nakamise is the perfect place to enjoy, as the Japanese say 'Tabearuki' which means walk-and-eat! Here you will find everything from Japanese souvenirs like folding fans, Yukata, Japanese lanterns, postcards of Edo period, art supplies, wooden dolls, Japanese clogs to traditional local snacks like rice crackers, Amezaiku (traditional Japanese candy) and Ningyo Yaki (sweet cake filled with red bean paste). Nakamise is one of the oldest shopping streets of Japan and has an interesting history that goes back several centuries. A perfect way to spend your evening, Nakamise is the go-to hotspot that you must include in your Tokyo holiday packages.  Indulge in some souvenir shopping before you head to the final sightseeing spot for the day!
Tokyo Skytree: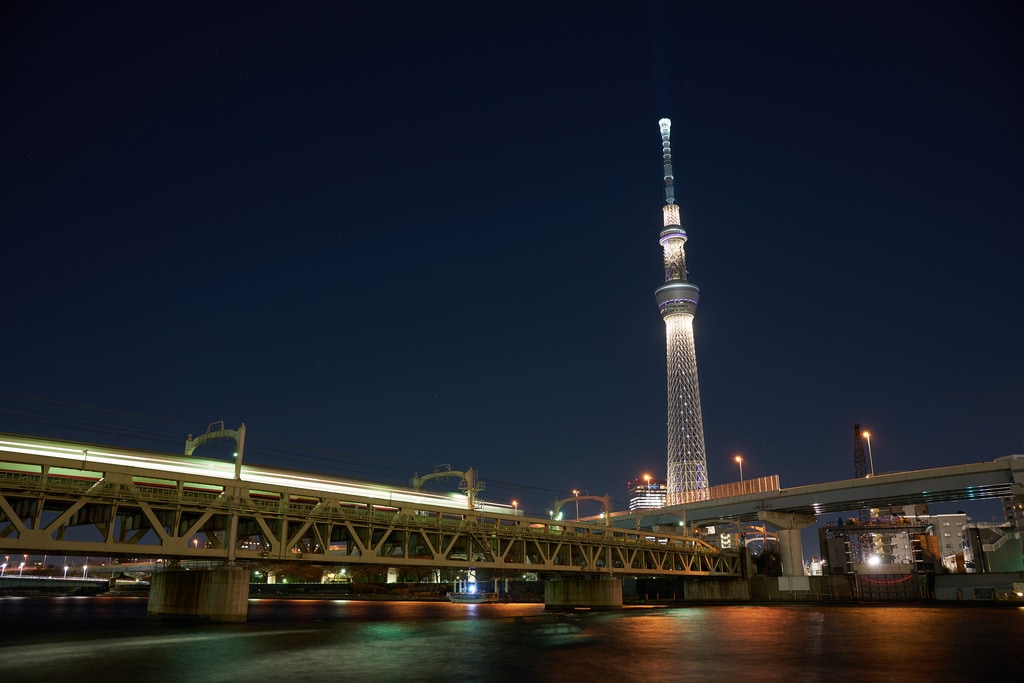 How to Reach?
Our final stop for the day is Tokyo Skytree! An important landmark of Tokyo, the Tokyo Skytree is a television broadcasting tower located in the Sumida City Ward, not far from Asakusa. Take the Tobu Skytree Line from Asakusa Station and reach the Tokyo Skytree Station within a few minutes or take the Asakusa Subway Line from Asakusa Station and get off at Oshiage Station to reach the Tokyo Skytree which is at walking distance from the station.
With a height of 634 meters, it is the tallest structure in Japan and one of the best places to visit in Japan, as a whole. The Tokyo Skytree has a large shopping complex and an aquarium at the base and two observation decks for visitors to enjoy the view. Going to the top of the tower and enjoying an amazing view of the city from its observatory deck is one of the topmost things to do in Japan. It also has a Sky Restaurant, Skytree Café and a Skytree Shop on its lower deck. End your day with a spectacular view of Tokyo and let this city occupy a place in your heart and mind!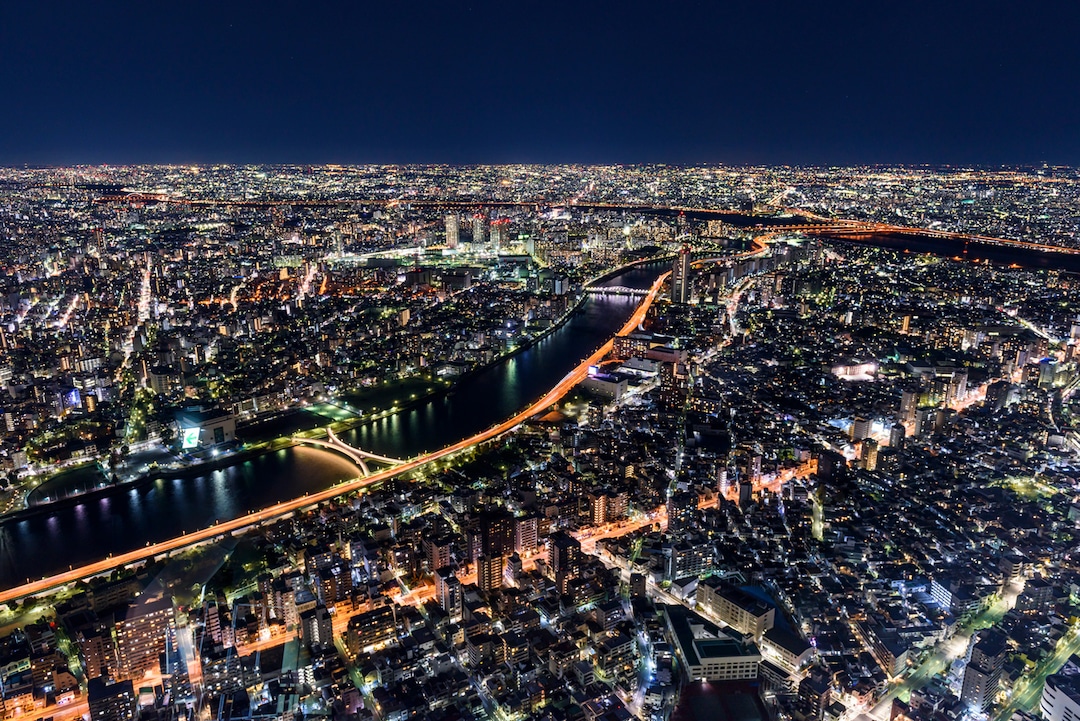 *You can even dine at the Skytree restaurant or opt for the many dining options available in the tower itself. If you want to explore your dining options, even more, you can head to the Roppongi or Ginza districts for some amazing nightlife, upscale restaurants and exciting dinner choices. Gonpachi, Sushi Hattori, Shimauta Paradise, Ganchan, XEX in Roppongi and Tempura Abe, Tsuta, Soba Sasuga, Ippudo and Umegaoka Sushino Midori in Ginza are some excellent options you can try for dinner! 
If you want to squeeze in more sightseeing on your Tokyo day trip or lose a few tourist attractions from the above list and add some others, then you could consider the following options: Tsujiki Fish Market (best for early morning breakfast), Shinjuku Gyo-en National Garden (one of the best spots to experience Japan Autumn Colours & Cherry Blossom Season), Meiji Shrine, Ueno Park & Zoo, Tokyo National Museum (relics of Japanese history and culture), Tokyo Metropolitan Government Building (free admission coupled with awesome views) and Palette Town in Odaiba. Take your pick and plan a fun-filled but memorable day at Tokyo!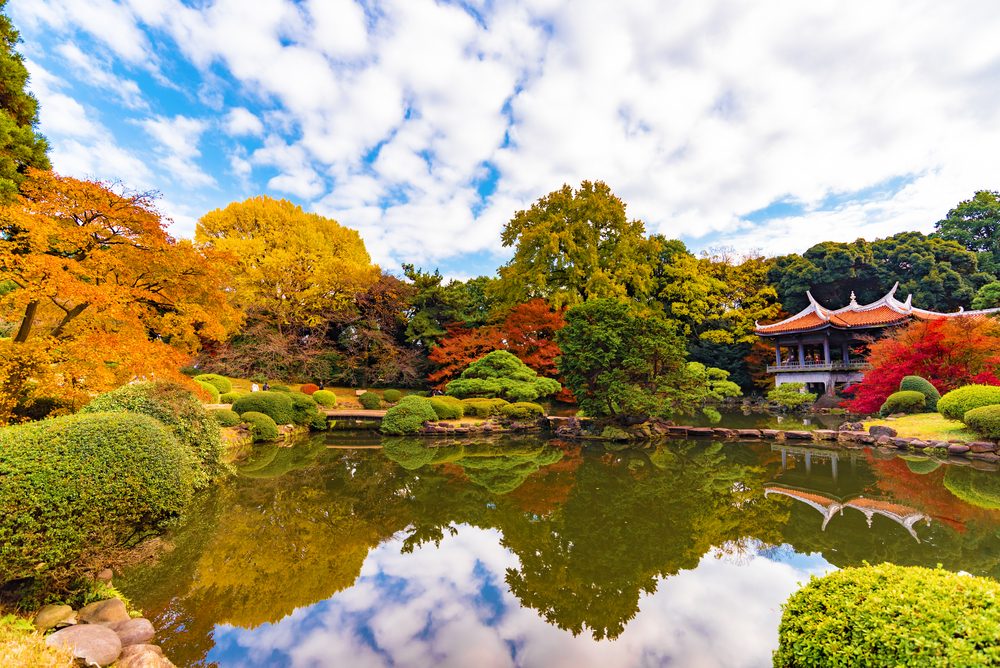 That's our quintessential 1 day Tokyo tour itinerary that is sure to give you an amazing insight into Tokyo city. Get ready to be amazed by the mega-metropolis of contradictions! While on one hand, you will find sprawling skyscrapers, cutting-edge architecture and technology, on the other hand, you will also come upon ancient shrines and temples, gigantic gardens and traditional houses. With a population of over 13-million people, this city is unusually calm and efficient. Here the trains are always on time and if they happen to be late (which is a rare occurrence) they are only delayed by seconds! Even a day in Tokyo is enough to make you realize that you really need to spend some more time in this amazing city…
Come back for more and explore one of the largest, busiest and futuristic cities of the world – Tokyo!