Reading Time:
12
minutes
Originally known as Kantipur, once a trading route between Tibet and India and gradually transformed into a bustling city of Nepal, there is no adequate way to describe Kathmandu. Incredibly energetic, historical, spiritual, enticing and magical are some of the adjectives that truly define the largest city of Nepal, Kathmandu. It is absolutely impossible to visit Nepal without visiting the country's capital and exploring the many sightseeing places that Kathmandu offers. With a population of approximately 1.7 million, Kathmandu is a welcoming and achingly beautiful melting pot of Buddhism and Hindu culture, rich in ethnicity and history, with so much to see and do. Tourists from all over the world explore the winding alleyways that lead to the city's UNESCO World Heritage Sites, thriving markets, stupas, temples and restaurants with just about every cuisine imaginable. The city is filled with endless streets with various things to do in Kathmandu, which are worth exploring with friendly locals who welcome you to this magical place.
Before diving into some of the best places to visit in Kathmandu, let's go back to the rich history of Kathmandu, which the beautiful places in the city narrate well. Kathmandu takes its name from a 12th-century pavilion on the Tibet-India trade route named Kasthamandapa. The pavilion can be seen today as well in modern-day Kathmandu right in the heart of the city. It was during the 13th century that the city saw some development, and the majority of temples, structures and monuments of Kathmandu began flourishing. Nepal was once split into three main kingdoms which were namely Basantapur (Kathmandu), Bhaktapur, and Patan. Hemmed by Himalayan foothills and a sensory overload, we have listed some of the best things to do in Kathmandu that will thrill and rejuvenate your mind, body and soul at the same time.
1. Boudhanath – Popular Buddhist Sites
Bouddha or Boudhanath is the largest Buddhist stupa in the entire Kathmandu which is encircled by houses and monasteries where Buddhist monks reside. Boudhanath is one of the most famous places to visit, and sightseeing places in Kathmandu as the pilgrimage site can be seen frequented by tourists and pilgrims throughout the year. Throughout the day, pilgrims can be seen circumnavigating the Boudhanath chanting mantras. The structure turns into a spectacular beauty during the night hours when the stupa is decorated with illuminating lights and lamps. A visit to Boudhanath stupa is a must thing to do in your Kathmandu itinerary if you want to experience Kathmandu's spiritual side.
2. Swayambhunath Temple -Must Visit Monkey Temple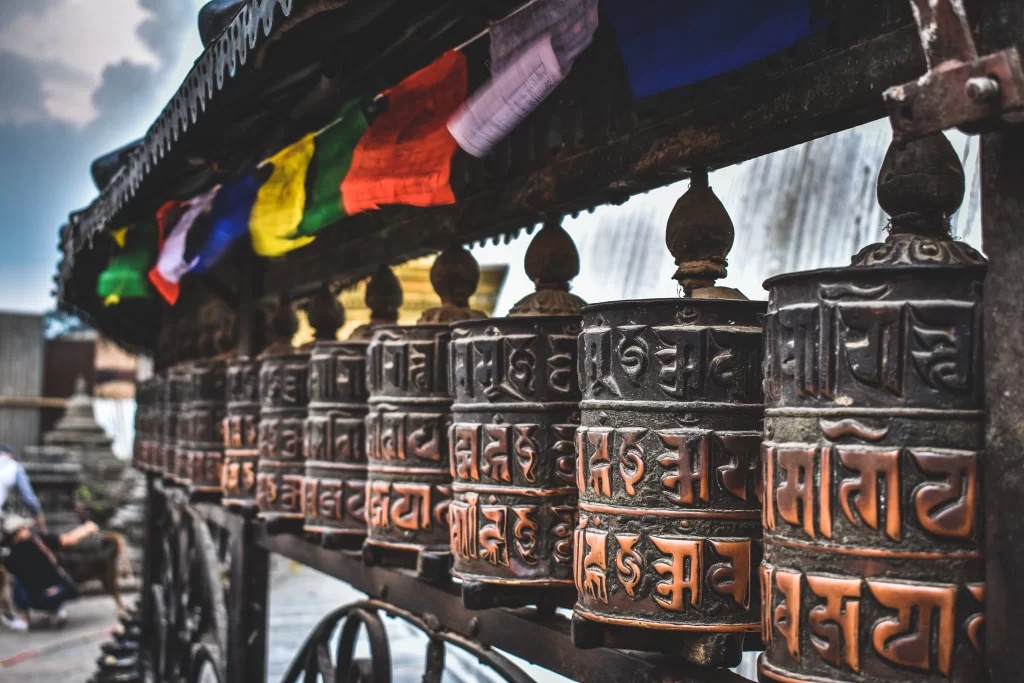 The Swayambhunath Temple is a UNESCO World Heritage Site which is one of the holiest Buddhist shrines in Kathmandu and one of the best things to do in Kathmandu. Perched high above the city, the Swayambhunath Temple boasts some of the spectacular views of Kathmandu which are really captivating. You will have to climb about 365 stairs to reach the temple, and on the way, you will meet numerous monkeys, one of the reasons the Swayambhunath Temple is known in Kathmandu.
3. Pashupatinath Temple – Sacred Temples of     Kathmandu
 Pashupatinath Temple is one of the most sacred temples and sightseeing places in Kathmandu which is dedicated to Lord Shiva. The entire temple complex is huge and sprawling which sees thousands of devotees visiting the place throughout the year. Pashupatinath Temple is one of the most beautiful temples in Kathmandu, where you will see numerous sages painted in vermillion. The temple is a beautiful local sightseeing option to see in Kathmandu during the evening time when the evening prayers happen on the temple premises.
4. Bhaktapur – UNESCO World Heritage Site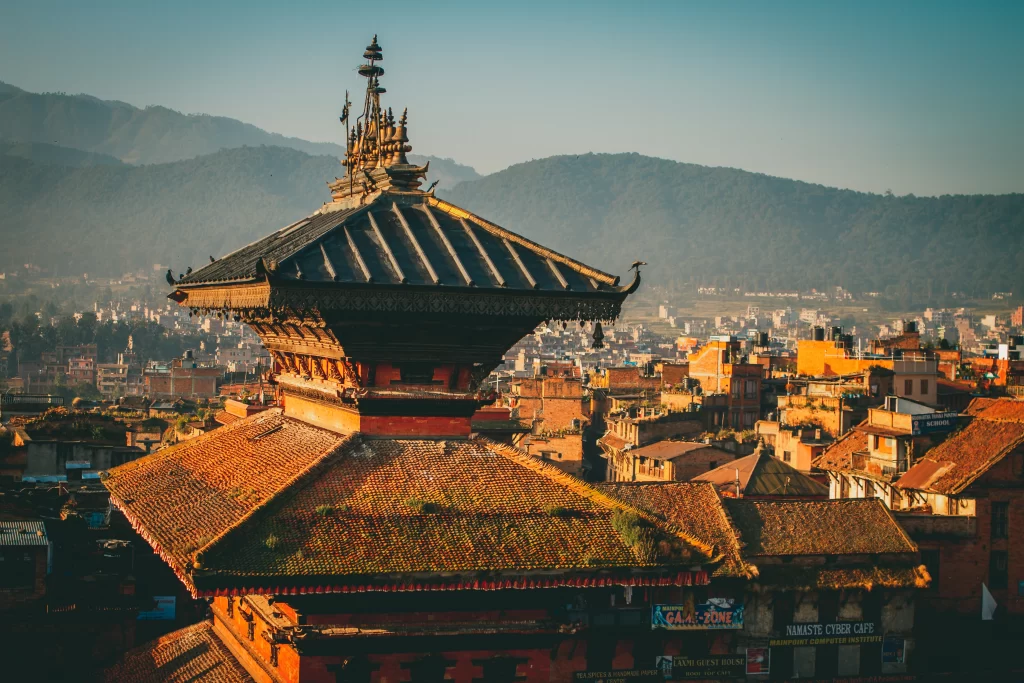 A small 10 km journey from the main city of Kathmandu will land you in the charming small village of Bhaktapur. The place has an abundance of beautifully crafted temples and monuments which depicts the place's rich history. One of the most famous temples in Bhaktapur that you can pay a visit to is Nyatapola Temple which is a five-storey temple built around the 18th century. Other popular places to see in Bhaktapur near Kathmandu include the Dattatreya Temple and the Pujari Math.
5. Royal Botanical Gardens – Abundance of Exotic Flora
 In the foothills of Mount Phulchowki in Kathmandu, Royal Botanical Garden is a treat to visit and one of the best things to do in Kathmandu. The entire city of Kathmandu is rich in effervescent flora, which truly reflects well in this beautiful and colourful garden. The Royal Botanical Gardens cover an area of over 200 acres with over 500 plant species. The garden was first opened in 1962 with the support of the then king and is now frequented by travellers around the year to witness the beauty of the Royal Botanical Gardens.
6. Indira Chowk – Historic Heart of the City
Indira Chowk, named after the Hindu lord of heaven, has been at the forefront of Kathmandu's life for many years. There are six major streets on Indira Chowk that creates a hive of activities in Kathmandu for shoppers and pilgrims equally. Indira Chowk is also one of the famous places to see in Kathmandu to shop, which is filled with rows of stalls and vendors offering various beautiful handcrafted arts and crafts pieces, jewellery and apparel. The Indira Chowk is also famous for being a mid-point of various festivals and processions that take place in the city. If you are lucky enough or plan your trip during the famous festivals celebrated in Kathmandu, you can enjoy the various processions that take place during the festival.
7. Kopan Monastery – Home to Giant Bodhi Tree
 Apart from enjoying the sprawling skyline of Kathmandu city, the Kopan Monastery is a tourist attraction places in Kathmandu which is home to over 360 Buddhist monks. You can reach the Kopan Monastery via many local transport options available in Kathmandu city. While at Korpan Monastery, you can also see the giant Bodhi tree, the Chenrezig temple and the Thousand Buddha Stupa around the temple premises. The entire Kopan Monastery is circumscribed by manicured gardens, prayer flags and prayer wheels along with an abundance of Buddhist sculptures. You can even sit inside the temple premises and take part in morning meditation while enjoying the splendid view of the Kopan Monastery.
8. Thamel District – For All Things in Kathmandu Style
There is probably no trip complete without exploring the Thamel district situated in close proximity to Kathmandu. The best way to explore the streets of the Thamel district is by walking as you will be greeted by many locals and tourists in abundance in this beautiful spot. Planning a trip to the Thamel district on your honeymoon is also one of the best things to do in Kathmandu for couples, as you will find many beautiful places to explore around the town. Once in the Thamel district, you will find a lot of eateries that serve delicious authentic Nepali cuisine, which is one of the best things to do in Kathmandu. You can even spot many colourful souvenir shops that sell beaded ornaments and other handcrafted items which you can take back home to gift to your friends and family.
9. Shivapuri National Park – Take a Break from City Life
Another popular place to see in Kathmandu is Shivapuri National Park, which is situated in the North Kathmandu region and was established way back in 2002 AD. The national park is an incredible place to visit on your trip to Kathmandu if you want to escape the hustle and bustle of the city life and want to rejuvenate your mind, body and soul by seeing something which very relaxing and calming. Once in Shivapuri National Park, don't miss to explore the gorgeous trails that cross through the forests, vistas and summits. You can spot Himalayan black bears, barking deer, jungle cats, rhesus monkeys etc. in abundance in the Shivapuri National Park.
10. Nepali Folk Musical Instrument Museum – Upclose and Personal with Nepali Culture
 Nepali culture is a beautiful amalgamation of over 100 unique ethnic groups combined with over 1,300 distinct musical instruments. The Nepali Folk Musical Instrument Museum opened its doors in 1995, where you will see various musical instruments put on display together for you to see. At the entrance, you will be greeted by the music of Sarangi, which is believed to be the largest of the kind instruments on earth. The Folk Musical Instrument Museum is situated on the premises of the famous Tripureshwor Mahadev Temple, one of the largest temple complexes and popular sightseeing places in Kathmandu. After exploring the various musical instruments that the museum has to offer, you can take blessings at the Tripureshwar Mahadev Temple, a perfect combination of craftsmanship and culture.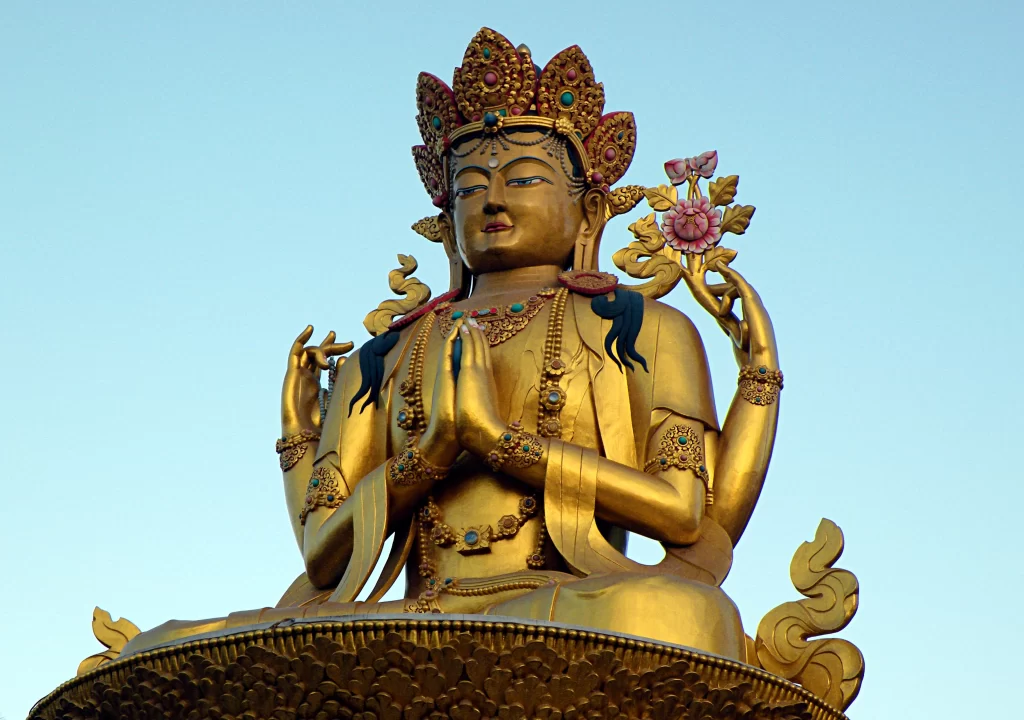 Kathmandu in a Snapshot
 Regardless of your reason for travelling to this charming city of Nepal, planning a Nepal travel package is worth it. If you're keen to explore the beauty and rich cultural heritage of Kathmandu in-depth, then you must consider booking your Nepal travel package right away from various packages available on Veena World. To help you have a comfortable trip and explore various things to do in Kathmandu, we recommend you carry a comfortable pair of shoes to travel in the lanes of Kathmandu conveniently. To make your trip to Kathmandu tailor-made for you, we, at Veena World, provide absolute flexibility to customise your holidays. Check out our Nepal travel packages which include several things to see in Kathmandu and get those suitcases out and packed for a trip here!