Reading Time:
7
minutes
The Silk Route is an ancient trade network that connected Asia with the Mediterranean Sea. Apart from trade, it was also used to exchange ideas among different civilizations. Silk Route in East Sikkim went from Lhasa to Tamluk in West Bengal crossing the Chumbi Valley and the Nathula Pass. Located in the northeastern region of India, Silk Route Sikkim is known for its scenic beauty, snow-covered mountains and lush green forests. The majority of the population in Sikkim comprises of Nepalese, Bhutias and Lepchas. It was an independent Kingdom until it merged with India in 1975.
The state of Sikkim in India exhibits a unique combination of different cultures, cuisines and architecture. Here is a list of the best places to visit on Silk Route Sikkim: –
Echey Gaon
This is a small village in the Kalimpong district of West Bengal that is located at the height of 5800 ft above sea level. Echey Gaon is surrounded by snow-covered mountains and lush green forests of Pine, Birch and Juniper trees. The picturesque landscape is a hotspot for nature photographers who visit the village to capture breathtaking images of the surrounding landscape. The Silk Route gives Indian tourists a much-needed break from their hectic schedules.
Reshi Kola
Reshi Kola is a small village located on the border of Sikkim and West Bengal. It is a hidden gem on the ancient Silk Route which receives very few tourists. If you are looking for peace and tranquility, then Reshi Kola is an ideal place to be at. You can look forward to spotting some rare species of birds that are unique to the Himalayan region. If you are a newly married couple looking for a romantic destination, then you will find the riverside setting of the village quite suitable for your honeymoon.
Zuluk
Zuluk is a hillside village with a small settlement that is famous for its breathtaking views of the surrounding mountains. During the spring season, the whole region is covered with Rhododendrons that further add to its charm and beauty. Owing to its high elevation, the small village remains covered with mist and clouds.
Thambi View Point
Thambi View Point offers panoramic views of the famous Mt Kanchenjunga. The zig-zag road is named after the engineer who planned its construction. It is a marvel of engineering genius that showcases the outstanding skills of the workers that constructed the road. You can also see Zuluk from Thambi View Point.
Nathang Valley
Nathang Valley was once a part of the ancient Silk Route. Traders would carry herbs and spices loaded on horses through the valley which is covered with lush green grass during summer and thick sheets of snow in winter. Tourists planning to visit the valley will need a pass to enter the valley since it is located on the Indo-China border. One of our top recommended places to visit on the Silk Route in Sikkim.
Nathula Pass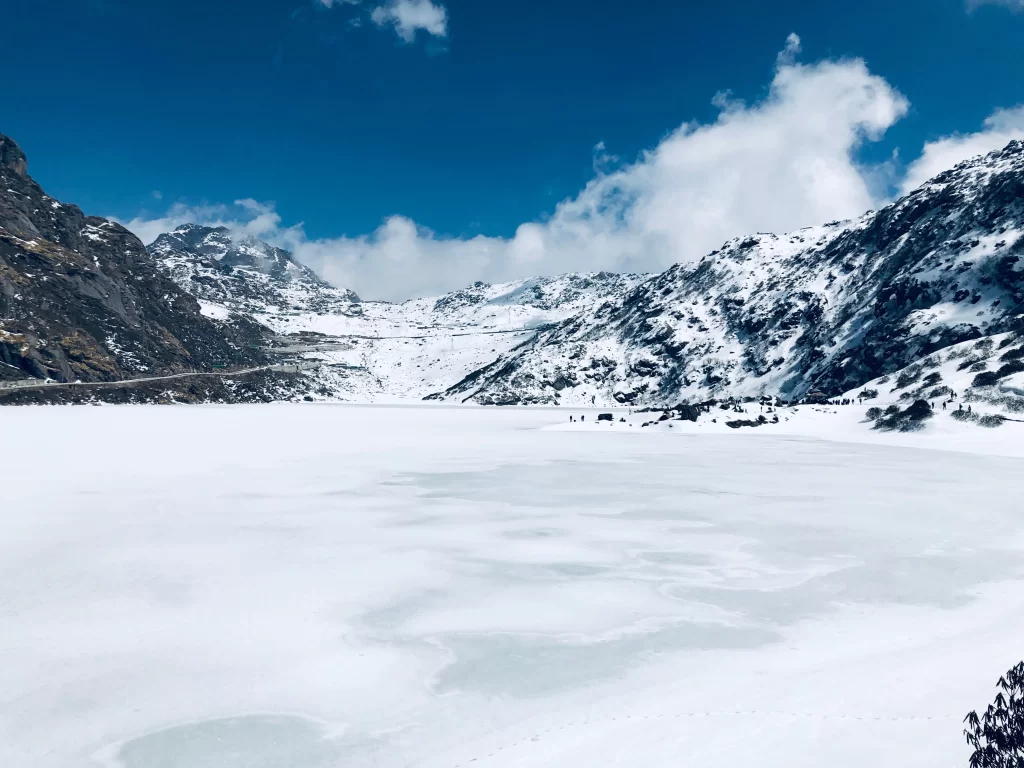 Nathula is a mountain pass that connects Sikkim with China. It is one of the four open trade routes between India and China. Nathula was once part of the ancient Silk Route used by traders to carry precious goods from one part of the world to another. Nathula receives heavy snowfall during the winters; tourists can look forward to enjoying snowfall when visiting at that time. Make sure you add Nathula Pass to your list of places to visit during the Silk Route Sikkim tour.
Tsomgo Lake
Tsomgo Lake, also known as Changu Lake, is located 12400 ft above sea level. The lake is beautifully complemented by snow-capped mountains covered that are covered with thick forests. This mystical lake plays a significant role in the ancient folklore of Sikkim and changes colours during different seasons of the year which further add to its beauty and charm. What's more, the lake is filled with pristine water as the glaciers start to melt during the summer season.
Gangtok
Gangtok is the capital of Sikkim, one of the most popular hill stations in India. Located at a height of 1650 m above sea level, Gangtok offers breathtaking views of Mt Kanchenjunga. Gangtok is also a hotspot for adventure sports enthusiasts who visit the hill station for trekking, hiking and camping. Some of the most popular places to visit in Gangtok include Enchey Monastery, Ganesh Tok, and Rumtek Monastery. This place exhibits a perfect blend of old traditional values and modernization, so much so that a journey to the Silk Route is incomplete without visiting Gangtok.
Best Time to Visit Silk Route Sikkim
The Silk Route can be visited throughout the year except when there is heavy snowfall. The roads often get blocked by the snow, making it difficult for the tourists to travel. All said and done, the best time to visit the Silk Route of Sikkim is during the summer season. The soothing climate makes it easy for travellers to explore the popular tourist attractions and experience homestays in Sikkim offered by the locals.
If you are planning to embark on an unforgettable journey on the Silk Route, then make sure to check out our Sikkim tour package.