Reading Time:
11
minutes
There is hardly a couple anywhere who would say no to a Maldives honeymoon package to mark the beginning of a new chapter of their lives. With around 1200 islands, only 200 of which happen to be inhabited, Maldives is one of the most beautiful holiday destinations in the world, with its laid-back ambience, beaches with sand as white as snow, clear warm waters, rich marine life, and amazing coral reefs.
Apart from the serene beaches and clear waters, another hidden, magical world awaits you when you go scuba diving in the Maldives. For years and years, divers from across the globe have travelled to the shores of the Maldives, just to marvel at the unique seafloor terrain and to explore the unearthly shipwrecks that lay forgotten beneath the waters.
Getting to the Maldives
For Indians, a Maldives visadoes not pose many difficulties, as tourists can simply opt for a visa on arrival, which will be valid for 30 days from the day you enter the country. While there is no need to submit an application beforehand, tourists must ensure they are carrying all the necessary documents with them, like an official passport (with minimum 6 months of validity), proof of accommodation booking, passport-sized colour photographs, etc.
Why Go Underwater Diving in the Maldives
Known to be a top diving destination, Maldives has numerous dive sites from where you can go diving in the many channels through caves or swim under overhangs that are covered with corals and vibrant sponges, making for an ethereal sight, which alone is more than enough to justify the price of scuba diving in the Maldives.Here, you can go diving with a rich variety of marine life, like manta rays, whale sharks, tiger sharks, etc., and explore the sunken shipwrecks where corals reefs cover the unfortunate vessels of a forgotten time or check out what are arguably the 26 best atolls in the world.
Quick Facts: From Tips to the Cost of Scuba Diving in the Maldives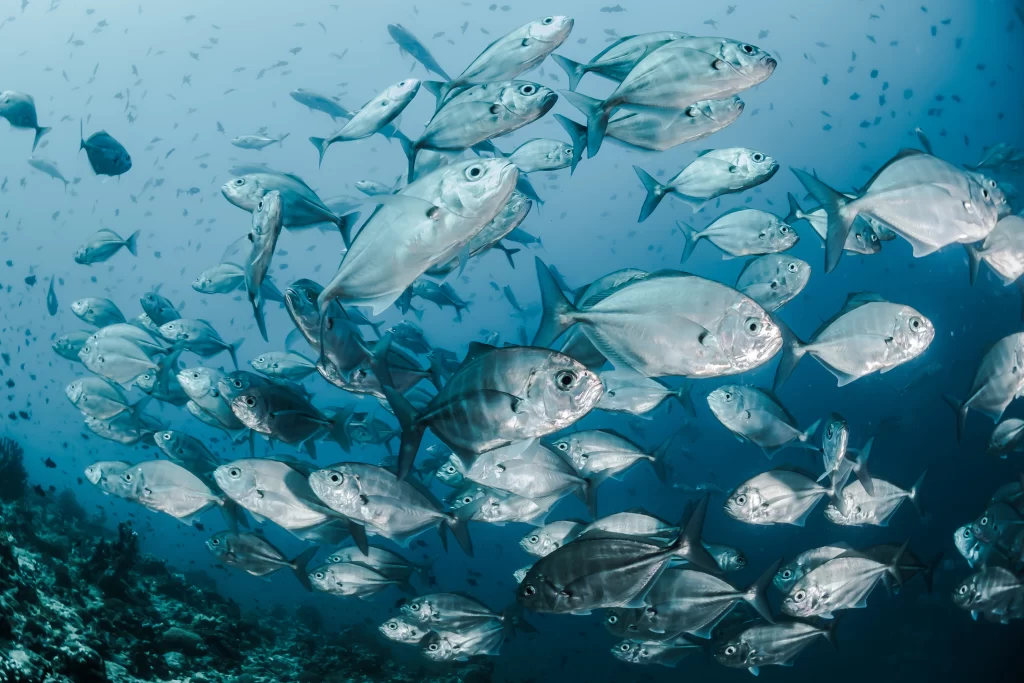 While non-swimmers can learn the basics of diving with the 'Discover Scuba' program, for deep sea diving in the Maldives, it is mandatory to get certified as a scuba diver, the test for which also requires you to swim a distance of 200 metres.
People who wish to enjoy some scuba diving in the Maldives need to get certified by PADI (Professional Association of Diving Instructors) and can only dive from PADI-certified sites around the islands.
The Maldives has a number of options for scuba diving, suitable for different experience levels. From beginners and novices to expert scuba divers,there's something for everyone.
You can look for an underwater digital camera rental or you can bring your own to record your scuba diving experience.
Anyone above the age of 10 years, who is medically fit, can try their hand at scuba diving in the Maldives.
The price for scuba diving in the Maldives varies based on several factors, like the certification or diving course you choose, the dive site, etc. Generally, in the Maldives, the price for scuba diving ranges from USD 50 to USD 150, which is inclusive of boat transfers, gear, weights, etc. You can calculate the price of scuba diving in the Maldives in rupees based on current exchange rates.
The average price for scuba diving in the Maldives (in rupees, rufiyaa, or dollars) is generally for a single dive. If you opt for a package for multiple dives, it will cost less. Making your bookings beforehand is also a great way to reduce the total cost of scuba diving in the Maldives.
Based on your expertise and the option you choose,scuba diving courses may take anywhere from 2-10 days. So, you need to factor in the time commitment required when you book your Maldives tour package.
What Time is Best for Scuba Diving in the Maldives?
With a tropical climate throughout, scuba diving in the Maldives can be done at any time during the year. However, the dry and warm months from January to April offer the best visibility, while May-July brings the most unsettled weather, which can affect visibility. The islands get a fair amount of rain and wind during December which may also result in lower visibility. On the other hand, if you want to encounter big sea creatures like whale sharks and manta rays, the time from August to November might suit your plans better.
The Unique Underwater Landscapes of Maldives
You can explore three different types of underwater topographies in the Maldives, from different dive sites.
Thilas and Giris: Varying in size, these are underwater pinnacles with submerged edges varying from 15 to 100 feet. Home to a diverse marine life, Thilas is where you can witness small aquatic life, like leaf fish or nudibranchs, while within the stronger currents of Kandus, you can watch the fascinating underwater actions of snappers, barracudas, reef sharks, etc.
Kandus: Created by the erosion of the edges of atolls by oceanic currents, Kandus are channels that connect lagoons to the ocean. Here, you can take a look at larger pelagic fish like tuna, grey reef sharks,manta rays, etc.
Farus: The small coral and reef formations around atolls offer amazing diving opportunities and attract a variety of fish.
You can also opt to explore the excellent marine ecosystems that have developed and are flourishing around the many shipwrecks that dot the waters. Some of the popular shipwrecks in the Maldives that you can dive to include:
The Shipyard, Lhaviyani Atoll
Kuda Giri Wreck, South Malé Atoll
SS Sea Gull, North Malé Atoll
Machhafushi Wreck, Kudi Maa, South Ari Atoll
Erlangen, North Malé Atoll
Finding the Best Place for Scuba Diving in the Maldives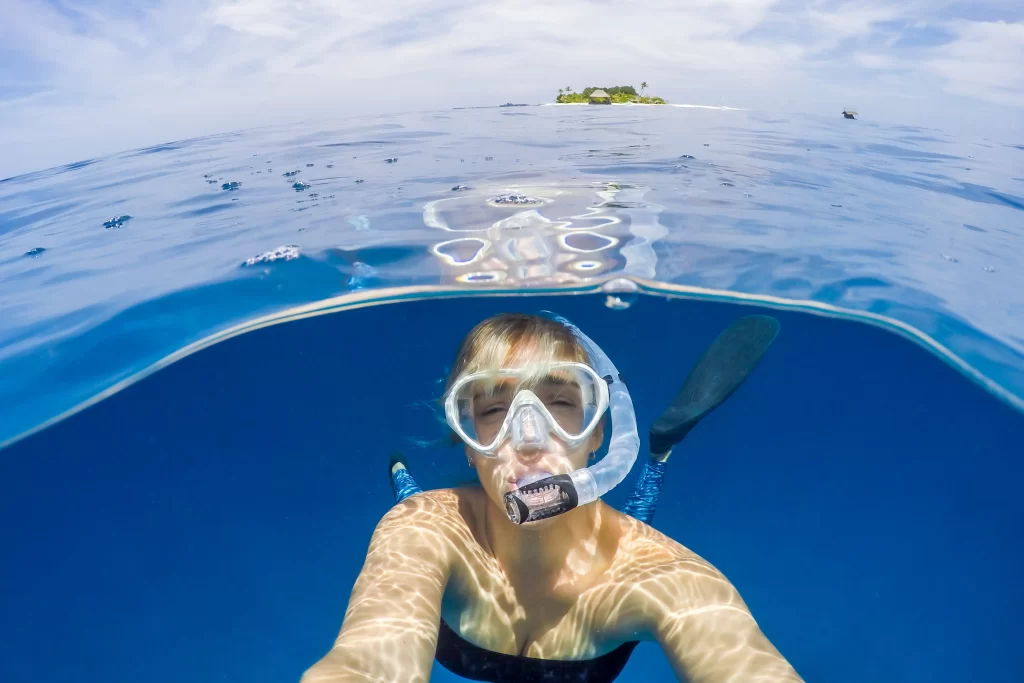 There are innumerable places to visit in the Maldives that make for amazing dive sites as well. Some of the most popular ones include:
Vaavu Atoll
Regardless of your expertise in scuba diving, you can enjoy some great channel diving experiences in Vaavu Atoll. It is also home to the Fotteyo Kandu, which is often referred to as one of the best sites in the world, with its numerous caves and overhangs that divers can explore.
Baa Atoll
A UNESCO Biosphere Reserve, the Baa Atoll has dive sites for first-timers as well as experienced divers. The area is known for whale shark and manta ray sightings. Baa Atoll also has picturesque overhangs and swim-throughs that help make the diving experience even more enticing. It also houses Hanifaru Bay, which is one of the few mating sites of whale sharks, and Dhonfanu Thila, which is a swim-through that starts from a depth of about 82 feet and allows you to ascend towards the exit, which opens at a depth of 60 feet.
Ari Atoll
Ari Atoll is easy to access and is known for its clear waters. Maaya Thila is one of the most well-known dive sites in Ari Atoll, starting at about 20 feet below sea level and going as low as 100 feet. You can easily sight stingrays, barracudas, and more, and if you go diving after sunset, you may even witness a feeding frenzy of the reef sharks.
Fuvahmulah Atoll
This is one of the southernmost atolls and a major part of this area and its dive sites is still unexplored, making them better suited for the more experienced divers. The area however is also known for sightings of some rare shark species, like the hammerheads, thresher sharks, tiger sharks, and whale sharks.
Malé Atoll
Divided into two sections, the North Malé Atoll is a heavily trafficked dive area, while the South Malé Atoll is relatively more secluded. Because of the strong currents in the area, the South Malé Atoll is suitable for experienced divers only.
Other Activities You Can Enjoy in the Maldives
The enticing waters of the Maldives invite you with their sparkling colours, calm demeanour, and the soft murmur of light waves caressing the shore. Apart from scuba diving, there are several other things to do in the Maldivesthat you will definitely want to try, If you are a surfer or are interested in the sport, you can head towards the Huvadhoo Atoll, which is quite popular as a spot with amazing surf conditions. The condition show ever may vary depending on what time of the year it is, but in general, April to October is considered to be a good time for surfing.
If a relaxing time with less activity is more your speed, then you can also try your hand at game fishing. You can find a number of tour operators or fishing charters who will take you fishing. Just remember that the Maldives has some pretty strict regulations in place, which you should be aware and mindful of.
However, if you still hold a wish to take a peek under the surface of the ocean but are not ready to scuba dive, you can try snorkelling. From excursions that can be done from the shore itself to the ones that require a boat ride into the ocean, Maldives has a lot of options. But if you plan to indulge in some snorkelling, you need to choose a suitable accommodation as well, because not all islands offer easy access to snorkelling opportunities.
Regardless of the water activity you wish to indulge in or even if you just want to laze around in the warm sun, there is no denying that the Maldives are a destination worth visiting for one and all.