Reading Time:
9
minutes
The Empire State Building, Statue of Liberty, Central Park, Grand Central Terminal and the most famous Times Square. Yes, we are talking about New York, the city that never sleeps. New York is an incredible city that is a hive of activity, buzzing with life, culture and a lot of things to do for every kind of traveller. The city is a melting pot of incredible areas to explore and many things to do in New York that sometimes it becomes difficult for you to narrow down the list of things to do when you're exploring the city. That being said, New York also hosts some of the best NYC restaurants, from the tastiest doughnut places to delicious Burrata and Fresh Pasta. New York is one of the best foodie destinations in the world and is also home to some of the known Michelin Chefs around the world. With an estimation of around 20,000 restaurants in NYC, finding the best restaurants in the city can be hard to whittle down the exact places to grab a bite. For this, we have created a curated list of the top twelve best restaurants in New York, which not only serves great food but will satiate your eyes and soul with beautiful surroundings around. Let's read on to know which are some of the best restaurants in the North American part of the country, New York offers.
1. Momofuku Noodle Bar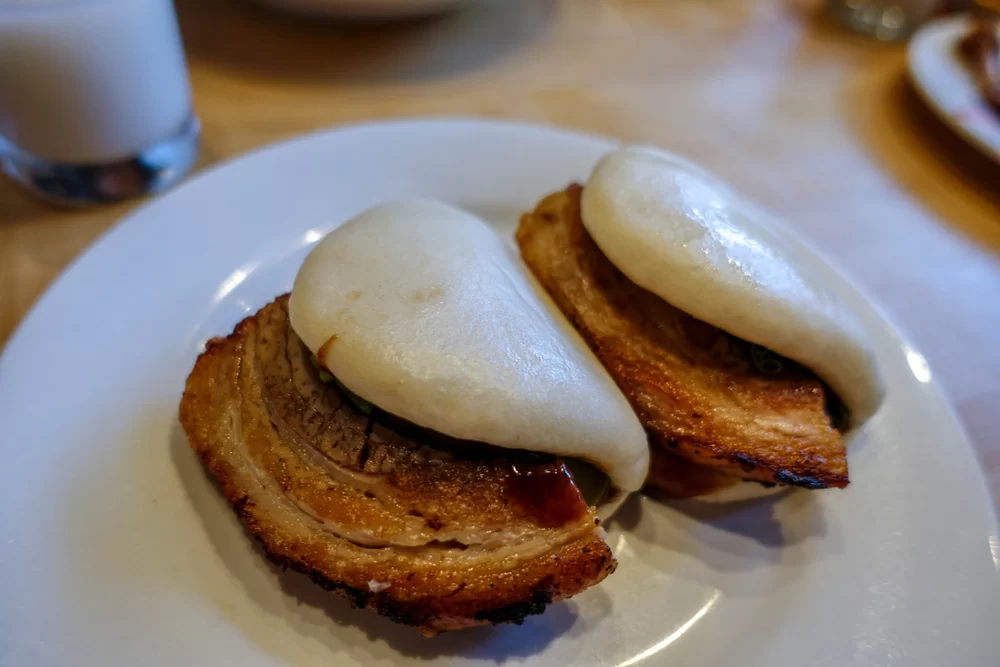 Momofuku Noodle Bar was first opened in 2004, and since then the restaurant has been one of the most frequented restaurants in New York. At Momofuku Noodle Bar you not only get different options for veg and non-veg ramen, but there are a host of other dishes that are worth giving a try. The best-selling dishes on the Momofuku Noodle Bar menu are the pork, shrimp and shiitake buns along with spicy cucumbers. Momofuku Noodle Bar is undoubtedly one of the best places to eat in New York.
2. Mary's Fish Camp
Mary's Fish Camp restaurant is located in one of the best locations in New York that you can cover on your New York city tours. The food on the menu is worth every penny. When you visit the restaurant, don't miss out to try their tuna burger and fish tacos and lobster roll which are the best-selling on their menu. Mary's Fish Camp restaurant is a specialist in seafood menu and you will be spoilt for options while ordering from them.
3. Russ and Daughters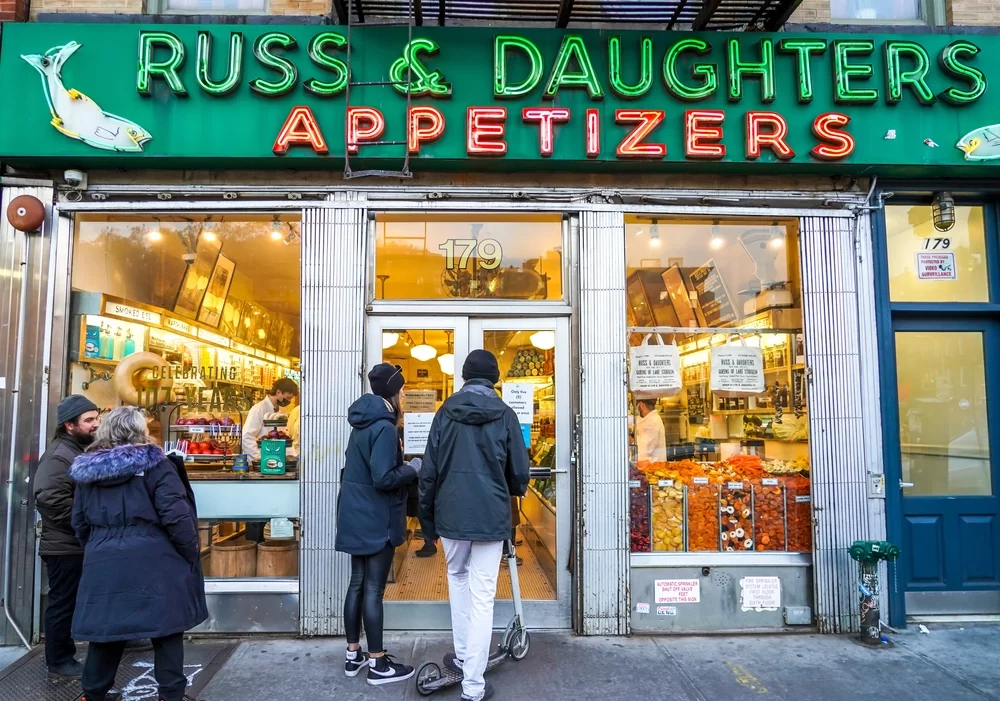 Russ and Daughters is one of the famous restaurants in New York and is known for serving some of the best smoked fish and bagels in New York. When you visit the restaurant, you can expect a long queue to place your order, as the restaurant is one of the best in the city and the food that you get in Russ and Daughters is worth it.
4. Tacoway Beach
Previously known as Rockaway Taco, Tacoway Beach is another famous restaurant in New York which is known to serve one of the best fish tacos in the city. You can order jumbo portions of the fish taco which will be topped with the perfect mix of cabbage, radishes, spicy aioli sauce, and guacamole.
5. Jajaja
Jajaja restaurant in New York is known for serving lip-smacking vegan food which will quench your thirst for some of the best restaurants in NYC. If you are in New York and want to sit at a restaurant that serves great views with great food, hop into Jajaja restaurant and you will be spoilt for choices. You can try their different kinds of Nachos and Tacos with refreshing drinks.
6. Her Name is Han
If you like Korean food and are looking for places to eat in New York, don't forget to check out Her Name is Han which is known for serving cutting-edge Korean soul food. The food served at Her Name is Han is delicious and is served with even tastier cocktails.
7. Butcher's Daughter
Butcher's Daughter is one of the best restaurants in New York if you are looking for vegetarian food, as the restaurant is 100% vegetarian that serves some of the best vegan food around the city. The Butcher's Daughter restaurant has multiple locations near Williamsburg, lower Manhattan and West Village. If you are planning to make a visit to this restaurant, don't forget to taste the Butcher's grilled green Cheese with adzuki bean bacon and basil on your trip to New York.
8. Estela
Estela is known for serving the simplest of the food with great taste in New York. If you planning a New York trip anytime soon and want to try authentic food that NYC people usually prefer to eat, don't miss a chance to try the food and cocktails that Estela has to offer. We would recommend you try their ricotta dumplings with mushrooms, the fried Arroz negro with squid, and the oysters with nori which are worth trying.
9. Rainbow Room
The Rainbow Room has a long heritage in New York, as the place was originally opened in 1934. The historic NYC landmark is spaced atop 30 Rockefeller Plaza within the Rockefeller Center which is one of the best places to visit in New York. The Rainbow Room is one of the best restaurants in New York that has even got a terrace on the 65th floor. You can imagine, the beautiful view of the city you can get along with amazing food. Once in the Rainbow Room restaurant, don't forget to taste their delicious lobster bratwurst.
10. Dhamaka
The food that is served in your nearby Indian restaurant is not something that you will find in Dhamaka. Rather you will be served unusual Indian delicacies that will make your New York trip more memorable and unforgettable for your tastebuds. When you are in Dhamaka, ask the waiter what is the best delicious food at Dhamaka and you will be served some of the most delicious food that you have ever tasted. Dhamaka is one of the best places to eat in new york.
11. Sona
When you are in New York, you have to try Desi Girl, Priyanka Chopra's restaurant Sona, which is one of the top restaurants in NYC and beautiful addition to the city's restaurant business. Being a celebrity-owned restaurant, the place is frequented by foodies from all around the city and other places around. The Sona restaurant in New York is a great place if you enjoy good food with good music and even great friendly New Yorkers visiting the restaurant.
 12. Junoon
Junoon, which means "passion" in Hindi is a restaurant owned by Indian Michelin star chef Vikas Khanna who is an expert in robust Indian and Asian flavours. The Junoon restaurant is located in Manhattan and is known for creating innovative and re-defined Indian cuisines that are presented on the international gastronomic stage. Though the restaurant has a waitlist of over three months for guests, if you get a chance, don't forget to dine in at Junoon, one of the most expensive restaurants in New York and taste some of the best cuisines in New York.
New York is a fantastic city that is recognised all over the world for its landmarks, shops, culture and most importantly, its food. If you are planning to dine in some of the best NYC restaurants, then you must check out the various USA tour packages available on Veena World. The USA tour packages are curated just for you and have such boundless diversity that you will be at a loss as to where to begin. You can even customise your USA holidays according to your plan and budget with Veena World as your expert tour partner.