Reading Time:
10
minutes
When we talk about Italy, food is one of the most delectable things that comes to mind, isn't it? The sheer magic of a Neapolitan Pizza, Carbona Pasta, Tiramisu, and so many other dishes can make anyone's mouth salivate instantaneously. A lot of tourists searching for top-rated Italy tours always choose cities where they can find the most delicious food. Keeping this in mind, here are the top 15 restaurants in the city of Rome, Venice, and Florence where you can treat your palette to true Italian dishes: –
Rome 
Some of the best restaurants in Italy are set in its capital city of Rome. Besides exploring the historical sights and museums in the Eternal City, you can gorge on some lip-smacking delicacies! Here are 5 of the most sought-after restaurants in Rome that you need to try:
An Italian vacation is simply incomplete without devouring authentic Cacio e Pepe in Rome. This pasta-cheese-black pepper dish has caught the eye of international chefs but if you really want to try the real version, then Felice e Testaccio is among the best places to eat in Roma! Set in Testaccio, this restaurant defines gourmet dining in Rome.
Recommendations: Spaghetti ala Felice, Tiramisu di Felice
This restaurant is as old-school Roman as it gets. While exploring the best places to visit in Italy, take a breather and enjoy some cured meats with cheese at La Tavernaccia. You will find the hand-written menu to be quite unique. Do not step out of this eatery without enjoying some focaccia because their flatbread can give famous bakeries a run for their money.
Recommendations: Eggplant Parmigiana, Veal Breast Fornara with Potatoes
A less formal dining place in Italy is called a trattoria which gives you the opportunity to relax and unwind after trotting about the streets of Rome. Trattoria Monti is among the most popular restaurants in the city offering delicious meat-based dishes. A local haunt that you should definitely try out on your Italy honeymoon package or family vacation.
Recommendations: Roast Beef, Insalata Mista
Is it possible to be in Rome and not eat pizza? Impossible! Seu Pizza Illuminati (with no connection to the conspired group of enlightened people) is one of the best places to eat Roman-style pizzas in the city. Located on Via Angelo Bargoni, this pizzeria does more than traditional Italian pizzas and pasta, so your palette is in for a treat. Seu Pizza Illuminati is closed on Mondays, so make sure to plan your visit accordingly.
Recommendations: Emilia Alla Lucania, Pizza Carbonara
Fine dining is an art form in the top restaurants of Italy and Ristorante Moma is an example of just that. Incidentally, it is named after the Metropolitan Museum of Modern Art, paying homage to the most celebrated museum in New York. A Michelin-starred restaurant that offers a scintillating tasting menu prepared by chef Andrea Pasqualucci. Be it carpaccio, cod, shrimps or squid, the variety of seafood available at Ristorante Moma is astounding.
Recommendations: Croquette di Foie Gras, Octopus Salad
Venice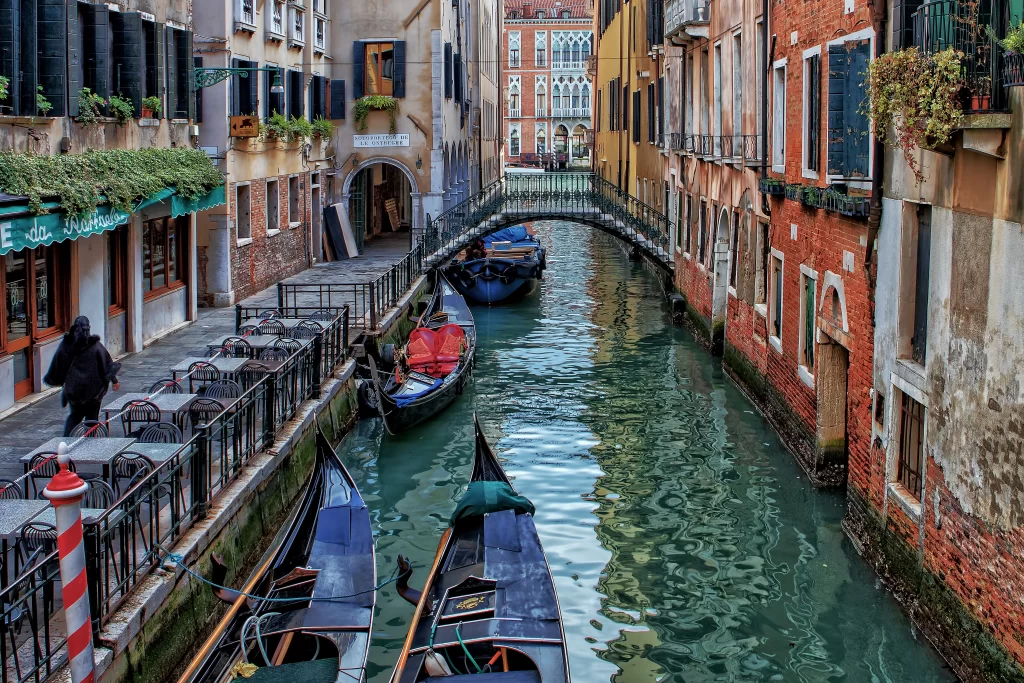 While the city of Venice stands stall as one of the wonders of Italy, its distinct food culture is something worth exploring on your vacation. Mentioned below are five of the best restaurants in Venice, Italy to dine at:
Osteria Campo Santa Marina
The genius behind this local favourite, chef Agostino Doria, has transformed the food scene in Venice because of the sheer creativity in his dishes. Osteria Campo Santa Marina serves authentic Venetian delicacies with a twist. Expect carpaccio, scallops, and several other seafood delights in superb preparations at this restaurant situated in Campo San Marina.
Recommendations: Linguine with Crab Sauce, Turbot
Literally meaning "the pumpkin", La Zucca is a popular choice among vegetarians and vegans. While other eateries focus on providing the best-curated meats and seafood in the world, this restaurant in Venice, Italy celebrates vegetarian fare like no other! With a rotating menu offered to guests, this eatery also happens to be the perfect setting for a romantic date.
Recommendations: Tagliatelle with Artichokes and Pecorino, Pumpkin Flan
Quadri opened in 1830 and has been serving Venetian delicacies ever since. This is a masterpiece with a Michelin star to its name. If you have not grasped the concept of amuse-bouches (dishes served between courses) till now, Quadri will make you fall in love with them!
Recommendations: Cuttlefish Tagliolini, Artichoke in Puff Pastry
Located inside the five-star property, Hotel Metropole, this fine dining restaurant exudes elegance and Venetian culture. Met Restaurant is yet another Michelin-starred restaurant with a view of the Grand Canal. One of the famous restaurants in Venice, Italy, Met Restaurant offers two types of tasting menus that use the same ingredients to prepare a classic and a modern dish.
Recommendations: Strazapreti, Creme Brulee
Family means everything in Italy and the delicacies passed on by generations reflect that love too. Antiche Carampane is one such restaurant in San Polo, Venice that will marvel all your senses with their traditional dishes. Touted as one of the best restaurants in Italy, this place has been a favourite among celebrities since the '60s.
Recommendations: Seafood Platter, Baccala
Florence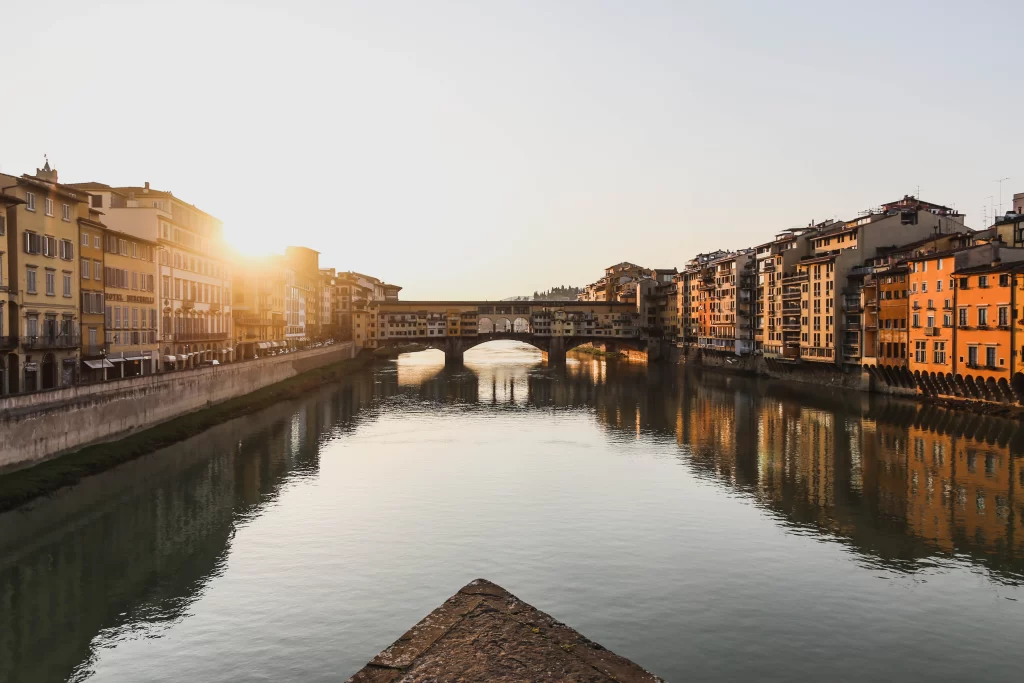 On a quest to dine at the best restaurants in Italy, you need to spend some time in Florence too. Besides soaking up the art and architecture of the Renaissance CIty, do try out the dishes served at the following 5 restaurants:
As soon as you enter this eatery, the whiffs of liver and duck sauce will hit you like a storm. Their "no pizza, no cappuccino, no ice, no takeaway" might seem strange but it is only because the chefs wish to celebrate the local cuisine. Lunchtime is super busy at Vini E Vecchi Sapori with locals and tourists hoarding tables, so make sure you reach here before time.
Recommendations: Liver-topped Crostini, Salted Cod
As one of the most popular restaurants in Florence, Italy for the past three decades, Ristorante Cibrèo is a no-brainer for foodies. This Tuscan restaurant headed by chef Fabio Picchi also has a trattoria where you can get the same dishes. Situated in Via del Verrocchio, Ristorante Cibrèo celebrates food by curating dishes according to the season.
Recommendations: Il Prosciutto di "Sauris", Bicchiere di Manzo con Cipollotto Gratinato
If you want to enjoy a hearty Tuscan meal, then Perseus is the perfect place for you! Florentines love their steak, and this restaurant will bring to you mouth-watering variations of it. Set in the heart of ​​Viale Don Minzoni, Perseus can make American steakhouses feel humble without a doubt!
Recommendations: Tagiatelle Primavera, Lombatina di Vitella
Gucci Osteria da Massimo Bottura
The world chain of Gucci Osteria restaurants has made Florence its home and you can take advantage of that! As part of the Gucci Garden Museum tour, you can relish high-quality Tuscan fare at this exclusive restaurant in Florence. The menu is a medley of traditional as well as international delicacies that will take you straight to food paradise.
Recommendations: Red, White and Green Salad, Taka Bun
Come to Da Ruggero for traditional dishes that have not aged just like this restaurant. Foodies who are in search of Ribollita, a bread-and-cabbage soup will find one of the best versions at this restaurant. It is a hidden treasure that only locals know about, so you will find some peace and quiet here.
Recommendations: Pappa al Pomodoro, Trippa alla Florentina While there are several other restaurants in Italy, these are the ones that will make your heart sing in joy. So, make sure you try them out on your next vacation. If you are still speculating, then missing out on some authentic Italian fare is only on you! Plan your trip now.