Reading Time:
11
minutes
Rajasthani culture attracts tourists from all over the world to explore the vast and beautiful state of Rajasthan. Every city of this state speaks volumes of what was once 'abodes of the kings'.
Often overlooked by the tourists, the city of Jaisalmer in the state of Rajasthan is an epitome of all-things Rajasthani. Jaisalmer is a colourful bouquet of wonders in the form of several tourist spots, the ancient fortress, temples, monuments, handicraft markets, a war memorial, Thar Desert (The Great India Desert), lakes, architectural marvels, music festivals, folk dances, and finger-licking cuisines that are unique to the Rajasthan. The hues of gold that the city imposes through its structures of houses, forts, and monuments make Jaisalmer a crown-like to the state of Rajasthan.
Colourful turban-clad local men and local women wearing ghagra, choli, and odhni can be seen all over the city in such traditional attire. The age-old sarangi and sitar music of the Manganiyars, prominent Rajasthani folk musicians, can be heard throughout the day and night. As you enter the city of Jaisalmer, you simply go back in the time and fall in love with its rustic charm and mysticism.
To know the best desert camps in Jaisalmer and to learn about the most fascinating places to visit in Jaisalmer, here is a cherry-picked list to make the most out of your trip.
1. Jaisalmer Fort (Sonar Kella)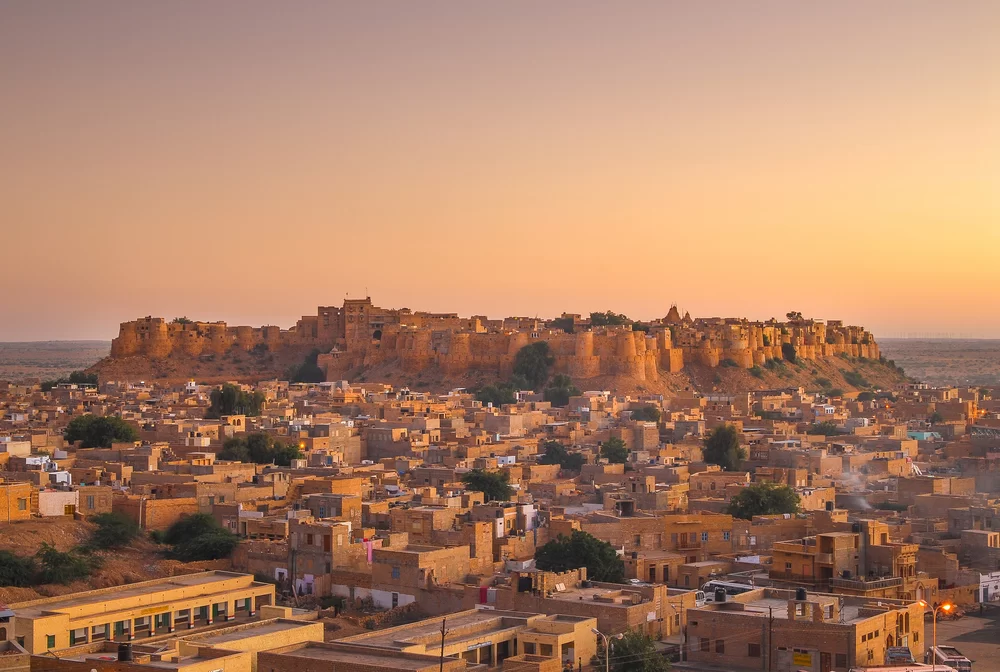 The top attraction in Jaisalmer remains a majestic fort, locally known as Sonar Quilla, or Jaisalmer Fort, constructed by Rajput ruler Rawal Jaisal in 1156 AD. Overlooking the entire city, Jaisalmer Fort houses one-fourth of the city population to date and is perhaps, the only living fort in the world.
The gargantuan gates open you to the winding lanes where local culture thrives. Alongside Jain temples, Mahals, and Havelis inside the Fort, the hilltop point gives a spectacular city view. Shining like a golden crown in the daytime and also under the moon's shadow, the marvellous yellow-stoned structure appeals to the eyes even from afar.
Spend time with skilled artisans, take home a souvenir, or simply feel the charisma of the king's abode years ago, Jaisalmer Fort gives you numerous reasons to stay, cherish, and witness something surreal.
Entry Fee: INR 50 for Indians
Timings: From 6 AM to 6 PM
2. Camping at Sand Dunes
One of the top places on any tourist's list, a visit to Jaisalmer is incomplete without experiencing life on dunes. There are majorly two dunes places – Sam dunes and Khuri duneswhich are within 40 Km of Sam Dunes.
Dunes at Sam's and village Khuri have several desert camps set up around them. Booking your stay at one of the camps will ensure a lifetime experience of the desert world. From a jeep safari over the dunes to bumpy camel rides, quad biking, dune bashing, parasailing, and lots of activities throughout the day will keep your adrenaline pumped! These desert safaris in Jaisalmerpromiselifelong memories and are a must for everyone visiting the city.
Watching a sunset in the desert has its magical charm that follows the glimmering nights of Baithak surrounded by glamping lamps, all under a starry night sky as you watch the Rajasthani artisans perform music and dance. You can check out a complete travel guide to visit sand dunes in Jaisalmer.
Entry Fee: Free
Timings: From 10 AM to 10 PM
3. Kuldhara Village
Touted as a haunted place at night, a visit to nearby Kuldhara village, 20 Km away from Thar desert, towards the west of Jaisalmer, keeps your heart racing! Ruins of shattered houses welcome you to this village, which has eerie folklore about its past.
What once was a prosperous and peaceful village housing an important sect of Hindus – Paliwal Brahmins; suddenly turned barren overnight, with no trace of its inhabitants to date. Kuldhara village is one of the best places to see in Jaisalmer.
Entry Fee: INR 10 per person
Timings: From 8 AM to 6 PM
4. Gadisar Lake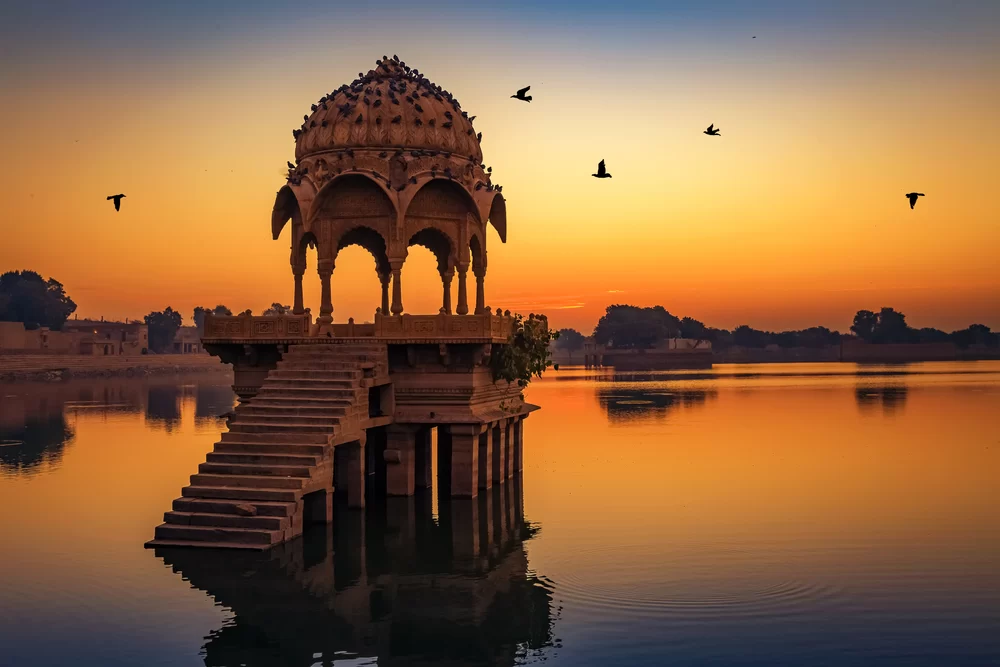 One of the most mesmerising places to visit in the arid land of Jaisalmer is the man-made lake Gadisar. Surrounded by a few places of devotion like temples and holy shrines, this lake is a byproduct of Rawal Jaisal's vision and immense devotion to the city and its people.
The lake acts as a water channel to provide the requirements for the city. It also is a loved tourist spot in Jaisalmer that offers boating, bird-watching, and some gorgeous sightseeing around.
Entry Fee: Free; INR 10, 50 & 100 for Row, Paddle & Shikara Boats
Timings: Always Open; From 8 AM to 8 PM for boating
5. Lodurva Village
One of the famous tourist places in Jaisalmer, the village is dotted with architectural ruins amidst the dunes. The highlight of this place is an age-old Jain temple, the Parsvanath temple. Dedicated to the 23rd Tirthankara, a saviour and spiritual teacher of the Jain dharma, the temple is an awe-inspiring piece of architecture.
Made of up yellow sandstone, the temple shines golden bright as the natural light falls all over it. With its unique architecture, the never-seen-before kind of wall has square jaalis for cross ventilation and lighting inside the temple corridors. The interiors, as well as the exteriors, are infused with intricate carvings that ask for instant admiration.
Entry Fee: Nil
Timings: From 8 AM to 12 PM
6. Nathmal-ki-Haveli
Built in 1885 by the two Muslim architect brothers – Hathi & Lulu on the orders of Diwan Mohata Nathmal, this Haveli is a masterpiece and an epitome of splendour architecture. Though Jaisalmer is full of grandeur Havelis, this stands apart for its gold paintings in and around the haveli.
It is one such tourist place in Jaisalmer that attracts art lovers and travellers alike.
Entry Fee: Nil
Timings: From 10 AM to 5 PM
7. Bazaars of Jaisalmer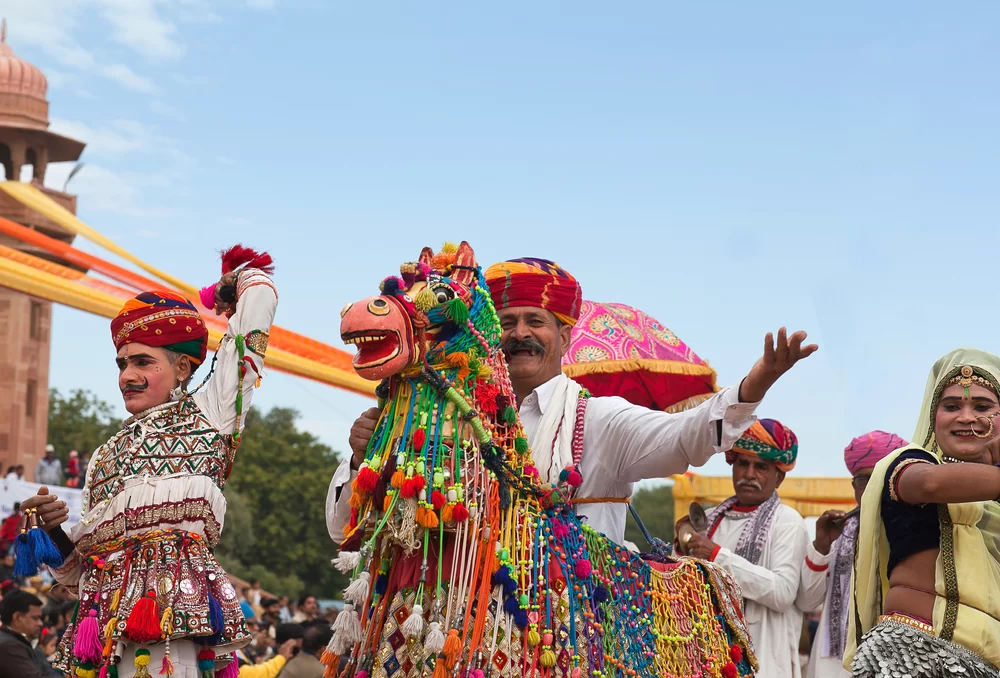 Shopping is always an integral part of a vacation. A trip to Jaisalmer allows you to have a completely different shopping experience, in contrast with metropolitan cities, and rightly so! The skilled craftsmen offering colourful handicrafts are seen in the city alleys.
From inside the magnanimous Jaisalmer Fort to the city lanes down, the streets are filled with merchants selling embroidered jootis, mirror-infused Kurtis and skirts, and silver jewellery; thus making them the best things to see in Jaisalmer. Be it wooden art, painted vistas, or ornaments, choose your souvenirs and artefacts to take along with you.
The top 5 Bazaars of Jaisalmer that you must visit are:
Sadar Bazar: For paintings & carpets
Free entry; Open from 11 AM to 6 PM
Pansari Bazar: For Home décor
Free entry; Open from 10 AM to 6 PM
Bhatia Bazar: For Silk Fabrics
Free entry; Open from 9 AM to 8 PM
Sonaran ka Baas: For Silver Jewellery
Free entry; Open from 9 AM to 9 PM
Seema Gram: For Scarves and Handicraft
Free entry; Open from 9 AM to 7 PM
8. Longewala War Memorial
Located quite close to the Indo-Pak border, the soil of Jaisalmer withheld the tales of war and pride. The war memorial at Longewala, around 120 Km away from Jaisalmer Fort, is a heartfelt tribute to the martyrs of the Indo-Par war of 1971.
The museum welcomes you with gigantic Pakistan tanks captured in the war. Further inside, you can find several warzone pieces, battalion uniforms, and gut-wrenching stories of soldiers written over the walls. With framed war photographs, seized moments of half-destroyed jeeps, medals tally, and Vir Chakras, the memorial lends a perspective of loyalty and deep-rooted patriotism. It is a must-visit place for any Indian tourist visiting Jaisalmer. You can also experience a 15-minute long war movie that plays inside the audio-visual theatre at the war memorial that is sure to fill you with tears of pride.
Entry Fee: Nil
Timings: From 8 AM to 6 PM
9. Indo-Pak Border
A trip to Jaisalmer allows you a lifelong experience to witness the notorious Indo-Pak border. Although, it is a vulnerable area, but safeguarded by the border security forces (BSF). However, you need to take permission to visit the border from the BSF Commandant setup at Tanot Temple, 15 Km away from the border.
Sitting at our homes in our respective cities, enjoying the finer things in life, going for a vacation on unchartered lanes, and/or roaming freely with our friends and family is an ideal picture of true freedom. But each freedom comes at a cost, the cost our brave soldiers pay for us, holding guns and safeguarding the borders. A chance to meet them, see them, and thank them for what they are doing, cannot simply be missed while visiting the border city of Jaisalmer.
With the best places to visit in Jaisalmer now sorted; choose your perfect stay option from the list of best hotels in Jaisalmer to make your trip a complete success.
Jaisalmer perfectly exudes the tourism slogan of Rajasthan – Padharo Mhare Desh (Welcome to my land). So, when are you taking the journey to this wonderland?