Reading Time:
12
minutes
The mystical valleys, spectacular cold desert, radiant skies, glorious monasteries, and magnificent roadways; all make Ladakh the most aspiring destination among travellers. The best season to travel to Ladakh is between April to October when the climate is at its finest and the scenery just incredible. At Veena World, we curate the best Leh Ladakh tour packages that include everything right from airfare to meals to sightseeing. Our Tour Manager is always there at your service should you need anything on tour. So, you don't need to worry about everything and simply need to 'Bag Bharo, Nikal Pado'.
Here's what our guests have to say about this stunning heaven on earth. We hope these will get you to pack your bags to discover Ladakh.
"Thank you Veena World for giving a breath of fresh air amid the current scenario"
"We are very happy and satisfied with my Leh Ladakh trip. All credit goes to our tour manager Mr. Nilesh Mhaske. We have travelled with Veena World twice before, but Nilesh stood out. He was very considerate, helpful and passionate. We were only 4 people on this tour, but we never felt bored. He made all sightseeing so interesting and lively. He took so many photographs of us, suggested us all good locations, and also, wherever possible, stopped the car for us to gaze the marvellous views. The Magnetic Hill in Leh was one such amazing experience.
Food arrangements were the best. There was a strict lockdown at some places, but he still made extra efforts to ensure that we see everything. He used to literally sit with us, and give us enough time. This review we are writing exclusively for him. If you have more tour managers like him, people will keep coming back for more tours. We are very happy with all the arrangements.
This was our best trip ever despite the current scenario. Thank you Veena world for giving a breath of fresh air, and genuinely, tour manager Nilesh was the best." – Ms. Akanksha Bhatt Hotkar
"Our Tour Manager Vihar made the journey even more enjoyable. Thank you, Veena World!"
"We recently went to Ladakh with Veena World. We had planned this trip last year, but it got extended. Firstly, we had thought that because of the current situation, we won't be able to enjoy ourselves, but we had fun more than we had expected. Our Tour Manager, Vihar Thakur also helped us a lot! We have done 4 tours with Veena World including this, but this time the Tour Manager made our journey more delightful by helping us each and every time. When we didn't get the chance to visit Drass, so he managed a visit to the Aryan's Village, and there, by the riverside, we enjoyed our lunch!
He used to suggest good photo ops to us. During our journey, he would also say that "सफर खूबसूरत है मंजिल से भी", which indeed describes this journey. It is true by my experience that if you capture the journey of Leh Ladakh then you have seized the tour! That night in Nubra Valley near the tent, we sat at the bonfire and Vihar shared all the Army stories, which were really fascinating to hear!
In a lot of instances, Vihar went out of his way to help us. This actually turned our overall tour in Leh Ladakh too amazing. The sightseeing was great, but our tour became more delightful because of our Tour Manager Vihar Thakur's support and dedication, l. Thank you Veena World and also Tour Manager Vihar Thakur for this journey." – Abhijeet Joshi
"The journey of the newly added, Turtuk Village in our itinerary was just amazing. The village is simply offbeat and beautiful"
"The tour went on so smoothly and awesome that we literally had no problems on tour. Right from our drivers to hotel staff, everyone we met was polite and welcoming. Especially our tour manager Jigar Vora. He handled all things on tour very smartly. He used to explain the daily tour program perfectly and was very helpful in all manners. This is why we could complete every site seeing without problems.
The newly added Turtuk Village in our itinerary was just amazing. The route to the village was simply marvellous. The hotels we stayed at were awesome, and the staff working there literally made us every possible food item in such hard conditions. Plus, the food everywhere was spot-on delicious.
To sum it up, my much-needed tour was just amazing." – Samidha Kulkarni
"I was a bit sceptical to travel in the current situation, but in the end, this turned out to be the most memorable tour"
"Initially, I was very sceptical about going ahead with the tour, considering the situation in India. However, in the end, everything went smooth and it was a memorable experience. There are so many beautiful tourist places in Leh Ladakh. I loved all of it.
Our tour manager Mr. Vihar Thakur accompanied our group from Mumbai Airport and helped in various aspects, right from check-in at the airport, to acclimatize with the high altitude of Leh. Due to restrictions, there were many hurdles in transportation and sightseeing, however, he handled situations very calmly and ensured everything went smooth.
During the bonfire at Nubra Valley, he shared very informative and interesting details about the war. He helped us throughout the tour to click very good pictures. Due to a situation beyond anyone's control, some sightseeing at Kargil was not possible, so alternate sightseeing of Aryan Village was arranged which was very beautiful and worth it.
Due to a change in rules, negative RT PCR within 48 hours was mandatory for boarding flight to Mumbai. Getting a report was challenging from Leh, finally, he managed to get the report in time at Delhi Airport and we reached Mumbai within time. We really liked the communication, decision-making skills and knowledge of Mr. Vihar Thakur." – Joel Saralkar
"This trip was a stress buster, especially for my son who needed a break after HSC Exam. The sweet memories of this trip will remain in our minds forever!"
"On behalf of my family, we would like to express a "BIG THANKS" to Veena World for organizing such a wonderful trip to Leh Ladakh. This was my first trip with Veena World. It was very well coordinated by Tour Manager Soumitra Pradhan and his assistant Akshay Mayekar. The hotels where we stayed were at excellent locations. The kind of hospitality we received from your team during the 10 days of our journey was much appreciable as it did not allow us to feel that we are away from home.
All other tour members were very supportive which gave us a feeling of one single family. The food served was excellent both in terms of taste and quality. We did not face any problem during our stay in Leh. Thank you Veena World for taking "Good Care" of the family like it's your family! This trip completely de-stressed us, especially my son who needed a break after HSC Exam. The sweet memories of this trip will remain in our minds forever! Special thanks to Soumitra and Akshay for their excellent work & support. Keep it up!
We look forward to having many more trips with Veena World. I am sharing few good photographs of our tour. Once again "BIG THANKS to VEENA WORLD"! – Mr. Sunil Gokhale
"This second tour with Veena World was nothing less than a dream vacation"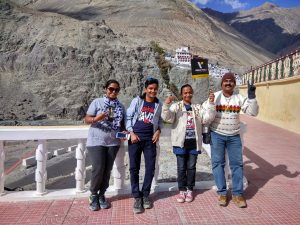 "This was our 2nd tour with Veena World and thanks to Hudson Francis & Kunal Pansare for not making it anything less than a dream vacation. As expected, the accommodation was great and the varieties of food served were awesome always. This tour was value for money.
Talking about the sightseeing, it was a bit hectic because of the road terrains and less oxygen and more snow. The cold climate was a little tough on us given that we are not used to such conditions. But what made us go happily through this was the utmost care, affection and loving behaviour of the tour managers.
My mom, Mrs. Chhaya Patil, went through some difficulties because of the weather, however, with the proper treatment, everything turned out to be fine in the end. To be very true, if it was not for Hudson, Kunal & the team we would have lost the tour then & there. These boys helped a lot, and because of them, we could complete our tour happily with my mom.
Leh-Ladakh is a place where even youngsters face trouble because of the rough weather. My mom & dad could easily complete this hard tour only with the help of these tour managers.
Ms. Veena Patil has very wisely designed all the tours & the accommodations. Same as Nainital, this tour too was great and helped us make a lot of happy memories together.
Lastly, I would be happy to share with you a perfect family pic of ours. Thanks a lot, Mr. Hudson Francis & Mr. Kunal Pansare and thank you Ms. Veena Patil for having such a great team with you." – The Patil Family
"Snow-capped, icy Khardungla Pass, Nubra Valley, Pangong Lake, Changla pass, you just cannot get enough of these in one glance"
"A few hours before the journey started, we got a call from Veena World, "Weekend lockdown is about to start in Leh. Are you sure you are going on the trip? The company gives you the option to cancel the tour!" I heard this news and once again my mind was full of sceptical thoughts. I had come to my mother's place from Pune to Mumbai 15 days ago, both of us were in quarantine, we also had our Covid negative report in hand. But the question was whether to go or not?… Read our guest, Ms. Manali Kaprekar story here.
And this year, after tolerating the angst of all the relatives, my mother and I had chosen a difficult tourist destination like Leh Ladakh. The government cannot lock down nature, and the beauty of Leh is beyond measure. So Ab jo joga Dekha Jayega!"
Now is the best time to visit Ladakh. If you want to book your Ladakh tour package with Veena World, drop an enquiry below or get in touch with us on 1800 22 7979/travel@veenaworld.com. We'd be happy to assist you.