Reading Time:
7
minutes
'Traveling—it leaves you speechless, then turns you into a storyteller.' – Ibn Battuta
Ladakh is a destination like no other. Its uniqueness and gorgeous charm attract millions of tourists every year from around the world. The destination leaves its magical aura on our soul that for sure turns us into a storyteller. Something similar happened with our guest Ms. Manali Kaprekar on her Leh Ladakh tour with us. She wrote to us a beautiful story that we couldn't resist sharing with everyone. She learnt a valuable lesson from her guide Jimmy in Ladakh that will make everyone stop, think, and evaluate the situation of the people living there.
Let's hear it from Ms. Kaprekar's words…
"Just a few hours before our tour to Ladakh, we got a call from Veena World, 'Weekend lockdown is about to start in Leh. Are you sure you want to go on the tour? The company gives you the option to cancel the tour.' I heard this news and once again my mind was sceptical. I had come to my mother's place from Pune to Mumbai 15 days ago. Both of us served our time in quarantine, and we also had our COVID-19 negative report in hand. But the question was whether to go or not?
The decision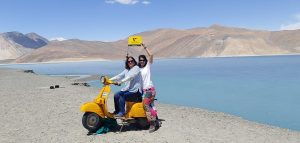 Our dream of going on a trip last year was postponed due to the exact situation. And this year, after tolerating the angst of all relatives, my mother and I had chosen a difficult tourist destination like Leh Ladakh. The government cannot lock down nature, and the beauty of Leh is beyond measure. So Ab jo joga dekha jayega!
At such a crucial moment, my mother and I set out on our Ladakh tour by totally relying upon Veena World. The flight from Mumbai to Delhi was fine but there was a fear that the flight from Delhi to Leh would be cancelled! Leh's plane took off from the runway in Delhi and my mother and I gave a thumbs up to each other.
The journey
Looking at the beautiful snow peaks of Leh, I literally lost my senses. Our trip to Leh Ladakh started with an amazing journey that I had never experienced in the past and will never experience such amazement in future. After completing all formalities at Leh airport, we met our Nilesh Dada, Tour Manager of Veena World. When we met him, we felt as if he were one of our fellow travellers and a friend. Our hotel in Palam Hills was well arranged. The beautiful apricot trees in the doorway were captivating.
Now, our itinerary had changed due to the weekend lockdown. Since the six of us were in good health, Nilesh Dada decided to take us to Khardung La Pass the next day, and we all unanimously passed a decision.
The destination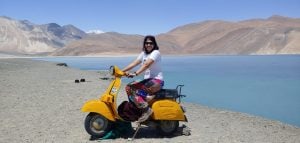 My previous trekking experience was constantly useful to me during this trip. Last year the whole world came to a standstill. Our first group of the year was Leh. Nature was indeed very kind to us. Our journey was getting completed stage by stage. In this journey, we saw many wonderful, unforgettable, astonishing forms of nature.
Snow-capped, icy Khardung La Pass, Nubra Valley, Pangong Lake, Changla pass, you just cannot get enough of these in one glance. Our existence began to feel like a dot in front of this unspoiled, unique beauty. The confluence of the Indus and Zanskar rivers was indescribable in Leh City. By visiting places like Pathar Sahib Gurudwara, Shey Palace, Hemis Gompa (monastery), Shanti Stupa, we got to know the locals better.
Our Adventure Is Their Daily
Entire Leh is inhabited by military and Ladakhi people. During the journey, I met a guide named Jimmy, a young man from Ladakh. While he had completed his masters, he came with us to cultivate the hobby of sharing information about his culture with the tourists. While chatting with him, we talked about many problems of the Ladakhi people. One of his sentences put me in deep thinking, he said, "Some people call us innocent and some idiots, now we don't know what we should think of ourselves"
For two days, the shops in the market were open alternatively. It was evident from their selfless hospitality that the Ladakhis were loving and self-respecting. Due to unfavourable weather, there are no big industries. The situation is much worse there than in our big cities. The fear that these small towns living on tourism would be financially ruined was constantly floating in their eyes.
On the last day, the trekker inside me did not allow me to sit still. I rented a bicycle from the market and cycled 35 kilometres on NH 1 which is under the control of a military barracks. Despite their motto "Your Adventure Is Our Daily", I wanted to give them this salute.
And now the return journey started, and everybody bid their goodbyes to each other. The plane took off from the runway once again, and now everything was blurred. With watery eyes, I said goodbye to Leh, determined to return once again."