Reading Time:
9
minutes
With dazzling fireworks, several festivals, and a number of other happening events, the New Year's celebration is definitely a grand affair in Dubai. Around this time of the year, people from all over the world start flocking to this beautiful city of skyscrapers. All thanks to the great weather, good food, and diverse cultural offerings, Dubai is just the perfect setting for celebrations. Whether you are a party person or someone who likes to spend some quality time with family or friends on New Year's Eve, there are plenty of options for you. From the world-famous Dubai shopping festival to the astounding Burj Khalifa fireworks show, from luxury cruise dinners to extravagant parties, this place has something for everyone. When in Dubai, you can choose to have a celebration just the way you want.
Here are some of the best ways to celebrate New Year's Eve in Dubai and make your trip a memorable affair:
Catch the Fireworks
There can be no better way to have a New Year's celebration in Dubai than witnessing the spectacular fireworks shows. There are a number of places in the city you can head out to and dazzle your senses. Some of the most popular ones include the Burj Khalifa, the iconic Dubai Fountain, Souk al Bahar, Mohammed bin Rashid Boulevard, Al Manzil Plaza, etc. Palm Jumeirah is another one of the most exciting places to celebrate the New Year in Dubai. Here, fireworks take the shape of a palm and offer so much splendour that it will leave you amazed.
Go for a Yacht Party
Dubai is a real paradise for party lovers and the vibe is on another level when it is New Year's Eve. If your idea of a New Year's celebration in Dubai is delicious food and good music combined with the cold sea breeze, a yacht is your best bet. The best thing is that you get a chance to enjoy the stunning, well-lit cityscape as well. Gliding along Dubai Creek while witnessing some amazing fireworks is one of the best things to do for a New Year's party in Dubai. Whether you are visiting with your friends or are on a family trip, this is one thing that can never go wrong.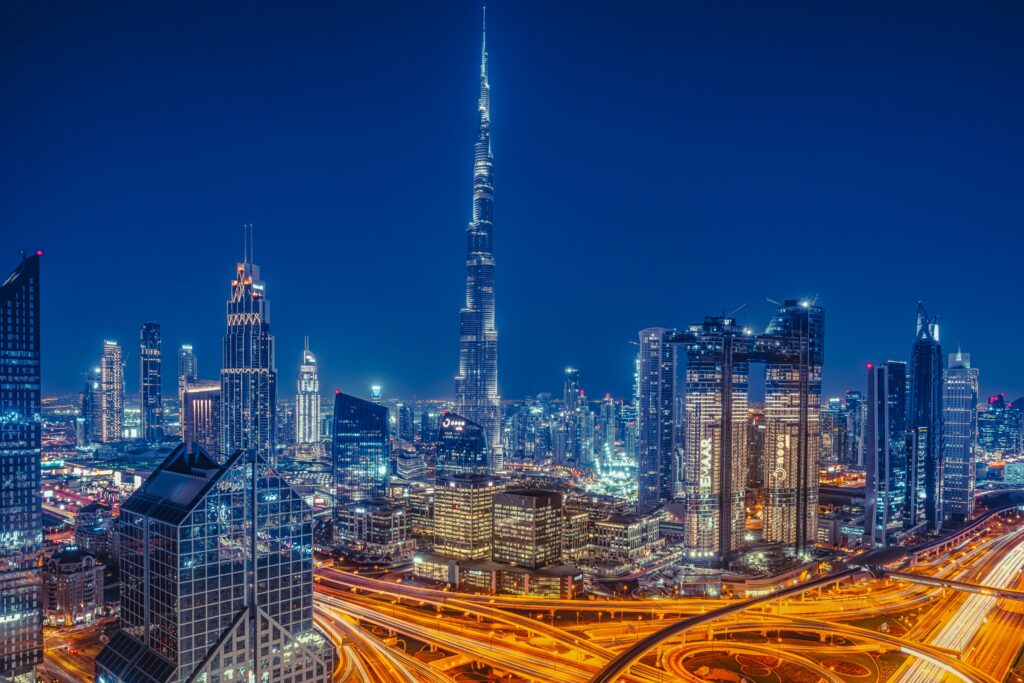 Attend a Live Concert
If you are a music lover and live performances are your thing, then New Year's Eve is totally sorted! This will give you a chance to countdown with top singing superstars while enjoying the evening. A large number of live music concerts are held in Dubai around this time. All you need to do is explore a few options and find the one that matches your interest!
Get a Boost of Adrenaline
If you are a thrill seeker, then why not scratch something off your bucket list this New Year?!  When in Dubai, you will have a plethora of options to push your boundaries and step out of your comfort zone. The first thing you can do is go skydiving. Experiencing a free fall from an enormous height while catching a glimpse of all the New Year festivities is definitely something you will always remember.
Another option is to go on a helicopter ride. You can book one of the several helicopter tours available. This tour will offer some absolutely mesmerising views of the city. Generally, the departure point remains Palm Jumeirah Island, and the helicopter will take you above the most iconic monuments and landmarks of the city. There is an option for a guided tour as well, where a professional guide will be with you to share some interesting information throughout your flight.
Book an Exciting Desert Safari
A desert safari with the New Year's party celebrations added to it – does it sound like your idea of fun? If you are looking for a unique way to celebrate the New Year in Dubai, this is just the thing to do. There are a number of desert safari tours available that you can choose from. It will include an overnight stay in the desert, where you can welcome the coming year in a very cosy yet refined setting. It also includes a scrumptious dinner and midnight cake, along with several games, belly dancing, and Tanura shows.
Plan a Beach Picnic
If the fireworks shows, overnight parties, and fancy dinners are not your thing, you have some other options as well. If you want to ring in the New Year in a different yet fun way, planning a beach picnic is one thing you can do. This is a well-known fact that Dubai is famous for its stunning sandy beaches. You can pick any of the public beaches and have some fun.
Go for the Dubai Fountain Lake Ride
The Dubai Fountain is the world's tallest performing fountain and also one of the major tourist attractions in Dubai. This choreographed water, music, and light spectacle performs a selection of different melodies and is world-famous. On New Year's Eve, you can head out to the Dubai Fountain and book a boat ride on the lake. For the entire duration of the boat ride, you will get to enjoy various music and light shows at the 900-foot-tall fountain. A traditional Abra water boat cruising along the magnificent fountain will surely give you an amazing sailing experience.
Go for a Luxury Dinner
Another way to celebrate the New Year in Dubai is to plan a fancy dinner. There are a number of good places that host amazing dinner parties around this time. All these restaurants serve delicious multi-cuisine food combined with good music and stunning views of the city. Some of these places also host fun events to celebrate the New Year that you can be a part of.
Add Some Fun to the Celebrations
If you are looking for a way to plan a fun New Year's Eve in Dubai for your family, you can go to the Global Village. The musical fireworks shows are one of the major attractions of the New Year's festivities. This place is a perfect amalgamation of world culture, where you get to witness the New Year traditions of more than 75 countries around the world. All these reasons make it an ideal place for the New Year's celebration.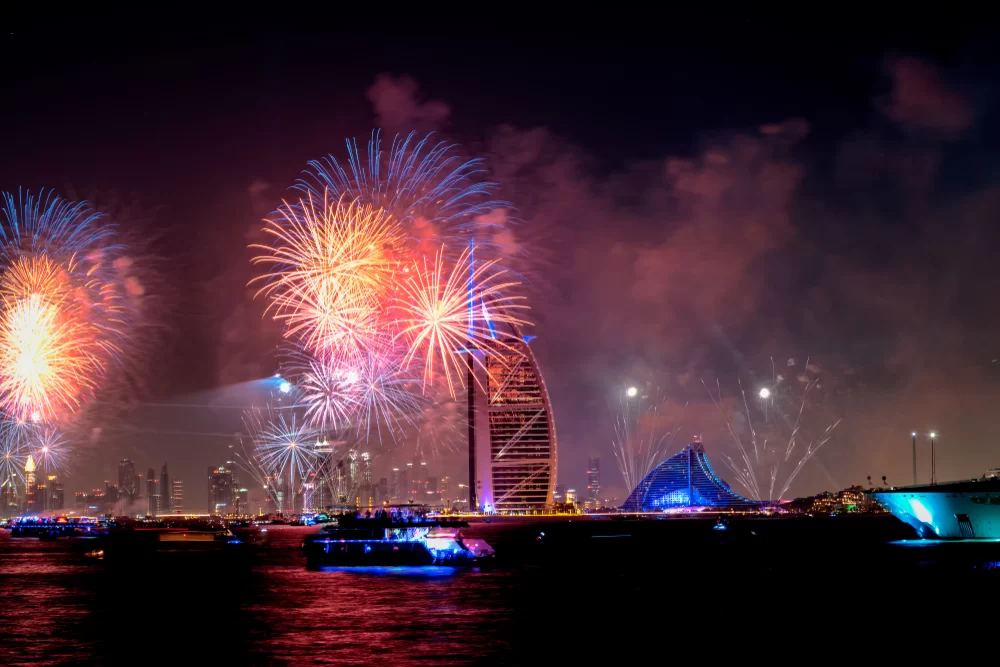 Explore Waterfront Markets
By now you must be thinking that celebrating the New Year in Dubai is all about parties and fireworks, but this is not true. If you are not a huge fan of parties and fancy celebrations, you have some other options as well. Why not celebrate New Year's Eve in a unique way by visiting one of Dubai's beautiful waterfront markets?! Away from all that glitz and glamour, here you can see a different side of Dubai. Here, you can shop your heart out, try some lip-smacking food, or be a part of those exciting carnival rides.
With wide open walkways lined with palm tree boulevards and some beautiful graffiti art walls, La Mer Dubai is one of the options you have. This has four different zones, and each one has different things to offer. Just do a little bit of research beforehand and make the most of the New Year's Eve celebrations.
Now that you know all the possible options for celebrating the New Year in Dubai, welcome the coming year with excitement and positive energy. To plan a hassle-free trip, you can explore Veena World's all-inclusive Dubai tour packages from India.