Reading Time:
9
minutes
The majestic and powerful Himalayas, acting as the northern protector, encompasses a multitude of landscapes adorned with a wide array of flora and fauna. With so many incredible places to visit and things to do in Jim Corbett, the Jim Corbett National Park shines as a premier destination. To fully immerse yourself in the beauty of the park, there are numerous world-class Jim Corbett resorts available that offer hospitable services and exceptional facilities.
The idyllic and serene surroundings of the national park are further elevated by the presence of these top-notch resorts in Jim Corbett, providing visitors with an unforgettable experience in the picturesque foothills of the Himalayas. When it comes to a successful trip, accommodation is just as important as the destination itself. That is why we have compiled a collection of the 7 best resorts in Jim Corbett, ranging from the most luxurious to the most budget-friendly options.
Jim's Jungle Retreat
Jim's Jungle Retreat, the best resort in Jim Corbett, offers a simplistic yet world-class experience for its guests. The resort is comprised of three types of accommodations: Jungle Cottage, Jungle Lodge, and Family Cottage, each offering unique and comfortable living spaces for travellers. But the resort itself is just the beginning of the experiences that Jim's Jungle Retreat has to offer. The surrounding area features a breathtaking river, lush plantation, and sprawling fields, adding to the natural beauty of the resort.
As for the resort itself, guests are treated to a wide range of amenities and facilities beyond basic accommodation. The spa is a popular spot for those looking to relax and rejuvenate, while the dining area offers delicious cuisine for guests to enjoy. The swimming pool is the perfect place to take a dip on hot summer days, while the machaan provides a unique and unforgettable experience for wildlife enthusiasts. The forest pavilion, a tranquil and serene space, is the perfect place to sit back and take in the beauty of the surrounding nature.
Country Inn Corbett
The Country Inn Corbett is a unique and serene resort located amidst lush woods that provides guests with the best of both worlds. Enveloped by nature, the resort offers a peaceful escape from the hustle and bustle of everyday life while still providing guests with easy access to all the amenities they need. The resort features four categories of accommodations, including Tree Top Cottage, Luxury Deluxe Suites, Luxury Cottage, and Luxury Deluxe Rooms. Each accommodation is tastefully designed and equipped with all the modern amenities you need for a comfortable and enjoyable stay.
The Country Inn Corbett is a world-class resort that provides guests with a memorable and enjoyable stay. Whether you are looking for peace and tranquility, or for adventure and excitement, you will find everything you need here, all surrounded by the lush beauty of the surrounding woods.
Corbett Riverside Resort
The Corbett Riverside Resort is a breathtakingly beautiful property located on the banks of a sparkling river, and as its name suggests, it boasts magnificent lawns that are perfect for outdoor games, picnics, and bonfire nights. If you happen to visit the resort during long weekends or festival seasons, the local folklore and traditional music will keep you entertained and engaged.
Stretching for a full kilometre along the riverbank, the resort offers a range of relaxing options, including lazy hammocks and an organic kitchen garden. In addition to jungle safaris, you can also participate in various adventure activities like horse-riding, swimming, flying fox, zorbing, rappelling, and many more.
The resort is designed with the comfort and convenience of guests in mind, with several world-class amenities available, including a pet-friendly environment, a well-equipped conference room, free parking, and Wi-Fi zones. Accommodation is provided in four different categories of rooms, including the Tigers Den Private Pool Suites, Deluxe Riverview Rooms, Super Deluxe Riverfront Rooms, and Deluxe Garden Vista Rooms, each of which are tastefully decorated and equipped with modern amenities.
The Riverview Retreat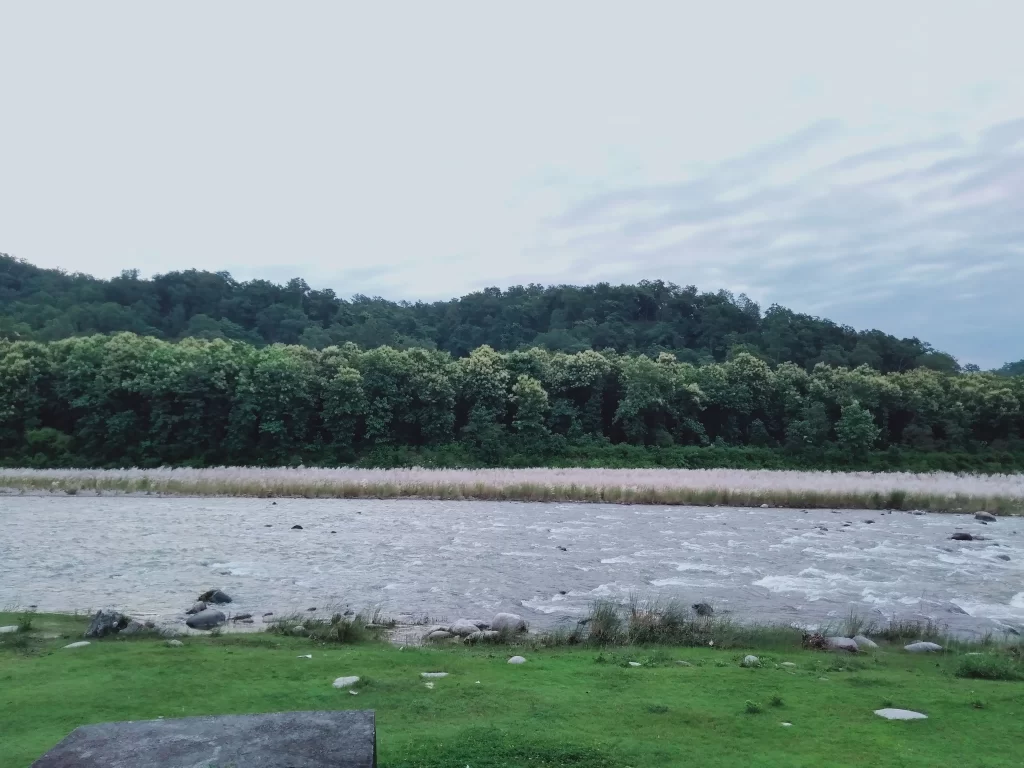 The Riverview Retreat is one of the magnificent resorts in Jim Corbett that spans over 8 acres of lush, green land. This stunning resort features cottages and lodges that have been meticulously designed and constructed, and each comes with its own separate garden, providing guests with a serene and private space to enjoy.
The resort offers a total of six categories of lodges and rooms, including Superior Rooms, Tiger Lodge, Deluxe Rooms, Duplex Rooms, Leopard Lodge, and Tusker Lodge, each offering unique and comfortable living spaces for travellers. Whether you are travelling alone, with a significant other, or with your family, there is a room or lodge that is perfectly suited to your needs.
For those looking to stay active and engaged during their stay, The Riverview Retreat offers a variety of outdoor recreational activities, including cricket, beach volleyball, badminton, table tennis, archery, and fishing and angling. The resort also provides indoor games, such as chess and carom, for those looking to stay entertained on rainy days or in the evenings.
Corbett Tusker Trail Resort
This prestigious and serene resort in Jim Corbett is a haven for comfort-loving travellers. With world-class facilities and luxurious amenities, Corbett Tusker Trail Resort is one of the premium resorts in Jim Corbett. The resort features different types of accommodation. The accommodations are categorized into Leopard Club Rooms, Jaguar Club Rooms, and Family Tusker Cottages.
This resort features a total of 24 chalets and offers a range of recreational facilities, including the Corbett Tusker Trail amphitheatres where guests can enjoy wildlife and movies. Indoor activities such as table tennis, billiards, and board games like chess and carom can be enjoyed in the resort's activity rooms. The resort embodies the height of luxury and hospitality, nestled amidst the stunning natural beauty and the roar of majestic tigers.
Corbett Leela Vilas
The Corbett Leela Vilas, located in the picturesque Dhikuli village of Ramnagar in Uttarakhand, is a luxury resort that combines stunning interior design with unparalleled amenities. It has gained a reputation as one of the finest resorts in the area, attracting both wildlife enthusiasts and tourists who seek comfortable and enjoyable accommodations.
The resort's location in the vicinity of the Jim Corbett National Park, one of India's largest wildlife sanctuaries, allows visitors to experience the park's abundant flora and fauna first-hand. Whether you are on a romantic getaway, a business trip, or a family vacation, the resort offers a range of activities and facilities to suit your needs.
With its innovative approach to accommodation, the Corbett Leela Vilas provides guests with a comfortable and memorable stay. From its spacious rooms and suites to its extensive range of recreational activities, the resort caters to the needs and preferences of all types of travellers. Whether you are looking to relax, explore the great outdoors, or simply enjoy a luxurious and comfortable stay, the Corbett Leela Villas has everything you need to make your trip unforgettable.
La Perle River Resort
La Perle Corbett Resort is a luxurious resort nestled on the banks of the magnificent River Kosi in Dhikuli Village. It is just a stone's throw away from the renowned Corbett National Park, making it the perfect destination for nature lovers and wildlife enthusiasts. The resort sprawls across a vast area of 4.5 acres, providing ample space for guests to relax, unwind, and enjoy their stay.
The resort boasts a range of top-notch facilities and amenities, including a sparkling swimming pool, a well-equipped conference hall, and comfortable and well-appointed accommodations. Guests can choose from a variety of rooms and suites, each of which is designed to provide maximum comfort and convenience.
With this collection of 7 beautiful resorts in Jim Corbett, you now don't have to worry about where to stay on your holiday. Book your Uttarakhand tour package in advance with us to enjoy your trip without any hassle!