Located in the Indian Ocean, close to the east of Africa, Seychelles is an Island nation that has an archipelago of 115 islands, out of which, 45 are granitic islands and 74 are coralline islands. The islands of Seychelles are home to a spectacular variety of coral species, turtles, and colourful fish. Each island of Seychelles is surrounded by a stunning coastal landscape consisting of warm, turquoise water, powdery-fine white sand, and palm trees as far as the eye can see. It's safe to say that Seychelles are a beach lover's paradise. Good weather in Seychelles is pretty much guaranteed! The tropical climate here makes it a year-round destination for sun-worshippers and beach lovers. If you plan to travel in January or July the temperature in Seychelles almost never drops below 26 degrees Celsius. Unlike other tropical islands, there is no rainy season, so the stunning beaches here are the ideal place to get away from it all.
Seychelles has so much more to offer than just beautiful beaches. More than half of the Seychelles archipelago is made up of designated national parks and marine reserves, so you're never far away from stunning natural landscapes and exotic creatures. Now that you know why Seychelles is the perfect destination for your next island escape, it is time to start planning your long-awaited family vacation. The best hotels in Seychelles can make it the most memorable trip of your life. Read this blog to know more about the best hotels to find accommodation in Seychelles for different kinds of travellers from honeymooners to families:
1. Coral Strand Smart Choice Hotel
Coral Strand Smart Choice is among the best hotels in Seychelles, known for its hospitality, scrumptious food, Gecko Bar, live music, karaoke evenings, and the largest swimming pool in Seychelles. This hotel is located in the North West of Mahe, the main island of Seychelles.
Coral Strand Smart Choice Hotel is in close proximity to Seychelles International Airport. By featuring a fine blend of comfort and luxury, these units aim to provide an experience-led stay to its guests. Also being within walking distance to nearby restaurants, shops and lively hot spots, the Coral Strand makes it a preferable choice for families and couples. It is the property that faces the Indian Ocean and allows its guests to register the majestic beauty of the surroundings. There is a gift shop at the hotel offering beautiful gifts and souvenirs. The hotel maintains a swimming pool where guests can feel fresh and can revive their senses by taking a deep plunge into it. The hotel provides a delightful culinary experience to the guests visiting the unit from far-off places. These restaurants and bars aim to offer a fine dining experience which can further help them in forging a close bond with their near and dear ones. Whatever your purpose of visit, Coral Strand Smart Choice Hotel is an excellent choice for your stay in Seychelles Islands.
2. Raffles Seychelles
Located on one of the most charming beaches, Anse Lazio, the hotel Raffles Seychelles has lavish villas on Praslin Island. The nearby located Vallee de Mai is a UNESCO World Heritage site that is a must-visit. Raffles Seychelles caters mostly to honeymooners and couples seeking seclusion. The 86 villas are contemporary in style and generous in size, offering outdoor pavilions with areas to dine and lounge as well as private plunge pools. The resort has its own small stretch of white-sand beach with calm water that makes it ideal for swimming. Here, you also find a water sports center, offering an array of activities including non-motorised water sports like kayaking and snorkelling.
Besides, it has all the amenities such as free Wi-Fi throughout the resort, 24-hour room service, a dedicated kids club, butler service included with some of the villas, beach bar and rooftop shisha lounge with great views to spend your evening. The resort's elegant spa facility is the largest in Seychelles and is carefully designed to calm the spirit and awaken the senses. Combining the best of the local culture and cuisine with dishes from around the world, Raffles Seychelles features six outstanding restaurants and bars, each with its own unique atmosphere and something to suit every mood and occasion. This is, in fact, one of the most luxurious hotels in Seychelles that you've got to experience.
3. Four Seasons Resort Seychelles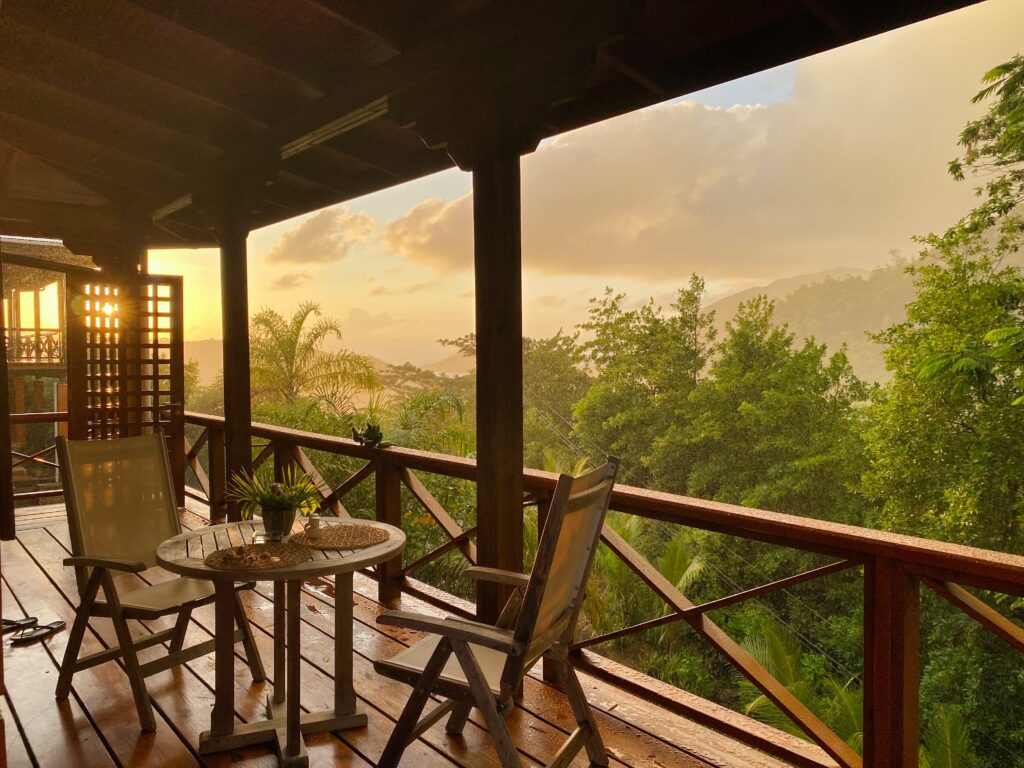 Four Seasons Resort Seychelles enjoys a splendidly isolated location on the southwest coast of Mahé, the granite-filled main island of Seychelles known for its white powder beaches and dramatic rock formations and is a must to be included in your Seychelles holiday packages. The ultra-luxurious resort occupies a 170-acre site of breathtaking natural beauty in the magnificent, horseshoe-shaped bay of Petite Anse. Four Seasons Resort Seychelles is the perfect place for photo opportunities and Instagram addicts.
This hotel in Seychelles, without any doubt, is a paradise on earth which combines luxury with seclusion. The resort decor's colour palette is subtly influenced by the teal blue Ocean, indigenous cinnamon tree leaves and copious bamboo groves, providing a sense of place and enhancing the indoor-outdoor aesthetic of the property. The resort operates a beach club at the oceanfront, offering comfortable loungers and daybeds in addition to a full spectrum of water sports, including surfing, kayaking and sailing. To top it all, the resort offers romantic sunset views with the sun setting perfectly between the bay's two headlands at certain times of the year. As the highest point in the resort, the rooftop of the hilltop spa offers the perfect platform from which to view the sunset. Four Seasons Resort Seychelles offers a fine dining experience and inventive cocktails at their two restaurants and two lounges, set on the hillside and beach side, respectively. The resort provides exceptional service and is a must to be considered for accommodation if you plan a trip to Seychelles.
4. Anantara Maia Seychelles Villas
The Anantara Maia Seychelles Villas sits on 30 acres of tropical gardens overlooking Anse Louis Beach. The villas have been designed in a classic style with rustic elements combined with soft furnishing and luxury amenities. Each villa comes with its own private pool and a host on call 24/7 at your service. The Anantara Spa offers restorative therapies in beautiful treatment areas and is home to the hotel's relaxation and rejuvenation centre. There is also a fitness area, water sports, snorkelling, diving, hiking and island excursions on offer.
Worth visiting are the Sir Selwyn-Clarke Market in Victoria, the island's amazing beaches and the beautifully decorated temples and churches. The visitors are offered five cuisines from five chefs – and that feature Creole, Indian, Mediterranean, Asian and international dishes. The meals are served all day here as Anantara Maia Seychelles Villa's moniker is "Anytime, anywhere". It is one of the best luxury hotels in Seychelles and is a must for everyone to witness all the luxurious amenities offered here for a pleasant stay.
5. Eden Bleu Hotel
In the heart of Seychelles, lies the Eden Bleu Hotel. Overlooking the marina and with easy access to beaches, shopping and the city centre, this hotel is perfect for local exploring. With chic, contemporary interiors and proximity to the airport, this hotel has reams of city style. It is the ideal destination for both business and leisure travellers looking for comfort and convenience. If you are on a honeymoon, book a luxury suite for a marina view and enjoy cocktails at the romantic bar in the evening. It's a must to consider this hotel when in Seychelles as it offers the best picturesque and mesmerising views that will surely leave you in awe.
So, what are you waiting for? Get excited as you visit the paradise on Earth; Seychelles: a home to pristine beaches, verdant nature, and breathtaking views. These are the best accommodations and hotels when you visit Seychelles. Make sure to look at all of them and book the one that suits your budget so that you can enjoy the trip of your lifetime.