Reading Time:
10
minutes
 One of the most happening cities in America, San Francisco is an absolute delight for travellers. One of the most important cities in the United States, San Francisco is a cultural and commercial centre in Northern California. Known for many striking sightseeing places, diverse culture, pleasant environment, interesting architecture, beautiful streets and parks, delicious food, and friendly people, no other cities and places can match the vibes and infinite charm of San Francisco. This energetic city has a plethora of attractions and activities to keep tourists busy throughout their time there. Some of the best places to visit in San Francisco are Golden Gate Bridge, the Fisherman's Wharf, Alcatraz Island, Chinatown, Oracle Park, the Palace of Fine Arts, and more. Apart from that, hotels in San Francisco are rejuvenating and comfortable, making your trip a lot more joyous and memorable for a lifetime.
Here is the list of the best hotels in San Francisco for a perfect vacation.
1.Ritz Carlton
One of the most luxurious hotels in San Francisco, Ritz Carlton is designed to provide ultimate comfort and convenience to guests. Located near Union Square, the hotel has around 336 luxury suites and guest rooms with impressive bay views. This urban retreat provides resort-like amenities to ensure you will have the best time of your life. There are 24-hour personal wake-up service, in-room dining arrangements, a lounge and free Wi-Fi to connect. The Ritz Carlton in San Francisco is also home to a 24/7 fitness centre, equipped with state-of-the-art cardio machines and strength-training gears, ensuring that guests do not skip their workout routine.
2. Union Square
One of the best hotels in San Francisco, Hotel Union Square is just a minute's walk from the cable car turnaround. It is a perfect option for those willing to stay in the mid location of the city. Guest rooms are designed and decorated in soft colours and equipped with all modern amenities required for a comfortable stay. Known as the first boutique hotel in San Francisco, the hotel makes a great option for family vacations, romantic getaways, business trips, etc. Built more than 100 years ago in 1913 for the 1915 Pan Pacific Exposition, the hotel Union Square in San Francisco appeals with its fusion of art deco and classic San Francisco style.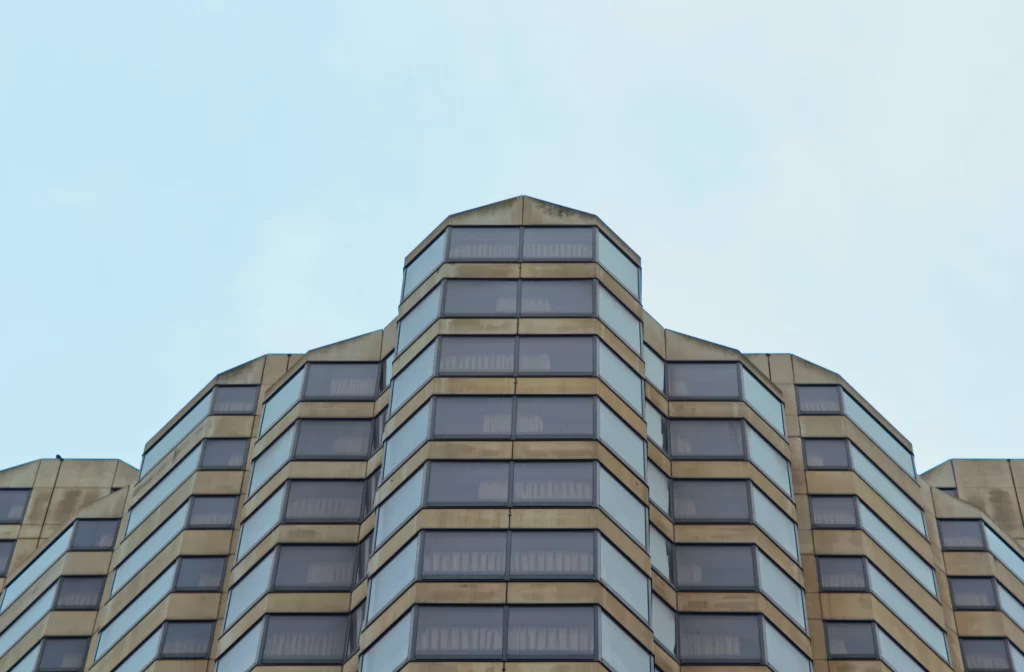 3. Fairmont Hotel
The next on the list of top hotels in San Francisco, Fairmont is world-famous for its grandeur of luxury and hospitality. With a classic ambience with modern amenities, the Fairmont ensures the highest possible standard, making your stay more memorable, whether it is for business or pleasure. One of the most popular 5-star hotels in San Francisco, the Fairmont hotel offers options for accommodations, including deluxe rooms, signature rooms, suites, and large suite collections. Here, you can enjoy delicious meals and extensive wines and liquors on a seasonally inspired menu for a whole new dining experience.
4. San Francisco Marriott Marquis
Famed as one of the most luxurious hotels in the city, the San Francisco Marriott Marquis ensures both a refreshing and memorable stay for guests. The hotel features contemporary rooms and suites with plush bedding and insulated windows for a relaxing and peaceful retreat. Every room is beautifully designed and is equipped with a range of amenities, including mini-refrigerators, Smart TVs, Wi-Fi access, and ample workstations. If you are looking for something more at this incredible hotel, head to any of its rooftop restaurants and bars, serving delicious meals and drinks curated by some of the best chefs in the world. The M Club here is famous for providing an extraordinary view of downtown. One of the best hotels with a view, the San Francisco Marriott Marquis, provides spacious rooms, a prime downtown location, and exceptional services.
5. Hilton Hotel
Located near Union Square in San Francisco, the Hilton Hotel features the city's highest sky bar and an outdoor pool. The prominent location, diverse accommodation options, and world-class amenities make it one of the best hotels in San Francisco. The hotel offers different options for accommodation that include deluxe rooms, rooms with a balcony skyline view, and rooms with a pool view through a terrace. Every room has a flat-screen TV, air conditioner, 24-hour housekeeping, hairdryer, coffee maker, high-speed internet access, and more. The Hilton hotel near Union Square in San Francisco is home to around 5 restaurants and bars, namely Cityscape Lounge, Herb N' Kitchen, Poached, the Lobby bar, and the Urban Tavern.
These restaurants and bars provide guests with opportunities for dining, socialising, and having a good time with friends and family. A great option for accommodation in San Francisco, Hilton Hotel assures an excellent balance of productive business meets and leisure time.
6. Grand Hyatt SF
Located just off Union Square, the Grand Hyatt SF (San Francisco) is in a central location for exploring the city. This 36-story building features contemporary, well-appointed rooms and suites equipped with a range of residential-style amenities to provide a luxurious stay. Also, the floor-to-ceiling windows in rooms at this popular hotel allow guests to enjoy the spectacular views of the city by the bay. One of the most popular hotels near the airport in San Francisco, the hotel also features an array of activities for guests to ensure they enjoy their vacation to the fullest. You can keep up with your workout routine at StayFit Fitness Centre, enjoy all-day dining, including breakfast, lunch, and dinners at on-site restaurants, and much more.
7. The Palace Hotel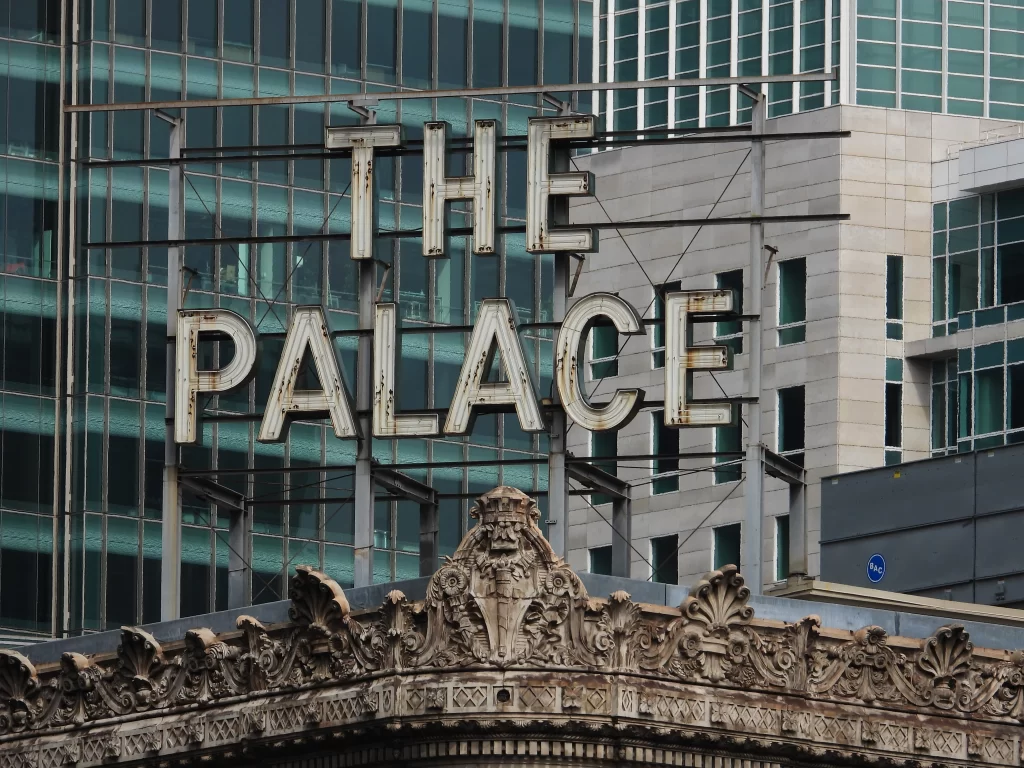 A landmark historic hotel in San Francisco, Palace Hotel is an iconic hotel offering a premier stay downtown. Situated at the southwest corner of Market, the hotel is a part of the official program of the National Trust for Historic Preservation, called the Historic Hotels of America. Apart from magnificently designed luxurious rooms to provide ultimate comfort, the hotel is recognised for its incredible hospitality. The Palace Hotel San Francisco also has 2 on-site restaurants and 2 bars and lounges, serving a wide range of dishes from across the world. It is not just a perfect accommodation in San Francisco but a key attraction when travelling to the city. Staying in this historical hotel will be a memorable experience for you.
8. Crowne Plaza
One of the most popular San Francisco Airport Hotels, the Crowne Plaza is an excellent blend of hospitality and modern lifestyle amenities. It is a family and business-friendly hotel, offering free Wi-Fi and indoor pool facilities. Every day, breakfast is available at the hotel. Also, the convenient location of this hotel provides guests easy access to all major attractions in San Francisco, including the Golden Gate Bridge, the Fisherman's Wharf, a variety of shops and restaurants, etc. Also, this famous San Francisco Airport hotel is a perfect spot for events, ranging from corporate team-building events to weddings.
9. Park Central Hotel
One of the best hotels in San Francisco, the Park Central Hotel is the epitome of refined luxury and comfort. The hotel features around 676 elegantly decorated, air-conditioned rooms with all modern facilities to provide the utmost comfort to guests. Enjoy delicious lunch and dinner at its on-site restaurant, which has a sophisticated charm and amazing vibe. The menu features a diverse range of locally sourced cuisines and international dishes with intriguing twists. It is one of the best hotels near the airport in San Francisco that is perfect for both business and pleasure travellers.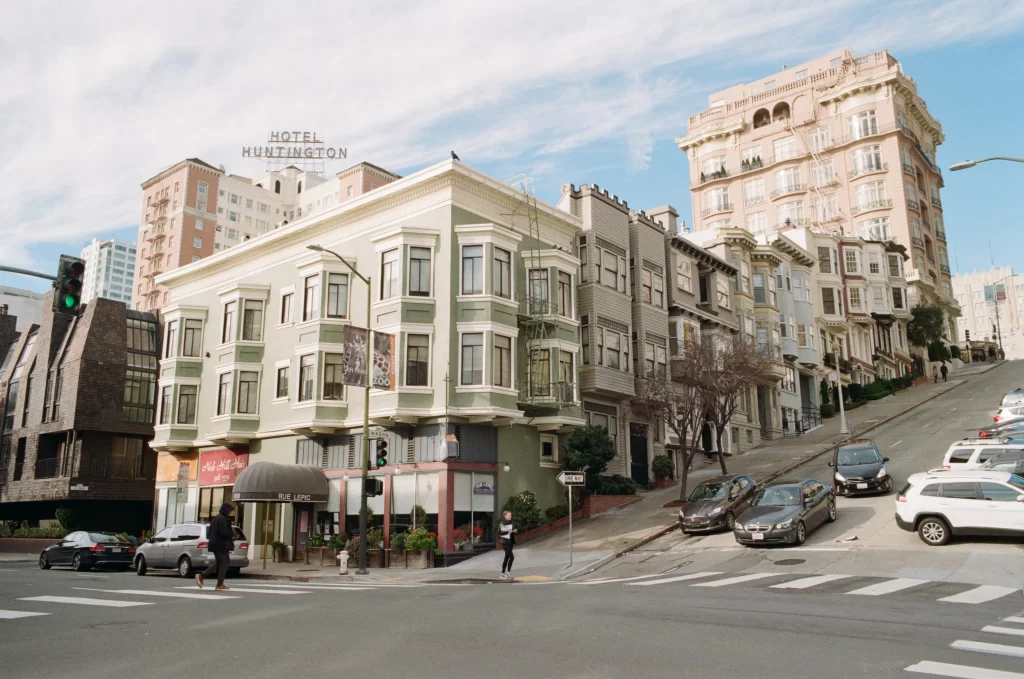 San Francisco is one of the most popular vacation spots in the United States of America! When planning a trip to this city, make sure to book one of the San Francisco vacation packages that include these luxurious and rejuvenating accommodations that suit your preferences.