Reading Time:
10
minutes
Shillong is one of the most beautiful hill stations, situated in the northeastern part of India. The capital of Meghalaya, Shillong, is home to serene valleys, mysterious caves, majestic waterfalls, and awe-inspiring landscapes. Also famous as the Scotland of East and the Rock Capital of India, Shillong sits at a height of 1500 metres from sea level. Situated between the hills of Jaintia and Khasi, Shillong is a dream place to visit for both nature lovers and adventure seekers. Away from the chaotic city life, Shillong attracts tourists with a misty pleasant climate and tranquillity. It is a place with a rare combination of the past and the present, inviting you to experience the best vacation of your life.
Read this Guwahati to Shillong travel guide to explore this beautiful hill station in all its glory.
How to Reach from Guwahati to Shillong by Road
A road trip from Guwahati to Shillong is mostly preferred by adventurers, bikers, and travel buffs. The distance is around 99 KM which can be covered within 3 or 3.5 hours. Both of these cities are well-connected via the NH 6, and road conditions are excellent. NH6 is also the only direct route option suggested by Google Maps. Guwahati to Shillong by road is a mesmerising experience as the route covers the picturesque beauty of the northeast with mountains and lush green landscape all around. So, if you want to enjoy a memorable road trip with some stunning stops on the way, go for this option. You can hire a taxi, cab, bus or drive your personal car to reach Shillong from Guwahati.
How to Reach from Guwahati to Shillong by Train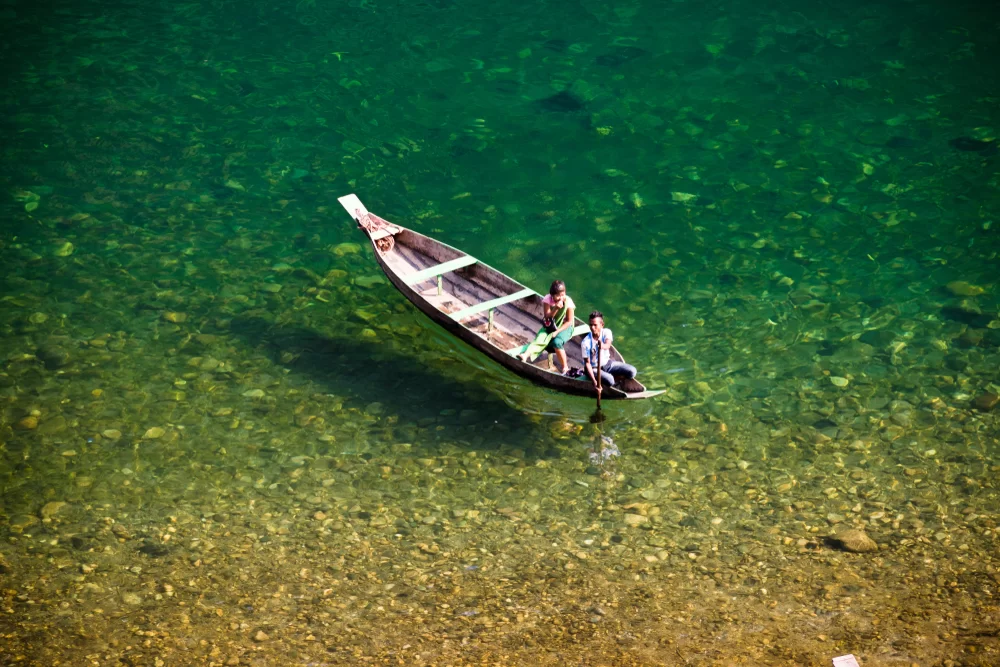 While there is no direct rail connectivity to Shillong, Guwahati Railway Station is the only and nearest railhead to Shillong around 135 KM away. It is connected to all major cities in India through a broad rail network. Tourists can hire a cab, taxi, or bus to reach Shillong from Guwahati railway station.
How to Reach from Guwahati to Shillong by Air
The distance between Guwahati to Shillong via air is around 61 Km, so it is amongst the busiest flight routes among both business and leisure travellers. The Lokpriya Gopinath Bordoloi International Airport in Guwahati is the biggest and most convenient airport that connects all major cities in India. However, the nearest airport is the Umroi Airport or Shillong Airport (SHL), which is a domestic airport near Barapani. There are direct flights to Shillong from Kolkata and Jorhat operating seven days a week. You can book your flight from Delhi to Guwahati by any of the air carrier websites or by booking through the different travel portals online. Further, you can book a taxi or cab from Guwahati airport to Shillong and arrive there in a few hours.
Best Time to Visit Guwahati and Shillong
Often referred to as the Scotland of the East, Shillong is known for its sub-tropical highland climate. Guwahati and Shillong have pleasant weather throughout the year, and you can visit these places any time of the year. However, the best time to visit Guwahati and Shillong is from September to May, as you can enjoy sightseeing without any concern about rainfall. During these months, it does rain occasionally but is lesser as compared to Monsoons between June and August. During Monsoons, these cities experience heavy rain, so it might be difficult to explore the tourist places. Nevertheless, the beauty of Shillong and Guwahati is at its best in monsoon as the landscape turns into a paradise with lush greenery and overflowing waterfalls and lakes. It can be an off-season location for Monsoon lovers.
Guwahati to Shillong – Sightseeing and Attractions
Shillong is not just a beautiful hill station but a once-in-a-lifetime experience while getting rejuvenated in the lap of Mother Nature. There are many places to visit in Shillong, and each one will leave you mesmerised with its incredible charm. Some of the best sightseeing places that you should not miss at all during your visit to Shillong include:
Elephant Falls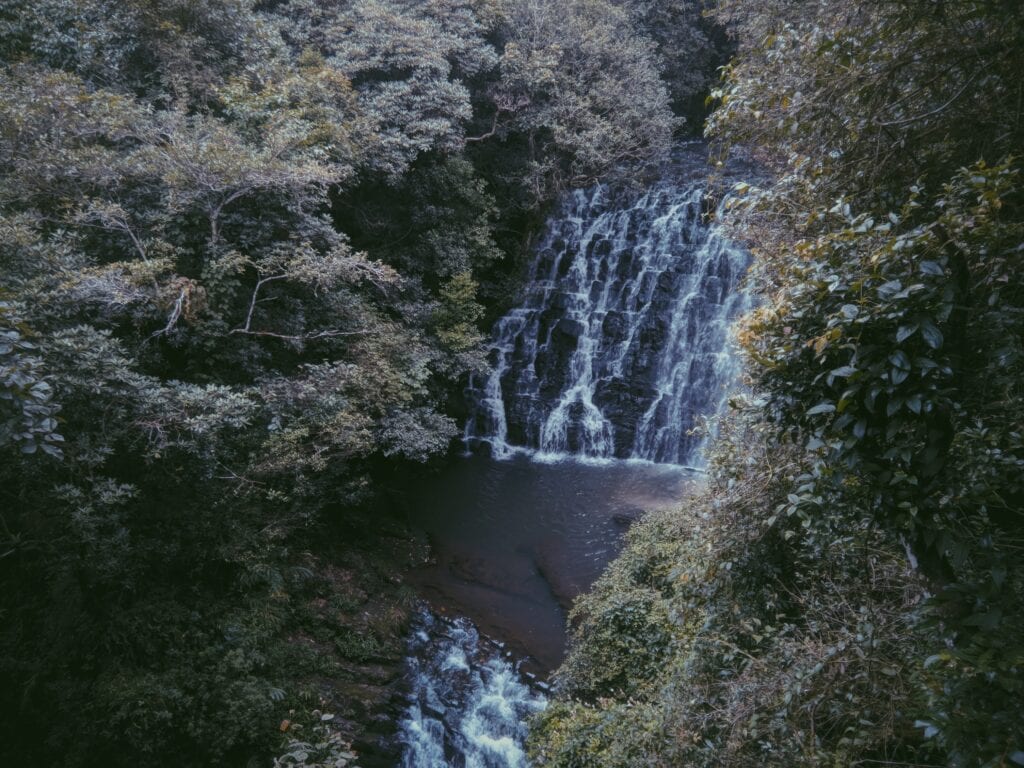 One of the major attractions in Shillong, Elephant Falls, is a three-tier waterfall located 12 km from Shillong. Earlier the lake was known as the Ka Kshaid Lai Pateng Khohsiew by the locals, which means the Three Step Waterfall. Later, it was renamed by the Britishers as the Elephant Falls because a rock near the falls resembled an elephant. However, the rock was destroyed due to an earthquake in 1897. Though you can visit it in any month, monsoons are the best time to witness the waterfall in its full might.
Shillong Peak
Situated at an elevation of 1965 metres, Shillong Peak is known to be the highest point in the city. It is in the Air force base and hosts the radar station of the Indian Air Force. Covered with fogs and abundant greenery, it is a must-visit place in Shillong. It is a spot to get breathtaking views of the city, waterfalls, and plains of Bangladesh and Himalayan peaks. Also, trekking is the best activity to make the most of your time here on Shillong Peak.
Umiam Lake
Also known as Barapani Lake, Umiam Lake is a major attraction for people, making Guwahati to Shillong distance, route, and trip the most pleasant experience. Spreading over 220 square km., Umiam Lake is a striking reservoir, often compared to the gorgeous lakes of Scotland. It is a popular picnic spot and a venue to enjoy water sports and other adventure activities, including boating, yachting, water cycling, cruising, kayaking, etc. You can also enjoy camping at Lumpongdeng Island, an isolated piece of land in the reservoir. The lake also features a water sports complex, Orchid Tourist Home, and a beautiful garden – Lum Nehru Park at the shore.
Phan Nonglait Park
Previously known as Lady Hydari Park, Phan Nonglait Park is a great place to visit in Shillong near Police Bazar. Built-in Japanese style, this park is home to a mini zoo having different species of raptors, antelope, and small mammals. This exceptionally picturesque lake is dotted with a wide variety of trees, beautiful ponds, and a museum. A wonderland for all Seasons, Phan Nonglait Park attracts tourists with its striking landscape and peaceful surroundings. Here, you can sit and relax with your family and friends, witness Himalayan Black Bears, visit Butterfly Park, and wander around the pathways to admire the scenery. Make sure to include this park in your Guwahati to Shillong sightseeing package.
Laitlum Canyons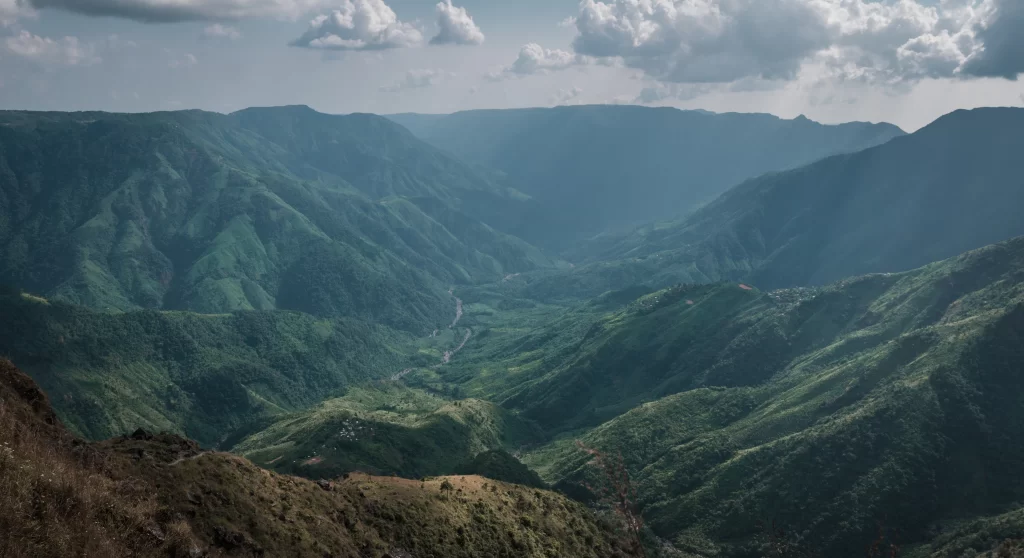 Perched atop the Khasi Hills, Laitlum Canyons is a heaven for trekking and adventure lovers. While the terrain is a bit tough to navigate, it offers some of the most striking views and the purest air to breathe. Situated amid the majestic hills and valleys, the Laitlum Canyons is a magical place where you can witness the verdant and fascinating panorama of Meghalaya. Here, the beautiful and gurgling Laitlum stream and its old-fashioned yet picturesque wooden bridge make people stare and admire the magical landscape surrounding them. Laitlum Canyons is an off-beat and less crowded place in Shillong, thus offering a peaceful and secluded spot to enjoy quiet moments.
Air Force Museum
Situated near Elephant Falls, Air Force Museum is a point of interest for adults as well as children. This museum is within the complex of Eastern Air Command, showcasing a vast collection of aircraft models, rockets, machinery, miniature models of missiles, pilots' uniforms, and technology used by the Indian Air Force. It is a great place to learn about the defence forces, and courageous flying warriors of the air force. If you want to buy some souvenirs, you can visit the gift shop available in the complex.
With this comprehensive Guwahati to Shillong travel guide, your trip to Shillong will certainly be the most memorable experience of your lifetime. To make your trip planning simpler, you can book your Shillong tour package and get ready to enjoy a mesmerising and memorable trip here.