Reading Time:
9
minutes
Rajasthan has always lured visitors from around the world because of its rich heritage and history. If you are planning a rejuvenating trip where you can enjoy the warm hospitality of the welcoming locals and know about their colourfullifestyle up close and personal, there are a lot of places to visit in Rajasthan. Apart from being famous for things like ancient temples, magnificent forts and other architectural grandeurs, the Land of Maharajas is a true paradise for food lovers as well. The distinctive cuisine of Rajasthan boasts a never-ending platter with a plethora of mouth-watering dishes like Dal-Baati-Churma, Ker Sangri, Ghevar, Mohan Thaal, Gatte ki Sabji and a lot more. However, the Rajasthani cuisinehas anendless list of vegetarian dishes, butthere area number of mouth-watering meat dishes also like Laal Maas, and Mohan Maas.
What makes Rajasthani food unique?
This cuisine is majorly influenced by the royal Rajputana food habits and the climate of the arid state. What makesit distinctive is, a wide range of delectable dishes despite the little availability of fresh fruits and vegetables. The most common ingredients used in the preparation of authentic Rajasthani food are beans, lentils, gram flour, corn, barley, millet, and of course a lot of desi ghee (clarified butter).
Rajasthani Dishes You Must Try
If you are planning to book a Rajasthan tour package soon, take note of some of the lip-smacking and most popular dishes that you have to try on your trip.For a while, leave all the thoughts of calorie gaining behind as this list of scrumptious Rajasthani dishes will definitely leave you drooling.
1. Dal Baati Churma
This is a dish that needs no introduction as this cuisine is synonymous with this traditional food of Rajasthan. No other dish can beat the taste of ghee-dipped baatis served with spicy panchkuti dal and churma. Prepared in desi ghee, this is a perfect combination of sweet and savoury foods and imparts a tempting aroma that you can never resist.
2. Pyaz Kachori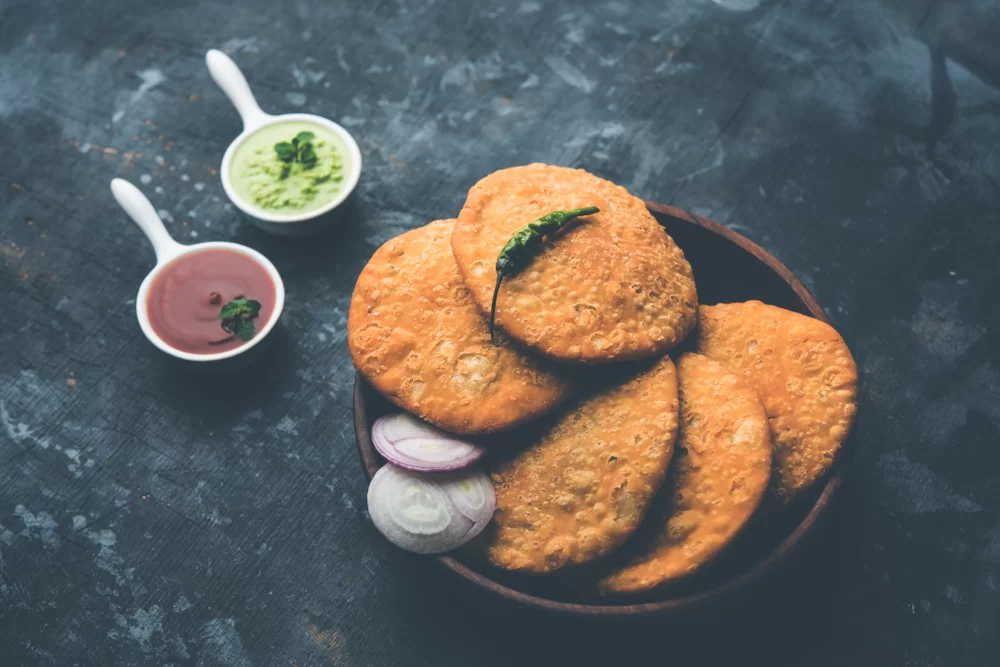 Pyaz Kachori or onion kachori is a deep-friend, crunchy snack. It is another popular dish that you must try on your trip to this vibrant state and is definitely something you can never have enough of. Best enjoyed with mint and tamarind chutney, either have it as your breakfast or itcan go perfectly well with your evening tea as well.
3. Laal Maas
Laal Maas is a non-vegetarian dish in which mutton is cooked with ginger-garlic paste, yoghurt, turmeric and a few authentic spices. This is a must-try dish if you are someone who always wants to try a new meat dish and likes spicy food. There are a few festivals of Rajasthan which are incomplete without Laal Mass being on the menu, as it is the main dish prepared on special occasions and festivals.
4. Mohan Thaal
This is a popular sweet dish prepared with gram flour which finds its origin in the ancient Rajasthani and Gujrati cuisine. Also known as Dil Khushal or Mohan Thar, this sweet delicacy is prepared during most Indian festivals like Navratri, Gudi Padwa, Diwali etc. Thenice chewy texture and grainy flavour of Mohan Thaal will definitely amaze your taste buds as it melts in your mouth instantly and leaves you wanting for more.
5. Gatte ki Sabzi
This popular curry is prepared with steamed gram-flour dumplings (gatte) dunked in a spicy curd-based gravy. This delicious dish has a number of variations like Shahi Gatte, Masala Gatte, Govind Gatte and all of them taste equally amazing. You can have this with rice or chapatis and enjoy the scrumptious, traditional food of Rajasthan.
6. Malpua
The Rajasthani cuisine includes a number of delicacies to satisfy your sweet tooth and Malpua is definitely the most popular among all of them. Malpuas are best enjoyed when served hot along with chilled Rabdi and Pushkar is the best place to try this delicious and toothsome sweet treat. If you are visiting Pushkar around MakarSankranti, you can easily find this delicious combination inalmost every sweet shop.
7. Kadhi
Kadhi is a common dish prepared in different parts of the country but with a lot of variations. Rajasthani Kadhi is known for its unique flavour and an extra punch of spices that it gets from a number of authentic Rajasthani spices. Served with steamed rice and chapatis, Kadhi-Pakora is a must-try dish on your next trip to Rajasthan.
8. Aam ki Launji
Aam ki Launji is an instant pickle prepared using raw mangoes. This sweet and sour dish is a perfect option to beat the heat of Rajasthan while tingling your taste buds with a distinctive mango-ish flavour. It goes well with chapatis, rice or pooris and can instantly enhance the taste of your meals.
9. Ghevar
How we can complete a list of famous sweet dishes of Rajasthan without mentioning Ghevar. You can find this popular sweet treat in various forms like Mawa Ghevar, Malai Ghewar, Saada Ghewar etc. Given the perfect taste and flavour, Ghevar truly justifies the title of the 'crown dish of Rajasthan'.
10. Mirchi Vada
The mention of hot, spicy and crunchy mirchi vadas is enough to make anyone drool. This deep-fried snack is a famous food of Jodhpur which goes perfectly well with evening tea or you can have it as a late night snack.
11. Mohan Maas
Another addition to the rich non-veg platter is Mohan Maas. Whenever you plan a trip to Rajasthan, this is a dish you should definitely try. With rich dry-fruit stuffing and being cooked delicately in milk, Mohan Maas has a creamy texture which makes it a perfect rajwadi meat dish.
12. Ker Sangri
Prepared with unique ingredients like Ker (a kind of desert beans)and a number of local herbs and authentic spices, this pickle-like dish has a special place in Rajasthani cuisine. No Rajasthani meal is complete without Ker Sangri as it tastes amazing with a distinctive flavour that you can find nowhere else.
13. Bajre ki Roti
This is a kind of Indian bread prepared with millet flour (Bajre ka Aata). Known for its health benefits, especially when consumed in winters, Bajre ki roti is a part of the staple food consumed by locals here. Generally, it is served with Ghee-Gur(jaggery and clarified butter) or Lehsun ki chutney.
14. Mawa Kachori
Noone can deny a kachori especially when it is filled with sweetened mawa and dry fruits. Mawa Kachori is the perfect solution for those midnight cravings when you would want to become a little bit experimental and try a completely different sweet treat. This is one of the famous foods of Jaipur and you can easily find it in any sweet shop in the city.
Apart from its rich culture and heritage, Rajasthan also boasts a number of picturesque places, a perfect setting for a romantic getaway. If you are a newly-wed couple and are not sure whether you should book a honeymoon package to Rajasthan or not, here is your answer. The rusty beauty this place offers will do a great job of adding a different charm to your new marriage. So no more second thoughts! Explore a wide range of honeymoon tour packagesoffered by Veena World and plan a perfect, romantic trip with your spouse.