There is so much to see in this world, but beginning with a majestic valley of flowers can certainly be a great start! It is an exceptional gateway to the myriad of colours, beauty, and wonders. There are a number of radiant valleys of flowers in India; many of them have been tourist attractions for years, while others have managed to stay away from the limelight. Spectacular wildflowers, enthralling surroundings, a diverse landscape, and an ever-changing canvas of sky make every flower valley in India unique.
Top Flower Valleys in India
If you are an ardent admirer of wildflowers and their gorgeousness, then these are the flower valleys in India that you must visit to witness the awe-inspiring array of colours: -
Valley of Flowers, Uttarakhand
Kaas Plateau, Maharashtra
Mughal Garden, Kashmir
Dzukou Valley, Nagaland
Munnar Valley, Kerala
Flower Valley, Gulmarg
Valley of Flowers, Uttarakhand
Nested in the western Himalayan region of Uttarakhand, the valley of flowers is fondly called "phoolon ki ghati". The flower valley is in the Chamoli district of Uttarakhand, at a height of 3658 metres above sea level. You can reach this valley of flowers from Dehradun by road via NH 58.
You would be surprised to know that this valley of blossoms is recognised as a UNESCO World Heritage Site. The kaleidoscope of colourful blooms in this valley will fill your heart with joy. The surrounding area is so verdant and beautiful that it seems like a picture straight out of heaven.
Visitors spot rare flowers in the valley, such as Brahma Kamal, Himalayan slipper orchid, and Himalayan marsh orchid. Besides this, they also come across Himalayan birds such as the Himalayan snowcock, snow partridge, and Himalayan monal. This valley of flowers in India is one of the favourite places for trekking for many mountaineers and trekkers. So, whether you are an adventure enthusiast or a nature admirer, you should definitely see the wonders of the Valley of Flowers at least once in your lifetime.
Kaas Plateau, Maharashtra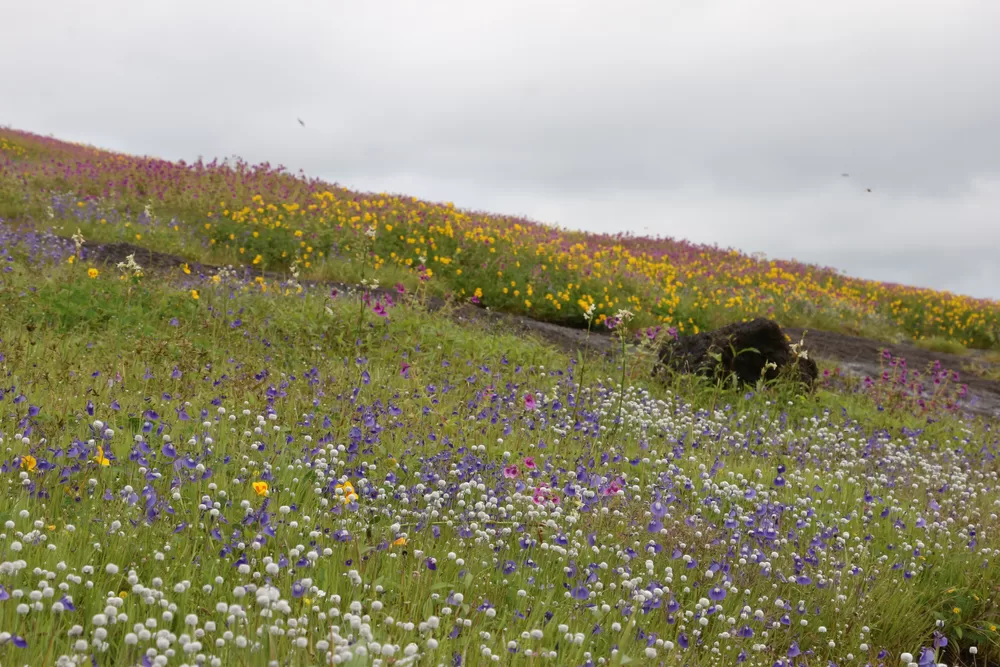 Kaas Plateau is one of the most famous valleys of flowers in Maharashtra. This beautiful flower valley is located at a distance of 25 kilometres from Satara and is among the UNESCO World Heritage Sites in India. It is one of those off-beat places that have not caught the eye of mass tourism. So if you want to visit one of the best unexplored valleys of flowers in India, Kaas Plateau is the right place for you.
The valley is an absolute treat for the eyes, where you can see myriads of colourful flowers in a uniform arrangement beside a waterfall. It is interesting to know that there are 850 varieties of flowers in this valley that bloom during the monsoon season. During your trip to Kaas Plateau, do not miss covering Kumudini Lake and Kaas Lake to witness scenery that you will remember for a lifetime. Beautiful photographs against this beautiful backdrop will make your social media profiles shine for months!
Mughal Garden, Kashmir
The Mughal Garden in Srinagar is one of the most gorgeous valleys of flowers in Kashmir. Here, you can see the bed of flowers in different colours blooming in all their glory. White and pink almond flowers, cherry blossoms, and lush meadows all around are a sight to behold forever. Many say that almond blossoms mark the beginning of the spring season. Tulips, crocuses, hyacinths, snowdrops, and narcissus are some of the blooms in the Mughal Garden that captivate everyone with their splendour. All these colourful flowers add sharp contrast to the landscape and paint a perfect picture. Vibrant colours like yellow, red, and orange mixed with green and a stark blue sky will mesmerise you with their loveliness.
It is a famous picnic spot where locals and tourists visit with friends and families to bask in nature's playground. On your way to this garden, you can shop for picnic baskets and other handmade products to gift to your loved ones back home.
Dzukou Valley, Nagaland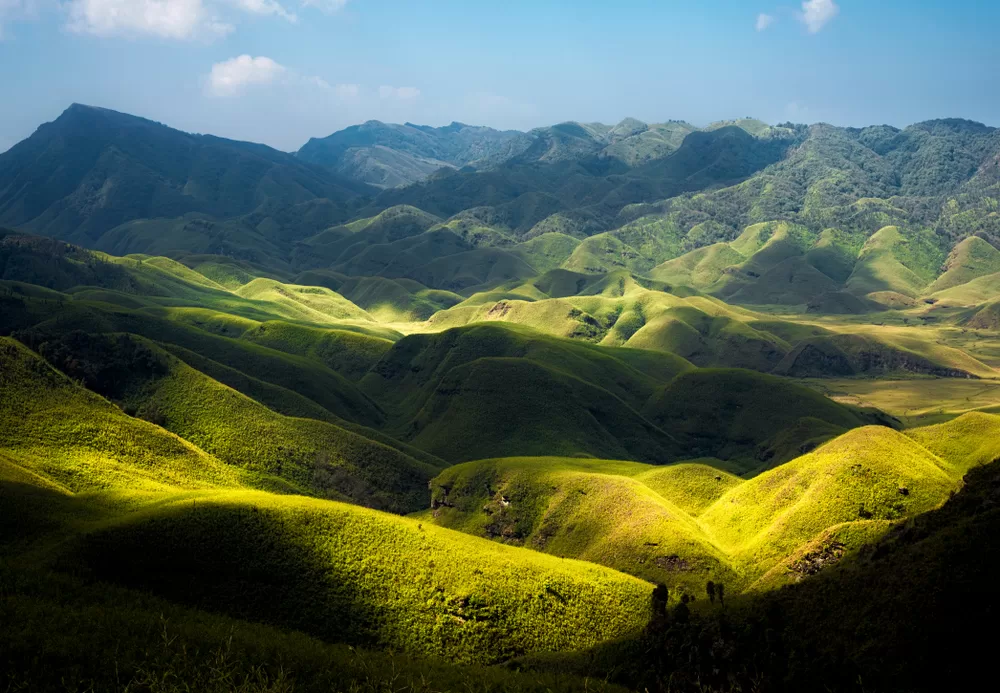 Dzukou Valley is one of the best valleys for flowers in India. Nested in Nagaland, this valley is less known, which means its beauty is intact. It is a true hidden gem that can easily be added to offbeat trip packages in India. It is located at 2452 m above sea level.
The place is a favourite among nature lovers and adventurers alike. The valley is truly a paradise, with a bed of flowers that beautify the surroundings and calm your senses. Rhododendrons, aconitums, rare Dzukou white and pink lilies, and euphorbias are some of the flower species found in Dzukou Valley.
Avid trekkers find this valley of flowers ideal for hiking in India. They reach the top of the valley to enjoy the view from Japfu Peak. The mesmerising natural rock formations and beautiful streams coming down from the valley form a captivating sight. Dzukou Valley is a must-visit place for photography fans, keen trekkers, and nature enthusiasts.
Munnar Valley, Kerala
In God's own country, Munnar Valley is a floral wonder that will mesmerise you with its vibrant hues. Munnar Valley, home to the wildflower Neelakurinji, which grows only in the Western Ghats, is a must-visit place. It is very interesting to know that Neelakurinji blooms every 12 years, which makes it even more desirable to witness this natural phenomenon. The Neelakurinji flower has a vibrant lavender colour. During its blooming season, it covers the entire landscape in a deep lavender colour, which looks captivating with the cascading waterfall and misty mountains. Other than the flower valley, Munnar has many tourist spots that make it one of the best hill stations in India.
Flower Valley, Gulmarg
Gulmarg, also known as meadows of flowers, has a lot to offer its visitors. If you are someone who wants to see this destination through a different lens, ditch the famous cable car and head towards Flower Valley in Gulmarg. It is hands down one of the best flower valleys in India, where many film shootings took place back in the day. The valley is in full bloom from June to September and covered with wildflowers all around. It is magical to see fiery orange poppies, purple lupines, and white daisies all around. You can click thousands of pictures with flowers as a backdrop or spend hours admiring nature's beauty.
When you reach the top of the valley, the breathtaking view of the landscape will remind you of postcard scenery. Tiny huts covered with snow, blooming plantations, and mighty mountains paint a picture that will remain in your mind forever. The place is definitely worth a visit for anyone seeking solace and wanting to experience the magic of Mother Nature.
Many regions of India, be it Uttrakhand, Kashmir, or Himachal Pradesh, have valleys of flowers with wildflowers, green meadows, and natural landscapes that call visitors attention. This re-establishes the fact that India is truly a magical land with an abundance of nature's beauty. Planning a trip to see a bed of flowers spread across several kilometres can be a mystic experience.