Reading Time:
9
minutes
Paris, the capital of France is monumental in every sense of the word. With its inspiring grandeur and mesmerising beauty, the city never fails to impress anyone. Be it travel, food, fashion or architecture, the historical landmark just dazzles the onlookers in every other way. When you come to Paris, there are a thousand things to see and do that you will be spoilt for choices. You can climb to the top of the Eiffel Tower, take a stroll around the Louvre Museum, enjoy a cruise on the Sein, relive your childhood at the Disneyland or just simply take the time to experience the Parisian way of life. There is so much to explore in the beautiful city of lights and romance.
When it comes to places to visit in Paris or living the culture of Paris, one must not miss a chance to step into beautiful french cafes, which are an essential part of everyday life in Paris. Whether you want to sit at one of the tables enjoying freshly brewed coffee with French delicacies like macaroons or croissants, or simply want to take a picture in front of the Instagram worthy facade, you will find plenty of these cute cafes in this beautiful French capital city. To narrow down the list of most beautiful cafes in Paris, we have curated a list of the top twelve cafes in Paris to enjoy an espresso and unwind from the hustle and bustle of city life. Let's have a look!
1. Shakespeare and Cie Cafe
Shakespeare and Cie Cafe is one of the must-visit places in Paris if you are a history enthusiast and don't want to miss out on a perfect coffee shop. Shakespeare and Cie Cafe is one of the well-known anglophone bookstores in the city, which has been in operation since 1951. This cafe is a perfect place to enjoy a perfect cup of coffee, read your favourite books and admire the Notre Dame located just across the river.
2. Cafe de Flore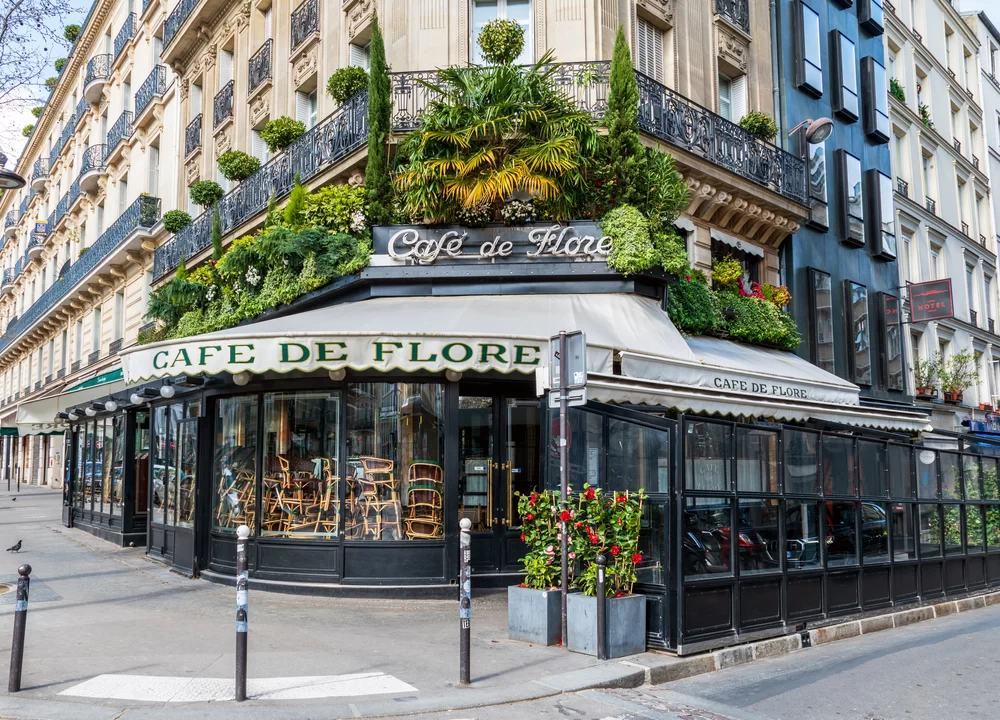 Cafe de Flore is one of the oldest cafes in Paris that was opened way back in the 1880s. In the past, Cafe de Flore, Paris, used to be a hub spot for famous writers and philosophers. The cafe is so popular that even Spanish painter, Pablo Picasso was a regular visitor here. The overall vibe and Paris food of Cafe de Flore is so popular that it automatically makes it to the list of most famous cafes in Paris.
3. KB Cafe Shop
The most special thing about KB Cafe Shop is that they roast their own coffee beans. The coffee which the cafe serves is not available anywhere else in Paris. KB Cafe Shop is an uber-cool cafe located on a busy corner of Southern Pigalle which is a perfect place to hang out with your friends, catch up on a spot of work or just simply sit there enjoying the world go by. The KB Cafe Shop also has an outdoor terrace space that adds to the beauty of the cafe.
4. Cafe Carette
Cafe Carette is one of the best cafes in Paris to enjoy the Parisian cafe experience, as the place gives an ideal view of the Eiffel Tower while you enjoy your perfect cup of coffee. The best time to visit Cafe Carette is after dark, as during these hours, the lights of the Eiffel Tower just brighten up the whole ambience. Cafe Carette has an extensive menu to choose from, like cakes, pastries, sandwiches, and many French staples. If you have booked a Paris couple package, visiting Cafe Carette can be a perfect cafe to take your partner to, as the place serves lip-smacking French cuisine along with a stunning view of the Eiffel Tower.
5. La Maison Rose
With pink walls, green shutters and lush greenery on the walls, La Maison Rose is among the most Instagrammable cafes in Paris. La Maison Rose was built in the 1850s and the place used to be frequented by many famous painters and philosophers. Due to the beautiful outlook of the La Maison Rose, the cafe has also been seen in a lot of French films and television shows.
6. Le Consulat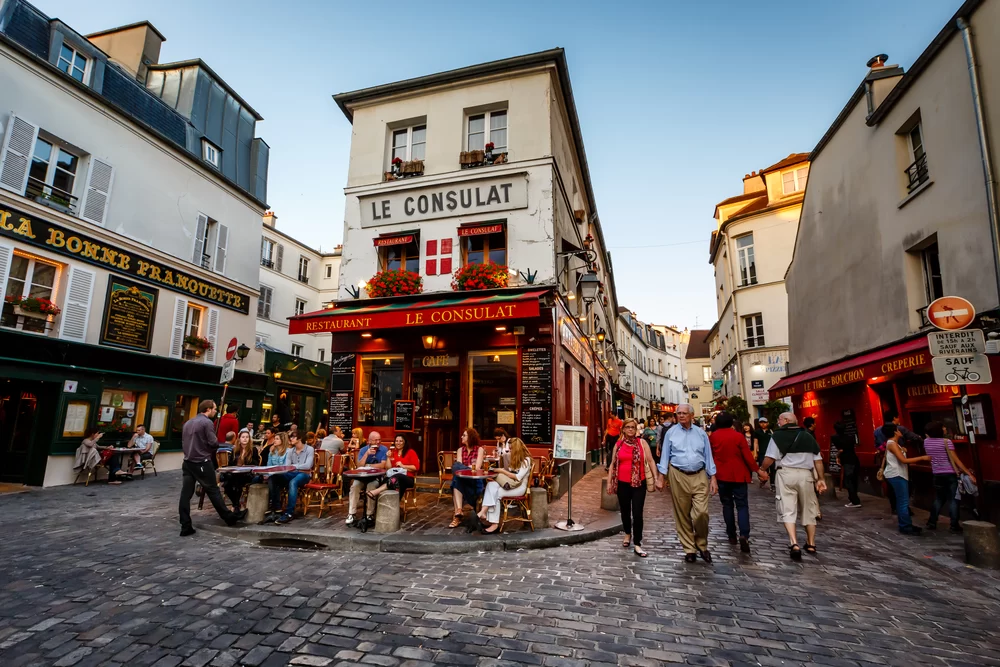 Le Consulat is a typical French cafe that is situated on the most touristic streets of Montmartre. The white and red facade of the Le Consulate makes the cafe the most picturesque cafe in Paris. The cafe is also a popular spot for local Parisians to catch up with friends or for work. After a long day of shopping in Paris, you can just sit back, relax and enjoy your most refreshing cup of Parisian espresso while enjoying the beautiful surroundings of the cafe.
7. La Bonne Franquette
The building of the La Bonne Franquette dates back to the 16th century when it used to be a common spot for French artists and philosophers. The La Bonne Franquette is located in the heart of Montmartre with a beautiful green facade to give a vintage-style illustration. The motto of the cafe is "Aimer, Manger, Boire et Chanter" which means "Love, Eat, Drink and Sing". The interior of the La Bonne Franquette is also very pretty with French architecture, which is a rare find in Paris.
8. La Flamme
La Flamme is a traditional French cafe in Paris that is decorated with many colourful flowers and is famous for its fresh brewed coffee and other traditional French delicacies. La Flamme cafe has a terrace where you can enjoy your French espresso and a picturesque view of the surroundings.
9. Le Train Bleu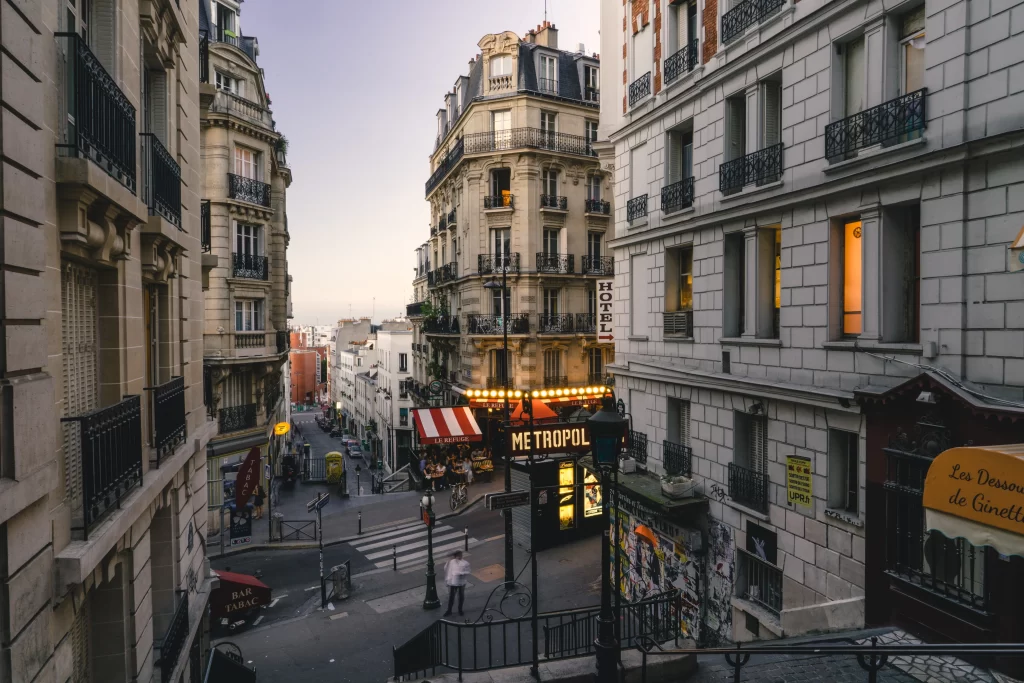 If you want to visit a cafe with exceptional interiors, then Le Train Bleu will surprise you with its beautiful and unique interiors. Le Train Bleu is an iconic cafe in Paris located inside a train station. Dining at the Le Train Bleu is an exceptional experience, as the place serves you some of the best French cuisines, which are worth not a miss.
10. Le Jardin de Mademoiselle
Le Jardin de Mademoiselle is one of the cutest cafes in Paris because of its fairy tale interiors. The cafe is located near the Eiffel Tower which is run by two women passionate about tea and fairy tales. The interiors of the cafe change every season and just transport you back into some fairy tale world.
11. Cafe Marly
Cafe Marly is located at the Louvre Museum, which gives you a direct view of the Louvre pyramids. Most people who stay in Paris and tourists frequent Cafe Marly because of its proximity to the Louvre pyramids and its stunning views. The food served at Cafe Marly is equally exceptional as the interiors of the cafe.
12. Le Hibou
The meaning of Le Hibou in French means "an owl", in French which is another popular cafe in Paris, famous for a variety of drinks and food. You can even dine in at Le Hibou for a nice breakfast where you can get a typical Parisian breakfast for just some Euros. The ambience and architecture of the Le Hibou make it one of the most famous cafes in Paris.
Add these famous Parisian cafes to your itinerary and explore them all on your Paris holiday package. With Veena World, You can even customise your holidays according to your requirements so that you can enjoy a perfect holiday while experiencing the best cafes in Paris.