Buddhism is a religion that originated around the 5th century BCE in India, the philosophy of which is based on the teachings of Gautam Buddha, also known as 'Buddha' or 'Awakened One'. It begins with 3 Universal Truths:
All life is suffering.
The cause of suffering is desire.
The end of suffering is possible.
And it extends to 4 Noble Truths:
The truth of suffering
The truth of the cause of suffering
The truth of the end of suffering
The truth of the path of the end of suffering
Further, it tells the Noble Eightfold Path (8 principles) that can end every kind of suffering.
This compassionate philosophy spread like wildfire in its early days. Numerous significant sites like Buddhist temples, Buddhist Monasteries, and Stupas emerged in India & around the world during this time, each carrying a unique historical & cultural legacy.
The Architectural Structures of Buddhism
A Buddhist temple, also known as Vihara or Gompa, means a place of worship and spiritual practice for Buddhists. It features statues, religious symbols & artefacts, and altars. It is a gathering place for Buddhist communities & visitors to engage in rituals, prayers, and meditation. Mahabodhi temple, in Bodh Gaya, Bihar is one of the most popular Buddhist temples in India.
A Monastery, also known as Sangha, means a place for monks & nuns to live, study, and practice Buddhism. Buddhist monasteries in India are usually located in secluded and serene places for spiritual cultivation and a disciplined monastic lifestyle. They may house a temple and are open for tourists & travellers. Hemis Monastery and Thiksey Monastery in Ladakh are a few famous monasteries in India.
Stupas, on the other hand, are monuments that commemorate the Buddha and other important Buddhist figures. They are solid, bell-shaped structures that hold holy relics or remains of Buddha or eminent Buddhist figures as a mark of veneration. These dome-shaped holy places are regarded as spiritual symbols in Buddhism. The world's oldest and one of the most famous is The Great Stupa at Sanchi, Madhya Pradesh.
All these three architectural marvels hold a distinct role in the Buddhist tradition, contributing to the spiritual and cultural fabric of Buddhism in different ways.
Top Buddhist Pilgrimage Sites in India
Here are 5 Must-Visit Buddhist Pilgrimage Sites in India: -
Mahabodhi Temple, Bodh Gaya
Thiksey Monastery, Ladakh
Dhamek Stupa, Sarnath, Uttar Pradesh
Tawang Monastery, Tawang, Arunachal Pradesh
Rumtek Monastery, Sikkim
Mahabodhi Temple, Bodh Gaya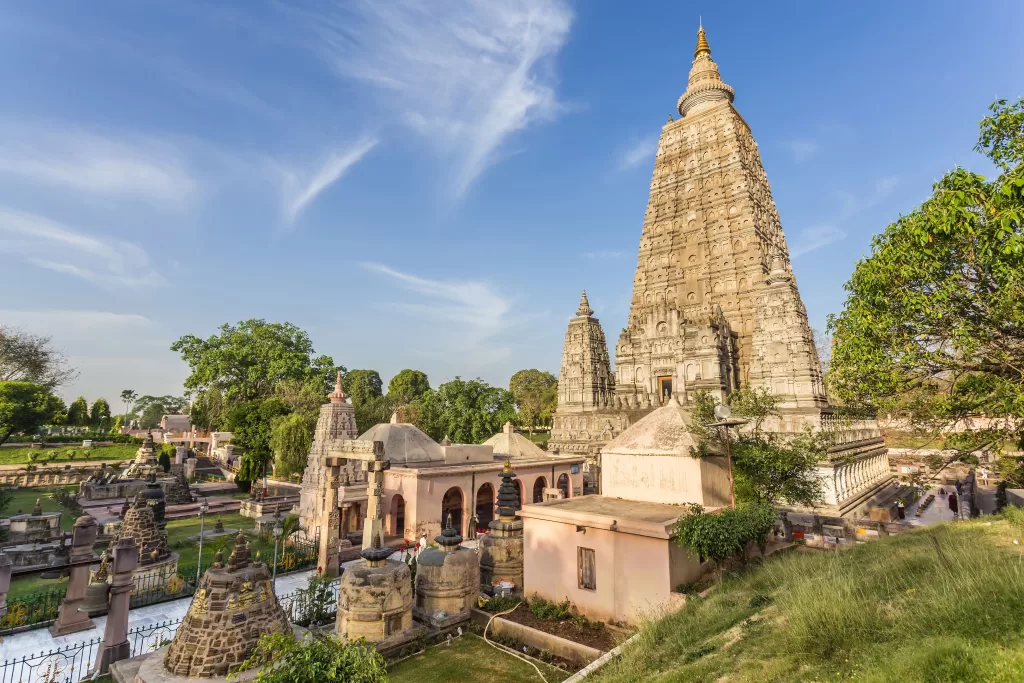 Bodh Gaya, a town in the state of Bihar, attracts an influx of tourists & devotees each year. The Buddha attained enlightenment under a tree in Bodh Gaya. The Mahabodhi temple is situated around that tree and it made it the most famous Buddhist temple in India, having immense significance to Buddhists worldwide.
The temple welcomes you with 180 feet tall pyramidal tower having multiple terraces. The exterior is adorned with decorative motifs and carvings depicting Buddha's life scenes as well as animals and celestial & mythological beings. These carvings not only highlight the ancient Indian craftsmanship but also the teachings of Buddhism that every being is interconnected. As you move inside, you can witness visitors engaged in prayers, chants & meditation. You are sure to experience a peaceful, tranquil ambience that lets you connect with the powerful spiritual energy of this place.
Timings: 5 AM to 9 PM every day.
Thiksey Monastery, Ladakh
A stunning architecture perched on a hill, Thiksey Monastery is a visual delight. Surrounded by the rugged and majestic Himalayas, the monastery offers breathtaking views of the Indus Valley. It acts as a photographer and nature lover's paradise. Thiksey Monastery is an important spiritual centre for the followers of Tibetan Buddhism in Ladakh. It is affiliated with the Gelugpa (Yellow Hat) sect and serves as the residence of around 80 monks.
The monastery celebrates a two-day Thiksey Gustor Festival each year (around mid-November). This vibrant and colourful celebration showcases mask dances performed by the monks, representing various deities and Buddhist stories. The festival is accompanied by traditional music, prayers, and a festive atmosphere, offering a unique cultural experience for visitors. A visit to Thiksey can be combined with a trip to other nearby attractions and monasteries in Ladakh, such as Shey Palace and Hemis Monastery. Visiting Thiksey Monastery provides a unique opportunity to witness the convergence of spirituality, art, and natural beauty.
Timings: 7 AM to 7 PM. To participate in the morning prayers, visit early morning.
Dhamek Stupa, Sarnath, Uttar Pradesh
After attaining enlightenment in Bodh Gaya, the Buddha delivered his first sermon in Sarnath, revealing the Noble Eightfold Path to five disciples. The Dhamek Stupa thus symbolizes the Buddha's teachings and dissemination of Dharma. This place marks a powerful historical event that began the Buddhist traditions.
The Dhamek Stupa is a massive cylindrical structure, reaching a height of 142 feet and a diameter of 93 feet and surrounded by lush Green Park. It is made of stone and brick, covered with intricate patterns and delicate carvings. It is believed to house some holy relics of the Buddha and his disciples, although they are not for public viewing. You can witness devotees circumambulate the Stupa as an act of devotion and reverence. One of the famous Buddhist temples in India, Sarnath Buddhist Temple is just a 5-minute walk from this Stupa.
Entry Fee & Timings: Free for children up to 15 years old. INR 5 for Indian nationals. INR 100 for foreign nationals. It opens from 7 AM till 5 PM.
Tawang Monastery, Tawang, Arunachal Pradesh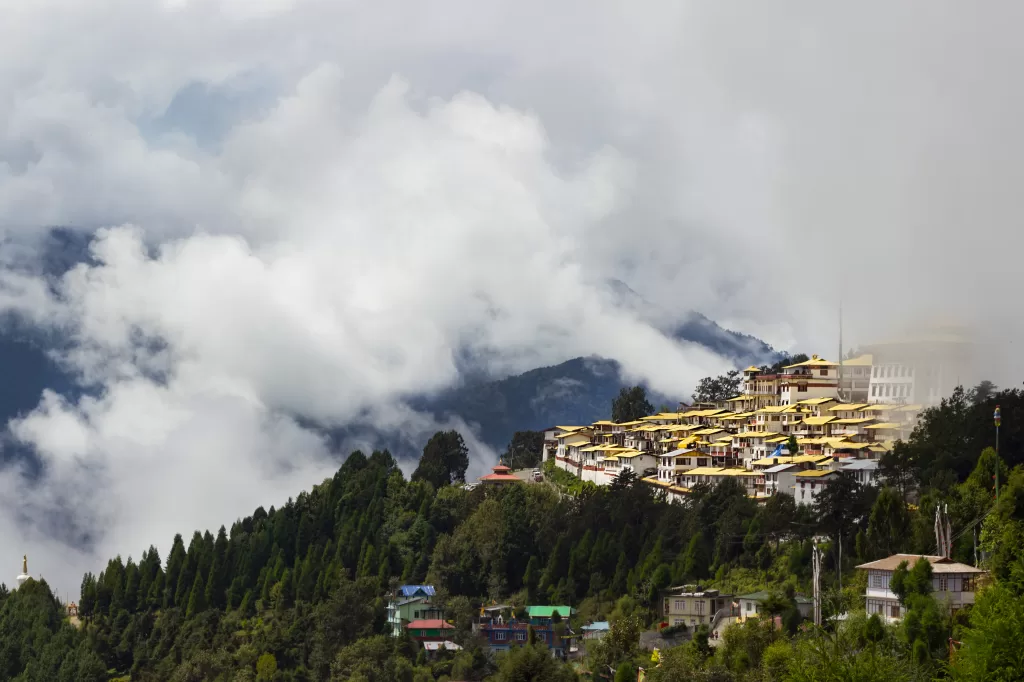 The largest Buddhist monastery in India and oldest in Asia is Tawang Ganden Namgyal Lhatse. It is situated at an altitude of 10000 feet, having snow-capped mountains as a backdrop. This biggest Buddhist monastery in India belongs to the Gelugpa sect of Tibetan Buddhism, which is also known as the Yellow Hat sect.
The place is so beautiful that it will be etched in your memories with its night views on a full moon night and will drench you in its spiritual showers all day long with chants and prayers. The Tawang monastery celebrates the Tawang Festival, also known as the Torgya Festival, which is one of the most significant Buddhist festivals in the region. The festival happens in January each year and involves religious rituals, mask dances, music, and vibrant cultural performances.
Timings: 7 AM to 7 PM.
Rumtek Monastery, Sikkim
Also known as the Dharmachakra, and situated around 24 kilometres from the capital city of Gangtok, Rumtek monastery in Sikkim is quite a famous Buddhist monastery in India. Perched on a hill overlooking the city, this monastery also houses a shrine temple, golden Stupa, assembly hall, monastic quarters and a museum. Witness a very lively atmosphere and spiritual ambience inside the monastery where everyone is engaged in prayers, chants, and meditation.
In July & August each year, the Tse Chu festival, also known as the 'Monastic Dance Festival' takes place. Experience the cham dance of monks, accompanied by traditional music and vibrant costumes. The Rumtek monastery stands as a testament to the rich spiritual and cultural heritage of Tibetan Buddhism in Sikkim. It continues to be an important centre for both religious practice and the preservation of Buddhist teachings, attracting visitors from worldwide.
Timings: 6 AM to 6 PM daily.
Give yourself a chance to immerse in the beauty of Buddhism by visiting these 5 Buddhist pilgrimage places in India. The best way will be to book one from India travel packages to personalise your Buddhism sojourn.
And if you are interested in visiting a female Buddhist monastery in India to learn Buddhist traditions and philosophy and witness the female monastic lifestyle, below are a few notable ones that welcome visitors from worldwide.
Dongyu Gatsal Ling Nunnery, Dharamkot, near Dharamshala, Himachal Pradesh
Karma Drubgyud Nunnery, Lahaul and Spiti, Himachal Pradesh
Jamyang Choling Nunnery, Lahaul and Spiti, Himachal Pradesh
Tashi Chime Gatsal Nunnery, Bomdila, Arunachal Pradesh
Sakya Trizin Nunnery, Dehradun, Uttarakhand
To quote The Buddha – "Only those who go where few have gone can see what few have seen."
With Veena World, embark on a life-changing journey of awakening your eternal spirit.