Reading Time:
16
minutes
The challenging Himalayan lands of Sikkim and Darjeeling, welcome you to a completely different altitude of life! These destinations are eye openers because they manage to take your breath away with their abundance of purity that arouses a peaceful awakening within you. These lands are known to bring a twitch of enlightening within the souls of people. Sikkim tour packages include a wonderful kaleidoscope of Himalayan culture, scenery, mountain ranges interspersed with scenic passes and an unbelievable array of flora and fauna.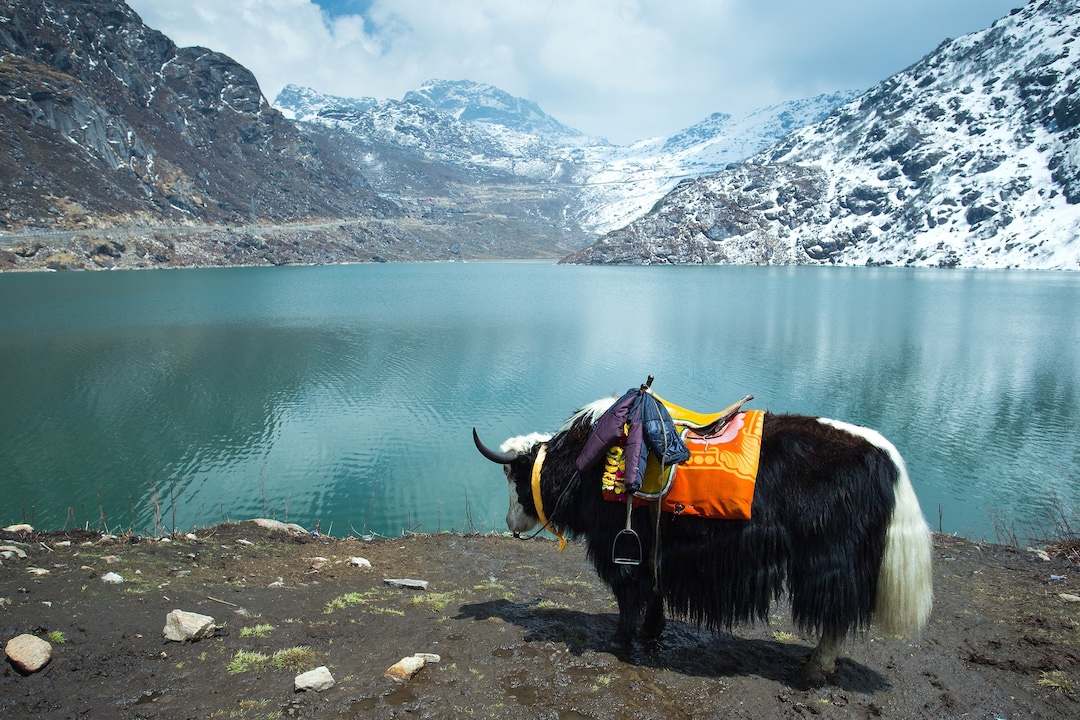 Travellers embarking on a journey of Sikkim discover a mystical wonderland of spectacular natural beauty. Exploring Darjeeling tourist places along with our affordably priced Darjeeling travel packages is cherry on top of the cake, as it displays its remarkable lands replete with Buddhist monasteries, trekking trails and awesome mountain views. The panoramic views of the snow-clad peaks that are straight out of a picture-postcard provide a welcome relief from the hustle and bustle of the cities with our Sikkim Darjeeling tour packages.
Best time to visit Gangtok and Darjeeling:
Bordered by the holy mystical land of Tibet, Bhutan, Nepal and West Bengal, is the magical land of Sikkim, nestled in the Himalayan Mountains. This destination is peculiarly characterised by a mountainous terrain which can be explored along with Sikkim tour packages. Darjeeling located right next to the state of Sikkim boasts of being the most prominent hill station of West Bengal. Explore this unique hill station with Darjeeling tour packages for a truly remarkable experience or make your tour extra special when you enjoy with your better half at these beautiful Himalayan lands with Sikkim honeymoon packages!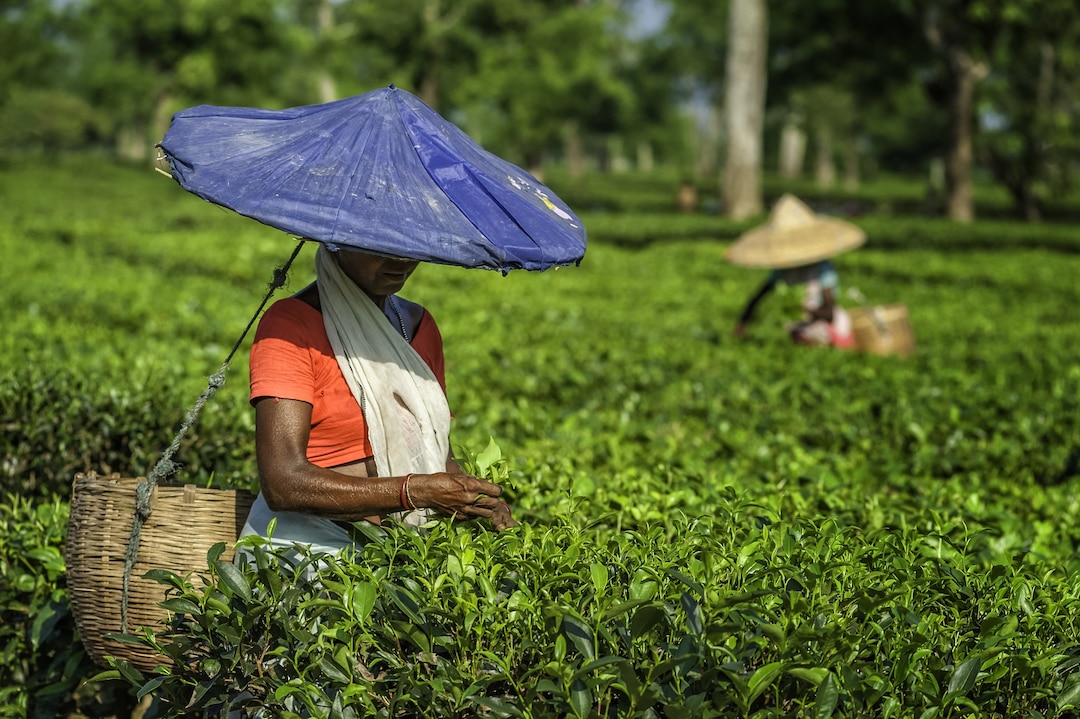 The best time to visit Sikkim, in order to explore Gangtok and Darjeeling, is between March and May or October and mid-December. Witness the blooming spring which flourishes the natural beauty from March to May, which no doubt can also be the best time to visit Gangtok. Autumn, on the other hand, brings clear views of the Himalayan Ranges. A perfect Sikkim Darjeeling tour includes a perfect blend of seasonal experiences to give you the best time to visit Gangtok and offers memories that are strikingly different than any other destination.
Connectivity:
There are no direct flights to Darjeeling! This quaint hill station can be accessed from the nearest airport i.e. Bagdogra, Siliguri in West Bengal and also via railway where more often than not the train covers the Kolkata to Darjeeling route (especially when the travel begins from destinations which are in the central and southern part of India). These are some of the most preferred options to reach Darjeeling.
Take a train that takes you via Kolkata to Darjeeling (from the southern and central part of India)
Fly to Bagdogra and then onwards to Darjeeling by road
If you enjoy road trips, take a flight first to Kolkata and then enjoy a scenic road journey from Kolkata to Darjeeling
Top tourist places to visit from Darjeeling to Gangtok:
1.) Ranka Monastery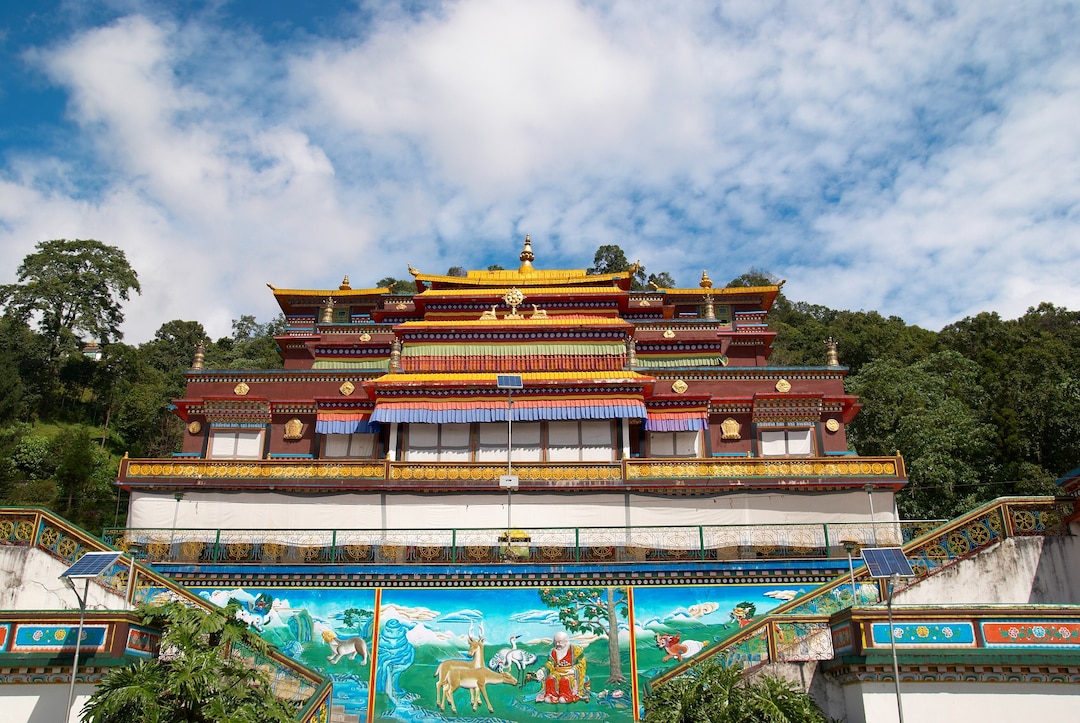 Nestled in the mystic mountain ranges, Ranka Monastery is a gorgeous architectural specimen of Buddhist architecture. Located near Gangtok amidst wonderful view of mountains, this monastery is popularly known as Lingdum Monastery. Experience the vibes that reverberate in this heavenly land because of the echoing prayers of the monks that reach your soul instantly!
2.) Banjhakri Waterfall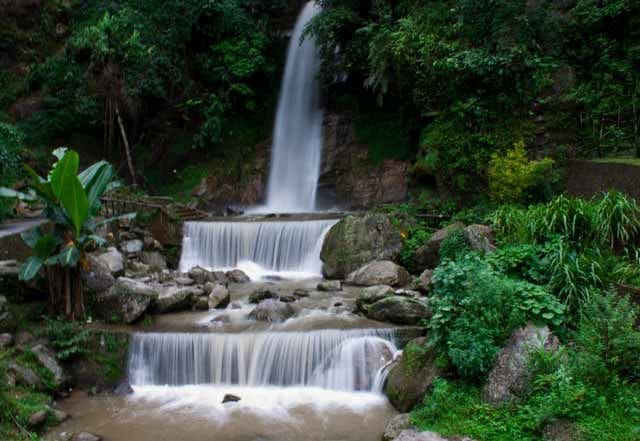 Banjhakri waterfall which literally translates to 'Jungle Priest' or in some definition 'Jungle Magician' is a recreation centre and tourist place near Gangtok. This Energy Park is full of lively ambiences and is best known to offer some of the most breathtaking sights to tourists. Explore the naturist feel and create some incredible memories here!
3.) Tibetology Museum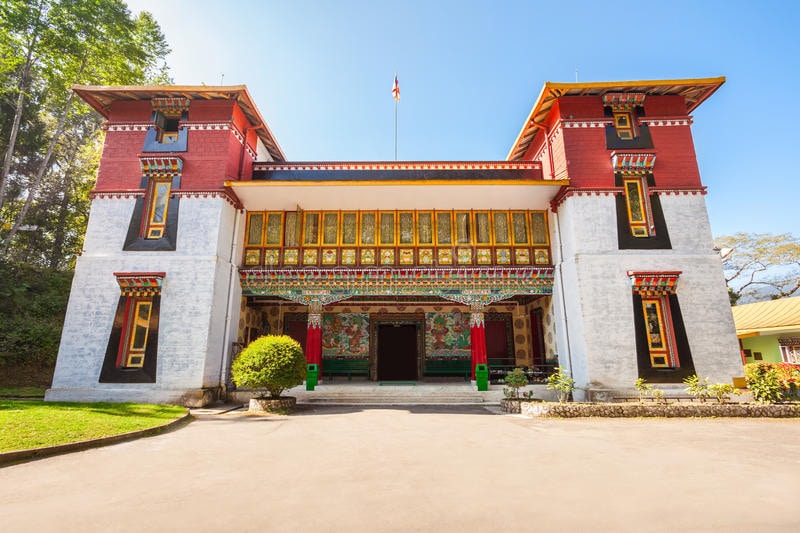 Namgyal Institute of Tibetology is a Tibetan Museum founded by the 14th Dalai Lama. Acting as a prominent reference centre in the world for Buddhist scholarship, it promotes research into Mahayana Buddhism and Tibetan culture. With a huge collection of sacred manuscripts, books and Thankas (Tibetan cloth paintings), this museum is where you can feel the connection and the sacredness of this land.
4.) Do-Drul Chorten Stupa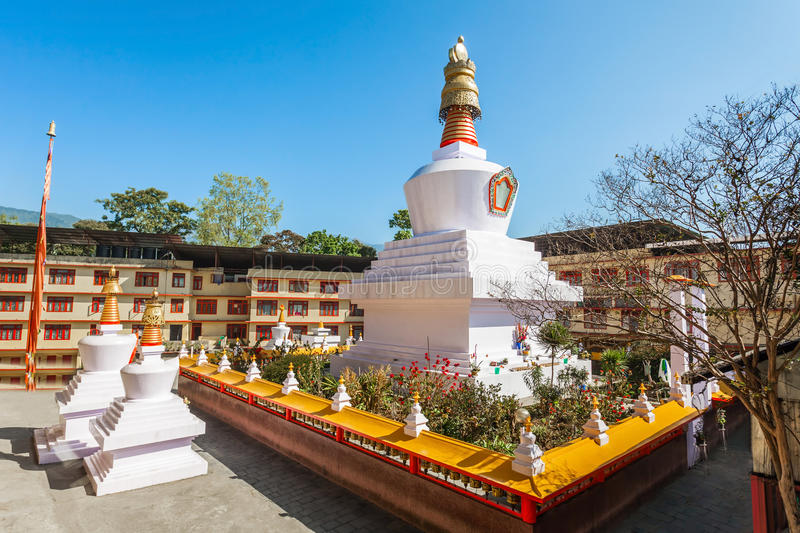 Located on a hillock in Gangtok, the Do-Drul Chorten Stupa is marked by a golden top dome. Regarded as one of the most important Buddhist stupas of Sikkim, it is endorsed with 108 Mani Lhakor also known as Prayer Wheels. This divine attraction is set to add a whole new aura to your experience.
5.) Flower Exhibition Centre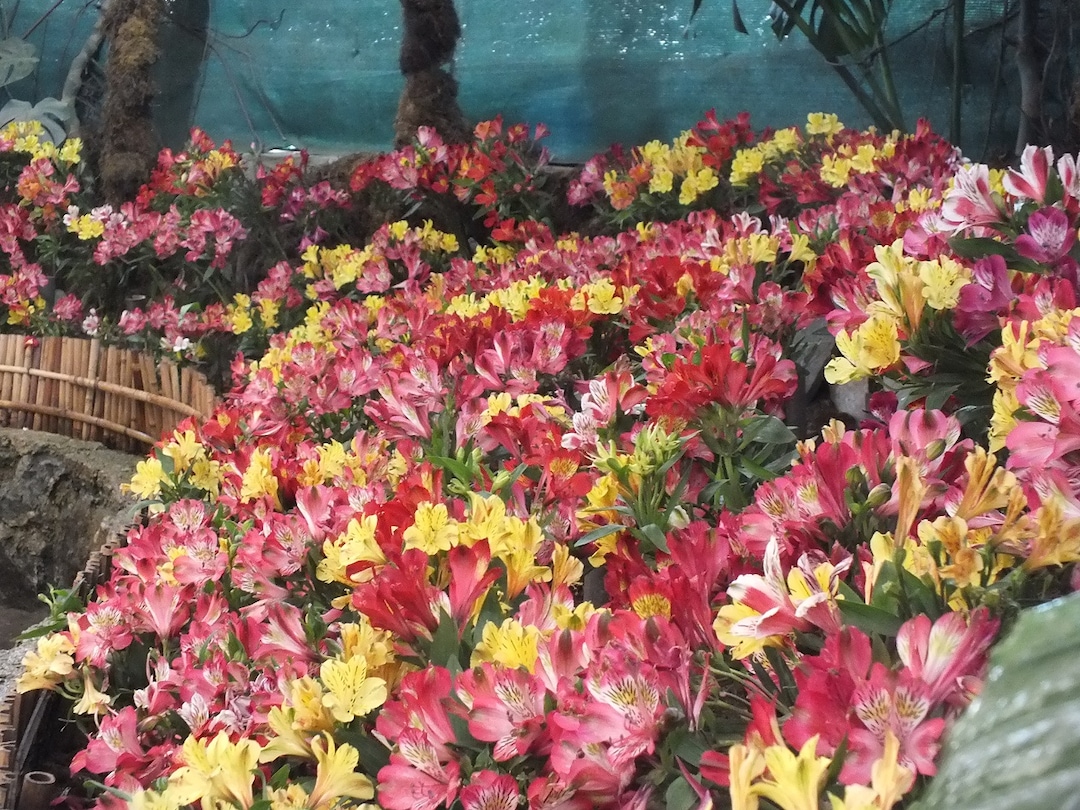 Flower Exhibition Centre famed for the annual Orchid show is a spectacular display of nature's beautiful creation. With an amazing collection of flowers of many different types, it is set to enchant you with its different colours, fragrance and design. If you are a nature lover with a strong affection for the floral world, then this is the tourist place for you! The best time to visit is between March and June when the Orchids are in full bloom to charm you!
6.) Hanuman Tok
Hanuman Tok is a Hindu temple complex dedicated to Lord Hanuman. Located in the upper area of Gangtok and maintained by the Indian army, it is a perfect specimen of being the home of the mighty God in the mystic mountains. Feel the divinity nestled in the hills and an ambience that will lift your spirits along with our Darjeeling tour packages.
7.) Ganesh Tok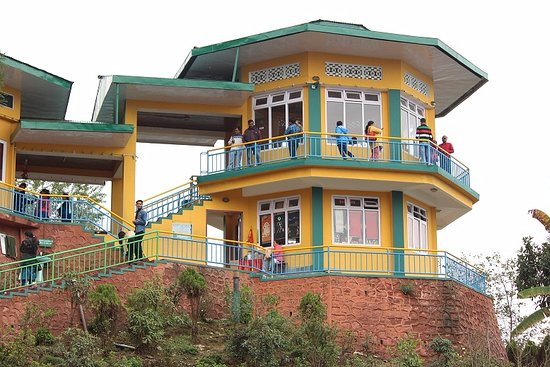 Famed to be one of the most popular Ganesh temples in Sikkim Ganesh Tok is among the must-visit site of Gangtok. Ganesh Tok offers you panoramic and spectacular views of the city and the magnificent Kanchenjunga. The observatory on the site lets you soak in nature's true bounty in the midst of the divinity along with our Sikkim Darjeeling tour packages.
8.) Tashi View Point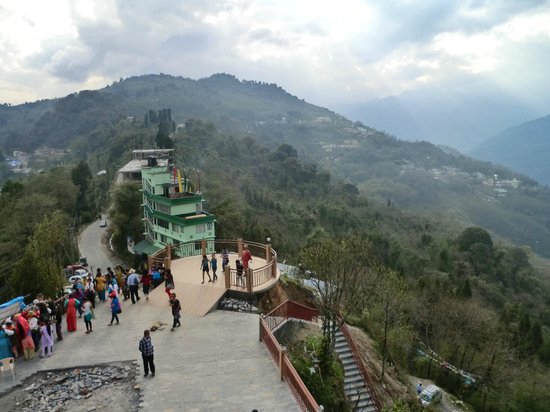 The majestic snow peaks of Kanchenjunga can be witnessed along with the perfectly crafted nature of Sikkim at the Tashi View Point. Witness how the Kanchenjunga ranges manage to touch the sky, the dance of the clouds and the change of colours of the sky make it a spectacular show for every visitor along with our Darjeeling tour packages.
9.) Tsomgo Lake
Tsomgo (translates to a source of the water in the local Bhutia language) is a precise name given to this glacial lake. The lake looks different at different seasons, each time replete with spectacular beauty. It is also known as Tsongmo Lake or Changu Lake which is an irreplaceable part of Sikkim Darjeeling tour.
10.) Baba Harbhajan Singh Mandir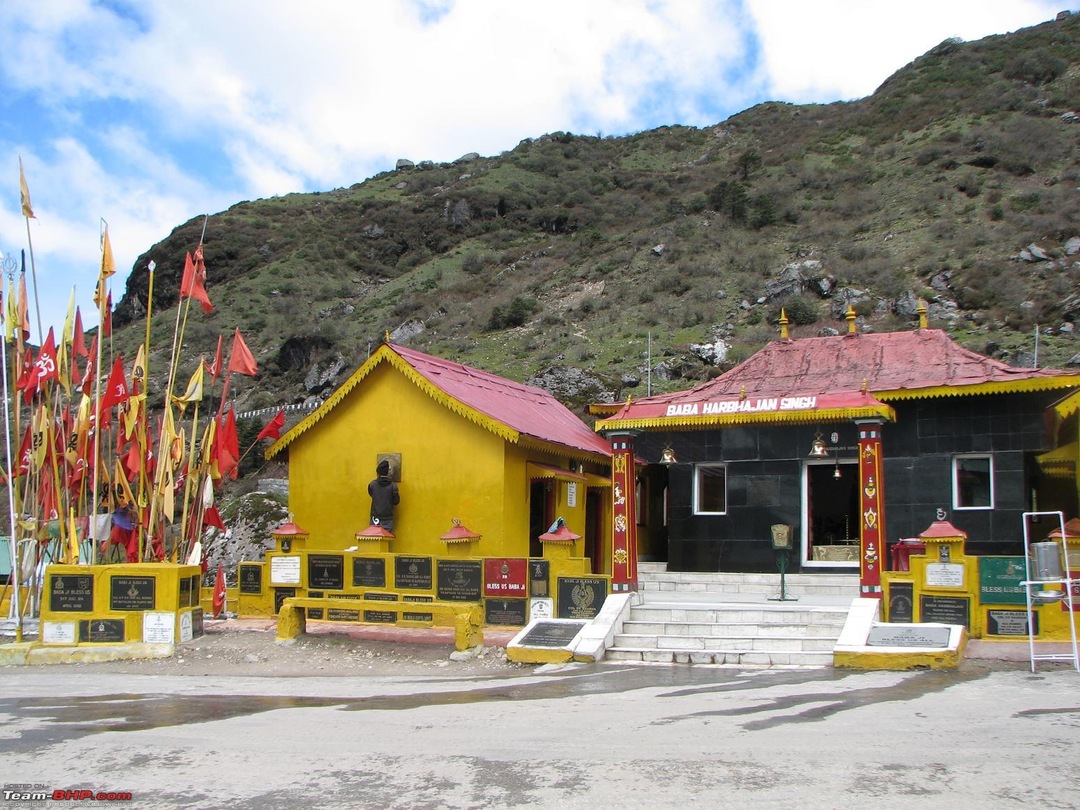 Captain "Baba" Harbhajan Singh was an Indian army soldier who was titled as the "Hero of Nathula." The soldiers of the Indian army built a shrine in his honour. Find out his interesting story and provoke your curiosity around it along with your Sikkim Darjeeling tour.
11.) Chardham Temple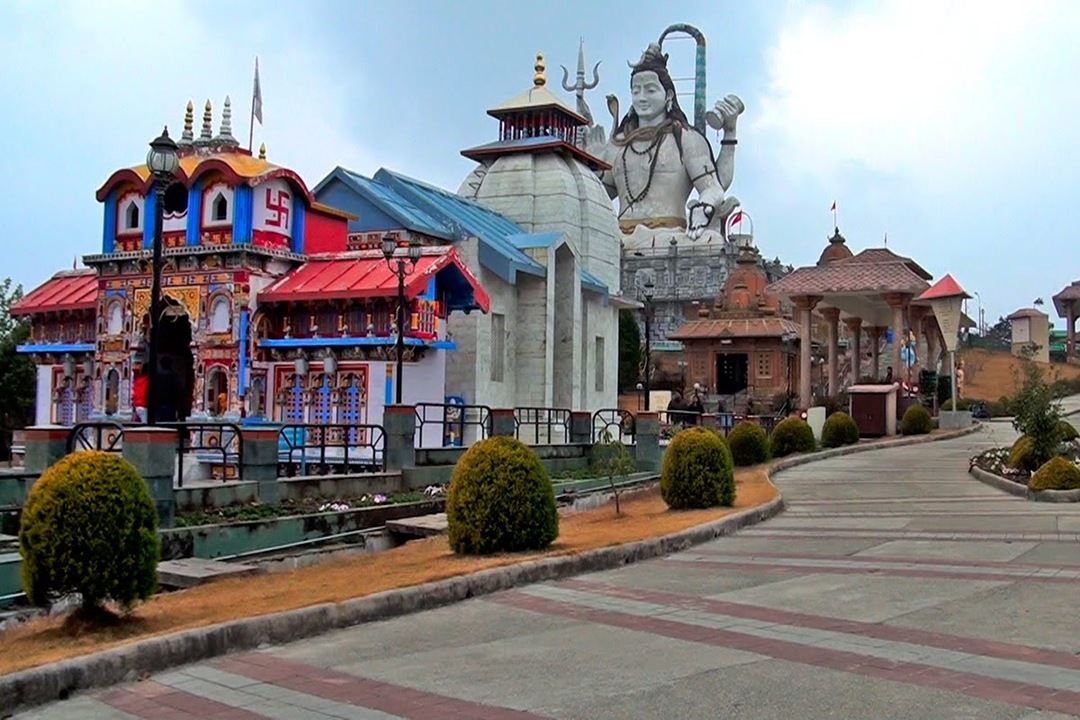 Char Dham in Namchi is a religious and cultural centre with main temple shrine of Lord Shiva. It is one of the most sacred places in Sikkim and a very popular centre for having the replicas of 12 Jyotirlingas & Char Dham. Be blessed with the holy presence and enjoy the Sikkim Darjeeling tour packages to the fullest.
12.) Teesta River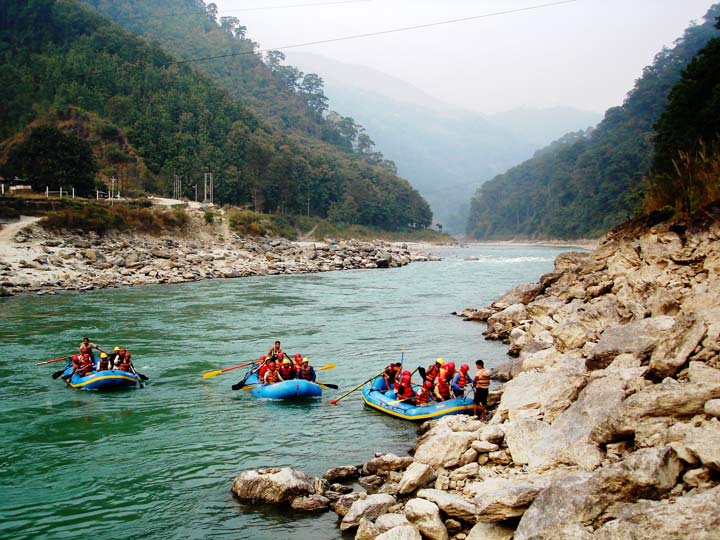 Teesta River is the must-visit Darjeeling points of interest and the lifeline of the state of Sikkim. The thrilling experience of the swirling waters that offer a challenge even to experienced rafters! The riverbanks dotted with lush green forests, small villages and patches of terraced cultivation add in a dramatic feel to the adventure experience.
13.) Tiger Hill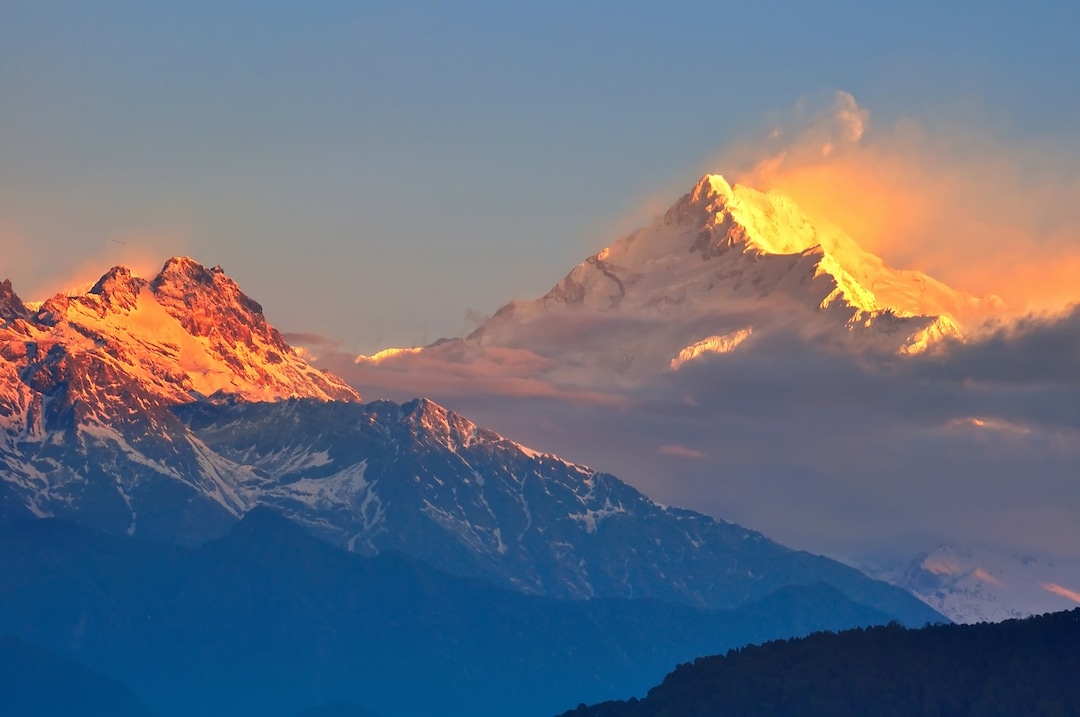 Located in the midst of the Himalayan hill station of Darjeeling, the summit of Ghoom, Tiger Hill is a crucial part of every Darjeeling tour packages. It is the highest railway station of the Darjeeling Himalayan Railway which is famed to be the UNESCO World Heritage Site. Enjoy the stunning painting-like surreal cinematic of nature that unfolds when the sun rises on the majestic summit along with our Sikkim Darjeeling tour packages.
14.) Batasia Loop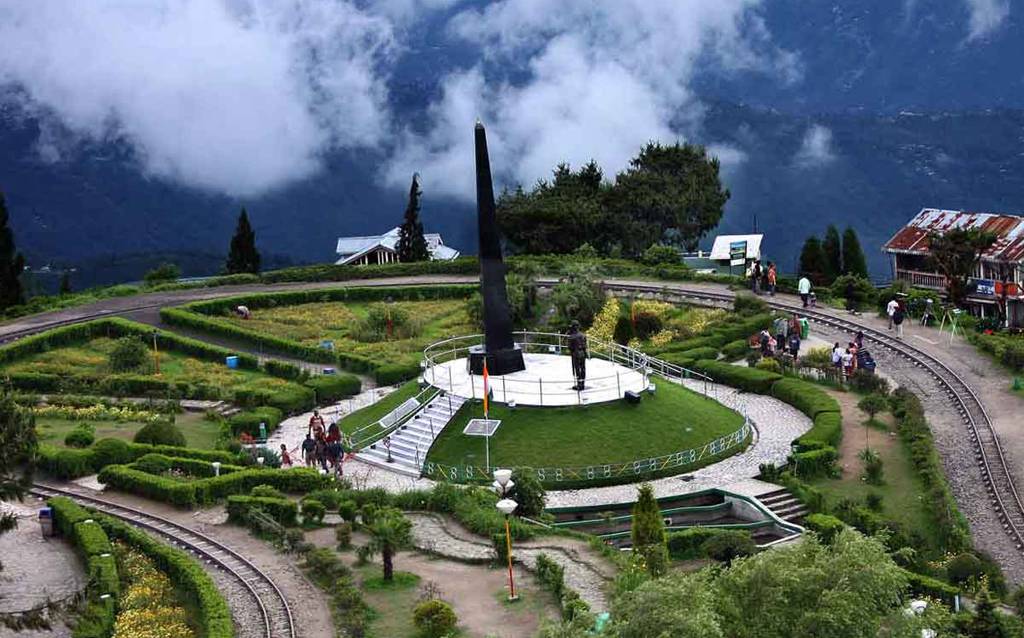 Batasia Loop is popularised for its quirky appearance making it an ideal tourist spot amongst many Darjeeling points of interest. It is a spiral railway trail created to lower the gradient of the ascent of the Darjeeling Himalayan Railway in Darjeeling. At this point, the track spirals around over itself through a tunnel and over a hilltop forming a spectacular loop. The toy train passes through this Loop to give you one of the most spectacular landscapes of any train journey along with Darjeeling tour packages.
15.) Himalayan Mountaineering Institute (HMI)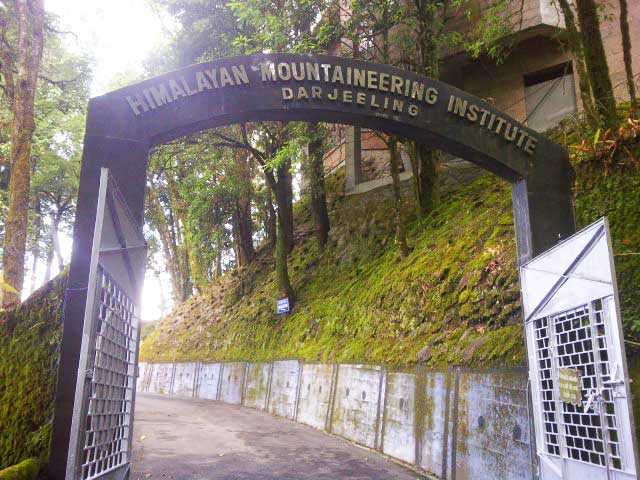 Built with an ambition to promote the thrill of mountaineering as an organised sport, Himalayan Mountaineering Institute (HMI) is one of a kind premier institution of India. This institute's complex houses the Himalayan Mountaineering Institute, Darjeeling Zoo and Natural History Museum. Explore this site and get excited for new adventures along with the Darjeeling holiday packages.
16.) Himalayan Zoological Park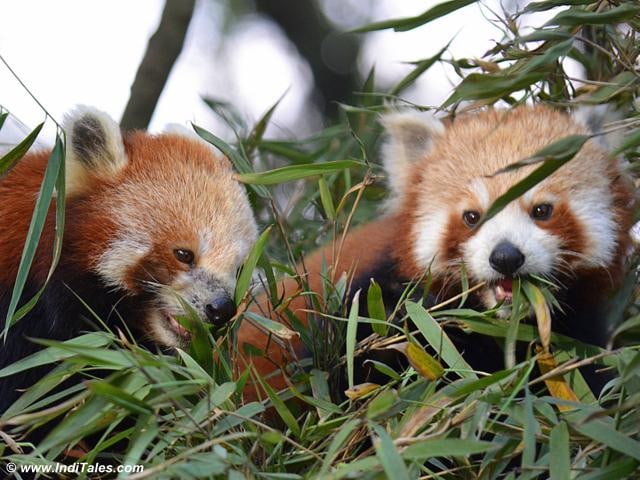 Padmaja Naidu Himalayan Zoological Park of Darjeeling is the largest high altitude zoo in India and a priceless inclusion of Darjeeling tourist place that people visit during their trip from Darjeeling to Gangtok. Get a chance to witness animals like the Tibetan Wolf, Red Panda, Snow Leopard, Siberian Tigers, Yaks and lot more along with Darjeeling holiday packages. The zoo has over 200 species of trees & plants, shrubs, climbers, medicinal plants out which there are some 60 varieties of Orchids. There are trees like Birch, Alder, oak trees that are over 100 years old and others that belong to Castanopsis species.
17.) Tea Gardens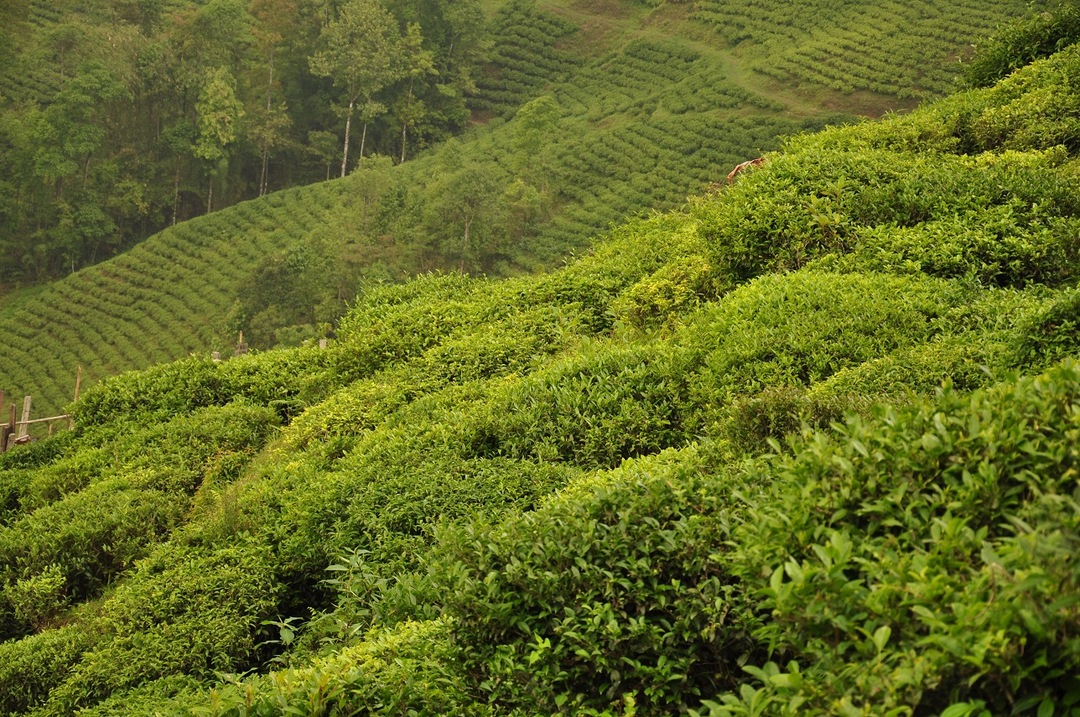 Darjeeling is popularly known as the Mecca of tea making it an important Darjeeling tourist place that people visit during their trip from Darjeeling to Gangtok. The city flaunts its sprawling estates and proudly produces the "Champagne of Teas." Explore the spectacular land covered in blankets of lush green tea plantations along with our Darjeeling holiday packages and witness how one of the world's best tea is picked!
18.) Tenzing Rock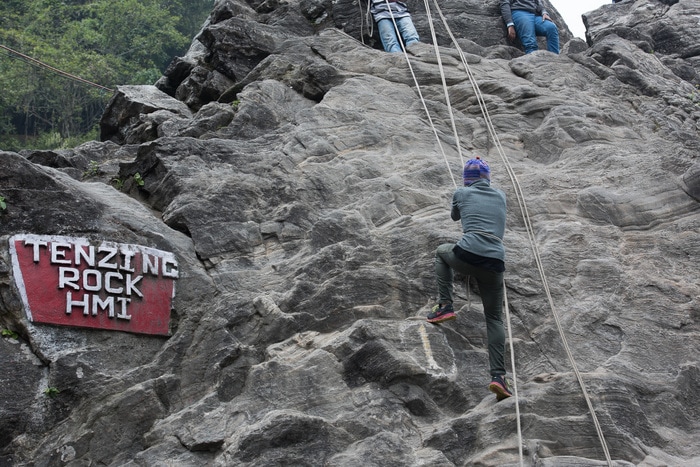 Named after Tenzing Norgay, the man who created history by climbing the Everest, Tenzing Rock is a massive natural rock structure in Darjeeling. Witness what inspired Tenzing and where he practised climbing the unclimbable! This is one popular Darjeeling tourist place that people visit during their trip from Darjeeling to Gangtok.
Sikkim when explored along with Gangtok and Darjeeling, becomes one of a kind trip to the North. Being under the shadows of the third highest mountain in the world, Kanchenjunga, Sikkim is a mystical land with an exceptional balance of nature, thrill, divinity and serenity! The dearest choice of every travel enthusiast, Sikkim Darjeeling stores a world of new experiences which await you with a whole new set of surprises. Darjeeling is a destination which inspires the poets to write and the writers to frame their story, just with the rejuvenating breeze that soothes the soul! Embark on your journey and set on your exploration of this land which even made it in our coloniser's heart. Witness for yourself, what makes it so special and write your own travel story in the embrace of the Himalayan land. Join us on an unforgettable journey with us and relish our legacy to travel, explore and celebrate life!