Reading Time:
7
minutes
As the world slowly comes back to normal, I was just reminiscing my trips over the last three years. Of these, one country that I have visited multiple times is Japan, the land of the rising sun. Apart from the places to visit in Japan, one of the largest draws for me when it comes to this one country is the food on offer. And when you come to think of it, as Indian travellers, many still only think of sushi when Japanese cuisine comes up in conversation. So I have decided to utilise my time at home and come up with this 6-part Japan Food Series. As we go about this journey, I am just going to share and list down for you some of the incredible food that Japan has on offer. So, let's just get down to it. Here are my top 40 things to eat in Japan.
1. Tempura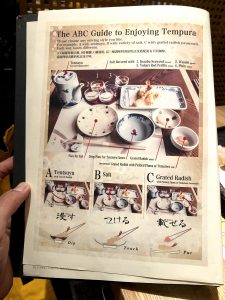 Tempura is one of the most popular dishes in Japan. You will find a tempura bar in every neighborhood. Served with a portion of noodles or rice and a variety of dipping sauces, a Tempura dish is a lightly battered and quickly deep-fried serving of your choice of vegetables or seafood. 'It's all about the texture of the batter used by the chef and as you visit different cities in Japan, you will certainly observe this. The technique of adding a light batter and then quickly frying the Tempura is carried out to prevent the loss of nutritious vitamins and minerals.
2. Okinomiyaki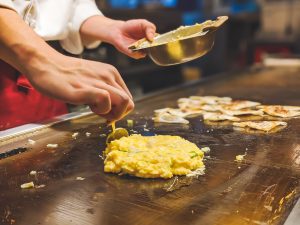 For the vegetarians out there, this is something that you are truly going to relish. Like Tempura, Okinomiyaki also involves a batter mixed with all of the ingredients of your choice and then fried like a pancake on a grill right in front of you. The fun involved in watching the chefs make these pancakes in front of you is what makes this dining experience worthwhile. The grilled pancake once ready is topped with a rich brown sauce, mayonnaise and dried bonito flakes (dried, fermented, and smoked skipjack tuna).
3. Katsu Curry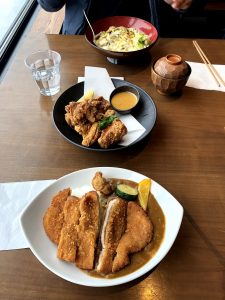 As I have travelled through Japan and tried different foods, there's always Katsu curry that you can go back to when you want a simple mix of vegetables, meat, rice & curry experience. Often referred to as 'curry rice', Katsu Curry is available in two other forms: Curry Udon and Curry Bread. The Katsu Sauce in the curry, also known as Tonkatsu Sauce (when served with Pork) is a Japanese-style barbeque sauce made up of Worchestershire sauce, soy sauce, sugar and other seasonings.
4. Shabu Shabu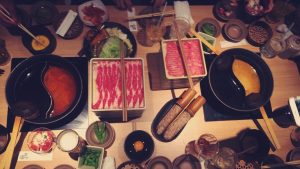 One of my favourites, Shabu Shabu or Japanese HotPot is a fun dining option when you are part of a larger group. Shabu Shabu restaurants will often have a deep pot in the middle of the table filled with boiling soup. Diners have to order their choice of thinly sliced meat and vegetables and using chopsticks each diner has to pick and add to the boiling soup the ingredients of their choice. Once cooked, the diner removes the ingredients dipping it in Shabu Shabu sauce before enjoying it and then going for the next piece. When part of a larger group, this is a fun experience just because you can order so much more for the table.
5. Gyoza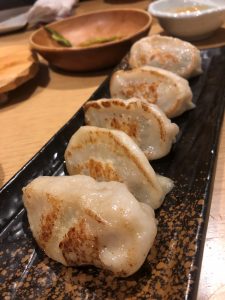 A snack that we all are very familiar with, Gyoza can be found at high-end restaurants and also at hole-in-the-wall stalls in the hidden alleyways of Japan. Often filled with ingredients like chicken, pork or vegetables, dumplings can be boiled or steamed, or even pan-fried.
6. Melon Pan (sweet bun)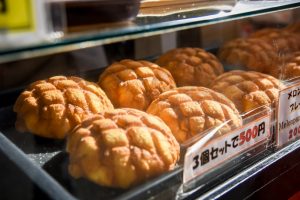 We cannot end the first part of this series without talking about something that makes up my dessert list for Japan. So here's introducing the Melon Pan aka Sweet Bun. A Melon Pan is made from an enriched dough covered in a thin layer of crisp cookie dough. Many say that it is called a Melon Pan mainly because its appearance resembles a melon. Speaking of Buns and Bread, it is a good time to point out that Japan has some of the best bakeries in the world. Stop by any roadside one and you will have the time of your life.
And, that's part one of this series. Next week, we look at some of the more familiar dishes that we know, so stay tuned. Arigato Gozaimasu ?