Reading Time:
8
minutes
India is known to welcome all her visitors, no matter what their interests are. Beach lovers, mountain lovers, adventure lovers, the spiritually inclined, food lovers, no matter what you like, or what area you want to explore, India welcomes everyone with open arms. Adventure sports in India have started gaining a momentum with people opting for adventure sports over their usual holiday destinations. India offers you a variety of adventure sports like mountain biking, scuba diving, paragliding, trekking, snorkelling etc, but there are some unusual sports which have emerged in the recent years. Have a look at some of the unusual adventure sports you can try in India:
1. Ziplining at Mehrangarh Fort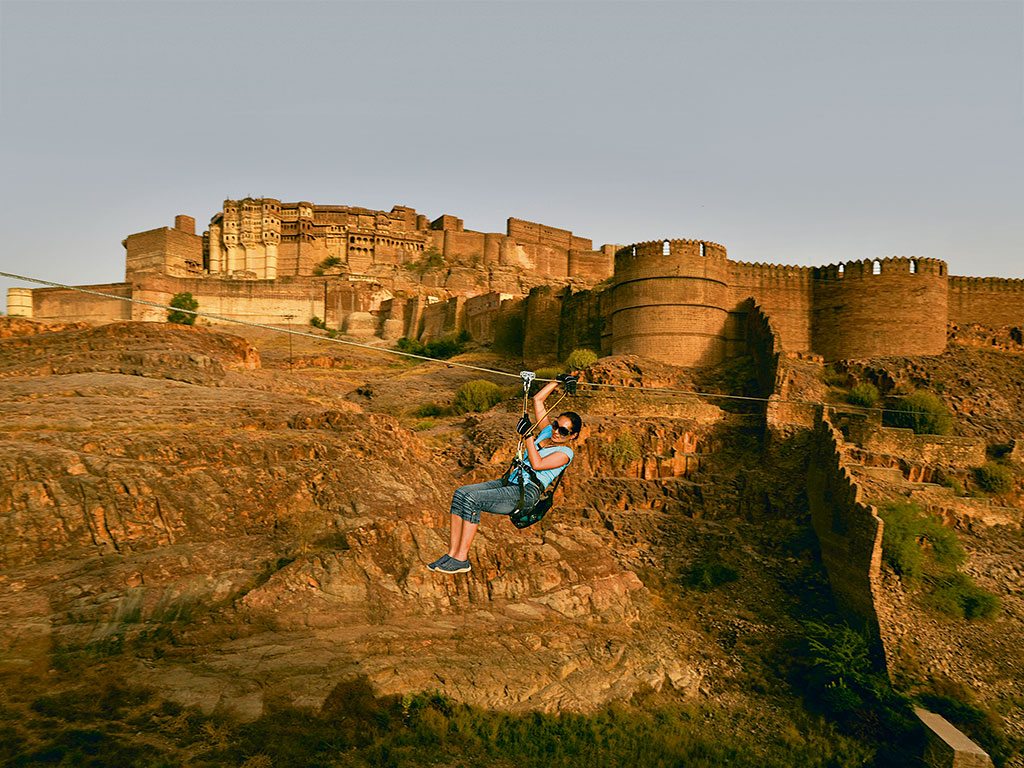 How would you like an aerial view of Rajasthan's most majestic fort – Mehrangarh Fort` surrounded by blue houses and picturesque scenery? Sounds exciting, doesn't it? Well, activities like ziplining is turning this into a reality. For all those who don't know about it, zip-lining is a zip-line or zip-wire that allows you to slide down an inclined wire or a rope. The Blue city of Rajasthan is one of the places in India which has introduced zip-lining as an adventure activity. Glide through the majestic forts and the beautiful desert lakes and enjoy the picturesque city of Jodhpur!
2. Hot Air Ballooning at Hampi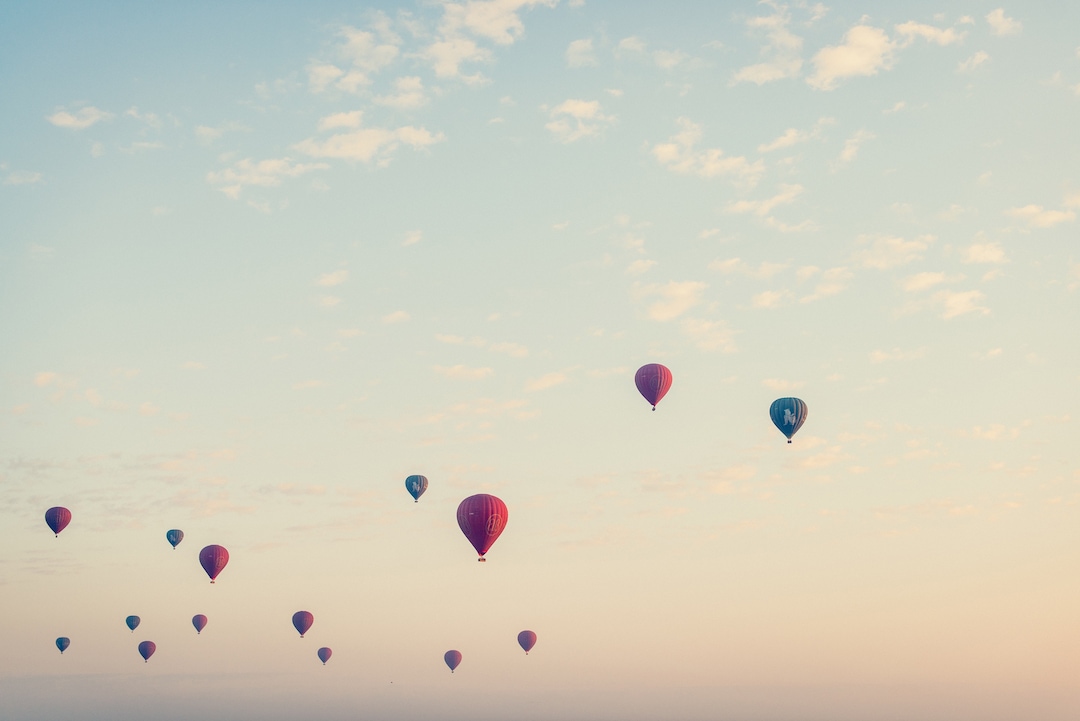 For all the aero-sport enthusiasts, the Hot Air Ballooning Festival in Hampi will sound as a paradise! Hampi hosts a Hot Air Ballooning Festival in the month of December which is also simultaneously held at Bidar and Mysore. For all those interested in aero sports but want to start out slow, hot air balloon is the thing for you guys! Enjoy the magnificent monuments, charming hills and pleasant views of Hampi on the hot air balloon.
3. Waterfall Rappelling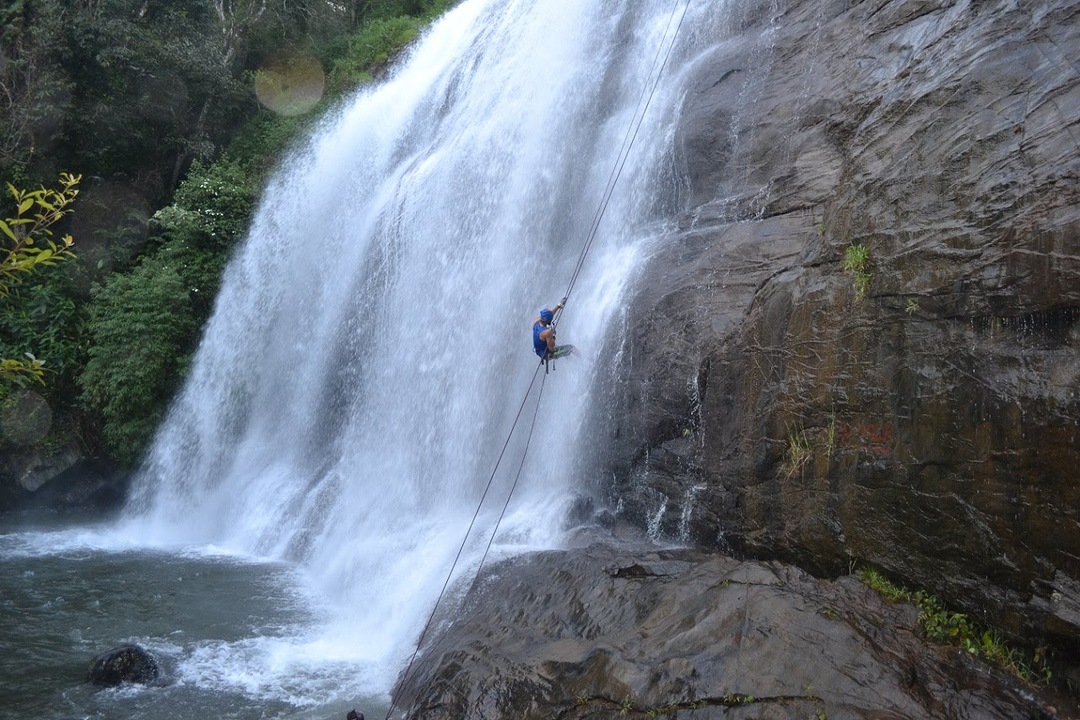 Chelavara Waterfalls, nestled in the charming district of Kodagu (Coorg) is the go-to spot for all the waterfall rappelling lovers. While descending through the waterfall is not an easy task, it is worth the thrill and excitement. Waterfall Rappelling is gradually gaining momentum amongst the adrenaline junkies.
4. Fly-boarding at Goa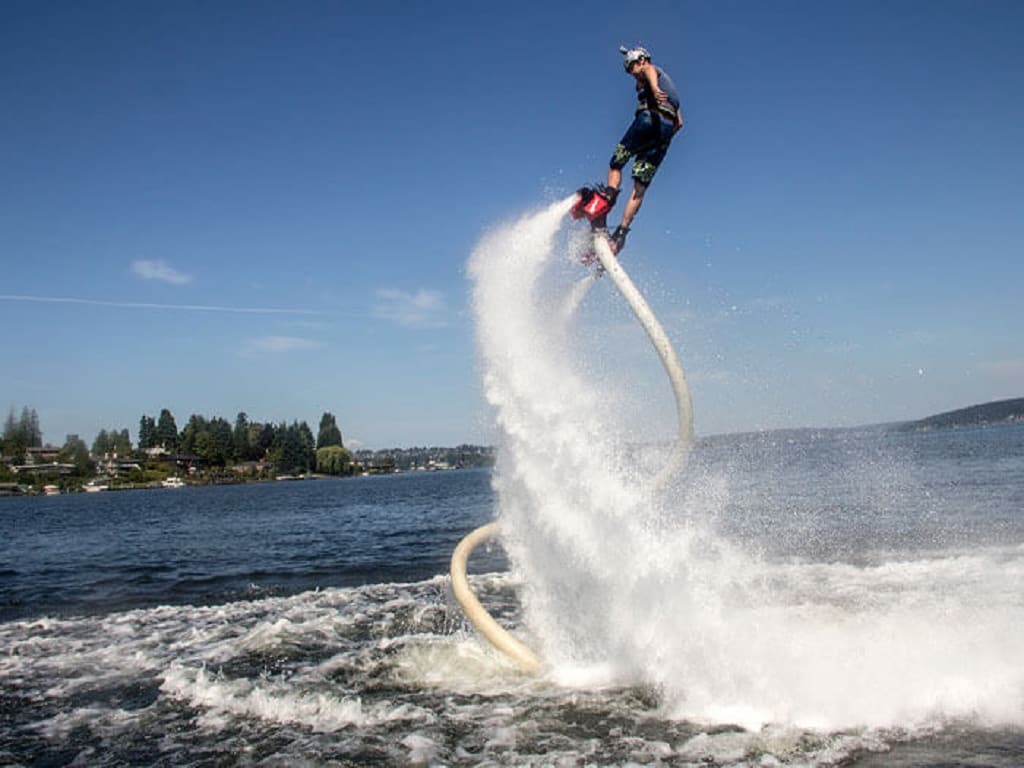 One of the newest forms of water-sport, fly-boarding has taken the nation by a storm! An emerging favourite amongst adrenaline junkies, riding a fly-board is as easy as riding a hoverboard! And guess what, you can enjoy this exciting ride, in Goa itself!
All you need to enjoy this ride is to be comfortable in the water and basic swimming skills so that you don't panic. Now wouldn't you like to experience this ride and literally fly out of the water?
5. Skydiving at Madhya Pradesh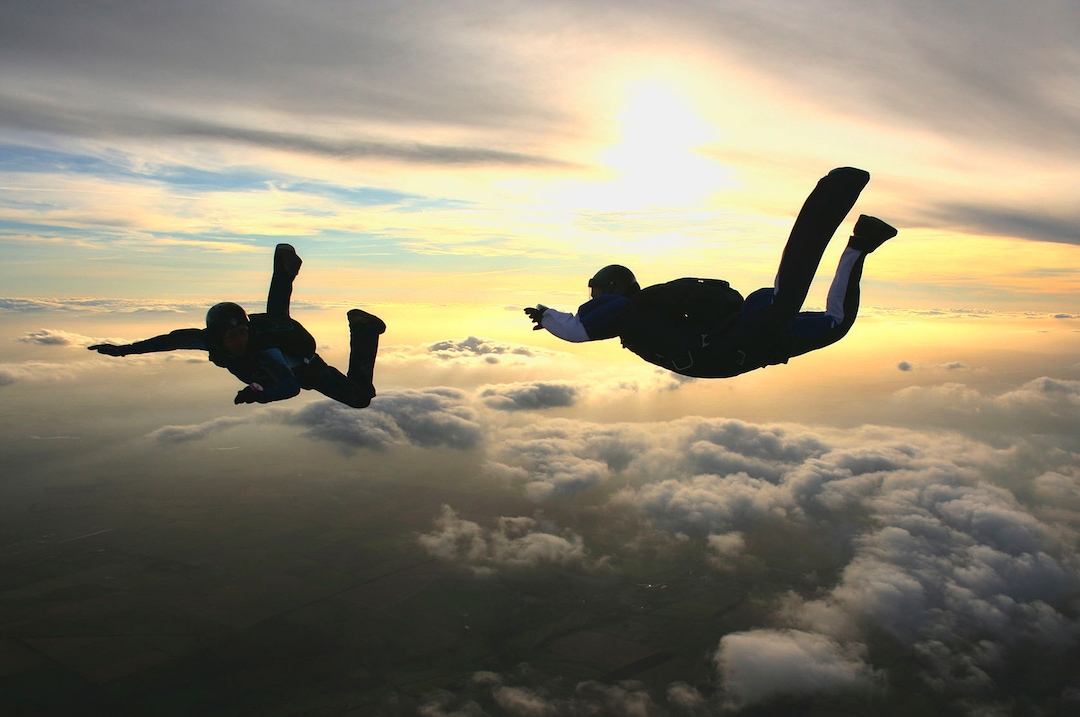 "If it excites you and scares you at the same time, it might be a good thing to try." Skydiving is one adventure sport which everyone should try once in their lifetime. An exciting and scary sport, this is a favourite amongst the adventure enthusiasts! Dhana, a quaint little town in Madhya Pradesh had the first ever skydiving camp in India. Faintly populated, skydiving here is a beautiful experience as you can gaze at the picturesque landscape and every minute is worth the thrill and excitement.
6. Surfing in Pondicherry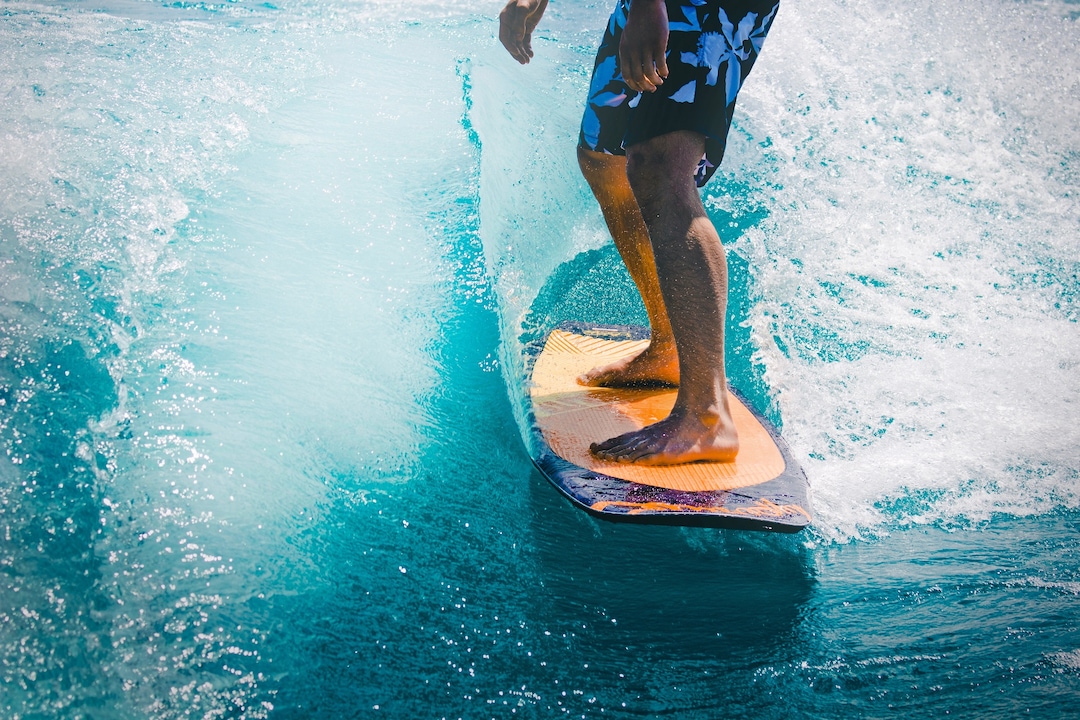 Do you love the sea and moreover the waves? Have you ever felt like surfing but didn't know where to go? Well, you will be more than happy to know that India has several spots for surfing and over 11 surf schools. Pondicherry with its French architecture and tree-lined streets is one of the best spots in India to surf. It also houses the first surf school that opened in south-east India. You can find a few surfers, riding the beautiful waves against the backdrop of a scenic view!
7. Bungee Jumping Rishikesh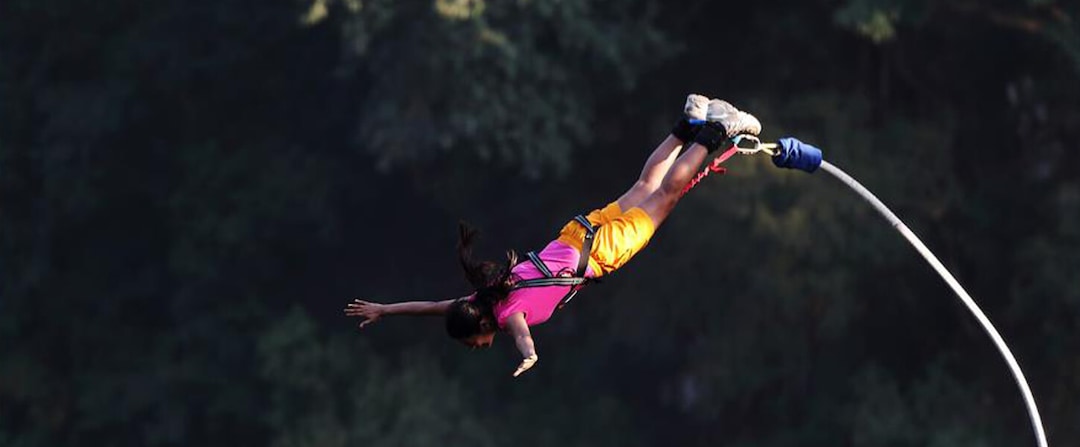 Emerging as a favourite adventure sport, Bungee jumping can be done at various places in India, but the most famous is Mohan Chatti village in Rishikesh. Popular for being the highest bungee jumping platform in India, this is also the only place to offer a fixed platform to dive. It can be a bit expensive but is totally worth every penny!
8. Rock climbing at Maharashtra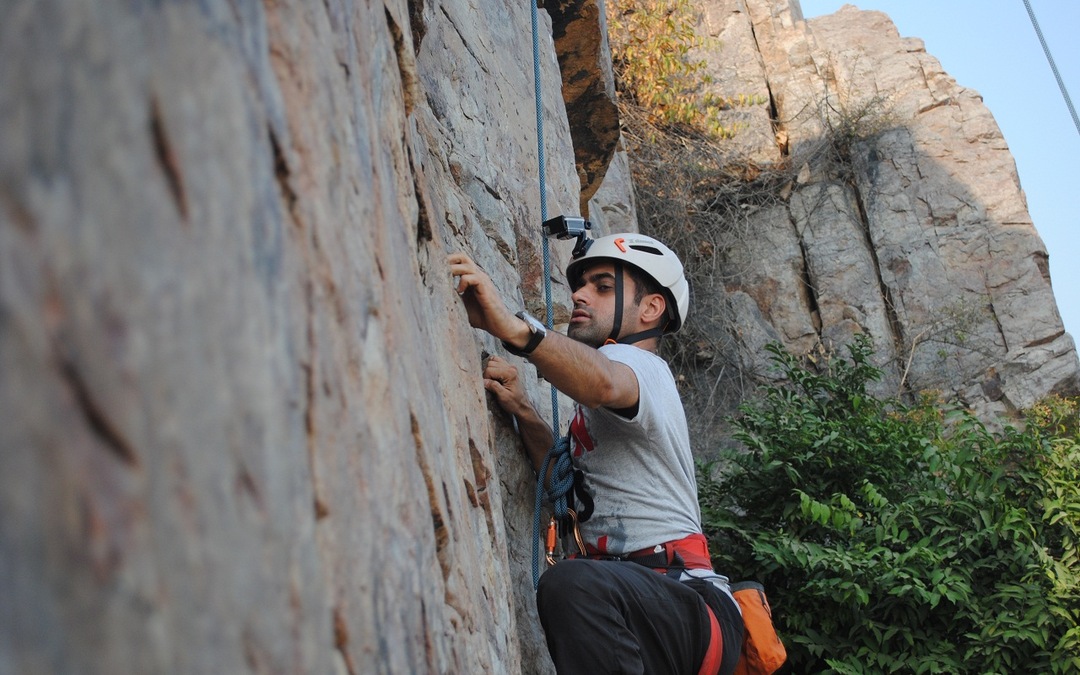 Tucked in the Western Ghats of Maharashtra is Malshej Ghat, a tranquil place surrounded with lush green valleys. Malshej Ghat is suitable for beginners who want to try and learn rock climbing. The best time to visit it would be during monsoons as the place looks heavenly.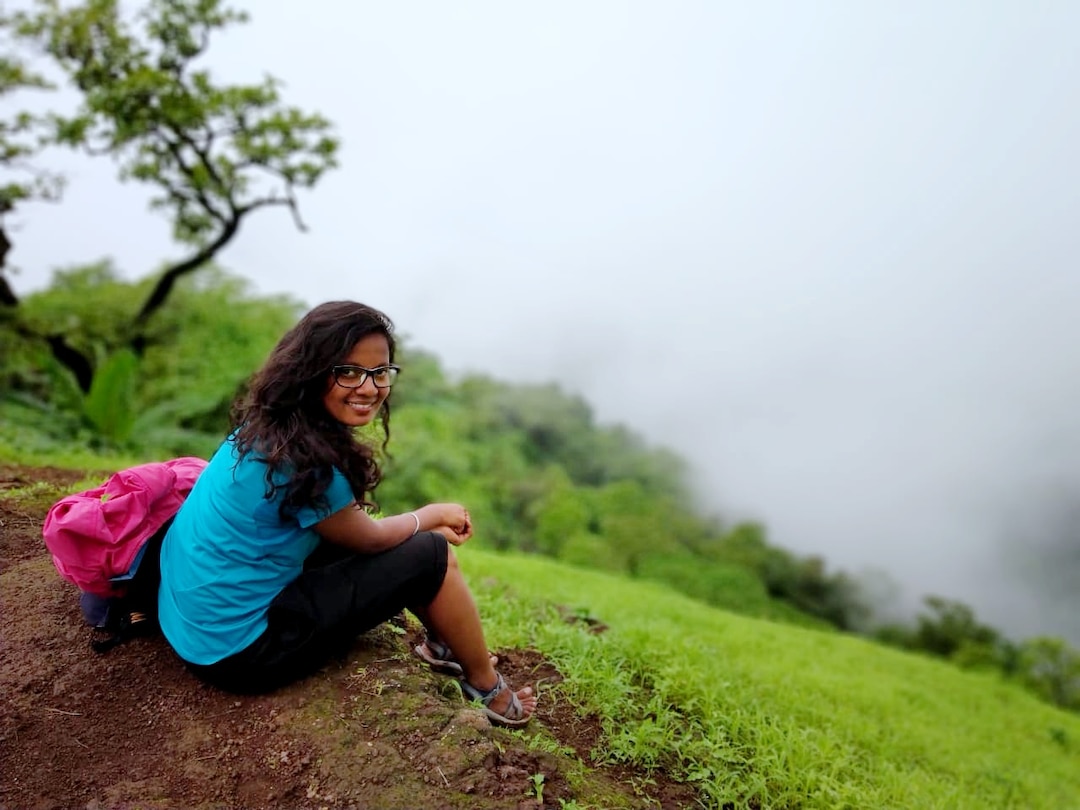 When the mind is itching your calling of exploration and a ridiculously strong urge of challenging your adrenaline, runs through your vein, find these places and climb that God damn mountain or cease those wild gushing waves! Sometimes the best and the easiest options to truly feel free and excited in the arms of nature, lie hidden in the plain sight. So its high time that you just scroll through your social media feeds and wonder when you'll be on those breathtaking landscapes.  Just set yourself free and if you are truly an adventure seeker with an inclination towards a unique experience, do not forget to tick these off your list! Get Them All!
*Cover Photo Courtesy: Sailee Gorivale*