Reading Time:
5
minutes
Any trip to India's enchanting and yet contemporarily upbeat capital, Delhi feels incomplete until you visit the gorgeous little hamlet known as Hauz Khas Village or HKV (as it is commonly referred to). The biggest attraction, apart from the remarkable medieval fort sitting atop the hill, offering its visitors grandiose views of the sunset across the Deer Park Lake, is the Hauz Khas Village Market. It has posh avenues for the refined shoppers and the magical Hauz Khas Village cafes wherein one can take a head-first dip into Delhi's present-day food and lifestyle culture.
When you are on a Delhi tour package, make sure you include Hauz Khas Village in your itinerary; it will be worth it. Best to visit after sundown, the edgy cocktail-lounges to the boho-chic rooftop cafes in Hauz Khas Village become the ultimate venue for classy soirees and friendly celebrations for Delhi residents and visitors alike.
Good Vibes, Good Times
Instead of an idle evening of staying in and ordering food, liven it up as you walk through the lit streets of Hauz Khas Village. This list of cafes in Hauz Khas Village shall keep you satiated along the way: –
1. Mia Bella Romantic Kitchen and Bar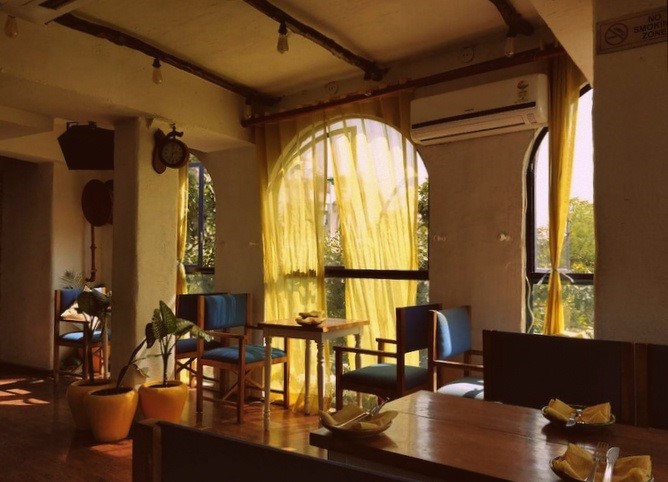 Credits: Zomato
This cosy little European-style café does not fit into the typical idea of Hauz Khas Village as an ideal night-spot but nonetheless adds to Hauz Khas Village's eternal beauty. The romantic décor and setting of this restaurant have a special draw for couples and groups of friends, reuniting, to come here for some quality time and enjoy their delectable menu of international cuisine and drinks. Come, vibe off to the soft music always playing here, with gorgeous views of the Hauz Khas Fort and Deer Park water reserve at one of the classiest cafes in Hauz Khas Village cafes.
Cost: Rs. 1800 for two
2. Social Offline: Hauz Khas Social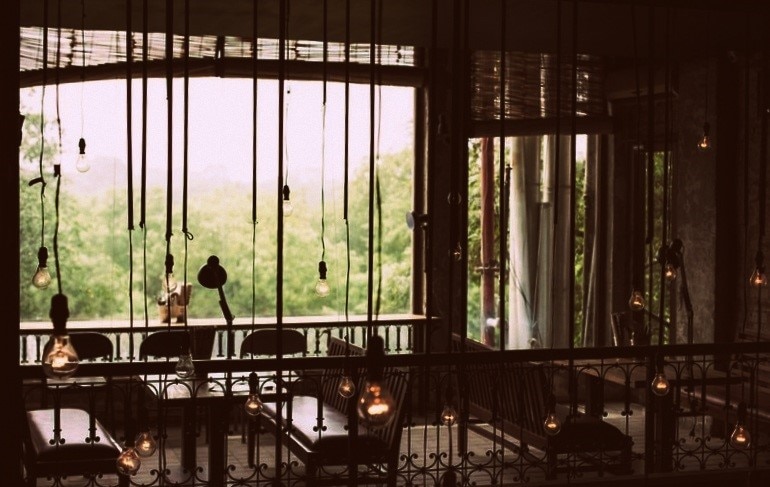 Credits: Zomato
Hauz Khas Social has been popular ever since Delhites were first introduced to this spunky concept lounge and café at Hauz Khas Village. Newer branches of Social Offline were launched but this one has remained a cult favourite because of its location and a quirky menu of food and drinks. They use hashtags and "Hindi" to highlight their liberal and modernistic outlook. To further add to the popularity, is the café's outlandish décor that successfully reflects the thriving aspect of contemporary Indian culture.
Cost: Rs. 1200 for two
3. Imperfecto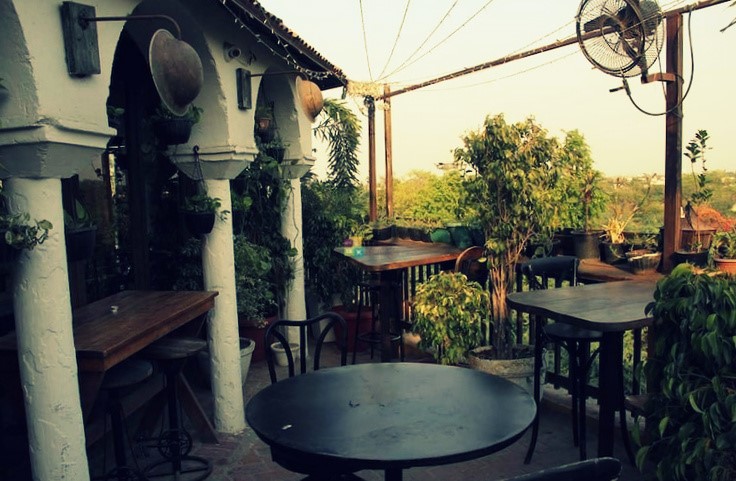 Credits: Zomato
We hope you don't deem us an oxymoron for saying this, but Imperfecto is actually a "perfect" rooftop cafe in Hauz Khas Village. Located inside the Deer Park premises, this glamorous bohemian-style café has unique furniture and is an ideal choice for visitors to enjoy the intoxicating ambience, with the option of both indoor and outdoor seating on the joint's serene terrace. The park gets dark as the sun goes down, which adds to Imperfecto's perfect setup as the live music gigs start. Cuisines range from Italian, Spanish, Mediterranean, Continental and North Indian which adds a unique versatility of being able to cater to everyone's taste buds.
Cost: Rs. 2200 for two
4. Fork You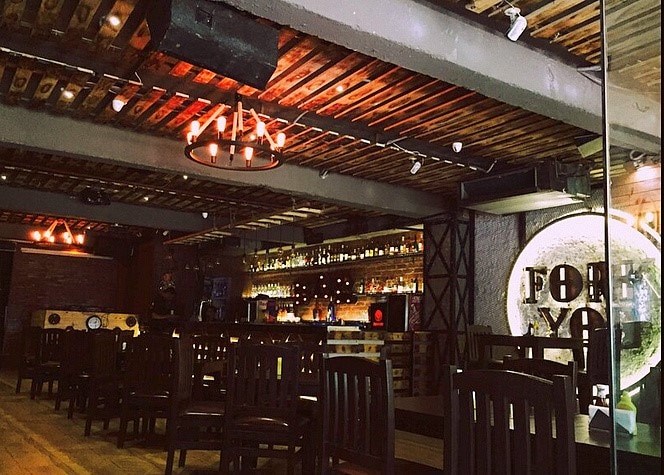 Credits: Zomato
The name might be a wee bit insinuating, but there's no denying the fact that this is one of the trendiest Hauz Khas Village cafés and lounges that will delightfully please you. "Fork You" offers food and cocktails, amazing live music, and a dance floor to beat the daily blues. They specialize in burgers they customize as per your choice of ingredients and other rewarding culinary treasures. To top it off, this café at Hauz Khas Village has a seriously mature décor, including a spacious outdoor balcony for visitors to share some quiet and memorable time with each other.
Cost: Rs. 1700 for two
5. Kunzum Travel Café
 
Credits: Zomato
This café is actually a traveller's paradise. Visit this café at Hauz Khas Village on any of their open days of the week (they take Mondays off) to go there and relax, and you will find the best kind of hospitality – that is to be left undisturbed. Things to do here include reading their stock of interesting books, travelogues and magazines, interact with fellow "travellers", and exchange stories and experiences from your various trips. There is usually music playing at the café, but you can also play your own music there if you want!
Cost: Rs. 200 for two
6. The Tea Room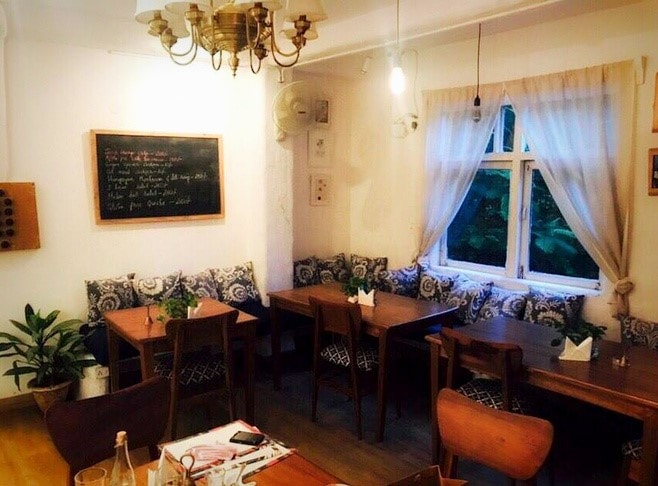 Credits: Zomato
The Tea Room by Blossom Kochhar is one of the most unique and best cafés Hauz Khas Village that is known for an extensive selection of different in-house brews and blends of teas and coffee, hot chocolate and infused milk, and cool smoothies. Among eatables, the Tea Room has a wider menu ranging from all-day breakfast, exclusive British and European style baked items, sandwiches, pancakes, and crepes. If you occasionally enjoy some authentic European non-vegetarian food, this is the place for you as they serve pork sausages and bacon.
Cost: Rs. 650 for two
7. Elma's Bakery and Kitchen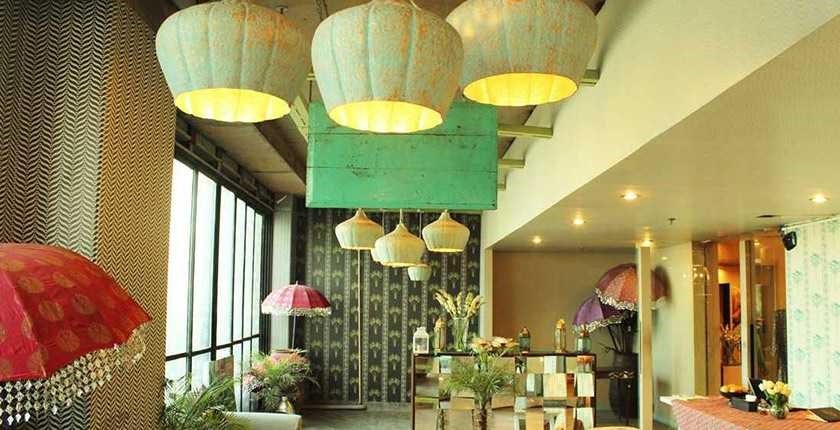 Elma's Bakery and Kitchen is a rather cosy and vintage-style European café at Hauz Khas Village, with warm and welcoming décor. This café, in many ways, is Hauz Khas Village's best café if you are looking forward to spending some quality time. They don't serve alcohol, but their high tea and to-die-for desserts fuel a much more intoxicating addiction – sweet tooth!
Cost: Rs. 1500 for two
In more ways than one, these cafés in Hauz Khas village have come to embody what this place offers – a haven for catching up, good times, and camaraderie. No wonder many keep heading to HKV come weekends!