Reading Time:
11
minutes
Karnataka is one of the most popular tourist states in the country and has something to offer to everybody. From beautiful landscapes to delicious food, rich cultural heritage and the amazing weather that it is well known for. However, what takes your breath away in Karnataka is its assortment of beautiful beaches and their serenity. The state boasts a huge 320 Km long coastline, from Belgaum in the north to Mangalore in the south, featuring around 40 beaches. Beaches in Karnataka are famous for their cleanliness and splendid views, with soft sandy terrain and backdrops of lush green hills. Karnataka beaches are also famous for their serene and tranquil environment. Wind in your hair, the cool sea breeze on your face and phenomenal views, what more is required?
Beaches in Karnataka are a soul-fulfilling phenomenon, where tourists come to spend a calm time, mesmerizing its spectacular views, and adventurous kind to indulge in plenty of water sports. There is nothing more relaxing than experiencing the contrasting calm and rhythmic rise and fall of the sea waves. And taking advantage of the geographical positioning, Karnataka sea beaches offer spectacular views of sunsets. Food lovers can find scrumptious local delicacies at the surrounding stalls and shacks at minimal rates. You can also witness many newlywed couples here since beaches are some of the most popular honeymoon places in Karnataka. A place so absorbing, it becomes the perfect destination to spend some quality time with your loved ones.
Best Beaches in Karnataka
There are a lot of beaches in Karnataka that provide the tourists as well as the localists the opportunity to leave behind the modern way of life and just enjoy peace and serenity. Here is a list of 12 of the best beaches in Karnataka that we think you should be excited about.
Gokarna Beach, Karnataka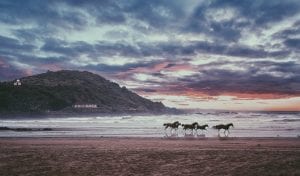 Gokarna beach in Karnataka is situated in the Uttara Kannada and is considered one of the most famous beaches in the state. Popular for its calm waters and exceptional cleanliness, Gokarna beach provides visitors with swimming opportunities as well as beautiful panoramic views that you just can't have enough of.
Gokarna beach, Karnataka is surrounded by green forests and makes for the perfect spot for celebrating a picnic. You can spot people taking yoga lessons at the beach during early mornings which are also fairly popular. It is considered great for just sitting back and relaxing your heart out.
Paradise Beach, Karnataka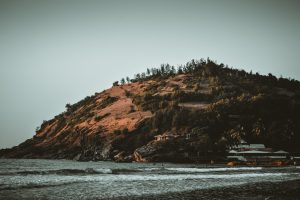 The Paradise beach in Karnataka, also known as Full Moon beach, offers a beautiful 150 m stretch of white sand and turquoise waters and is most commonly known as a retreat for lovers and couples looking to get away from the everyday routine. It is a great place to relax and rejuvenate, cut off from civilisation, offering a tranquil environment.
Maravanthe Beach, Karnataka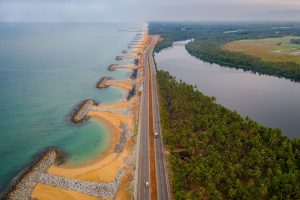 Maravanthe beach in Karnataka is one of the most beautiful beaches in Karnataka, with golden sand, blue open water and the shining sun which makes everything glitter. The palm trees swaying in the cool breeze, exciting diving sports to take part in and delicious food. It's a complete package. It is easy to reach as well, being situated close to Highway 17.
Om Beach, Karnataka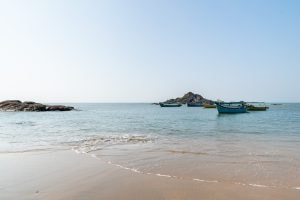 As its name suggests, Om beach in Karnataka is naturally shaped like the symbol for Om and is another greatly admired and visited beaches in Karnataka. The curve of the symbol forms a pool which can be a safe bathing area for even non-swimmers. It is known for its beautiful rock creations and green surroundings. Its waters offer great dolphin spotting routes as well as several water sport activities such as boating, surfing, water-skiing, parasailing, and banana boat rides for an adventure-packed time here.
Devbagh Beach, Karnataka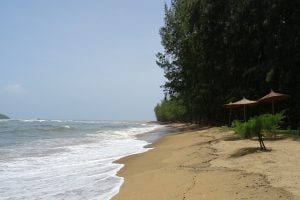 Devbagh beach in Karnataka provides a stunning landscape and beauty with blue waters of the Arabian Sea on one side and the dense jungles of the Western Ghats on the other side. Visit here if you are looking to witness some truly remarkable sights, to connect with your true soul and to spend time away from the city. There are several adventure sports activities also available here, such as snorkelling and kayaking.
Kudle Beach, Karnataka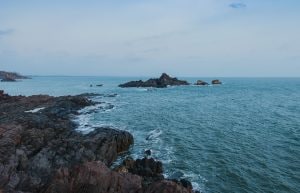 If you are looking to visit a beach in Karnataka where there very few visitors and tourists, then Kudle beach is the place for you. Secluded from crowds and noisy tourists, Kudle beach offers some of the most tranquil and serene experiences with silent surroundings. Enjoy your privacy, put up a hammock and watch the vibrant sunset.
Half-Moon Beach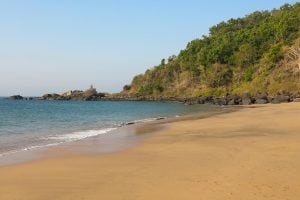 Karnataka sightseeing is never complete without visiting its beautiful beaches and enjoying the open waters. This beach gets its name from its striking resemblance to a half-moon shape. Visit here to get amazing views of the Arabian Sea, gorgeous hills and stunning turquoise waters. The beach also offers numerous exciting activities including canoeing, swimming, and paddle boats, as well as street food shacks for food lovers.
Murudeshwara Beach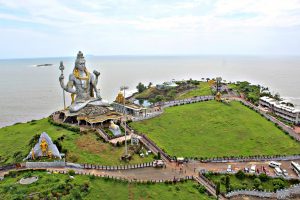 Murudeshwara is a holy city dedicated to Lord Shiva which also features a beach that goes by the same name. The world's second tallest sculpture of Lord Shiva situated here. The Murudeshwara beach is very popular among both local and foreign tourists for its stunning sunset visuals and beach water activities.
Kodi Beach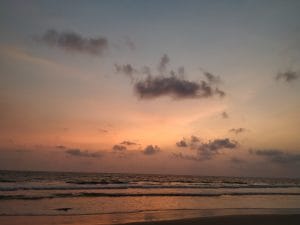 Situated far away from the city, Kodi beach is one of the most spectacular beaches you will see in Karnataka. The silence of nature, the beautiful coastline and the visuals of fishermen casting their nets, all make it a very different experience. It is secluded and quiet, which makes it a favourite among backpackers and couples.
Kaup Beach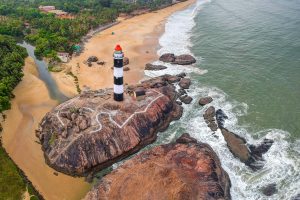 Also located near Udupi, Kaup beach is another marvel in Karnataka where visitors travel from all over to witness the serene scenery surrounding its sandy coastline. It is popular for its picturesque lighthouse which was built over 100 years ago, which is still operational and is a guide to all boats passing safely. Sunsets here are extremely beautiful when the whole beach takes a dive in red colour.
Someshwar Beach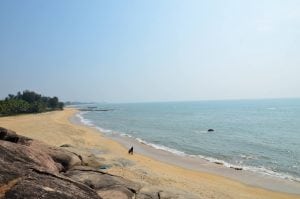 Dotted with rocky cliffs and tucked between lush green hills and magnificent mountains, Someshwar beach is nothing less than a paradise. It is popular among adventure enthusiasts for rock climbing, and for walks on the golden sandy shore among the more easy-going tourists. Absorb in the natural beauty when you visit here, along with the serene calmness of the sea and the tranquil environment.
Ullal Beach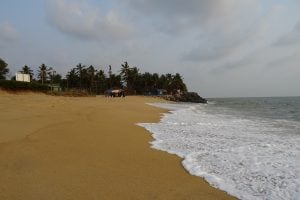 Located in the city of Mangalore, Ullal beach is a quaint fishing hamlet just a few kilometres outside the city. The beach offers spectacular views of the sea and a relaxed habitat for anyone looking to spend quality time here. The clear blue waters of the sea are encircled by greenery and approx. 14 acres of casuarina groves, which makes it look nothing less than a postcard worthy scenery.
Best Time to Visit Karnataka
Karnataka is blessed with diverse landscapes, terrains and topographical features, which make it an all-year destination. Tourist activities are not seen to go dull at any one particular time, as it makes for both a great weekend getaway destination, as well as a full-fledged vacation spot. However, the climate in Karnataka remains on the warmer side, with mild winters and hot and humid summers. Monsoon arrives early in Karnataka, during which time it feels nothing short of heaven, but not be the best fit for people who don't like much rainfall.
The months of October through April are considered the best time to visit Karnataka and South India in general. Karnataka's pristine beaches can be generally enjoyed during both summers and winters, depending on the location and your preferences. Beaches in Karnataka offer a sweet escape from the city's scorching heat during the extreme summer months and witness high footfall. Whereas, during winter months you will find a relatively lower number of tourists on the beaches.
Beaches in Karnataka are surely a great way to relax and unwind on your vacation. Check out the specially curated range of Karnataka travel packages that Veena World offers and experience the true beauty of this Indian state.