One of the biggest names in the Television and Movies industry, Universal Studios, is a giant Film studio, and the best theme park in Singapore. It is set up in Resorts World Sentosa on Sentosa Island, Singapore. It took nearly 2 years to build Universal Studios Singapore, this one-of-a-kind theme park, which was inaugurated on 28th May 2011 with a gala opening an evening before. It is the second in Asia (first one in Japan) and the only park across Southeast Asia that will remain the only one for the next 30 years, as promised by its promoters, Universal Parks & Resorts, a unit of Universal Company.
From all the sightseeing in Singapore, Universal Studios Singapore manages to attract the most tourists of all ages in exorbitant numbers. Starting with 2 million in the first nine months only and reaching a whopping 4.5 million until the great tragedy of COVID-19 hit the world, severely impacting the leisure tourist places. However, the majestic dreamy studio is now open to the general public with guidelines and safety measures in place.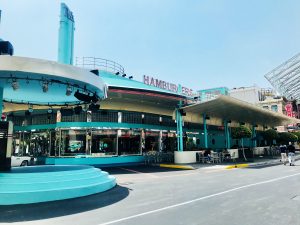 More About Universal Studios Singapore
There are fewer places in this world that are made of dreams. One of which is Universal Studios. In Singapore, the Universal Studios is spread across 49 acres of land, with 28 thrilling rides and attractions along with 7 themed zones on the periphery of a lagoon that awaits a hoard of admirers in awe. Each zone is inspired by a famous movie/television showcasing their unique attractions, meet & greet spots with fun unlimited.
With over 30 food courts and restaurants serving delectable cuisines, more than 20 shopping retails and carts, from nerve-wracking to friendly roller-coasters, and some stellar shows and performances, it is a place for all ages.
One of the best places to visit in Singapore, Let us look at the seven zones in Universal Studios Singapore and the themes they are associated with:
New York City – Showcasing a marvellous city in its most authentic form, the area is filled with New York street landmarks back in the 1940s, lit by neon lights.
Hollywood – Universal Studios Hollywood is a perfect replica of Hollywood 'Walk of Fame' with palm trees and 70s' boulevard, a climate-controlled space for Hollywood lovers.
Sci-Fi City – Get an imaginative taste of what a city 'may look like in the future, powered by a popular science fiction franchise.
Ancient Egypt – Step back in time to witness the golden era of Egyptian exploration with jaw-dropping architecture and artefacts of that period.
Far Far Away - Visit Shrieks and his friends in a perfect replica of The Kingdom from the animated movie Shrieks, with its towering castles, cobblestone streets, and shops.
The Lost World – Witness the works of two separate franchises - Jurrasic Park and Waterworld, including the giant T-Rex and more.
Madagascar – It is themed after one of the most famous Universal Studio movies ever, Madagascar, showing the remnants of a ship and a river.
The Best Rides at Universal Studios Singapore
The adrenaline-pumping roller-coasters are the lifeline of Universal Studios Singapore. People from all walks of life queue up for an experience of a lifetime. A day can fall short to enjoy all the Universal Studios Singapore rides. Below are the ones that are the best of the lot.
1. TRANSFORMERS The Ride – At the Sci-Fi City Park, it is one of the best rides at Universal Studios Singapore. 5-10 minutes of animating ride vehicle take you to a virtual battlefield with hair-raising 3D effects as the music builds up the tension and excitement. Because this ride attracts a huge crowd every time, it is better to reach early and make it a priority.
2. The Jurassic Park Adventures – Seeing the gigantic dinosaurs on the screen is one thing, witnessing them near you is something out of this world! With some amazing animatronics, lights, and music, this boat ride at The Lost World park, on a hydroelectric river area, is an eye-popping experience of a good 10 minutes.
3. Canopy Flyer – How about a breathtaking bird's-eye view of the entire park while your feet dangle in the air? At The Lost World park, it is an enthralling 1-minute flying experience. Canopy Flyer is a steel suspended roller coaster that can be enjoyed with the family together. It is a must-do ride at Universal Studios Singapore.
4. Battlestar Galactica: Human Vs Cyclon – A ride for the thrill-seekers and one of the best in the world. With a height of 42.5 meters and racing at a speed of around 90 KM per hour, this roller-coaster has endless twirls and spins and drops to give you a ghostly hairstyle! The two-coloured roller-coaster, where red stands for Humans and the blue denotes Cyclons, choose your side wisely as the red one is normal while the blue ride is inverted, for the adrenaline-junkies, at the Sci-Fi City park for 2 minutes.
5. Sesame Street Spaghetti Space Chase– It is the best steel suspended dark ride for the kids and adults, as they get to meet their favourite Sesame characters, such as Elmo, Oscar the Grouch, Big Bird, Super Grover 2.0, and more. Get to the foot-tapping beats of music and save the Spaghettis of the world! At New York City park, this ride is sure to fill your heart with smiles.
6. Treasure Hunters – Get on a hunting spree inside a vintage jeep with your family in ancient Egypt, where you will meet realistic-looking wild animals, such as snakes, vultures, crocodiles, on your way. It is a less thrill-seeking, more adventurous trail. A 4-minute trip to Ancient Egypt park will be a good way to spend some treasure-able time!
7. Lights, Camera, Action by Steven Spielberg – The man needs no introduction. Steven Spielberg has given some remarkable action-packed movies to the generations. But have you ever wondered how these movies were created through special effects? It, however, is not a ride but a show. Brace yourself for a 7-minute behind-the-scenes, which is worth every penny. Ensuring a seat on the front row gives you the best view of these intelligent movie effects that look almost real.
Each park has many different rides, except Universal Studios Hollywood, which showcases stellar shows. You can explore more at your convenience.
Universal Studios Singapore Tickets, Passes with Price
With careful planning and complete information, you can enjoy the best by spending less. Each ticket or pass is valid for one day only.
There are two ways to buy the tickets.
On-Site: You can simply reach Universal Studios Singapore and purchase the tickets from the ticket counters on-site. However, these will be without any deals, and you may have to stand in line as the queue builds fast.
Online: You can easily make the payment to a service provider online and get an e-ticket and QR code ready to skip straight to the entry gates. However, make sure to choose a reputed and verified service provider online to avoid any scam.
Passes:
Universal Studios Express Pass: This pass allows you to skip the queue only once per ride or a show. It is helpful to save your time for more fun and frolic on the dreamy island.
Universal Studios Express Unlimited Pass: This pass allows you to skip the queue unlimited times on a participating ride or a show.
Note: These passes are in addition to the admission ticket, which means they are a bonus to skipping the queue and hence be bought separately. They come with limited inventory and sell out quickly. It is advisable to purchase it in advance.
Prices (For Non-Resident):
Child (4 – 12 years): SGD 61 (INR 3326)*
Youth (13 – 17 years): SGD 61 (INR 3326)*
Adult (18 – 59 years): SGD 81 (INR 4417)*
Senior (Above 60 years): SGD 44 (INR 2345)*
Universal Express Pass: SGD 40 – 70**
Universal Express Unlimited Pass: SGD 70 – 100**
(*): Rates are subject to the exchange market. At the time of writing this, 1 Singapore Dollar (SGD) equals INR 54.53.
(**): Express passes rate varies as per the footfall on each day.
Date and Time to Visit Universal Studios Singapore
With the onset of COVID-19, there were changes in the opening of the park for the public. Currently, Universal Studios Singapore opens from 12 noon to 10 PM on select days of the month, with limited tickets due to reduced capacity for safety measures.
It is advised to check the real-time updates on operating dates and times for Universal Studios Singapore by visiting www.rwsentosa.com before you book your Singapore tour package.
Tips to Visit Universal Studios Singapore
If you plan to visit the Studios more than 3 times a year, an annual pass will be more cost-effective.
If you plan to visit two times within six months, it is best to take a seasonal pass.
Get early to prevent the queues and any hassle.
With more footfall on special days, it is better to avoid visiting the Studios on school holidays, national holidays, and weekends.
The place is always abuzz with fun, excitement, and the crowd. It also becomes essential to secure your belongings, for which there are locker facilities available at each park, with their own nominal rates per hour and per day.
If you like this blog, we recommend you read the top 10 things to do in Singapore for a wholesome staycation at one of the best countries in Asia.