Reading Time:
12
minutes
Indonesia offers adventure to one and all. Soak yourself on serene beaches and hike on active volcanoes to exploring the monasteries and ancient temples. Be a wayfarer on the busy lanes of Jakarta, or drench yourself in the bliss of Bali, take a life-transforming dive into the deep untouched waters, or visit the villages of Tana Toraja to experience time travel.
Tourists are spoilt for choice here, but whatever they choose, it is sure to bring the emotions of awe and appreciation.
Here is our list of 15 top-rated tourist attractions in Indonesia: –
1. Beaches of Bali – Overused Yet Profound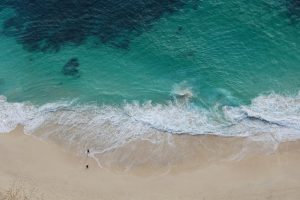 This one place has a permanent position on everyone's list of places to visit in Indonesia, if not at the top. The 'Island of Gods' is an all-inclusive tourist haven. If you are looking for a quick stop at Bali to explore the other side of Indonesia, consider beach Kuta for a blend of sun, surfing, and socialising. While Beach Nusa Dua is quieter with a low crowd yet beautiful, beach Sanur will showcase rich Balinese culture and lots of water sports activities. You can also research more about the beaches in Bali Indonesia.
2. Jakarta – A Matured and Riveting Setup
Jakarta is the heart of Indonesia, and its capital too! A breathtaking city is full of organised chaos. Jakarta is a blend of cultures of India, China, Arab, Malaysia, and Europe, that can also be witnessed in its architecture, multi-cuisine, and lifestyle. A city full of life, and the centre spot for business and politics, with efficient days and tempting nightlife. A major attraction while visiting Indonesia, Jakarta tops the list of places to visit in Indonesia with all the amenities and facilities.
3. Tana Toraja – A Mindbending Timetravel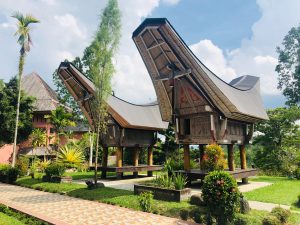 Step back in time with the most beautiful natural surroundings in the villages of Tana Toraja, situated south of Surawesi Island. It is one of the cheap and most fascinating places to visit in Indonesia, mainly due to its boat-shaped houses, friendliest and welcoming people, and eerie but spectacular burial caves.
Tara Toraja is also known for its distinct funeral processions. Habitants here live with the dead for weeks or months and consider death as the most important event in a person's life. Hence, they give considerable attention to the funeral of a dead person. A visit to this place ensures an experience of life and nature never seen before.
4. Komodo National Park – A Home of Dragons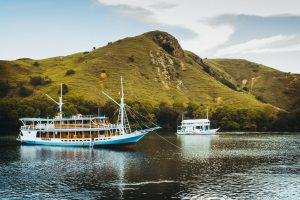 If you think the era of dragons is bygone, the massive and earthbound lizards of Komodo National Park might not like the thought! They are a spectacle to watch and majorly a show-stealer in any visit to the park. These endangered and protected dragons are estimated to be around 5700 in number in Southeast Asia.
Here, you can also go canoeing, hike, snorkel, or visit Pink Beach. It is one of the top beaches in entire Indonesia, at Komodo Island.
5. Borobudur – The Largest Buddhist Sanctuary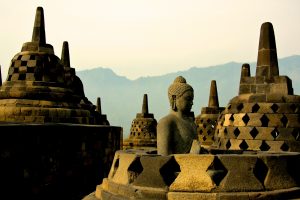 When it comes to visiting the cultural sites in Indonesia, the Borobudur temple is the most preferred and is the most ancient Buddhist mandala. It is also one of the top UNESCO world heritage sites since the late-nineties and a significant landmark in Indonesia built in the 8th century.
With fine stone carvings all over the place, expanse sighting and scenery around, and a charm of the most silent religion like Buddhism, there is no reason not to visit the biggest Buddhist sanctuary in the world.
6. Ubud – Amidst the Rice Fields and Rainforests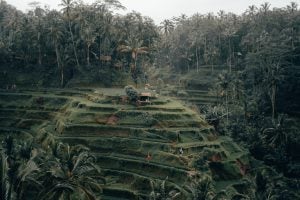 Known as the cultural heart of Bali, Ubud is one of the must-visit tourist spots in Indonesia. It is an urban village of a sort, with a melange of wellness spas, multi-cuisine restaurants, yoga studios, and many shops. The lanes of Ubud mostly remain busy, yet it attracts a massive amount of tourists every year.
Find yourself looking at the green seas of rice fields and learn Balinese art and culture in this tranquil place in Bali, Indonesia.
7. Gili Islands – A Place for a Lifelong Affair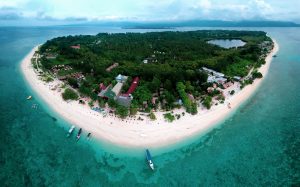 One of the best places in Indonesia for couples, the Gili Islands is an archipelago of three small islands, also known as Gili Triplets. Each island consists of various resorts with huts, restaurants, and a small pool. These islands – Gili Trawangan, Gili Meno, and Gili Air, are tourist magnets. Situated over the north coast of Lombok Island, which is considered an alternate to Bali for its clean and pristine waters, Gili Islands are favourites among couples, snorkelers, and scuba divers.
With an abundance of turtles and coral reefs, kayaking and yoga classes, this one provides a more relaxed option than Bali.
8. Raja Ampat – Witness a Blue Paradise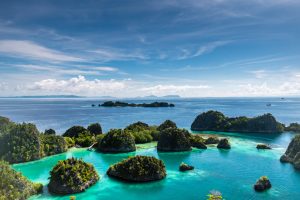 One of the most picturesque places to visit in Indonesia is Raja Ampat. These are a group of small, cone-like uninhabited and breathtakingly beautiful islands set against turquoise and blue waters. With fascinating and vivid underwater scenes, this place is heaven for shutterbugs, deep divers, and birdwatchers.
Because of its remote location, this place remains pristine and natural with exotic marine life thriving inside clean waters. A visit to such a place has the potential to create an unforgettable memory.
9. Mount Bromo – An Active Pictorial Volcano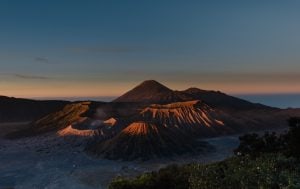 The archipelago of Indonesia sits on the Ring of Fire, with many active volcanos all around. And some of these erupt violently and are simply horrific! Mount Bromo stands out from the others because of its magnificent surroundings and views, making it one of the best places to visit in Indonesia. With its peak spewing white smoke, a date with a sunset here can take your visionary perceptions to the next level of vividness.
10. Lake Toba – Explore a Majestic Caldera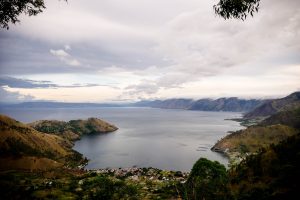 The largest lake in Southeast Asia and one of the deepest worldwide, Lake Toba is a spectacular natural crown of Indonesia. It is believed to have formed due to powerful volcanic eruptions many years ago. A great blend of beauty and natural forces, making it an unparalleled tourist destination in Indonesia.
You can circle the entire island on a bike through the outer stretch of the road, experiencing cool breeze and enchanting views. Snorkelling in Lake Toba can be a once-in-a-lifetime joy is what people say about this place.
11. Lombok – Rugged, Adventures, Intrepid Island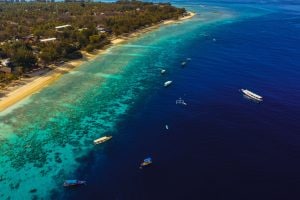 Lombok Island is a part of the Lesser Sunda Island in West Nusa province, Indonesia. For years this island has been overshadowed by Bali, while a treasure trove in true sense that simply offers more than any other place alike. Also, home to the second-largest volcano – Mount Rinjani, it is a steer gateway for less touristy and richer underwater adventures.
It is one of the most beautiful places in Indonesia and a smart choice for anyone who wants everything in one place.
12. Orangutans of Borneo – For the Lovers of Ape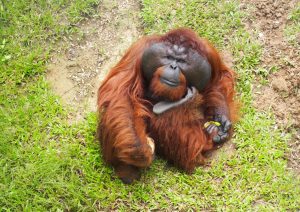 No trip can be complete in Indonesia without visiting the orangutans of the country. These great apes are found in abundance in Borneo, the largest island in Asia. Watch them tickle your mind and funny bones at Tanjung Putting National Park in Kalimantan, Borneo, which also houses other reptiles, birds, and animals.
13. Prambanan Temple – Remnants of Faith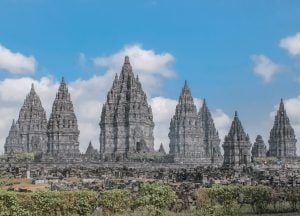 It is a sight to behold, showcasing the remains of around 244 temples after an earthquake calamity in the 16th century. Much of the work to restore the Prambanan area has been done and is placed in UNESCO's list of World Heritage sites.
The three temples dedicated to three Gods in Hinduism- Brahma, Vishnu, and Shiva, remain the main attraction here. The rest of the smaller temples are in and around these three main temples. It is amongst the famous places in Indonesia and a prominent site for Hindus to visit in the east of Java, the most populous island in the country.
14. Goa Rangko Cave – A Secret Natural Blue Pool
A hidden gem of a cave surrounded by rocky mountains, the Rangko cavity is nature's masterpiece. One of the offbeat places to visit in Indonesia, with the pristine bluest waters, this will tug your heart and provide wholesome fun.
Another best part of this treasure is its location in Labuan Bajo, which is also a gateway to Komodo National Park. This one place is a sure-fire to include while customizing your Indonesia tour package.
15. Badung – For Tranquility, Shopping and Coffee!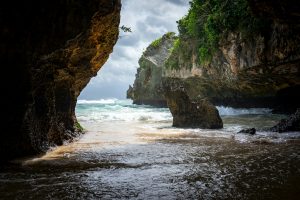 The capital city of West Java Province has reserved itself in the best places to visit in Indonesia. The colonial past can still be seen by taking a stroll and witnessing the preserved art deco buildings, giving it a tag of 'Paris of Java'. The sheer love of coffee that the city people showcase is simply amazing with innumerable cafes in the city. With great markets and not much crowd, this one is the perfect destination for shoppers.
Indonesia is a gift of nature to us all. Make sure to experience it in the best way. With Veena World, be a part of this celebration of life!