Reading Time:
10
minutes
Located amidst the Eastern Ghats and the Bay of Bengal, Vizag is quite a popular holiday spot among tourists. Also referred to as the 'Goa of the East', Vizag is not just a city with concrete buildings, but it has many beautiful beaches, valleys, caves, and temples. This coastal city has plenty of hidden gems and tourist attractions you are not aware of. Encircled by beautiful hills on one side and picturesque beaches on the other, Vizag or Visakhapatnam is home to a diverse set of attractions, promising tourists to enjoy a perfect vacation. Some of the best places to see in Vizag are the Kursura Submarine Museum, Borra Caves, Rama Krishna Beach, Yarada Beach, Kailasagiri, Araku Valley, Simhachalam Temple, and more. The Indian Navy's eastern command, Vizag, has all the rights to be next on your travel plan. Whether you are a nature lover, a fan of beaches and sunsets, or someone who loves to explore new places, you can find several sightseeing places and things to do in Vizag.
Let us help you to plan some of the best things to do in Visakhapatnam for a memorable stay.
1. Ropeway Ride to Kailasagiri Park :
Situated on a hilltop, Kailashgiri Park is a major sightseeing place in Visakhapatnam. The major attraction of this park is the 40 feet tall statue of Lord Shiva and Goddess Parvati. The name of this park is derived from these statues and is considered to be the home of Lord Shiva and Parvati. Surrounded by exquisitely landscaped gardens, the Kailasagiri Park lies at the height of around 360 feet above sea level, covering above 350 acres of area. There are two ways to reach Kailasagiri, by ropeway or via road. One of the best places for sightseeing in Vizag, the park offers mesmerizing views of the city and the beaches in the area.
2. Visit INS Kursura Submarine Museum :
The next thing to do in Vizag is to visit the submarine museum, located on Ramakrishna Beach. It is a must-visit place in the city, especially if you want to learn more about the Indian Navy. Established in 2011, the submarine museum houses the INS Kurusura, which was built by Russians in the year 1969. It served the Indian Navy and was decommissioned in the year 2001 and converted into a museum in 2002. A visit to this museum will help you understand how the submarine works and how is the life of submariners. Known as the first submarine turned museum in Asia, INS Kursura Submarine Museum opens from 2 PM to 8:30 PM every day. When planning a visit to Vizag, do not miss a visit to this incredible museum.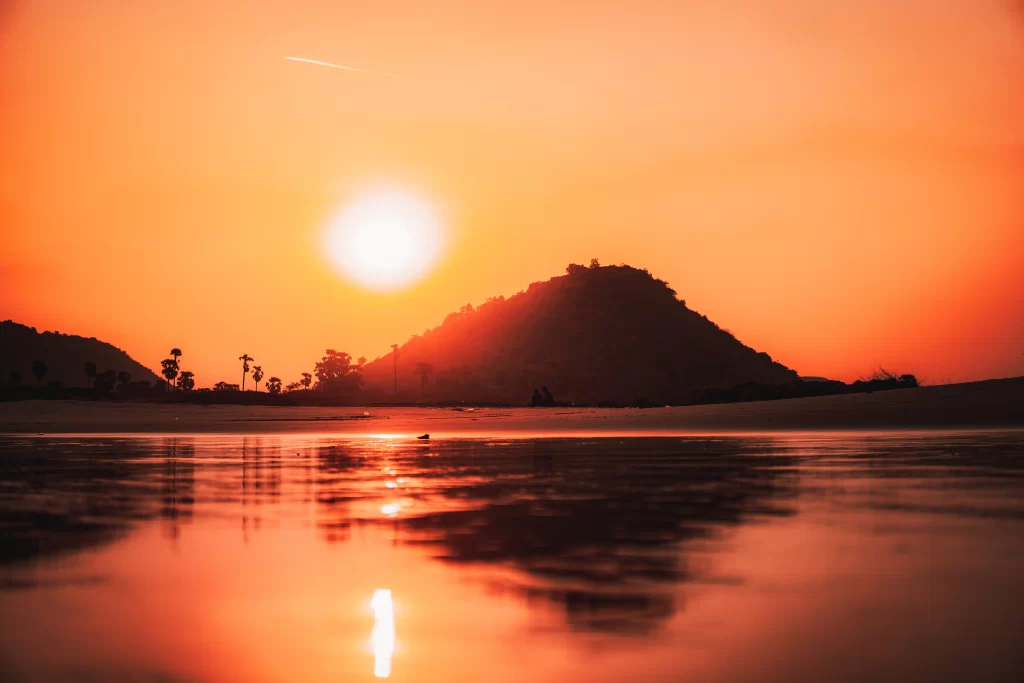 3. Seek Divine Blessings at Simhachalam Temple :
 One of the most beautiful things to see in Vizag is the 11th-century Hindu temple dedicated to the Narasimha Avatar of Lord Vishnu and Goddess Lakshmi. The striking architecture of this temple reflects the influences of Cholas, Dravidian, Kalinga, and Chalukyas styles. Right from the intricate carvings on the inner wall of the temple to the idol of Lord Vishnu in the temple, everything is appealing here. It is a perfect place to spend time in serenity while seeking the blessings of Lord Vishnu and Goddess Lakshmi.
4. Visit Dolphin Hill :
Situated on the southern outskirts, a little away from the main city, Dolphin Hill is between the Yarada and Gangavaram ports. Famous as the Dolphin's Nose point, the hill resembles a dolphin's nose and attracts tourists for providing mystical sunrise and sunset views. There is a lighthouse on the hill to guide ships to the port and stay away from risky parts of the sea. With a height of 358 metres above sea level, the Dolphin's Nose point offers stunning views of the hills and sea. The striking green colour and serenity make it one of the best tourist attractions in Visakhapatnam.
5. Explore the Borra Caves :
One of the best offbeat attractions in Vizag, Borra Caves, is said to be the deepest caves in India. Situated on the East coast of the city, the Borra Caves are surrounded by the Ananthagiri hills of Araku Valley. Also known as Borra Guhalu, these are said to be around one million-year-old cave discovered by William King George of the Geological Survey of India. There is a small Shiv Ling in the middle of the cave, which people worship. It is said that the Borra caves were discovered by a cowherd while looking for his lost cows. He found a Shiva Ling inside the cave and believed that his cows were protected by Lord Shiva. Later the villagers built a temple outside the Borra caves, and thousands of devotees come here everyday to pay their respects to Lord Shiva.
6. Experience the Wildlife at Indira Gandhi Zoological Park :
Located just 5 km from Kailasagiri, Indira Gandhi Zoological Park is spread over 625 acres of lush greenery, making it the third largest zoological park in the country. Situated amidst the Kambalakonda Reserve Forest, the park is surrounded by the Eastern Ghats on three sides and ample wildlife inside. If you are looking forward to doing some thing exciting in Vizag, do not miss Indira Gandhi Zoological Park. The park is home to around 80 species of animals, including Jaguars, Elephants, Sambar Deer, Olive Baboons, Macaws, Hippos, and more. It is a favourite attraction in Visakhapatnam for kids and wildlife lovers of all ages.
7. Click Stunning Pictures at Yarada Beach :
 One of the most beautiful beaches in Visakhapatnam, Yarada Beach attracts tourists with its quiet ambience and incomparable charm. Unlike other tourist attractions in Vizag, this stunning beach is situated far away from the city crowd, providing tourists with a serene ambience to spend quality time with their loved ones. Yarada Beach is one of cleanest and safest beaches in India, surrounded by coconut and banana plantations. While it is a less visited beach, it makes people fall in love with its crystal clear water, corals, and fascinating sunrise and sunsets on this coastline. With scenic beauty all around, the beach offers a perfect backdrop to capture some beautiful pictures.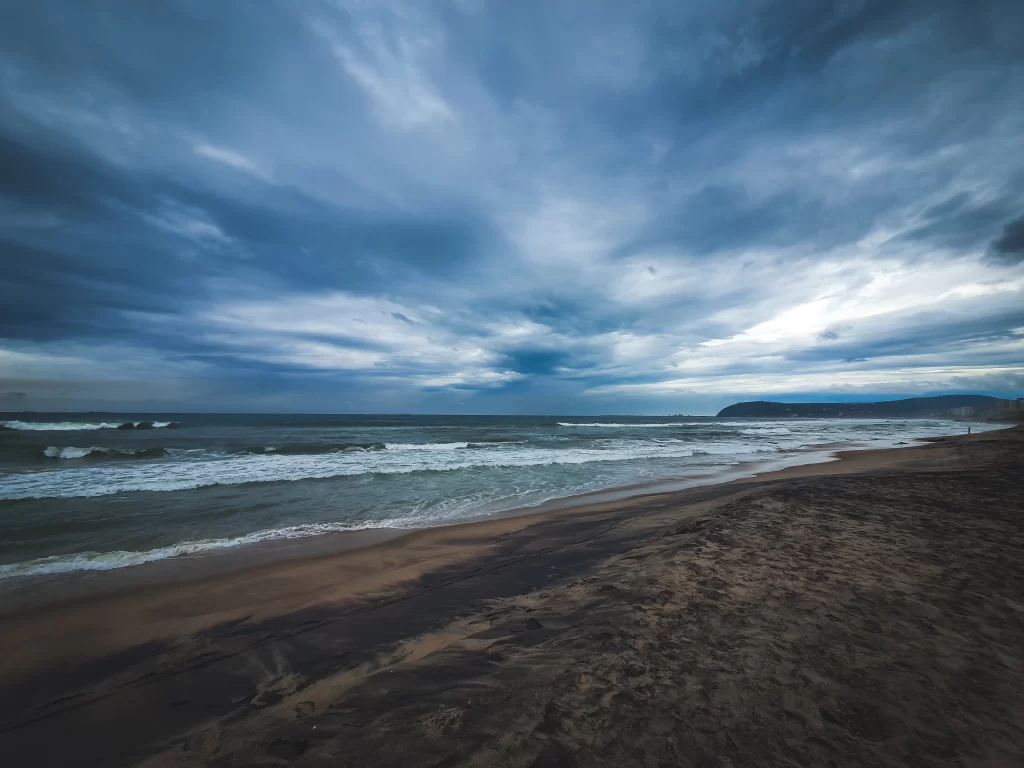 8. Pay Respect to Soldiers at War Memorial :
The next on your list of things to do in Vizag is the war memorial dedicated to the Indian Navy and Eastern Naval Command sailors. Built in 1992, the War Memorial is a major attraction in Vizag. It was constructed to honour the courageous soldiers who fought for the nation during the Indo-Pak war in 1971. The memorial features several war artefacts, such as a T-55 tank, rocket launchers, missiles, fighter planes, and more. There is a lush garden with adequate seating, allowing visitors to sit back and relax while admiring nature at its best.
9. Feel the Mesmerising Beauty of Katiki Falls :
A paradise for nature lovers, the Katiki Falls is around 50 feet high and originates from the Gosthani River. Located near the Borra Caves, the waterfall is surrounded by beautiful forests, providing immense greenery and a serene ambience to remove all your worries. Perched at a height of 50 feet, the cascading waters from Katiki falls create a perfect spot to click some stunning pictures. While there is no entry fee to visit this waterfall, jeeps are available for visitors on a personal or sharing basis at reasonable costs. Katiki Falls is a place for adventure lovers who can find great opportunities for trekking, camping, and witnessing some of the unique birds, animals, and trees around them.
10. Feel the Beauty of Araku Valley :
 One of the best things   to do in Visakhapatnam is to visit the rich natural beauty of Araku Valley. One of the most unexplored hill stations, around 120 kilometres from Vishakhapatnam, Araku Valley, is blessed with enchanting streams, sprawling coffee plantations, pleasant weather, lush green forests, and majestic landscape. It is a place compared with the natural beauty of Ooty, attracting honeymoon couples, nature lovers, and adventure enthusiasts from across the country. Here, you can visit the tribal caves and the Museum of Tribal Arts, soak in the sights of green patches of grassland and enjoy swimming and trekking. So if you are looking forward to enjoying some exciting things to do in Visakhapatnam, do include this valley in your Vizag travel packages.
The coastal city of Andhra Pradesh has plenty of attractions to offer visitors. Whatever your interest is, you will have lots of things to do in Vizag and enjoy your vacation to the fullest!