A lot of people usually use words like spiritual, colourful, and energetic to define Varanasi's charm. The lively city is one of the world's holiest locations, attracting visitors from all over the world. This city, based in Uttar Pradesh, has a lot to offer, from temples and ghats to museums and forts. When you plan a long journey or a weekend getaway to Varanasi, you will have a wonderful experience! You're probably wondering what you can do in Varanasi now. The answer is a lot of things! There are several famous places in Varanasi where you can do and enjoy a lot of things. To simplify things for you, this blog post combines the remarkable things to do in Varanasi that make your trip unforgettable.
1. Ganges River Boat Ride
Go for a boat ride early in the morning to witness Varanasi at its utmost serenity. Take it before sunrise if possible. You'll be astonished to see how a city full of excitement and splendour appears when there is no human engagement. The serenity felt at that time is mostly what one requires to prepare for the rush of the day. And if you're looking for a break from the hustle of everyday life, this boat excursion might just shift your outlook on life. It will open your mind to new ideas and perspectives. The boat trips provide a spectacular view of the ghats and palaces near the river's banks. Locals are also prepping their boats, setting up their stalls, bathing, and washing clothes in preparation for the day. The human engagement here is what you will ever see in Varanasi in the morning.
2. Take a Bath in River Ganges
As we all know, the great Ganges is believed to be a very holy river in Hinduism, and it is widely believed that taking a bath in the holy Ganges River can help in washing away our sins. For decades, the Ganges has been renowned to offer spiritual appeal to Varanasi. Believers have been seen chanting prayers in order to please and receive blessings from the River Goddess. It is widely regarded as a source of redemption and purity, and a large number of pilgrims visit the Ganges throughout the year. People are flocking here from all over the country, if not the world, in search of moksha and liberation from the physical world pursuits and the cycle of life and death simply by taking a dip in the holy Ganges River. There are a lot of Ghats in Varanasi that lead to these waters, and you can witness people bathing in the early hours of the morning.
3. Ramnagar Fort
A visit to Varanasi would not be complete if you haven't witnessed Ramnagar Fort. The fort structures are designed in the Mughal style and visiting here makes it one of the unique things to do in Varanasi. This incredible fort is located along the Ganges' eastern bank, and opposite the famous Tulsi Ghat. However, Ramnagar Fort is more than just a beautiful building composed of creamy-coloured chunar sandstone. Saraswati Bhawan, a museum nearby, exhibits a range of vintage American cars, sedan chairs ringed with priceless gems, an array of historic guns and swords, historic clocks, and so on!
The major attraction is the enormous clock located within the fort's sturdy walls. This clock is unique in that it displays astronomical statistics like the sun, moon, and other constellations in addition to the year, month, week, and day. The museum is not the only reason to visit the fort. The Veda Vyasa Temple, which was once a home for the king, has lavish gardens, balconies, and pavilions to witness.
4. Witness Sunset at Ghats
The Ghats, which gently lie along the Ganges River in Varanasi, are without a doubt the most charming and captivating sight to view in this sacred city. Visitors can wander through the Ghats at sunset and share some mind-blowing and memorable moments with their loved ones. Exploring the Ghats while in Varanasi is a must, and nothing beats seeing the sunsets here. With so many Ghats to visit, you can always find a vantage point to see the breathtaking sunsets. Because the Ghats are commonly crowded, it is best to arrive early to experience the best views that will be with you for the rest of your lives.
5. Street Food
Every Indian state has its own different and unique street food cuisine. It's the Vada pav in Mumbai, the Choris Pao in Goa, and the Luchi - Alu Dom in Kolkata. Varanasi is no stranger to interesting street food. Varanasi can be a culinary treat. And the food here is a paradise for vegetarians. After you've got your fill of touring, it's time to fill your stomach with their most famous Chena Dahi Vada, Kachori Sabzi, Malaiyyo, Choora Matar, and other delectable cuisines. Varanasi's Chaats are well-known, and it would be a sin not to try the famed Banaras Chaats. Enjoy Kachori and Jalebi, as well as a variety of chaats and delectable desserts. Try the Lassi, Rabri, and other delicacies available here. After you've had your fill, you must try the famous Banaras Paan (betel leaf).
6. Shopping
Making a trip memorable would not be possible without taking any souvenirs. If you want to have an exciting shopping experience in Varanasi, you should roam around the city's gullies. The shops are adorned with an array of extravagant jewellery, bangles, antiquities, and other trinkets. Most people, however, go to clothing stores in search of Banarasi silk sarees, Varanasi's iconic and popular clothing. Visit The Banaras Silk Emporium for the best prices and quality on these sarees and bed covers. The best part about shopping in Varanasi is the ability to bargain. Visit Vishwanath alley and Chowk, Godowlia Market, and Thatheri Bazaar to put your bargaining skills into smooth action and have a fun shopping experience!
7. Evening Aarti Ceremony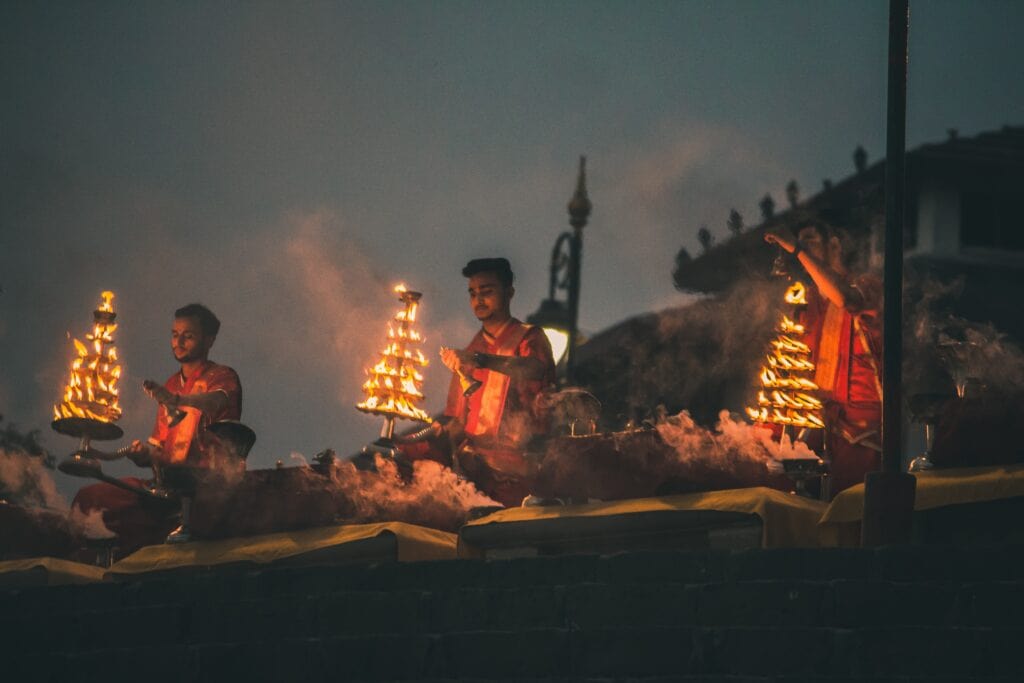 To wrap up the day, attend the evening aarti ceremony, where hundreds of people gather to see the pooja with offerings carried out by priests. This is one of the things to do in Varanasi that genuinely captures the heart of the bustling city. The lighting diyas and brass lights here contribute to the panoramic ambience, which no social media filter can completely capture. The soothing fragrance of fresh flowers and incense sticks, as well as the priests' chants of holy mantras, accompanies the lighting. Engage in the aarti ceremony on the Ganges River's Daswanand Ghat for a wonderful and serene experience.
8. Festivals
Varanasi celebrates a variety of festivals and events throughout the year, owing to its historical and religious significance. Although you can visit the city at any time of year, the festival months offer even more splendour and charm to the city. The most popular festivals in Varanasi are Bharat Milap and Ramleela (October-November), Buddh Purnima (April-May), and Maha Shivaratri (February-March). Varanasi can get really crowded during these months, but it is well worth the visit at least once in your life!
All these fun things to do in Varanasi will leave a lasting experience on your trip. Do note that Varanasi is usually crowded all year long. So, it is wise to book your Varanasi tour package in advance to avoid any hassle later.