Reading Time:
10
minutes
There is no doubt that Udaipur is one of the most romantic places in India. Everyone will be enthralled by it! The beautiful city offers a perfect blend of culture, history, and tradition and is one of the best places for a perfect honeymoon destination, so don't forget to check out Udaipur packages for couples as it is one of the most famous places to cover in Rajasthan tourism.
It is a wonderful architectural feat that gives Udaipur its pretty face, and the rulers of Mewar should admire it. These wise rulers literally created an oasis in the middle of the desert, thanks to their love of leisure and their passion for creation. There are many attractions in the city. I tried to summarize the must-see attractions in this guide to add to my itinerary in Udaipur. Udaipur is one of the most beautiful cities in Rajasthan and is a special city throughout India due to its unique terrain. It is widely known as the "Lakeside Town" because many lakes occupy most of the area and make the place more attractive. For this reason, Udaipur is sometimes referred to as "East Venice."
Among so many places to visit in Udaipur, the top attractions here are undoubtedly the sights of the lake and its surroundings. Apart from the beautiful views of the numerous gardens adjacent to these seas, Lake Pichola, Lake Fatehsagar, and several other man-made lakes in Udaipur offer most of the city's entertainment and water play. There are also many palaces and museums in the city. You'll be amazed at the luxury and dignity of the City Palace and Museum, Jagmandir Island Palace, and Sajangal Palace. Udaipur also has many ancient Hindu temples, the Eklinji and Jagdish temples being the most famous. Along with sightseeing, you can enjoy a cable car ride to McClamagra (literally meaning "fish hill") for a bird's eye view of Udaipur.
The live experience of local music and dance formats in the cultural village of Sylpgram. The city has plenty of surprises for shoppers, especially at the Hashipol Market in the old town of Udaipur. While you are busy with your eyes and ears soaking in the sights and sounds of Udaipur, there are some best things to do in Udaipur that are Instagram-worthy and must be included in your itinerary.
All you need now is a well-planned schedule to enjoy the city's best and most pleasurable experiences. So here's a list of some of the best things to do and include in your Udaipur tour package.
1. Visit the City Palace
The City Palace of Udaipur, built on the shores of Lake Pichola, is another Rajasthan masterpiece. The construction of this palace began under the direction of Maharana Udai Singh and was finished by his successors. The edifice is a beautiful mix of Chinese, Medieval, and European architectural styles. The domes, arches, and towers add to the splendour of the UNESCO monument. With its grand hallways, courtyards, terraces, pavilions, and gardens, City Palace is a visual feast. It is made of marble and granite.
There are several gates called "pols" in this area. The palace's main gate is called Bara pol. The Toranas are the eight marble arches, while the tripolia is the triple-arched gate. The City Palace complex contains a total of 11 palaces erected by various emperors. Enchant yourself with antique furniture, one-of-a-kind paintings, decorative tiles, and other regal artefacts. The Kumbhalgarh Fort is another site in Udaipur that should be at the top of any list of things to do in Udaipur.
It is 64 kilometres away from the major city and holds sentimental value. The renowned warrior Maharana Pratap was born in this fort. Rana Kumbha created this spectacular edifice in the 15th century, which is located below the Aravalli mountain. The region's difficult geography rendered it impossible to conquer. Inside the fort, there are stunning structures, temples, and palaces, and the light and sound display is a must-see. Maharana Fateh Singh repaired this edifice in the nineteenth century.
2. Go Sunset Boating at Lake Pichola
One of the best things to do in Udaipur for couples is to see the sunset, and Ingragram's worth a shot is at the Pichola, which is a man-made lake in the middle of Udaipur, Rajasthan. Pichola, the city's oldest and largest lake, draws thousands of visitors each year because of its peace and beauty. It is a quiet and nature lover's dream, surrounded by steep hills, ancient buildings, and bathing ghats. A trip to Lake Pichola would not be complete without a boat ride, especially around sunrise. The heritage buildings and the pure lake turn golden with the sun's reflection in the evenings, giving the impression that the entire site has been dipped in gold. The captivating sights will transport you to a new realm of tranquilly while also bringing out your amorous side.
Pichola Lake is three miles long, two miles wide, and thirty feet deep. It was constructed in 1362 AD by Pichhu Banjara during the reign of Maharana Lakha. Enchanted by the beauty of the lake, Maharana Udai Singh expanded it and built a dam on its banks. The lovely green hills in the background, with several regal mansions lining their banks, are the cherry on the cake.
3. Explore Shilpgram Fair
One of the best activities to do in Udaipur is to see the Shilpgram Fair,  which is an annual fair held on the city's western edge and exhibits Rajasthani fabrics, textiles, handicrafts, and royal artefacts. Bandhani, terracotta, tie and dye, mirror work, and other creative aspects of Rajasthani culture are among those on show during Shilpgram Fair. Visitors may also participate in the workshops, where they can watch the development and progression of textiles and handicrafts. On some days, there are even pottery courses, making this fair one of the most delightful things to do in Udaipur. The festival features neglected artisans so that people may witness the labour that goes into crafting handicrafts and materials.
4. See the Sunset at Fateh Sagar Lake
Fateh Sagar Lake, surrounded by mountains on all sides, is an artificial lake created in the 1680s that provides some of the most magnificent vistas in Udaipur. Fateh Sagar Lake is located immediately before the entrance to Moti Magri Hill, to the north of Lake Pichola.
The pear-shaped lake offers spectacular views of the Aravalli Hills and life on the lake's three tiny islands. The main island is home to Nehru Park, a popular picnic site for visitors featuring gardens, a boat-shaped café, and a small zoo. The second (unnamed) island is home to a vast park featuring a water-jet fountain, while the last island is home to the Udaipur Solar Observatory, Asia's best solar observation site.
5. Explore Udaipur's Ancient Lanes & Alleyways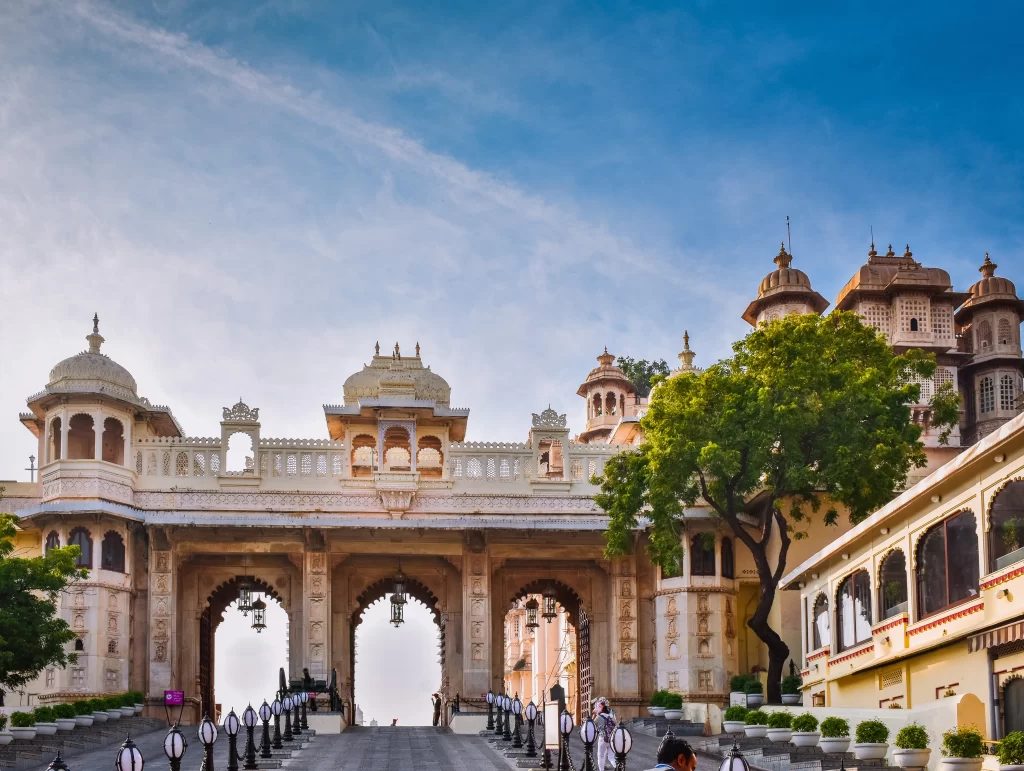 Whatever brings you to Udaipur, it's difficult to dispute that it's a fantastic city to spend a few days exploring. While the city is clearly exhibiting its age (part of it comes from the 16th century, after all), Udaipur is a lovely town built around a few lakes and surrounded by spectacular mountains.
Because of its old city center and stunning environment, Udaipur has served as the location for a number of Hollywood and Bollywood films, most notably the James Bond film Octopussy, which is heavily promoted in these areas. In reality, the film is shown at a variety of locations on a daily basis. Udaipur is also famous for weddings and honeymoons, and it is often referred to as India's most romantic city. Walking around central Udaipur not only gives you a taste of the city's history and culture but also provides an infinite opportunity to get lost in its busy streets and meandering alleyways.
Intrigued? Udaipur is a city of romance, rich in history and beauty. It is supposed to be consumed slowly so that you can fully appreciate everything it has to offer. Udaipur, with its floating palaces and a city steeped in royal tradition and ways of life, is the place to be. So, what are you holding out for? The current city of love awaits you. Book an adventurous trip and a memorable holiday in Udaipur, Rajasthan.