Reading Time:
12
minutes
Famous by the name of 'The City of Lakes,' Udaipur is known for its breath-taking lakes. Unarguably one of the most romantic Indian cities, the elegant Udaipur presents a great amalgamation of modernity and antiquity.
With its world-famous lakes, majestic hills, narrow winding streets, grand marble palaces, and more, the picturesque city draws the attention of tourists not just from India but the world.
There are a number of lakes in Udaipur, but the write-up mentions the top 7 lakes (in no particular order) that you cannot miss out on when you are in the city of lakes.
Fateh Sagar Lake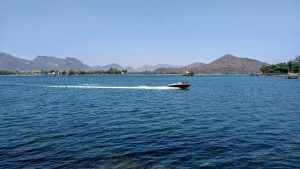 Of several places to visit in Udaipur, Fateh Sagar Lake is held in high regard among tourists of all ages. This gorgeous lake was originally constructed by Maharana Jai Singh and named after Maharana Fateh Singh of Mewar and Udaipur who later remodelled and enlarged it in 1889.
A true paradise for photographers, mornings and evenings here are soothing to the eyes and soul, and thus makes these moments worth capturing in your camera as you witness the hues and colours changing gradually on nature's own canvas. Visit Fateh Sagar Lake in Udaipur at any time of the year and this magnificent waterbody will not disappoint you with its serene yet harmonious waters and spectacular views of the Aravalli Hills. However, the most ideal time to visit this ravishing lake is between October and March.
Besides the shimmering beauty of this lake, there is so much to explore here. Speaking of the attractions, the lake has three tiny islands. On the largest of these islands, the first one has the lush green Nehru Park, the second one has a public park with a remarkable water-jet fountain, and the third one hosts Udaipur Solar Observatory (USO). Other than these attractions, get you can enjoy a boat ride, walk on the Fateh Sagar Pal, ride a camel, and relish your favourite snacks at food joints near the lake.
Timings: 8:00 AM to 6:00 PM (On all days of the week)
Entry Fee: No entry fee 
Udaisagar Lake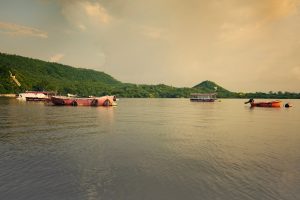 One of the five prominent lakes to visit in Udaipur, Udaisagar Lake is named after Maharana Udai Singh who commissioned the creation of this 4-kilometre-long and 2.5-kilometre-wide lake in 1559 and got it built by 1565. Being one of the legendary lakes in Udaipur, Udaisagar Lake holds great significance among tourists and historians alike as the lake is said to have witnessed several battles and wars fought on its banks.
Known for its mesmerising beauty, mornings and evenings at Udaisagar Lake are certainly a thing to experience. Breathe slowly and deeply as you sit on its bank and gaze at its sparkling waters and get soaked in the beauty of the place.
As stated by many, the best time to visit this wonderful lake during the monsoons as the entire surroundings get more fresh and greener. However, the ideal time to visit Udaisagar Lake is between September and March as the temperature in these months drops considerably. Located about 13-kilometres from the main city square, one can conveniently reach here with private vehicles or public transport from hotels in Udaipur.
Timings: Open 24×7
Entry Fee: No entry fee
Lake Pichola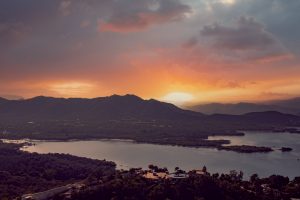 Built in the 14th century, Lake Pichola in Udaipur is known for its breath-taking beauty. Being one of the largest lakes in Udaipur, it has been featured in several Bollywood and Hollywood movies as well. Kudos to its picture-perfect splendour that attracts tourists in great numbers.
Talking about the attractions that further add to the popularity and charm of this lake, it includes the four islands on it. The first island is Jag Niwas on which the luxury hotel, Taj Lake Palace is located. For people who are looking for the best destination wedding in Udaipur, there is no better place than this grand hotel in Udaipur that overlooks the most stunning lake. The second island is Jag Mandir that again houses the palace of the same name. Mohan Mandir is the third island that is an uncompleted structure and appears very similar to a temple. It used to be a place from where the king would watch and enjoy the annual Gangaur festival celebration. The last one is Arsi Vilas which has a small palace on it.
All these spots offer amazing views of this fabulous lake. Besides, the lake has two ghats – Gangaur and Ambrai. These are pretty popular amongst tourists and also serve as a point from where one can enjoy the stunning sunsets by sitting at the shore of this lake. When you are here, do not miss out on the boat ride during the sunset so that you can capture some amazing pics to create everlasting memories with your loved ones and companions.
Timings: 9:00 AM to 6:00 PM (On all days of the week)
Entry Fee: No entry fee
Rajsamand Lake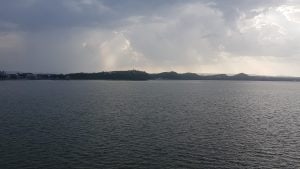 Located near the town of Rajsamand, this elegant lake was built by Maharana Raj Singh in the year 1660. Speaking of its length and breadth, the grand lake is 6.4-kilometre long and 2.82-kilometre wide. Serene waters and the hilly surroundings of the lake make it a perfect escape for those who are longing for nature therapy. Here you get the perfect ambience to lose yourself and get the much-needed time to unwind and relax. No reason why this lake always finds its spot in the list of Udaipur city of lakes.
The most notable highlight of this lake is its nine marble ghats which are also known as 'Nav Chawkis.' On these ghats, you can see the history of Mewar etched on cenotaphs and pavilions. Deemed as one of the beautiful lakes in Udaipur, the best time to visit here is between October and March as the temperature is quite favourable in these months.
Timings: Open 24×7
Entry Fee: No entry fee
Jaisamand Lake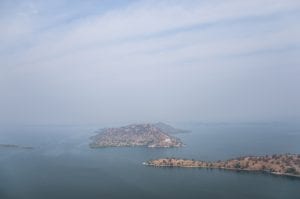 Also known as Dhebar Lake, Jaisamand Lake in Udaipur is India's first and world's second-largest artificial lake that was built by Maharana Jai Singh in 1685. With plenty of natural beauty, the lake houses three islands, of which two bigger islands are known by the name of Baba Ka Magra, and the smaller one is called Piari. The most prominent highlight of this scenic lake is Bhil Minas, a tribal group that still inhabits one of its islands.
The lake houses several palaces on its islands and on the banks, it has cenotaphs with intricate carvings on a marble stone. Another interesting attraction is the Jaisamand Wildlife Sanctuary where you get the chance to spot bears, deer, and birds of different species. The lake draws the attention of tourists, bird enthusiasts, and scientists alike, all throughout the year.
Timings:Open 24×7
Entry Fees:No entry fee
Dudh Talai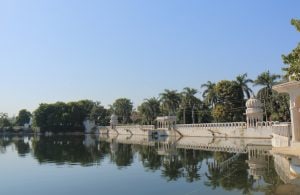 Besides being home to several big and spectacular lakes, the city of lakes houses many small lakes as well and one of them is Dudh Talai. Located at the south-eastern end of the iconic Lake Pichola near the residence of Maharana Fateh Singh, Shiva Niwas Palace, this small pond is famous by the name of 'Pond of Milk.' The place once used to be a grazing area for the cows that provided milk to the regal families, and this is how it gets its name.
Surrounded by several small hillocks, getting up to Dudh Talai is an experience that is going to stay with you forever. When you are here, you can pay a visit to the nearby attractions hosted by these hillocks like Pandit Deen Dayal Upadhyay Park (a spellbinding musical garden), Manikya Lal Verma Garden which is also known as Rock Garden or Musical Fountain Garden, and The Ropeway which takes tourists to the Karni Mata Temple. The place shares a common walkway with the Lake Pichola where you can sit for long periods to enjoy some moments of solace while gazing at the surreal views of the Dudh Talai and its environs. In case you are not in a mood for the 'Me' time, you can also go on a camel or horse ride if you wish to do that. No wonder why Dudh Talai finds its place in every Udaipur tour package.
Timings: Open 24×7
Entry Fee: No entry fee
Swaroop Sagar Lake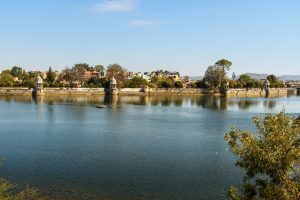 One of the mesmerising lakes in Udaipur, Swaroop Sagar Lake is an engineering marvel that was built by Maharana Swaroop Singh of Udaipur during the 1857s. Tucked peacefully between Fateh Sagar Lake and Lake Pichola, this picturesque lake is not only helping with the city's water congestion problems, but also a fantastic spot for tourists who come here in great numbers to unwind and relax.
Also known as Kumharia Talab, the lake enjoys a locational advantage for being in proximity to other prominent tourist sites including the Jagdish Temple and Bagore ki Haveli. These sites further add to the popularity of this stunning lake. When you visit here, do not forget to bring your camera to capture the gorgeous stills of this lake. Besides, you can simply sit by the banks of this visually stunning lake to enjoy some time in serenity with nature or simply get on a boat to enjoy a soothing boat ride.
Timings: 8:30 AM to 6:30 PM (Open all days)
Entry Fee: No entry fee
In case you are planning to visit Udaipur anytime soon, you know where you need to head for a peaceful vacation.