There are very few places in the world that has everything to offer to their visitors. Malaysia is one of those few places with a rich multicultural heritage, modern architecture, some of the best tourist attractions, and abundant natural beauty. Malaysia is a country in Southeast Asia, separated into two territories, Borneo's East Malaysia and Peninsular Malaysia.
And as mentioned earlier, Malaysia has something for everyone. Home to around 20% of animal species in the world, the biodiversity in Malaysia is flourishing, making it a favourite destination for animal lovers. And with an ever-prosperous tourism sector, Malaysia is touted as one of the best tourist destinations in the world. There are so many things to do in Malaysia and so many things to explore, this country is a traveller's paradise.
Let's explore what all this amazing country has to offer for its visitors:
1. Shop, Shop, Shop
When in Malaysia, you will find that there are a lot of things to do in Kuala Lumpur, the capital of Malaysia. And you cannot begin your excursion without some retail therapy. There's no better start to a trip than going on a shopping spree and there are many places in Malaysia where you can shop to your heart's content such as Central Market and China Town. These two places are among the most popular Malaysian attractions. From local handicrafts to art clothes to souvenirs, you may find yourself spoilt for choice if you are a true shopper at heart.
2. Not Without Some Food
When you are done shopping, you will need some food, some good food! No trip is ever complete without good food and if you enjoy eating, then Malaysia has a lot of gastronomical surprises for you. So, on your 'things to do in Malaysia' list, add Jalan Alor. Famous for a wide array of food stalls, Jalan Alor, in Kuala Lumpur, Malaysia. Being the largest city in Malaysia, Kuala Lumpur has many things to do and experience, and trying out the traditional Malay food items is one of them. Do try char kway teow, keropok lekor, lok lok, apam balik, ayam percik are a few to name. You may thank us later.
3. The Twin Towers
One of the most iconic tourist attractions in Malaysia is the Petronas Twin Towers. With 88 storeys, Petronas Twin Towers are popular for their distinctive postmodern Islamic architecture and sheer grandiose style. If you still have energy and moolah left from the earlier shopping spree then you will love Suria KLCC, home to all the upmarket and luxury labels for your perusal. People from all over the world visit Petronas Twin Towers, making it nothing short of a tourist attraction in Malaysia.
4. Beaches and Sun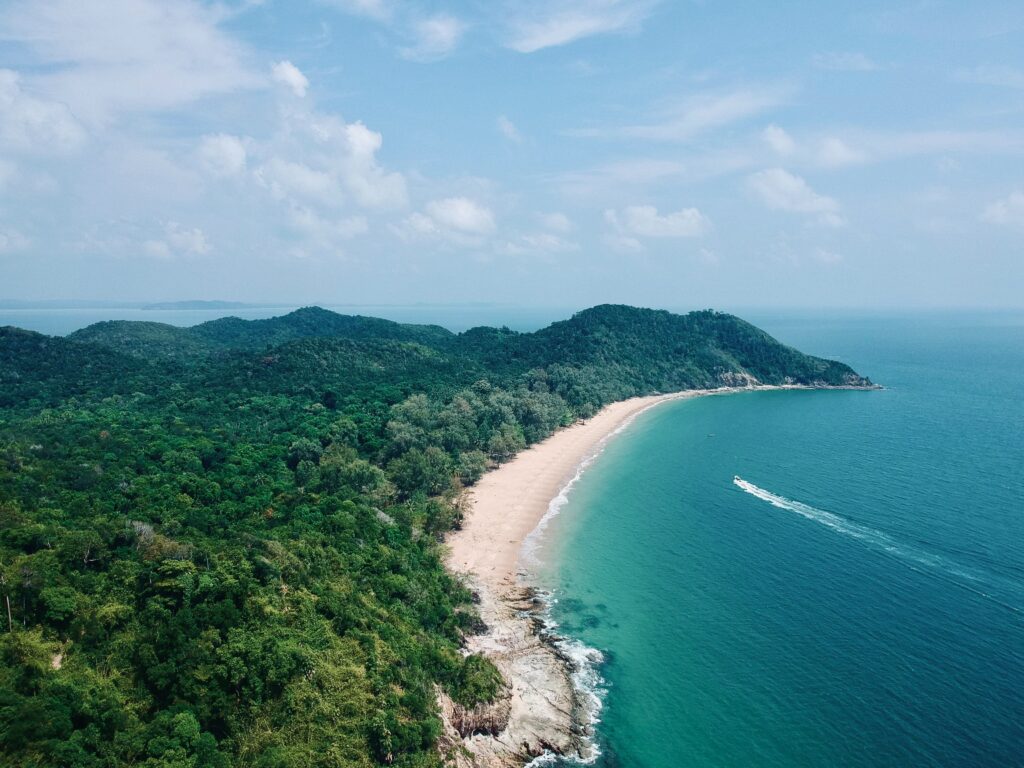 If you are in Malaysia for sightseeing and want to see amazing things in Malaysia, know that the country has a lot to offer. From amazing shopping scenes to scrumptious treats for your test buds, Malaysia is home to some of the most spectacular beaches. Malaysia has a number of beaches that are a must-visit if you are here but if you are looking for a beach sans a tourist spot in Malaysia then Perhentian Islands are perfect for you. Situated in the district of Kuala Besut, Perhentian Islands feature turquoise waters and white sand beaches. The unspoiled beauty and the presence of some of the best beach resorts, make this place one of the best attractions in Malaysia. Apart from Perhentian Islands, some other beaches in Malaysia as the best tourist spots are Kota Kinabalu, Mersing, Langkawi, etc.
5. Underwater Walking
There are a lot of things to see in Malaysia but nothing can compare to underwater walking. Is that even a thing?! Well, it certainly is in Borneo, Malaysia. If you do not know how to swim, do not worry, you can now walk underwater. You will be given an underwater helmet that will keep supplying a sufficient amount of air to help you breathe normally while you can take a walk underwater and explore the magical marine life. How cool is that! Underwater walking is fairly new and surely, among the amazing things to do in Malaysia.
6. Langkawi Sky Bridge
When we said there are so many things to do in Malaysia, and so many things to explore, we weren't exactly exaggerating. After you are done shopping, eating, again shopping, and underwater walking, it is time to behold the breathtaking view of Telaga Tujuh waterfalls and the dense rainforest of Gunung Mat Cincang from a height of 660 metres above sea level. Langkawi Sky Bridge ranks as the longest curve suspension bridge in the world. If you are a photographer, you are in for some amazing shots and if you are someone who likes to get photographed, then you can get some really #instaworthy shots. Langkawi Sky Bridge is one of the most sought-after places for sightseeing in Malaysia.
7. Tram Ride to Penang Hill
If you are booking a holiday package to Malaysia, you must ensure that your tour itinerary has the iconic tram ride to Penang Hill. Ride up Penang Hill in a steep funicular railway of 1996 meters. You will get to behold the verdant scenery as you pass by the dense foliage and a number of picturesque sights. As the train reaches the top, you can explore the Owl Museum and the Komtar Skywalk. Riding this tram up to Penang Hill has to be one of the most fun things to do in Malaysia. Do give it a try!
8. Cameron Highlands
Malaysia is endowed with mesmerising beauty and the Cameron Highlands district in Pahang, Malaysia is a testament to that. From tea plantations to mossy forests to lavender gardens, Cameron Highlands is a place that does not just soothe the eyes but pacifies the soul and gratifies the heart. When you are done with all the touristy stuff, do pay a visit to Cameron Highlands in Pahang and you will not regret it. With dense forest trails, tea plantations, butterfly farms, and falls, it seems like Cameron Highlands was handcrafted by the almighty. If nature gives you peace and solace, Cameron Highlands is one of the best things to see and experience in Malaysia. Also, if you are into spirituality, you may like the idea of visiting temples in Cameron Highlands, there are quite many.
Malaysia has always been popular amongst tourists and travellers from all over the world for its mesmerising cultural heritage, amazing beaches, delicious food, and verdant landscapes. If you wish to experience Asia in its true sense, Malaysia is the best place to start.