Reading Time:
9
minutes
With a glorifying history, rich culture and delectable cuisine, Rajasthan is undoubtedly one of the most sought after holiday destinations in India. Blessed with beautiful landscapes of lush green forests and golden deserts, this state enthrals a huge number of visitors throughout the year. On your trip to the Land of Maharajas, you can find a number of ancient temples and magnificent forts. The Taragarh Fort in Ajmer is among the most famous forts in Rajasthan. This impressive structure is also one of the popular tourist places in Ajmer.
Let's dive deeper and discuss what you can expect on your visit to the Taragarh Fort:
Why is this fort so famous?
Known for its grandeur and stunning architecture, the giant Taragarh Fort in Ajmer stands at a height of about 1300 feet above ground level. Built upon a steep hillside, this fort offers a breathtakingly beautiful panoramic view of the city. This massive fortress has three grand gateways named Phuta Darwaza, Lakshmi Pol, and Gagudi Ki Phatak. Also, the intricate carvings you get to see here are the finest example of art. But, all you see today is only the remnants of this impressive architecture.
Within the fort, there is a crisscross section of tunnels as well. In early times, these tunnels were used as a hideout to escape during enemy attacks. You can also find a famous shrine inside the fort, Miran Saheb ki Dargah. It was named after Miran Saheb who was the garrison commander or qiladar of the Taragarh Fort and is still remembered for his sacrifice for safeguarding and protecting it from enemies.
History
This invincible fort is believed to be built by the founder ruler of the city, King Ajaypal Chauhan in 1354 which makes it one of the oldest forts in India. During the time when the Mughals ruled Ajmer, this fort was used as an important centre of military activity. In the later years, during the British Raj, the Taragarh Fort was dismantled on the orders of Lord William Bentinck and then continued to serve as a sanatorium for the British troops.
Best Time to Visit
Being a year-round destination it is you can visit the Taragarh Fort at any time of the year. However, the weather gets extremely pleasant and soothing during the winter months so planning a trip between October to March is the best idea.
Entry Fee & Timings
Timings to visit the Taragarh Fort, Ajmer are from 6 AM to 8:30 PM, on all days of the week. To visit the fort, you will not have to pay any entry fee. However, if you are not familiar with the place and need a guided tour, you can hire a professional tour guide. And you will have to pay for the service of the guide.
How to Reach?
If you are wondering how to reach Taragarh Fort, Ajmer, you do not have to worry at all. This place has good connectivity from other parts of the country.
By Train: The nearest railway station is the Ajmer junction which lies on the Mumbai – Ahmedabad – Jaipur – Delhi line. You can easily find a train to Ajmer from all major Indian cities like Delhi, Mumbai, Jaipur, Allahabad, Kolkata etc.
By Road: This place is well-connected to all major cities in India by national highways and well-maintained roads. You can either take a bus as the Ajmer Bus Stand is the nearest one.  Or, you can hire a private taxi to reach here.
By Air: At an approximate distance of 30 kilometres, Kishangarh Airport is the nearest one. Finding a flight for here is not a problem, no matter where you are travelling from. Once you reach there, you can hire a private taxi or take an RSRTC bus to reach Taragarh.
Other Places to Visit in Ajmer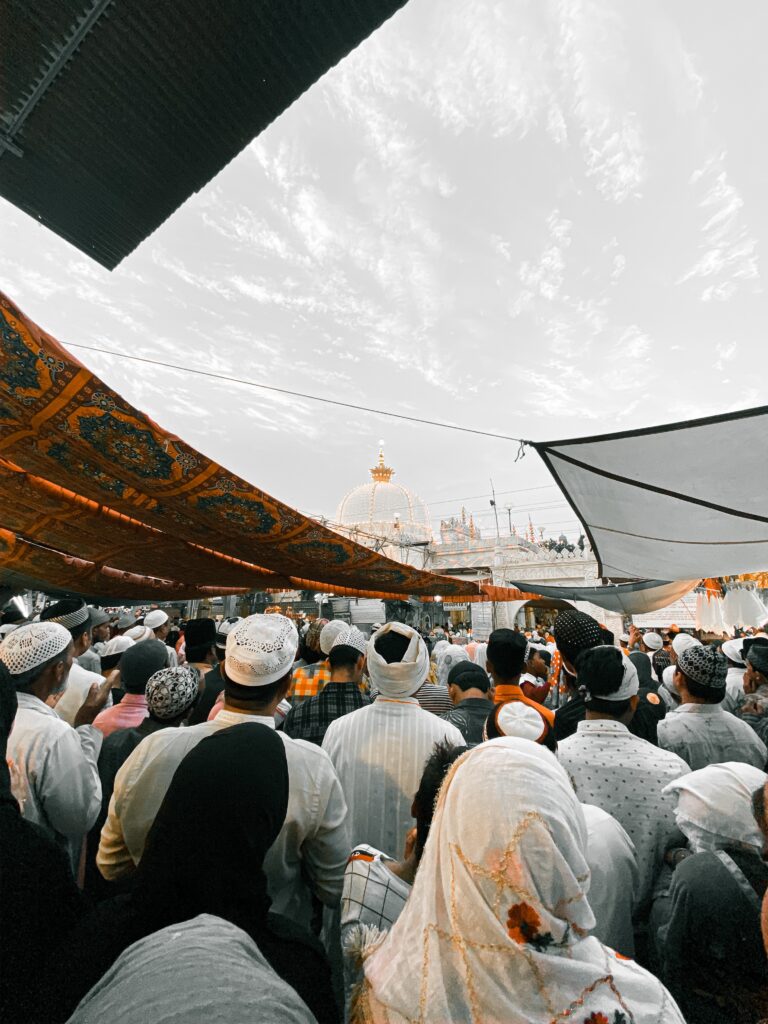 Ajmer Sharif Dargah: Ajmer Sharif Dargah is of the most famous shrines in India. It is the tomb of Khwaja Moinuddin Chisti, a saint who devoted his whole life to poor people. On his death anniversary, an annual six-day-long Urs festival is organized where candles are lit and prayers are made along with overnight qawwali performances. Despite being a Sufi shrine, millions of people from different faiths visit the Dargah every year and set an example of secularity.
Adhai-din-ka-Jhonpra:  This beautiful structure has got this interesting name as it is believed to have been built in two and a half days. Being built by Qutub-ud-Din-Aibak in AD 1199, it is one of the ancient mosques in India. A large number of visitors come here because of the religious significance of this place.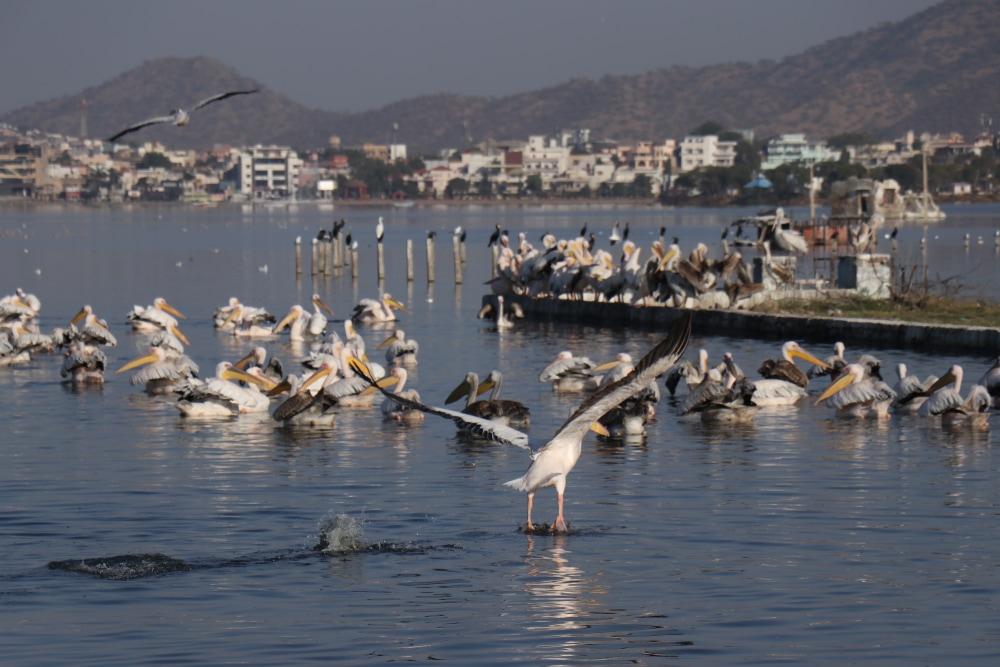 Ana Sagar Lake: It is an artificial lake constructed in the 12th century by Anaji Chauhan and has been named after him only. He was the grandfather of the famous Rajput King, Prithvi Raj Chauhan. This is a perfect place for your serene evening walks as the view it offers at the time of sunset is incredible.
Durga Bagh Garden: Situated on the banks of the Ana Sagar Lake, this beautiful garden was built by Maharaja Shiv Dan in 1868 AD. With the lush green surroundings, this garden serves as an ideal picnic spot to spend a lazy afternoon.
Akbar's Palace: Constructed in 1570AD, this is the place where Akbar and his troops stayed at during his visits to the Ajmer Sharif Dargah. Now it houses a museum where you can find the age-old military weapons and exquisite sculptures, paintings and other artefacts of the Mughal era on display. This museum serves as the perfect example of the Rajput and Mughal style of living.
Foy Sagar Lake: This is another artificial lake that serves as a popular picnic spot. Offering a 360 angle view of the neighbouring Aravalli peaks, Foy Sagar Lake is one of the most serene and calm places you can visit on your trip to Ajmer.
Prithvi Raj Smarak: Dedicated to the fearless Rajput King, Prithviraj Chauhan, this memorial houses a massive statue of him mounted on a black horse. Located on the Taragarh Road in Ajmer this structure is perched atop a hill and it offers breathtaking panoramic views of the city.
Sambhar Lake: Located at a distance of 64 kilometres from Ajmer, Sambhar Lake takes the pride of being the largest inland saltwater lake in India. It is the source of most of Rajasthan's salt production as it produces 196,000 tonnes of clean salt every year. This lake covers a total area of around 5700 square kilometres and is fed by five rivers: Medtha, Samaod, Mantha, Rupangarh, Khari and Khandela. It is a popular tourist destination among all kinds of visitors, be it nature lovers, bird watchers or photography enthusiasts.
If you are booking an Ajmer tour package, Taragarh Fort needs to be on your travel itinerary. This is just the perfect place for history buffs. With an awe-inspiring history and beautiful Rajasthani architectural style, this is definitely one of the best hill forts in Asia.