Ajmer Tour Packages
Near the sacred land of Pushkar lies this beautiful city of enchanting sights.
Ajmer is a bustling city that is located in the south-western region of Jaipur. The city is close to the Hindu pilgrimage town of Pushkar and is surrounded by the expansive lake of Ana Sagar. Celebrated as one of the most prominent Muslim pilgrimage sites across the world, Ajmer is a highly preferred tourist place amongst vagabonds. The city is also selected as one of the heritage cities under the Heritage City Development and Augmentation Yojana (HRIDAY) scheme of the Government of India which underlines its significance.
Encircled by the Aravalis, Ajmer offers a breath-taking view of the hills. At Veena World, we have curated some of the most amazing itineraries that can elevate your Ajmer trip experience. These can be availed by opting for any of the Ajmer tour packages that we have on offer online at our website.
Packages Coming Soon!
Currently, there are no package(s) found matching your holiday request.
Please try exploring our other available options by checking out trending destinations. Our dedicated Travel Experts are on hand to offer you an expert guidance and support throughout the entirety of your trip.
Reach out to us 1800 22 7979 or drop an Email at travel@veenaworld.com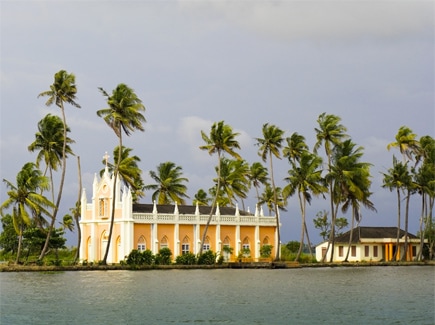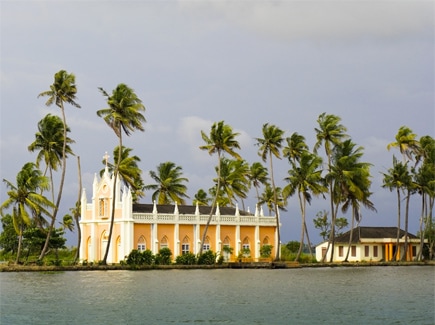 SUPER DEAL PRICE
Starts from
per person on twin sharing
Trending Indian Customized Tours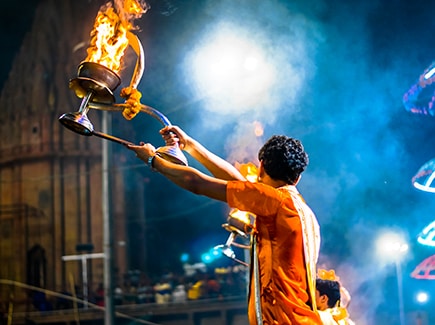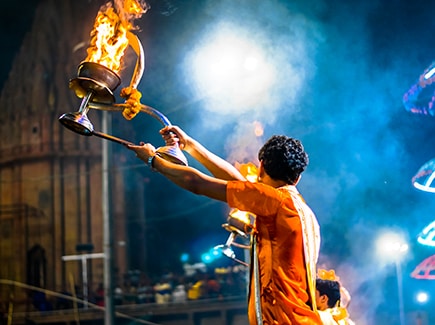 CUSTOMIZED HOLIDAYS
SHUP6
Starts from
per person on twin sharing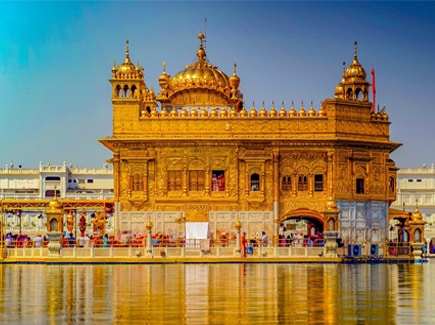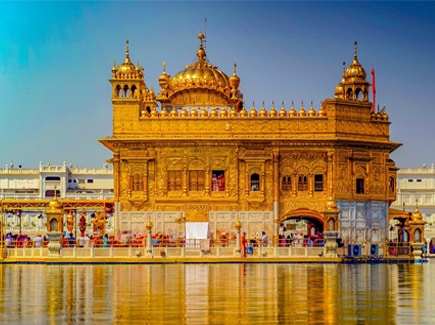 CUSTOMIZED HOLIDAYS
SHPB2
Starts from
per person on twin sharing
Veena World tour reviews
What are you waiting for? Chalo Bag Bharo Nikal Pado!
Ajmer Frequently Asked Questions
We help you prepare for your trip and ensure an effortless and enjoyable travel experience.
Being a year-round destination, you can plan a tour to Ajmer whenever you want to. However, the winter season, from October to February is the best time as the weather remains soothing and pleasant. The temperature ranges from 15-20° C and the days do not get very cold.
While packing for your Ajmer tour package, it is important to pack according to the current weather conditions. The city has a hot, semi-arid climate and the temperatures remain relatively high throughout the year. During the summer, the average temperature ranges from 28 to 32°C so it is better to pack cool and breezy clothes. The city also experiences frequent heavy rain and thunderstorms during the monsoon and the winters are mild with temperatures ranging from 15 to 18°C with little or no humidity; hence, always keep some warm clothes when travelling at this time.
Although our Ajmer travel packages have been curated carefully to cater to your needs, you also have the option to customize your holiday tour to Ajmer as per your travel plan. This includes your itinerary and choice of accommodation. The packages can vary depending on other factors like your budget, duration of the trip, meal preferences, etc. Explore our curated tour packages for Ajmer or customize your own – the choice is yours.
Ajmer is one of the oldest cities in India that is beautifully nestled within the Aravalli range. It is a popular tourist attraction that holds religious significance for both Hindus and Muslims. Here are a few places that you should cover on your trip to Ajmer:
● Lord Brahma Temple, Pushkar
● Dargah Ajmer Sharif
● Ana Sagar Lake
● Adhai Din ka Jhopra
● Foy Sagar Lake
● Clock Tower
● Marble City, Kishangarh
● Nathdwara
● Pushkar Bazar
Surrounded by the mighty Aravalli mountain range on one side and the famous sand dunes on the other, Ajmer is a must-visit place. A favourite of many tourists around the world, our Ajmer tour packages lets you experience attractions like Ajmer Sharif Dargah and Golden Jain Temple and savour Dal Bati Churma or Rajasthani Pulao. With Veena World, you can customize the itinerary of your Ajmer tour package, including the places you want to cover during your visit, the number of days you want to stay, accommodation, etc.
Ajmer is well-connected to other major cities in India by road and rail networks. One can easily book a cab or hire taxis that are available outside the airport. There are private as well as government buses that also ply to Ajmer from the state capital as well as from other cities in India.
Ajmer is on the railway route that connects Delhi, Jaipur, Marwar, Ahmedabad, and Mumbai. It is well connected by rail since the majority of trains on this route stop at Ajmer.
There's also the Kishangarh Airport that is 30 km away from Ajmer which makes it accessible by air. If you are planning a trip to Ajmer, then rest assured as our Ajmer Sharif tour packages take care of this so that getting around is easy and convenient.
With an increasing influx of tourists choosing Ajmer holiday packages to witness this destination, the city's nightlife has also evolved. If you are looking for budget-friendly or high-end bars and nightclubs, then Ajmer has plenty of them. You can visit the following places to explore the nightlife of Ajmer - Xenious LN Courtyard, Sukoon, The Hookah Lounge, Lazeez Affaire, Ajmer Club, Mokha's, Olive Kitchen and Arabian Night Restaurant, etc.
Yes, one must follow a socially appropriate dress code while visiting the holy Ajmer Dargah. Other than this, one must also remember that it is important to cover the heads before entering the Dargah. These good-to-follow practices while visiting the Dargah is something we clearly mention in the itinerary of the Ajmer tour packages we offer.
Yes, Ajmer is safe to travel. However, you must follow the basic COVID-19 protocols prescribed by the Rajasthan state government before entering and taking a tour of Ajmer.
Please read the latest destination-wise travel guidelines here. Since these guidelines are subject to change, we would recommend you to check our Travel Guidelines page every time before you travel so that you are in the know-how about the latest changes.
It depends on how many places you want to visit in Ajmer or if you are combining it with other cities of Rajasthan. Ideally, 3 days are enough for an Ajmer trip to visit some of the best places in Ajmer, like exploring the famous historical structure of Adhai Din ka Jhonpura, Ajmer Sharif Dargah, Nasiya Digamber Jain Temple, Daulat Bagh Garden, Ana Sagar Lake and so much more. We would recommend you to plan accordingly.
Get to know more about Ajmer before booking your tour packages
With all that the beautiful town of Ajmer has to offer, booking an Ajmer tour package online from Veena World is one of the best ways to explore every nook and corner of this splendid city. You can also check the various Ajmer Sharif tour packages and their prices to pick the one that matches your criteria the best and enjoy your vacation to the fullest.
The city of Ajmer offers a myriad of spots that act as an epitome of the splendour that it holds in its Indo-Saracenic architecture. A classic example of this is the Mayo College which is one of the first institutions that led to the introduction of the British style of education in India. Do not forget to take your camera along while strolling in the streets of Ajmer as you will be able to witness the breath-taking view of Nag Pahari and the Taragarh Fort at the peak. From here, you can get a glance of the entire city. Also visit the phenomenal creation of Adhai Din Ka Jhonpra and Akbari Fort that recites tales of Ajmer's glorious history. With Veena World's Ajmer holiday package online, one can explore all these places on the Ajmer tour, a sightseeing experience you are sure to appreciate.
Experience Ajmer
The city is famous for its Muslim pilgrimage centre – Ajmer Sharif Dargah, the shrine of Khwaja Moinuddin Chishti who founded the Chishtiya order, the prime Sufi order in India. The city boasts of intricate Mughal architecture as well as the valour of Rajput kings like Prithvi Raj Chauhan which makes Ajmer a perfect blend of Hindu and Mughal cultures. Ajmer also houses the Ajmer Jain Temple which is one of the most auspicious centre points for the followers of Jainism.
Following are some of the must-visit tourist spots that will help you plan your Ajmer tour:
Ajmer Sharif Dargah

Constructed in the honour of Garib Nawaz – the propagator of Sufism, it is not surprising that Ajmer Sharif Dargah tops this list. The main tomb of Ajmer Sharif Dargah is mostly made of marble and covered with gold plating. The tomb is guarded by silver railings and a marble screen which provides it with a dreamy look. If you wish to soak in some spirituality, Ajmer Sharif Dargah is the place to be. Here, you can offer 'phoolon ki chaadar,' flowers, and incense sticks while seeking blessings for your loved ones. Owing to such elements, the Dargah provides an extremely soothing and spiritual vibe. So, be sure that you pick a well-priced tour package that includes Ajmer Sharif Dargah.

Adhai Din Ka Jhonpra

One of the oldest mosques in India and the oldest surviving monument in Ajmer, Adhai Din ka Jhonpra is named so because its construction was completed in just two and a half days. Its intricate detailed tomb-like structures, arched screens, and exquisitely designed pillars and minarets make it unbelievable that this masterpiece took less than three days to be constructed. You can also witness the stunning Indo-Islamic architecture along with some calligraphic inscriptions here. Built by Qutub-ud-Din-Aibak, Adhai Din ka Jhopara is a must-visit if you are planning a trip to Ajmer soon.

Daulat Bagh

Located next to the Ana Sagar Lake, the beautiful Daulat Bagh is one of the most beautiful spots in Ajmer. The place is filled with lush green plants and the Ana Sagar lake alongside bestows the place with an ethereal view. One can enjoy a peaceful evening here in the lap of nature.

Mayo College

Also known as the "Eton College of the East," Mayo College is the oldest public boarding school in India. You have to visit this place on your Ajmer tour. Founded by Richard Bourke in the year 1875, the architecture of this institution is so intricately designed that some of the elements are displayed at the Danmal Mathur Museum. Apart from this, the marble used in the college is the same as that of the one used in the Taj Mahal. This gives you all the reasons to add this spot in your Ajmer itinerary.

Soniji Ki Nasiyan

A prominent inclusion among tourist places in Ajmer, Soniji is a lavishly designed temple built in the late 19th century. While the temple depicts various stories of the Jain mythology through some of its intricate carvings, the gold structure provides the temple a royal and splendid look. The temple is extremely auspicious for the followers of Jainism. The temple is also featured in the book "Jainism: A Pictorial Guide to the Religion of Nonviolence" by Kurt Titze.

Taragarh Fort

Taragarh fort, popularly known as the Star Fort, was established by the Chauhan Dynasty. The structure and the detailing of the fort are so remarkable that Rudyard Kipling once described the fort as "more the work of Goblins than men." Sitting right on the top of the Aravali range, this fort offers a magical view of the city of Ajmer, making it one of the major tourist attractions during your Ajmer trip.
Things to do in Ajmer
Some activities that your Ajmer tour package must have are:
Boating:

One can enjoy boating at the beautiful Lake, Foy Sagar. You can also visit the Ana Sagar Lake and sit in Daulat Bagh that is adjacent to it, a garden filled with lush green plants.

Shopping:

The city has a women's market that is popularly known as the Mahila Mandi. Among the most famous places in Ajmer, this is where you can find odhnis – traditional veils, saree cloth, lehengas, and other traditional attires for women. Although this is a women's market, one can find clothing items for men as well as children.

Dine-in:

Some of the famous eateries in Ajmer include Honeydew Restaurant, Hotel Bhola, Mahadev ka Dhaba, and Pandit Restaurant. You should also try the famous, refreshing lemon soda in the Dargah Bazaar.

Participate in the Camel Fair:

Held in the neighbouring town of Pushkar, the camel fair is an event that you should not miss out on. This fair is a cultural fest that has some amazing events like the longest moustache competition, camel riding, and folk performances that go on for five days. Its diverse schedule makes it a major tourist attraction near Ajmer. You can always check if the cost of your Ajmer tour package includes a visit to these places.



Best Time to Visit Ajmer
The best time to visit Ajmer is:
Winter: October to February




Temperature: 15° and 20°C

Winters are considered to be the best time to visit Ajmer as the weather is slightly cold and pleasant. This makes it much easier to explore the many tourist spots in Ajmer.




Also, if you wish to visit Ajmer Sharif, we would advise you to visit the city when the Urs festival is held. The celebrations happen for six days in the Dargah in the seventh month of the Islamic lunar calendar. This is the time when the mosque is decorated beautifully and offers a visual treat for the tourists.