Reading Time:
10
minutes
Regarded as the 'Gateway to the North-East', Guwahati is the largest city in Assam, along with being the largest metropolis in the entire North-Eastern region in India. The city is often the starting point to other beautiful destinations like Shillong in Meghalaya, Kohima in Nagaland, Tezpur, and so on. Guwahati is clubbed between the mighty Brahmaputra River from one side and the Shillong Plateau on the other side. Formerly known as Pragyajyotishpura, the current name 'Guwahati' is a derivative from the combination of two Assamese words, 'Guwa', which means Areca Nut and 'Haat', which means market.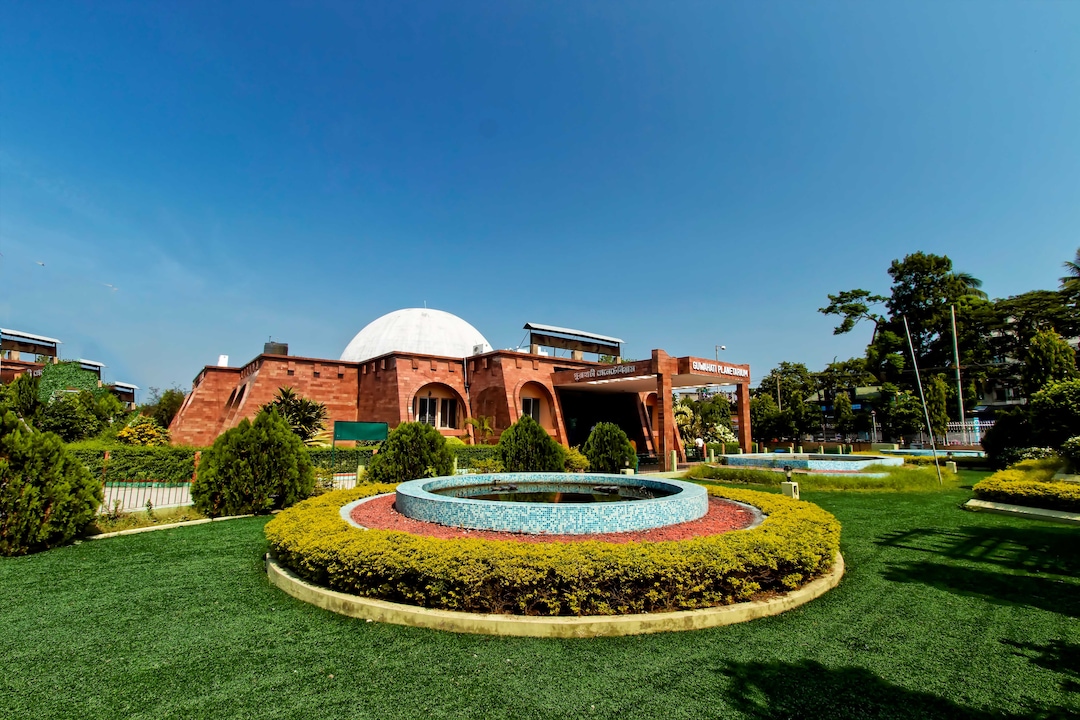 Assam's capital, Dispur, is located in Guwahati. There are a plethora of magnificent tourist places in Guwahati that can make your trip unknowingly wonderful. Guwahati is serviced by the Lokpriya Gopinath Bordoloi International Airport to its west. At the heart of the city lies India's fully solar-powered railway station, having excellent connectivity to the other regions and states of India. Guwahati is not only known for its scenic beauties but also for the holy Kamkhaya Temple. Perched on top of the Nilachal Hill, the temple is dedicated to Maa Kamakhya (another form of Maa Durga). Almost every day, lakhs of pilgrims and tourists visit the temple to pay their respects. Especially during the Ambubachi Mela each year, devotees throng to this holy temple. Apart from the Kamakhya Temple, Guwahati is also quite famous for its regional Science Centre, where you not only get to learn about the magnificence of science but also explore a lot of other things.
Science Museum, Guwahati – A Place where Knowledge meets Fun
One of the must-include places in your Guwahati tourism package, the Science Museum is located in Jawahar Nagar, Khanapara, which falls on the outskirts of Guwahati. The regional Science Centre is administered by the Government of India's National Council of Science Museums and is one of the 27 centres maintained by the council. It is a wonderful initiative by the science fraternity that educates, enlighten, and entertain, the visitors through the nuances of science and technology. The Regional Science Centre in Guwahati was established in 1994 and ever since has been a famous tourist attraction in the city. It is not just science and technology that you can learn about here; rare instruments, science equipment, demo experiment setups, machinery, etc., are also present here. The museum is also equipped with interactive displays where you can learn many new trivia. The interactive display is designed for kids and adults, which impart knowledge on everyday activities, prehistoric exhibits, and other non-formal science education.
The Science Museum in Guwahati, Assam has grown as a forum, which has helped them promulgate the original idea of spreading awareness of science in everyday life. The museum has been meticulously designed to make your experience much more enthralling and exciting. There are permanent galleries that the Science Centre houses. These galleries display numerous exhibits that tourists can explore during their visit to the museum. Other than this, the Science Museum, Guwahati also has a dynamic science park, an excellent 3D animation theatre, a mock prehistoric park, an inbuilt aquarium, a spacious auditorium, models of aircraft, and so on. You can take part in some indoor and outdoor experiments, amusing mirrors, science games, etc., and gain a lot of knowledge (of course, along with having fun). Apart from being one of the most visited tourist spots in Guwahati, the museum also conducts workshops and lectures for students, regulated science shows, and so on.
3D Show at Guwahati's Regional Science Centre
Proudly boasting of being the first in the entire North-East region to come up with a stereoscopic digital 3D cinema projection facility; the 3D show in Guwahati's Regional Science Centre will get your mind=blown. The show is created to thrill your senses where the polariser tricks the eyes into believing that what you are seeing is LIVE. The combined effect of the 3D glasses amps the experience even more; the funky videos gives an adrenaline rush, leaving you wonder-stricken.
Apart from the 3D show, the Digital Planetarium is yet another highlight of this museum in Guwahati. The Digital Planetarium gives you a unique experience of artificial sky-gazing while introducing you to space dynamics, comets, and other heavenly bodies, present in the universe.
What to Look Out for 
We have listed down some amazing shows and things that you must explore at the Science Museum, Guwahati, like:
The Super Cold Show, which demonstrates experiments on several elements for exhibiting different behaviours on being exposed to super cold conditions. The prime element is … nah, we won't give out this detail otherwise what suspense will remain?
The Sky Observation Program, where the visitors can see celestial bodies and stars that are far away, meteors, comets, and other bodies in the universe with the help of a 6-inch refractive telescope. You can read about this on the Wikipedia page of the Science Museum, Guwahati.
The Magic and Miracle Show, which enlightens the tourists about the misuse and superstitions of magic. In the process, the show educates the visitors about the wonders of science, through which 'magic' becomes possible.
A special TV show is also organised, which educates the audiences about the art of film-making and several phenomena that are involved in the process of developing the image. It also talks about Photoshop and other software.
Lastly, there is a tiny butterfly park that is created to demonstrate the life of a butterfly, starting from the nascent stage.
Facilities at Regional Science Museum 
The Science Museum, Guwahati, is designed to ensure that tourists and other visitors have a comfortable experience. Some of the facilities at the regional Science Centre include –
The Science Centre has an auditorium with a seating facility of 150, which is used for workshops, lectures, seminars, and educational conferences.
It houses a Conference Hall that has a seating capacity for 50 members and is used for forums and discussions.
Within the premises, there is an open garden space that is utilised for open cooking and dining. It is also quite a famous picnic spot near Guwahati.
There is a tiny cafeteria inside the museum premises, where you can go to munch snacks and for refreshments.
This museum in Guwahatialso has an in-house library with more than 10000 books and journals. The library is for internal use. You can call on the contact number of the Science Museum, Guwahati and ask them beforehand if the library is open for a quick glance.
Adding to these, the museum also organises Hobby Camps in the summer for students, to provide them with a fun yet learning experience.
Ticket Price for the Science Museum, Guwahati
One thing you have to keep in mind is that the entry timings of the Science Museum, Guwahati closes at 5:00 PM or 1700 hrs. So if you are planning to visit the museum, make sure to reach on time.
Entry Fee for Single Visitor – INR 25
Group of 25 people or more – INR 20 per head
Organised Private School Trip – INR 15
Organised Government School Trip – INR 10
Entry Fee for Foreigners- INR 50
Entry Fee for Science Museum, Guwahati's Planetarium Show (Seating Capacity – 24)
Duration – 20 to 30 min
Timings – 12 PM and 3:00 PM
Entry Fee for General Visitor – INR 20
Fee for Private School Group Trip – INR 10
Fee for Government School Group Trip – INR 5
Ticket Fee for 3D Film Show (Seating Capacity – 40)
Duration – 10 to 20 min
Time – 11:30 AM, 12:30 PM, 2:30 PM, 3:30 PM, and 4:30 PM
Fee for General Visitor – INR 25
Fee for Private School Group Trip – INR 15
Price for Government School Group Trip – INR 10
Ticket Price for Science Museum, Guwahati's Super Cold Show (Seating Capacity – 150)
Duration – 20 to 30 min
Timings – 11:00 AM and 4:00 PM
Fee for Government School Group Trip – INR 5
Fee for Others – INR 10
Ticket Fee for Mock-up Coal Mine
Duration – 15 to 20 min
Time – 11:00 AM, 12 PM, 1:00 PM, 2:00 PM, 3:00 PM, 4:00 PM, and 5:00 PM
Ticket fee for School Group Trip – INR 5
Price for Others – INR 10
Guwahati has a very pleasant climate during the winters. So, it is advisable to visit there during winters. However, summers too are a good time to visit. But, the mornings are hot and evenings are pleasant. Avoid visiting Guwahati during the monsoon as the city receives heavy rainfall and usually is swamped with water. The location of the Science Museum in Guwahati is easily traceable on the maps. So, reaching there is easy as the city has taxi cabs, auto-rickshaws, and state-run buses. You can also hire a car if you wish to drive.
The Regional Science Centre, Guwahati is awaiting your visit. Make sure to plan your trip soon!