Reading Time:
10
minutes
Synonymous with the city of forts and palaces, Jaipur is home to unparalleled architecture, ancient Rajasthani culture, and regal cuisine. There are endless places to visit in Jaipur that make it a world-class destination. People come here to encounter the best of history and modern culture blending perfectly like magic. Other than this, who would miss the opportunity to explore some of the most authentic places to indulge in delicious cuisines? Jaipur has many fine dining restaurants with traditional Rajasthani dishes and continental dishes on the menu. You can certainly enjoy the taste of royal cuisine that will remind you of the good old royal era. Let's check out some of the must-visit restaurants in Jaipur for enjoying a hearty meal:
The Rajput Room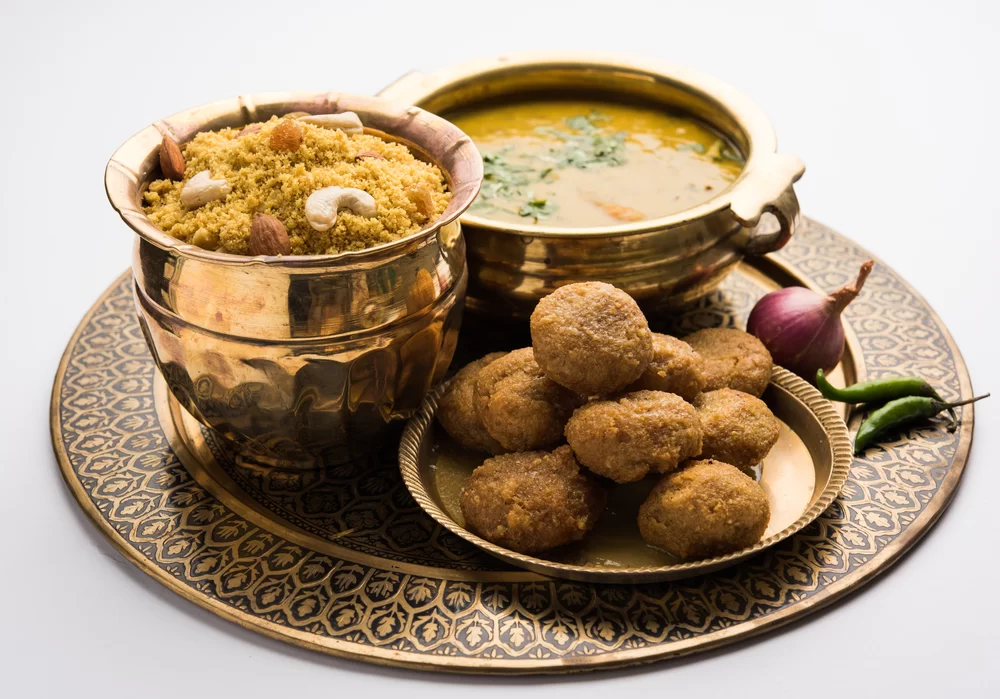 The Rajput Room is a place where you can indulge in some mouth-watering cuisine. The exquisite taste of the food served in this informal multi-cuisine restaurant will stay in your memory forever. Overlooking the beautiful lawns of Rambagh Palace in Jaipur, this restaurant has a mesmerising interior. Chefs with years of culinary experience prepare unique dishes for you at the restaurant. The menu has a wide selection of dishes specially created to give you a royal experience.
Many in-house guests like to dine at this restaurant at least once during their stay at Rambagh Palace. This palace is also known as a very popular wedding destination in Jaipur. It has a remarkable interior and many famous restaurants.
Ambience:  Royal palace with ancient architecture
Restaurant Timing:  6 AM to 11: 45 PM
Cuisine: Multi-cuisine restaurant
1135 AD
True to its name, this restaurant has an old-world charm that is prominent in its architecture. 1135 AD, one of the best restaurants in Jaipur, gives a true feel of royalty. You can choose from the lavish menu of Rajasthani and Mughlai cuisines. This is a place where you can visit with your friends and family to have a memorable dining experience. One of the most preferred places to eat by well-known Indian faces, 1135 AD, has a reflection of the ancient 'Rajputana' culture.
Ambience: Rajasthani Royal Interior
Restaurant Timing: 11 AM to 11 PM
Cuisine: Rajasthani and Mughlai Food
Verandah Café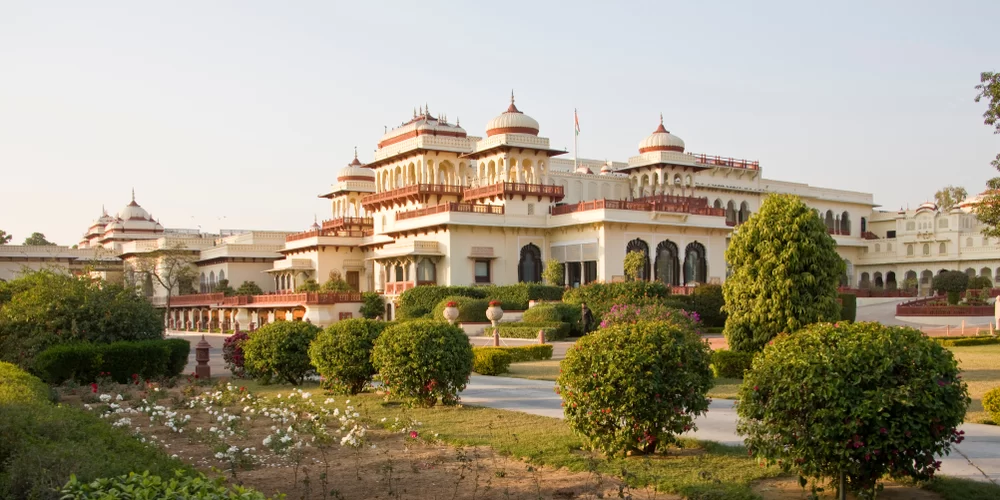 The Rambagh Palace houses some of the top restaurants in Jaipur. The Verandah is one of many delightful places to eat in the Rambagh Palace. This open-air restaurant is a perfect escape from the busy city life, where you can enjoy a cup of tea or indulge in a light meal. The hotel staff give you the perfect royal treatment while you enjoy a relaxed evening under an umbrella in the chic setup. Have a leisure day when you book your Jaipur tour package to unwind and rejuvenate at the Rambagh Palace restaurants.
Ambience: Open-air Verandah overlooking Rambagh Palace interior
Restaurant Timing: 11:00 AM to 11:45 PM
Cuisine: Multi-cuisine
The Forresta Kitchen & Bar
Want to have a romantic dinner date in Jaipur? The Forresta Kitchen & Bar is the perfect place that has a lush garden ambience. This place has a completely different vibe from other traditional places in Jaipur. Enjoy some good food and good music at this restaurant with your partner or friends. The stocked bar and appetising aroma of food will make your time worthwhile.
Ambience: Green theme restaurant with a contemporary vibe
Timing: 12:00 AM to 11:00 PM
Cuisine: Multi-cuisine
Saba Haveli
A reflection of a bygone royal epoch can be seen in every corner of this restaurant. It is rather interesting to know that Saba Haveli has won several architectural awards for its antique design, inspired by 200-year-old British architecture. Overlooking Nahargarh Fort, this restaurant has culinary spontaneity at its best. When you visit this restaurant in Jaipur, you will be served the cuisine set as per that particular day. Many people dine at this restaurant to enjoy the distinct and delectable taste of traditional food in Jaipur.
Ambience: British architectural beauty
Timing: 07:00 AM to 11:00 PM
Cuisine: Indian, Asian
Sheesha
Craving for non-vegetarian food on your trip to Jaipur? Sheesha is the right spot for you if you want to taste meat-based traditional Indian cuisine. This roof-top restaurant in Jaipur has a wide array of options on the menu. This restaurant has a laid-back vibe where you can enjoy it with your partner or friends. True to its name, Sheesha is a famous place for hookah lovers. You can enjoy delicious delicacies while watching the beautiful skyline.
Ambience: Laid-back vibe, contemporary interior
Restaurant Timing: 11 AM to 11 PM
Cuisine: Multi-cuisine
Chokhi Dhani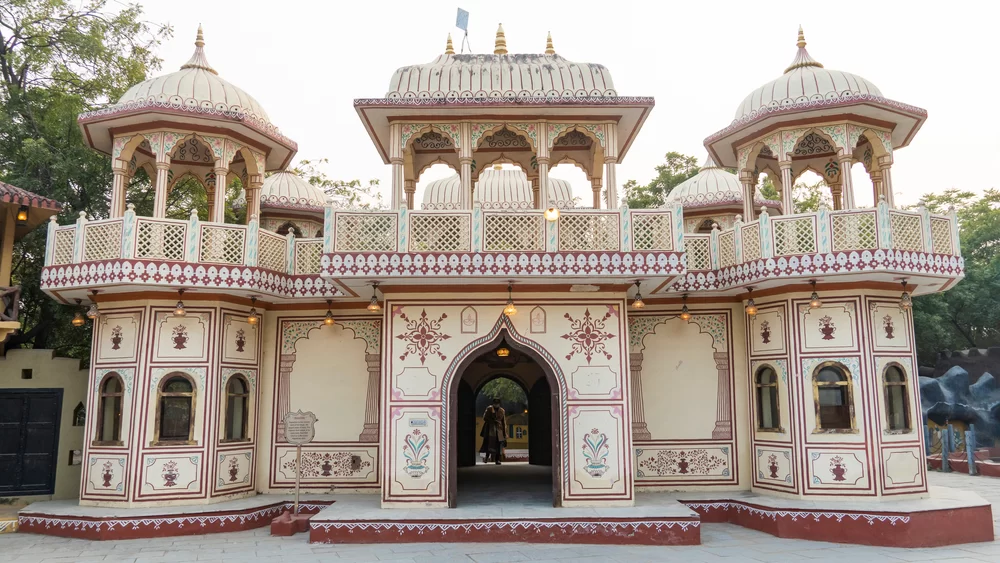 If your purpose for visiting Jaipur is to experience the rich rural culture, then Chokhi Dhani will give you an experience of a lifetime. Chokhi Dhani is one of the best food places in Jaipur. It is a favourite amongst tourists and locals alike. It ranks very high among the top restaurants in Jaipur. Mandala artworks on the walls, well lit by lamps, hut-shaped rooms and a restaurant give a feel of living in a village. Enjoy the traditional cuisine of Rajasthan at Chokhi Dhani Jaipur.
Along with flavoursome food, you can spend your time participating in activities like traditional bowling, balloon shooting, camel riding, and more. It is important to note that there is an entry fee if you want to go to this place and explore the nuances of village life in Rajasthan. The cost of the food is included in the entry fees.
Ambience: Rajasthani Village Interior
Timing: 05:00 PM to 11:00 PM
Cuisine: Rajasthani delicacies, North-Indian and Chinese
RJ 14
RJ-14 has a well-deserved place in the famous restaurants in Jaipur. This restaurant serves vegetarian food with a delightful taste. So, hands-down, it is one of the best vegetarian restaurants in Jaipur. The breathtaking interior of this restaurant has a charming vibe that is loved by everyone. You can click some pictures with your friends and family with the most beautiful backdrop.
Ambience: Modern, Chic
Timing: 12:00 Noon to 11:00 PM
Cuisine: North Indian food, South Indian Food
Meraaki Kitchen
Meraaki Kitchen is a unique concept restaurant that is famous for its very different food menu. If you would like to explore some Thai and Japanese cuisine, then this is a good restaurant in Jaipur. You can book a table in the restaurant area or open-air space as per your liking. Each dish at this restaurant has a unique taste that is for people with an acquired taste palette.
Ambience: Modern contemporary interior
Timing: 12:00 Noon to 09:00 PM
Cuisine: Continental, Italian
Cinnamon
Last but not the least, the Cinnamon-Jai Mahal occupies a prominent place in Rajasthan's royal history. It is a palace converted into a hotel, which gives a royal feel to the guests staying at the property. The restaurant attached to the hotel has the best traditional Jaipur cuisine that you will ever taste. A grand interior, well-behaved staff, and delightful food will make this a one-of-a-kind experience. It's very fascinating to know that the dishes being prepared in the royal kitchen are inspired by the perfect blend of Mughal and Punjabi cuisine. If you want to indulge in the supreme taste of Indian food, book a reservation at this restaurant.
Ambience: Royal palace interior
Timing: Lunch – 12:30 PM to 2:30 PM, Dinner – 7:00 PM to 11:00 PM
Cuisine: Pan-India Cuisine
Jaipur is well-known not only for its forts and palaces but also for its cuisine. You can explore these restaurants in Jaipur on your next trip to have a wonderful experience. The distinct flavours and textures of traditional Rajasthani dishes are hard to miss. Most of these famous restaurants in Jaipur are located in prime locations so that you can reach them without hassle. Try local delicacies,