Reading Time:
11
minutes
Home to some of the highest mountains in the world and a number of beautiful lakes and rivers, Nepal is the best example of geographical diversity. Being the country of contrasts that it is, you can also find several different cultures, traditions, languages, and beliefs here, co-existing in harmony. Nepal is famous as the ultimate outdoor sports destination, which makes it a true paradise for thrill seekers. But this does not mean that the country doesn't cater to travellers with interests other than adventure sports. This is a place that is equally popular among nature admirers, history buffs, spiritual travellers and adventure lovers. Nepal has a plethora of tourist destinations, and Pokhara is unarguably among the most popular ones.
Blessed with spellbinding natural beauty, Pokhara is the second largest city in the country. Situated at an altitude of 827 meters above sea level, this place offers some truly spectacular views of its surrounding mountain ranges. With a spectacular backdrop of the towering peaks of the Annapurna Mountain Range, Pokhara is also famous as the gateway to some very popular treks in Nepal. No matter how long your trip to Nepal is, it always remains incomplete without a visit to the mesmerising Pokhara Valley.
Let's dive deeper and discuss what you need to know about planning a trip to Pokhara:
When to Visit
Pokhara is an all-year-round destination as this place has different things to offer in different seasons. However, the best time to visit Pokhara is from March to April and September to November. During these months, temperatures remain just perfect for sightseeing, trekking, and other outdoor activities. Since this is the peak season for tourism, one can also plan a trip at some other point in time and avoid the crowd. However, it is better to avoid visiting this place during the monsoon season as Pokhara receives heavy rainfall at that time.
Places to Visit in Pokhara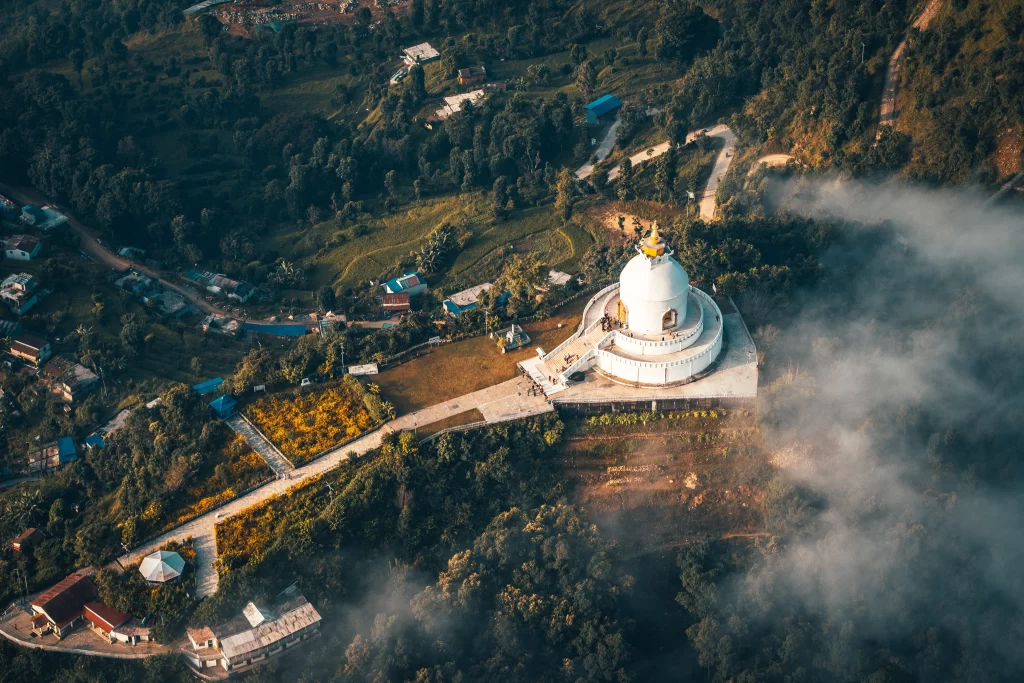 Here is a list of some of the most popular places to visit in Pokhara:
1. Phewa Lake
Phewa Lake is the second largest lake in Nepal and is very popular among tourists coming to Pokhara. It is a semi-natural freshwater lake that is surrounded by Rani Ban. Here, one can see the stunning reflection of the Annapurna and Dhaulagiri mountain ranges in the crystal clear water of the lake. Hiring a traditional boat called a doonga and sailing through the lake is definitely the best way to admire the natural beauty of this place.
Another nearby attraction for people visiting this lake is the Tal Barahi Temple. Also known as the Lake Temple or Barahi Temple, this is one of the most important religious places for Hindus in Nepal. Built in 1864 by Kaskeli King Kulmandan Singh, this temple is dedicated to the goddess Durga (known as goddess Varahi in Nepal).
2. Davis/Devis Falls
Located at a distance of 2 km from the airport, this stunning waterfall is one of the best places to visit in Pokhara. In the Nepalese language, this waterfall is known as 'Patale Chango' which translates to 'underground waterfall'. One extraordinary thing about this waterfall is that it creates a 500-feet-long underground tunnel as it reaches its bottom. This means that the water from this waterfall does not flow to a river or lagoon but into a mysterious dark hole that eventually disappears in the caves.
3. Pokhara Shanti Stupa
Also known as the Peace Pagoda, Pokhara's Shanti Stupa is a beautiful Buddhist monument which is located on the top of Anadu Hill. Built by Morioko Sonin, a Nipponzan Myohoji monk, this pristine white-coloured monument is a fine example of the traditional pagoda architectural style. This is the first peace pagoda in the country and the 71st in the world. With a height of 115 feet and a diameter of 344 feet, this monument offers a stunning view of the Phewa Lake and is definitely one of the important places to visit in Pokhara.
4. International Mountain Museum
For people who find facts about mountains and mountaineering extremely fascinating, this is a must-visit place in Pokhara. This awe-inspiring museum boasts a large collection of artefacts and original mountaineering gear along with stories and photographs of the mountains. The establishment was initiated by the Nepal Mountaineering Association (NMA) on November 1, 1973, and the museum was officially opened on February 5, 2004. Originally, this museum was built to maintain records and document the history, evolution, development, and legendary achievements in mountaineering.  Here, one can also get a closer look at the lives of the explorers who climbed some of the highest mountain peaks in the world. This museum is one of the major tourist attractions in Pokhara and witnesses a huge visitor influx throughout the year.
5. Sarangkot
Sarangkot is a small village that lies on the outskirts of Pokhara. It is known for offering breathtakingly beautiful views of the Annapurna, Dhaulagiri and Manaslu mountain ranges and the Pokhara Valley. Located at an elevation of 1600 meters above sea level, this place is the take-off site for paragliding. Other than this, Sarangkot is also famous for being home to one of the world's fastest zip lines. All in all, if you are looking for some adventure in Nepal, this is one place you should definitely visit on your trip.
6. Shree Gaden Dhargay Ling Monastery
This is a Tibetan Buddhist monastery which was established with the aim of making people aware of the Buddhist and Tibetan culture. This is one of the most frequented tourist places in Pokhara, Nepal. With a serene and peaceful environment, this monastery gives visitors a chance to find inner peace while spending some time away from the hustle and bustle of urban life.
7. Begnas Taal
Begnas Taal is a freshwater lake lying on the eastern side of the Pokhara valley. After Phewa Lake, this is the second largest in the Pokhara Valley and the third largest in Nepal. Blessed with beautiful natural surroundings, this lake is one of the most popular places to visit in Pokhara. The Khudi Khola dam, which has been built on the western stream of this lake, regulates the water levels. It is the major source of irrigation in every season except for the monsoons. The swamps around the Begnas Taal have been converted into lush green paddy fields, while some sections of the lake are used for fish farming. Overall, this lake acts as a major source of income for the local people.
8. Shree Bindhyabasini Temple
This is one of the oldest temples in the city of Pokhara. This temple is dedicated to Goddess Bindhyabasini, the incarnation of Kali, and enthrals a large number of visitors. Dating back to the late 18th century, this temple is believed to have been built by King Prithvi Narayan Shah. In today's times, this temple holds great religious significance and is counted among the most popular places to visit in Pokhara.
9. Gupteshwar Mahadev
Gupteshwar Mahadev is a cave temple located near Davis Falls. This is the place where the Seti River emerges from the ground. Dedicated to Lord Shiva, this temple was found sometime around the 16th century, and in present times, it is one of the most popular places for sightseeing in Pokhara. Here, one can see the self-emerging Shivaling in the condition it was originally found in, and the cave housing this Shivaling is approximately 3 km long.
10. Bat Cave
Also known as Chamere Gufa, the Bat Cave is a solutional cave located in the Kaski District of Pokhara. As the name suggests, one can find thousands of bats clinging upside down from the ceiling and walls of the dark and moist chambers of this cave. This cave, known for being the habitat of horseshoe bats, has become one of the most popular tourist places in Pokhara, Nepal.
One can explore this cave by paying an entry fee of 150 Nepalese Rupees. At the start point, a torch is given to the visitors, using which they can make their way once inside the cave. It takes approximately 10 minutes to reach the exit point.
11. Annapurna Circuit
This is a challenging yet popular Himalayan trek in the Annapurna mountain range. This trail will give you a chance to witness the unparalleled beauty of snow-capped mountain peaks and misty valleys dotted with a number of monasteries. This trek marks its starting point in the lush green villages of the Himalayan foothills and you will reach an altitude of 5416 metres once you cross the Thorung La Pass.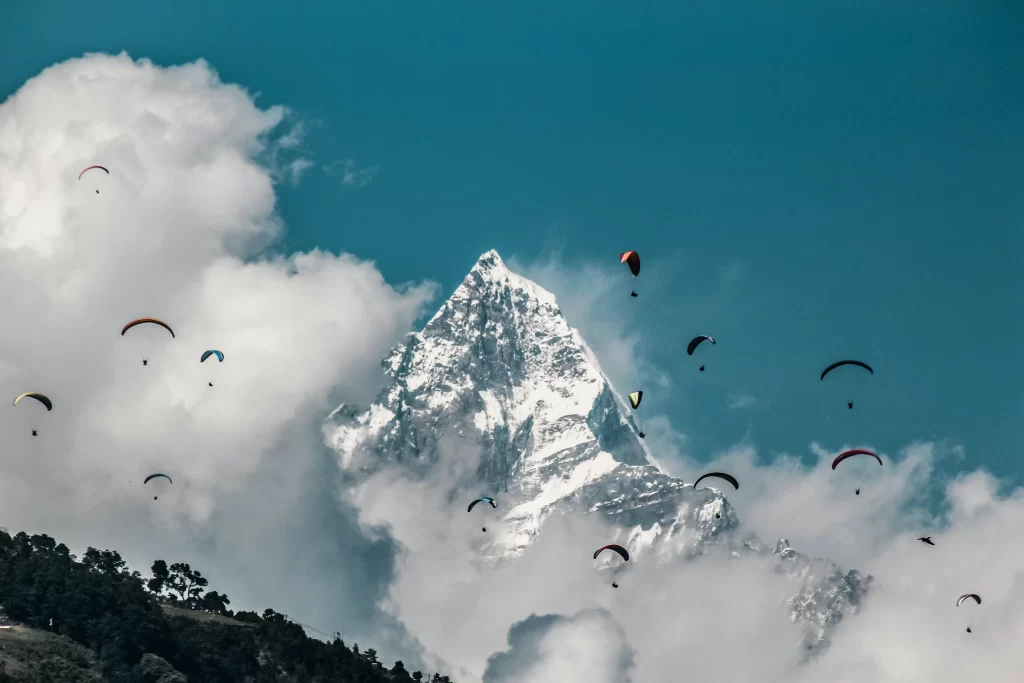 Now that you know what Pokhara offers to people who come here, you should definitely start planning a trip. Veena World offers a wide range of specially-curated Nepal holiday packages. Take your pick and make the most of your vacation!