Reading Time:
9
minutes
Amsterdam, the capital city of the Netherlands, is almost on everyone's travel bucket list. Be it the mouthwatering food you get here, the rich history this place has or the welcoming locals you get to meet, there are so many reasons to justify this popularity. From a number of stunning architectural marvels to beautiful, lush green spaces, awe-inspiring museums and art houses to vibrant street markets, this place has a lot to offer to tourists. Amsterdam is a city that was built on reclaimed land and is now regarded as one of Europe's greatest cities. And the best thing is that as a tourist, you will not have to face any challenges while finding suitable accommodation for the entire duration of your trip. There are a plethora of options when it comes to finding some decent hotels in Amsterdam.
Fondly called the 'Venice of the North' owing to the large number of canals it boasts, Amsterdam is a true delight for tourists of different ages coming from different parts of the world.
Places to Visit in Amsterdam
Since there are so many tourist attractions in Amsterdam, it can be quite a task to cover all of them on your trip. For your convenience, here is a list of some of the must-visit places in Amsterdam:
Anne Frank's House
The House of Anne Frank is one of the important places to visit in Amsterdam. This is the same place where young Anne Frank and her family went into hiding during World War II, along with four others. Anne's father, Otto Frank, ran his company here. He brought his family here on June 12, 1942, just a few days after Anne's 13th birthday. They stayed here until their arrest on August 4, 1944. Confined to a small, indoor space and away from all of her friends, Anne penned down her experiences in a diary. Years later, that diary got published as a book named 'The Diary of a Young Girl'. By taking a tour of this house, you will get a chance to take a sneak peek into that time.
Rijksmuseum
The Rijksmuseum is the national museum of the Netherlands, which is dedicated to Dutch art and history. Founded in 1800, this museum was built to display the wide collection of Italian art, portraits of the Royal family and Dutch rarities the fled regents left behind in 1795. This museum exhibits a large collection of artistic objects and is now one of the most famous tourist places in Amsterdam. If you are a history buff who wants to know the detailed history of the Dutch people during the 17th century, also known as the Dutch Golden Age, this is a place you should definitely visit.
Van Gogh Museum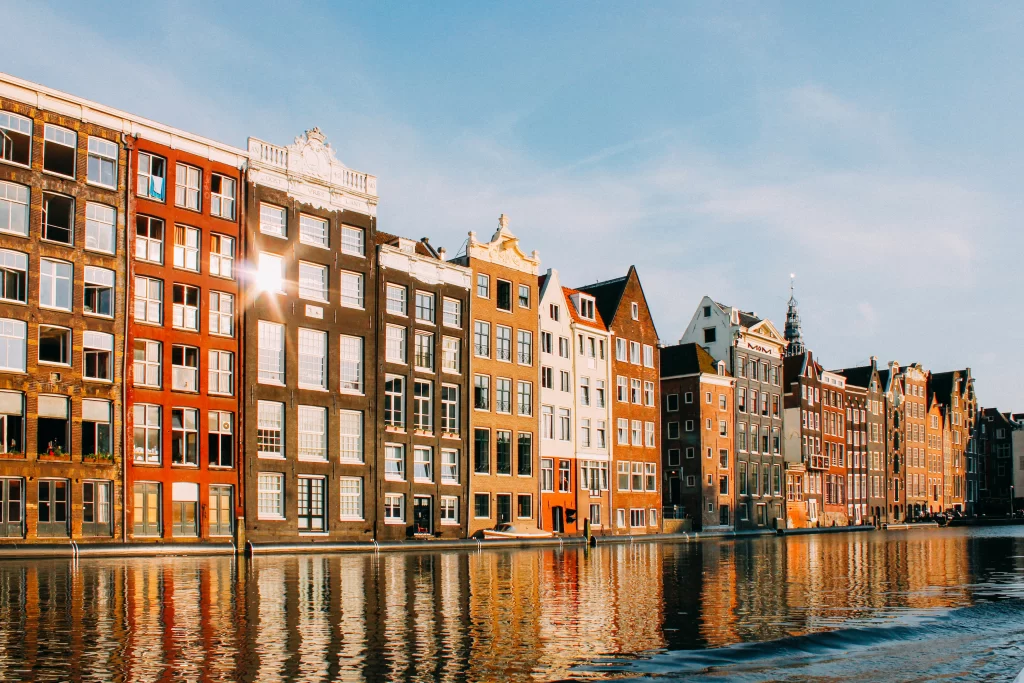 If you are an art lover, what can be better than visiting the awe-inspiring Van Gogh Museum?! This is unquestionably one of the best places to visit in Amsterdam, displaying the largest collection of artworks, which includes 200 paintings, 500 drawings, and over 750 letters, among other artistic subjects. In the entire history of western art, Vincent Van Gogh is one of the most famous artists. In this museum, you will not only see the amazing artwork created by him but will also get to know a few fascinating facts about his life and some of his amazing life stories.
Vondelpark
Covering a total area of 47 hectares, Vondelpark is the largest public urban park in Amsterdam and certainly the most revered one in the Netherlands. If you want to see a different side of this cosmopolitan city, this is definitely one of the best places to visit in Amsterdam. Generally, people come to this park for things like dog walking, jogging, roller-skating, etc. Other than this, you can also go there to enjoy a sunny afternoon while lazing around on the grass. This park is open to everyone and is maintained by the government and other organizations.
Royal Palace of Amsterdam
Located on the edge of Dam Square in the heart of the city, it is one of three palaces in the Netherlands which are at the disposal of the monarch by Act of Parliament. Originally built as the city hall for the magistrates of Amsterdam, this palace was known as the largest secular building in Europe during the 17th century. Currently, it is used to host several royal events, like the reception of foreign heads of state whenever they visit the Netherlands, the King's New Year reception, etc. This is also the place where various official and royal prizes are presented to their recipients every year. Taking a tour of this magnificent palace is definitely one of the best things to do in Amsterdam. This is a great way to take a peek into the glorious past of the city.
Canal Belt
Amsterdam is known to house an overwhelming number of canals that were originally built for the transportation of goods. Together, they form the Canal Belt, giving the city of Amsterdam its distinctive crescent shape. Also known as the Grachtengorde, this huge canal network was built in the 17th century and has now been recognized as a UNESCO Heritage Site. It mainly consists of four different canals that encircle central Amsterdam.
The canals that make up the inner part of the Canal Belt are named as Herengracht, Prinsengracht, Keizersgracht, and Singel. Taking a canal cruise to witness this beautiful, historic canal network is one of the most famous things to do in Amsterdam.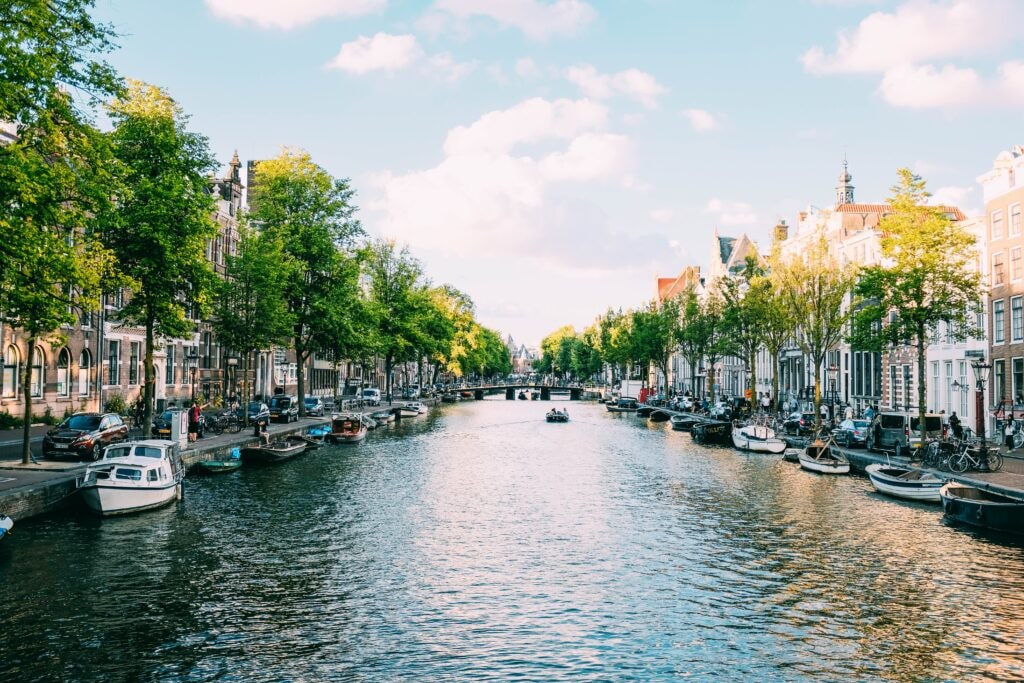 Begijnhof
Dating back to the 14th century, the Begijnhof is one of the oldest hofjes and among the most popular places to visit in Amsterdam, Netherlands. It consists of a large group of houses that are built around a secluded courtyard and garden. These houses have been built for the Beguines, a group of unmarried religious women who live together in a close community. Although most of the gothic facades of this building complex were replaced in the 17th and 18th centuries, this structure still tells the story of the old times.
Westerkerk                                  
The Westerkerk is the biggest church and the most important Protestant church in the city of Amsterdam. Commissioned by the Amsterdam City Council, this church was built between 1620 and 1631, under the guidance of famous architect Hendrick de Keyser. This renaissance-style church with a stark facade is located in the centre of the city and is one of some important historical and spiritual sights to see in Amsterdam.
Torensluis
Torensluis is one of the widest bridges (with a total width of 42 meters) in the Canal Ring of Amsterdam. Completed in the mid-17th century, this is also the oldest preserved bridge, which was originally used as a marketplace. It is now one of the famous tourist attractions in Amsterdam and enthrals a large number of visitors, locals and tourists alike. This bridge features a statue of the famous Dutch writer, Multatuli, and this is also a reason why it gained tourist traction. This is an ideal place to take an afternoon stroll on a sunny summer day while enjoying the surrounding panoramic views.
Now that you know how to make the most of your trip to Amsterdam, start planning a vacation. At Veena World, you can find a large collection of specially-curated Europe holiday packages that you can choose from.
Photo Credits – www.rentola.com