While Mumbai is one of the country's most fast-paced cities, with little time to breathe, Alibaug offers a refreshing escape from city life. The long-running beaches in Alibaug, together with expensive resorts and hotels provide enough lodging that would be a welcome respite from the city's activity. The view of the Arabian Sea adds to the beauty and tranquillity of the setting. In fact, a weekend trip to Alibaug is highly recommended. When visiting the port city, there are certain places to see in Alibaug that you should consider. In this blog, we've compiled a list of the top 10 places to visit in Alibaug.
Historical Places
1. Janjira Fort
The Janjira Fort, which was originally built of wood, is stretched across 22 acres and is located around 54 km from Alibaug. Sidi Suri renovated the fort in the 17th century. The stone sculpture in the main tunnel is magnificent, as there are six life-size elephants and a tiger. There are a total of 23 bastions, which range in height from 30 to 40 feet and are still very strong. Along with a little door leading to the water that was later utilized as an escape route during invasions, it also has a variety of firearms, the most notable of which are Kalal Bangadi, Landa Kasam, and Chavi.
2. Kolaba Fort
Kolaba Fort, or Alibag Fort, is one of the famous places in Alibaug. It is located in the middle of the sea and is encircled on all sides by the seas of the Arabian Sea. It is a 300-year-old fort that served as Maharashtra's main naval base during the reign of Shivaji Maharaj. The region within the fort itself is littered with historical artefacts and remains such as cannons and sculptures of animals and birds on the fort walls, and is located less than 2 kilometres from the Alibaug beach. As one of Maharashtra's most notable forts, its strategic location aided in its operation as a major naval station and a bastion for launching attacks against British forces. The fort is one of the most renowned places to visit in Maharashtra.
3. Khanderi Fort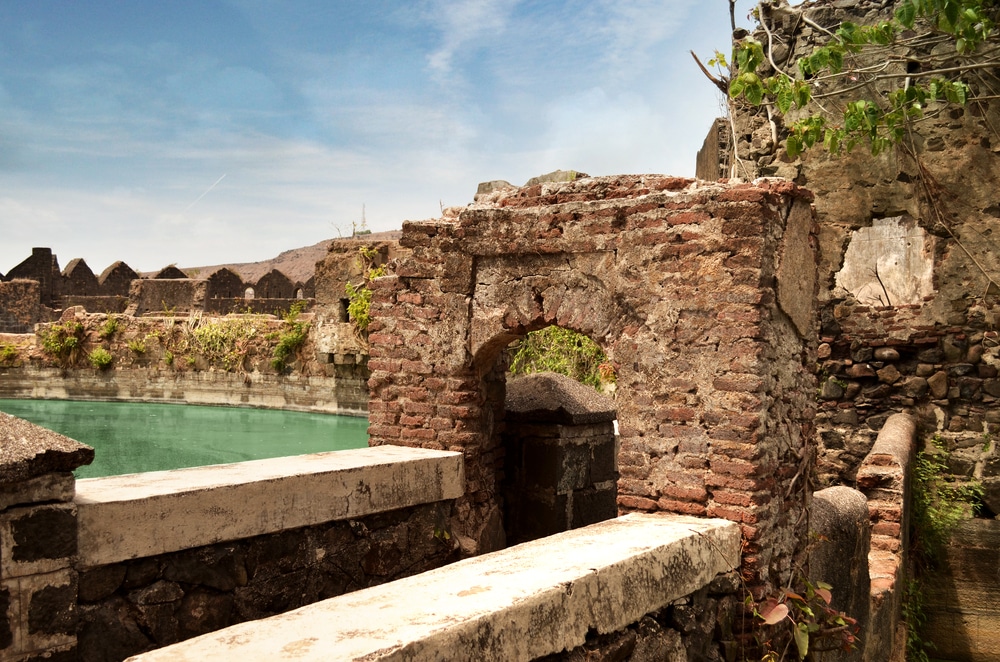 Khanderi Sea Fort, which forms a heart-shaped island, is one of the most visible and well-preserved structures created during the famous Shivaji Reign. The fort, which stood proudly against the British and the Siddi in the 17th century, still stands tall in the Arabian Sea, and its walls are still intact. At Khanderi, iron canons with cartwheels, which are uncommon in Maharashtra, may be seen. Throughout the day, the weather is humid. It is also close to Nagaon Beach. As a result, it is one of the most spectacular places to visit near Alibaug.
Did You Know?
Did you know that the "Chaul" is one of the most active sites in Alibaug? Chaul is an ancient village around 15 kilometres from Alibaug that is well-known for its Portuguese ruins. In the town of Chaul, there are about 365 ancient temples and huge troops go to this ancient town to pay their respects on time.
Places of Worship
4. Jai Bhavani Temple
This temple, one of the oldest in Alibaug, was built in the 12th century and is dedicated to the goddess Bhavani. The goddess with eight hands holds the devil Mahishasura's head in one hand and weapons in the other. It is thought that the goddess Bhavani is the source of all energy and natural force. It is one of the most popular tourist attractions in Maharashtra tour packages as tourists arrive to see the incredible beauty of the Bhavani Temple.
5. Kankeshwar Temple
The Kanakeshwar Devasthan Temple, perched on a hill at a height of 900 feet, is about 13 kilometres from Alibaug. To get to this temple, you'll have to climb about 5000 stairs. The temple is as surprising as the walk to it since the temple gate features a stunning lion sculpture on it, surrounded on both sides by lighting. The "Pushkarni," a tank that is constantly replenished with water, is another highlight of the Kanakeshwar Temple.
6. Someshwar Temple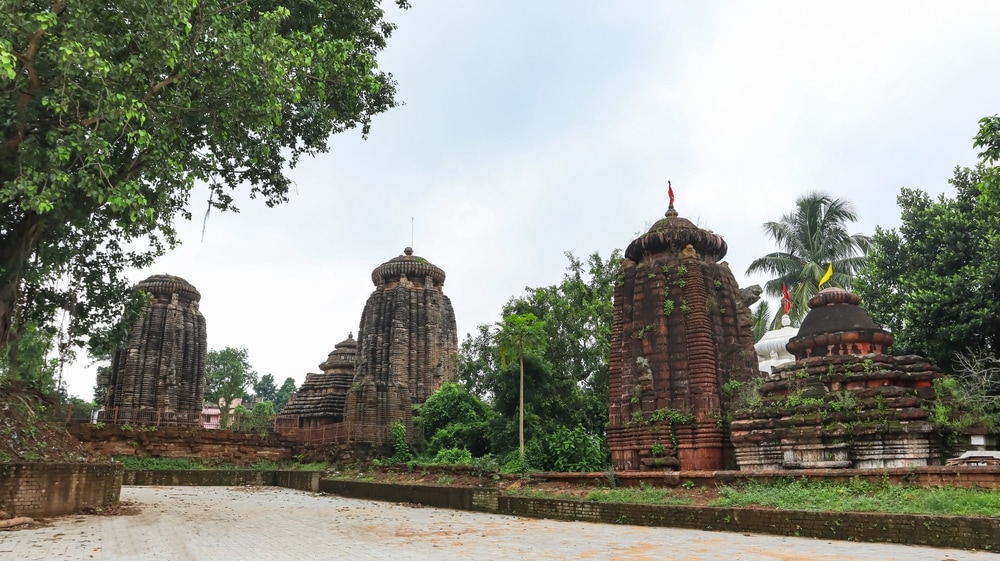 The Satwahanas built the ancient Hindu shrine of the Someshwar Temple. It is located in Akshi, which is approximately 3 kilometres from Alibag. This temple is devoted to Lord Shiva, who is also known as Someshwar in Hinduism. According to legend, Lord Shiva once swallowed a poisonous ocean and turned it into honey. Pilgrims flock to this location to seek the Lord's blessings. It is one of the best places to see in Alibaug since it is close to many famous beaches.
Did You Know?
Did you know that Alibaug has a Lord Ganesha temple and a neighbouring Dargha, making it impossible for both religions to coexist peacefully? Every year, people flock from all around Mumbai to experience this sight.
Beaches in Alibaug
7. Alibaug Beach
Alibaug Beach, nestled amid the picturesque coastline of the Arabian Sea, will captivate you with its stunning sea panoramas. It is also well-known for its thrilling adventure sports. The presence of Kolaba Fort, which is located in the middle of the sea, adds to the grandeur of this beach. Alibag Beach is a popular tourist destination that is surrounded by wonderful street food joints. This location is frequently referred to as Alibaug's picnic spot for couples, but it also provides a variety of water activities for adventure seekers. Alibagh beach is one of the town's pollution-free zones and a must-see for all thalassophiles.
8. Nagaon Beach
Nagaon Beach is located 8 kilometres from the town of Alibaug and is one of the things to see in Alibaug for those who love a tranquil environment. Nagaon beach is the most pristine of Alibag's beaches. This beach is well-known for its cleanliness and is encircled by a dense network of coconut and palm trees. Cheap meals, serenely tranquil settings, and water sports activities are just a few of the things that draw people to this location. Paragliding, banana rides, and water scooters are among the exciting things available at the beach.
9. Kihim Beach
Kihim Beach, which is surrounded by luscious coconut palms, green foliage, and wildflowers, is only 12 kilometres from Alibaug. Kihim Beach is well-known for its lush coconut groves and clean air. The beach is endowed with magnificent white sand and many sorts of shells sprinkled around it. The beach is pristine, and the waters are totally safe, attracting hundreds of people each year. The beach has the attractiveness and appeal of sandy white ground, but it also has a lot of flora. If you are exploring places in Allibaug, then see no more! Kihim Beach's exquisite beach resorts allow you to have the most pleasant vacation possible. These beach resorts, located on the road to the sea, ensure that you have the greatest beach vacation possible, complete with all of the modern conveniences, a commanding view of the beachfront, and real sea-food delights.
10. Kashid Beach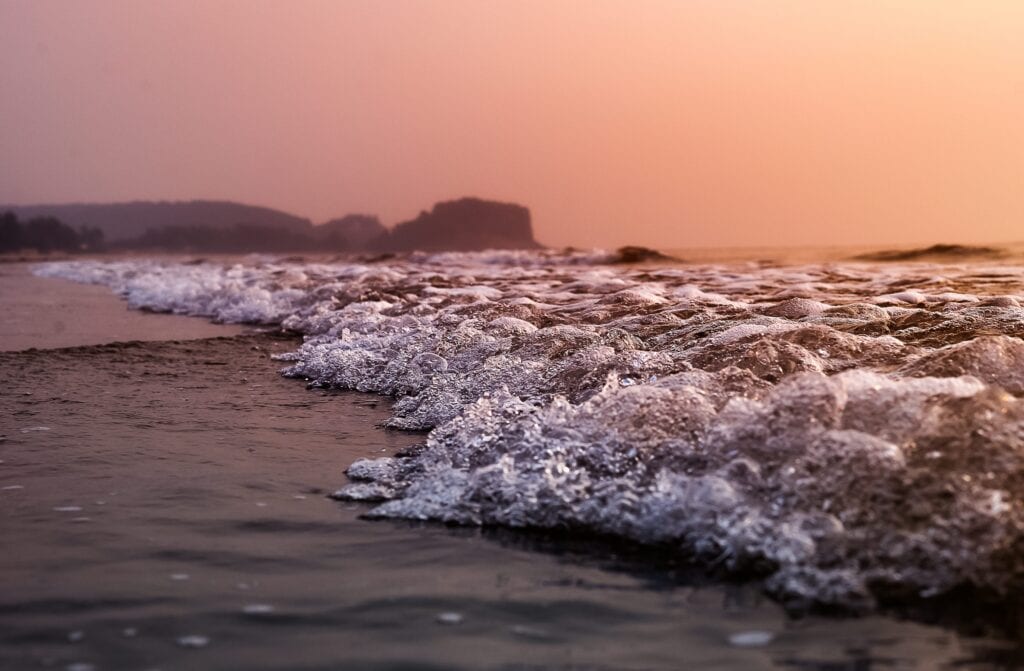 Kashid Beach, 32 kilometres from Alibaug, is situated between two hillocks and is famed for its clean seas, white sand, and casuarina forests that flank the beach. The Konkan region's most picturesque and enticing beach is a 3 kilometre long stretch of white sand. Kashid Beach is a peaceful and relaxing location that is ideal for getting away from the hustle and bustle of daily life. Kashid is not as commercially popular as the majority of the state's beaches. Most visitors stop at Kashid on their way to Alibag or Murud. The beach stretches for 3 kilometres and is bordered by numerous bushes and trees. It is popular among couples because of the marine cuisine and resorts. The best time to visit this beach in Alibaug is in the month between October and March.
Did You Know?
Did you know that Alibaug has some of the most exciting water sports activities, including a variety of rides? A banana boat trip, jet skiing, paragliding, and scuba diving are among them. This appeals to both locals and visitors who want to get away from the city's hustle and bustle and enjoy some adventure sports.
Alibaug, unquestionably one of the most popular tourist sites in Maharashtra, is endowed with a less-frequented, tranquil beach embellished with black-tinged sand grains and swirling tides. What's holding you back now that you've discovered the top ten locations to visit in Alibaug? Check out our Alibaug tour packages and make sure to include the above-mentioned places in your itinerary.