Reading Time:
9
minutes
Adventure, culture, food, shopping, name it and you'll find it here in Dubai. Dubai, a city created for bucket lists, boasts an astounding choice of memorable experiences for any traveller. Discover the greatest hotels in Dubai; the newest family hotspots; award-winning spa rituals; centuries-old history; new cuisines; the best museums to learn about the city; or just spend the day at the top Dubai attractions under the sun.
Dubai may be the Middle East's most modern state, but that does not mean that museums are in short supply far away from it. The museums in Dubai are perfectly positioned in the downtown area, with the skyscrapers and traditional sides easily merging into one amazing combination. If you are looking to learn about the history of Dubai, emerging from centuries as a small trading post to the luxurious city of today, or about the pearling industry that brought immense wealth to the trading families of the emirate, the city's variety of museums have something all interests and ages.
The majority of museums exist to preserve and chronicle the past of future generations. If you are looking for places to visit in Dubai, anyone interested in learning about Dubai's history and culture has several options. Human communities focused around the creek thousands of years ago, despite the fact that it is not located in any of the major geographical regions. This demonstrates that Dubai has an important past that should be researched. Visiting museums should thus be included on your list of things to do in Dubai.
Here is a list of Museums that you should visit in Dubai:
1. Museums of Illusions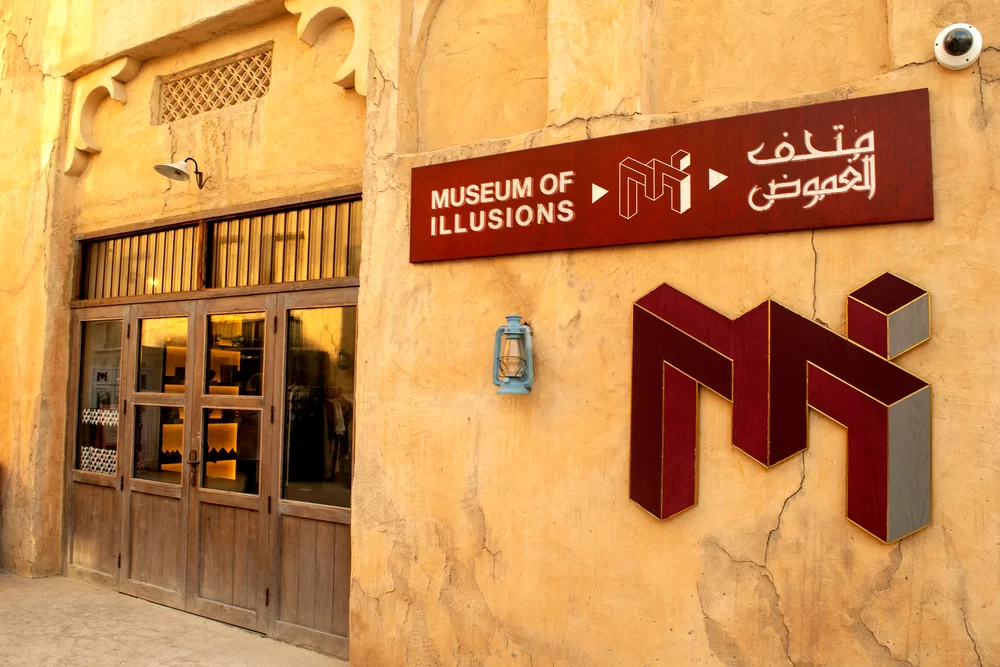 This is a whole other sort of museum. The Museum of Illusions in Bur Dubai (Al Seef) along the Creek is a wonderland of mind-blowing optical illusions. The Museum of Illusions in Dubai is one of several such museums maintained by the world-renowned museum chain of the same name. The one in Dubai, the largest of them, contains more than 80 tricks and illusions that'll leave you baffled! Furthermore, children will like it the most.
The Ames Room, the Slanted Room, and the Vortex Tunnel are the primary attractions at the Museum of Illusions, Dubai. In the Ames Room, you can make yourself appear larger or smaller than your acquaintances, and in the Slanting Room, you can defy gravity. The vortex tunnel tricks your mind using visual illusions into thinking the platform you're standing on is moving when it's not.
Entry Fee –
Adults: 80 AED (approx 1,600 INR)
Children: 55 AED (approx 1,100 INR)
Students and Seniors: 65 AED (approx 1,300 INR)
2. Dubai Coffee Museum
As a beverage, coffee has been a part of Middle Eastern culture for nearly as long as it has been. This monument to caffeine intake, located in Dubai's Al Fahidi Historical District, is sprinkled with interesting artefacts and displays a vast collection of antique goods highlighting the regional and international coffee history and culture. The bottom floor is divided into zones that depict the customs of many coffee-drinking countries, while the literature room, which exhibits coffee-related writings, is located above. Finish your caffeine-fueled tour with a cup of coffee from the custom-built brew bar. It is one of the free museums in Dubai.
Entry Fee –
No entry fee is required to enter the museum.
3. Dubai Museum
The museum, which is located on Al Fahidi Street in Bur Dubai, is ideal for individuals who wish to comprehend the shift from Dubai's medieval city to the contemporary metropolis that we see today. It is adjacent to Dubai Creek, which is one of the city's most historic regions. Dubai museum is housed in the Al Fahidi Fort, which was completed in 1787. The city's history is told through models of people, animals, and locations. You'll get a peek into history as well as some incredible artefacts.
Entry Fee –
Fee for everyone- 6 AED (approx 100 INR)
4. Etihad Museum
If you're interested in the UAE's history, the country's creation, and how it has evolved since, go to the Etihad Museum, which is located in the same place where the UAE was formed in 1971. Photographs, movies, and interactive exhibits illustrating the country's social, cultural, and military legacy, as well as items from the founding fathers, may be found at the museum. The museum also has a library with photographic books for sale, a garden, and a cafe where you may unwind with a camel's milk ice cream after your visit.
Entry Fee –
Adults: 25 AED (approx 700 INR)
Children: Free
Students: 10 AED (approx 200 INR)
5. Museum of the Future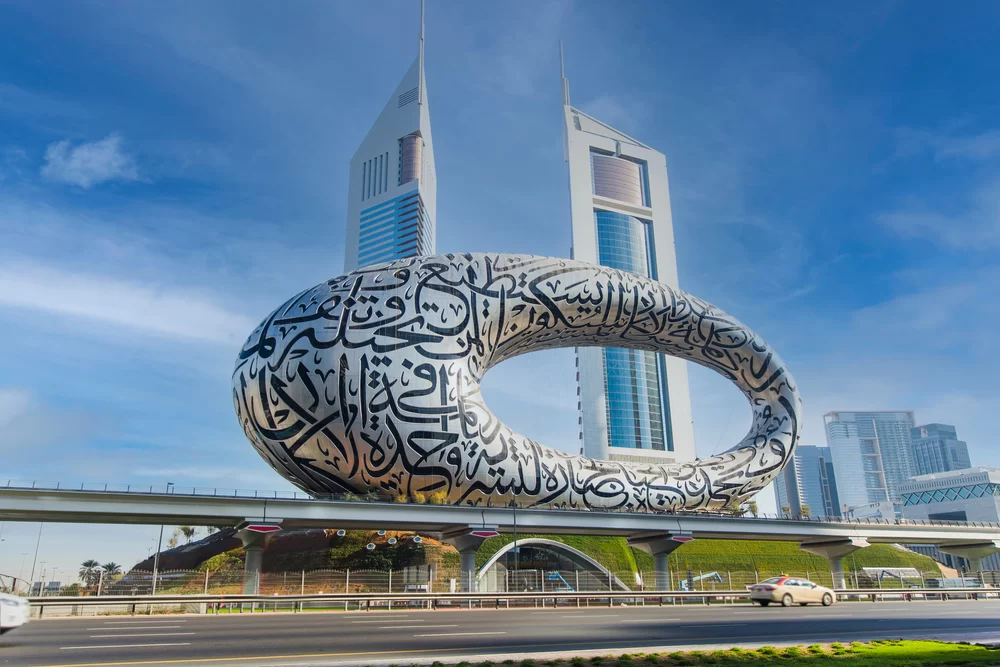 Trust Dubai to constantly amaze you with architecture that exceeds everyone's expectations! Have you ever heard of a museum receiving prizes before it even opens? With a structure that resembles a massive eye but is actually a torus engraved with calligraphy. One of the many mind-blowing qualities is that the entire structure is one single system and is known to be one of the most famous art museums in Dubai.
The fact that it is called a museum in Dubai does not explain its function. It is more of a breeding ground for technology and discoveries that will impact the globe and tackle future issues such as automation, climate change, and wellness. It now exclusively hosts exhibitions and will open to the public in 2020. This is one of the most famous museums that is included in Dubai holiday packages as all of the proposed exhibits will be interactive, allowing visitors to participate in the transformation process.
Entry Fee –
Adults: 145 AED (approx 2,900 INR)
Children and Seniors: Free
6. Pearl Museum
While Dubai is known as the "City of Gold," it has a long history with the pearl trade. While pearl diving is no longer king, the Pearl Museum pays respect to the magnificent jewels and the divers who acquired them. The main exhibit of the museum, located at the National Bank of Dubai headquarters in Deira, includes a collection of magnificent pearls in odd forms and hues, as well as some spectacular jewellery. The museum also displays numerous pearl diving instruments, such as classic dhow boats used by Arabian divers. Visitors can listen to an informative lecture on different pearl beds and the variety of oysters found in the Gulf water.
Entry Fee –
No entry fee is required to enter the museum.
If you are a history fan and want to learn how Dubai became the magnificent metropolis that it is today, there is no better way to do it than by visiting some of the most amazing museums. Dubai has a lot to offer in terms of modern culture and entertainment. However, the city's administration is equally interested in teaching the public about the city's rich history and culture. If you're planning a single trip, a group tour, a family holiday, or a Dubai honeymoon package, these museums are wonderful and well worth a visit to Dubai.