Reading Time:
23
minutes
Dubai is aptly known as the land of miracles! A city that has developed from scratch to become one of the leading global destinations of not just the Middle East but the world. This Emirate is best-known for its towering skyscrapers, glittering malls, bustling markets, traditional souks and extraordinary monuments that speak of unparalleled extravagance and mesmerizing beauty.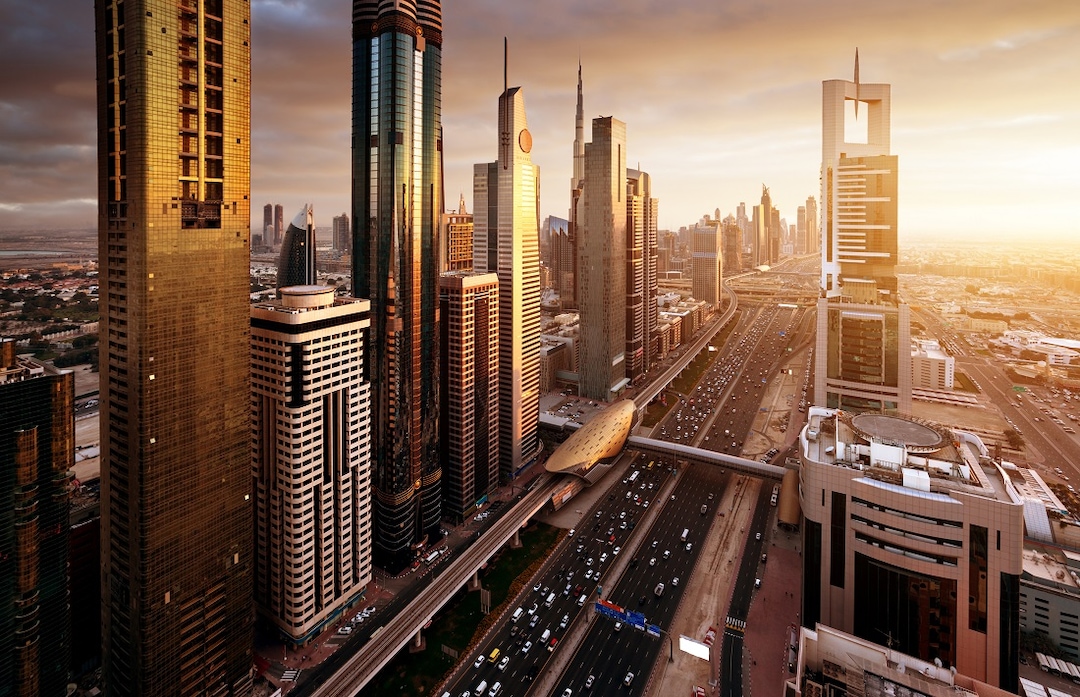 Some even refer to it as the 'Emirate of Inspiration'! And, why not? Truly, the Emirates of Dubai not only fascinates but also inspires the world to always build, create and innovate. It is said that every time you visit Dubai there is a whole new addition to skyscrapers and magnificent man-made structures that rival the ones built before. It is difficult to believe that only a couple of decades ago, this land was just a dry desert patch with only a few buildings and structures scattered around its vast landscape. Today, Dubai is a phenomenally developed, thriving city that stops at nothing and innovates faster than the blink of an eye! In addition to its fast-paced city life and futuristic technology, this popular Emirate of the Middle-East is also well-known for its unique desert culture and progressive societal approach that is unheard of, in many Middle-Eastern countries.
To help you explore the vast Emirate of Dubai, we have put together a collection of best places to visit in Dubai and some popular experiences that you must try as part of your Dubai tour packages from India! Read on and be inspired to plan a journey to one of the most awe-inspiring lands of our time…
First, let's check out some of the best places to visit in Dubai:
1.) Burj Khalifa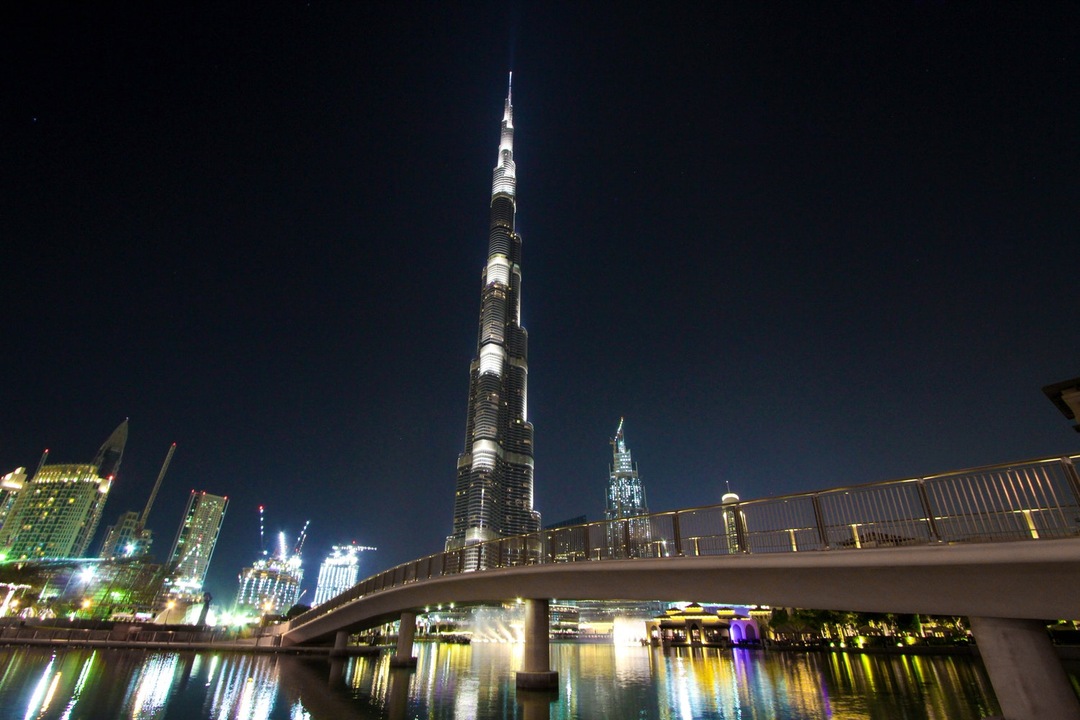 Who wouldn't want to be on top of the world? Experience the feeling of watching the world from up above when you zoom upwards to the 124/125th floor of Burj Khalifa – the tallest tower in the world, as part of your Dubai holiday packages from India. The views are simply awesome from the observation deck of the tower and offer ample photo opportunities which can be enjoyed during the day as well as night. Although there is a long queue to take you to the top, the interiors of Burj Khalifa are filled with interesting facts, pictures and stories about the construction and completion of the tower that will keep you entertained until you reach the top. Easily one of the best places to visit in Dubai, Burj Khalifa is a must-visit attraction and an essential part of your Dubai tour packages!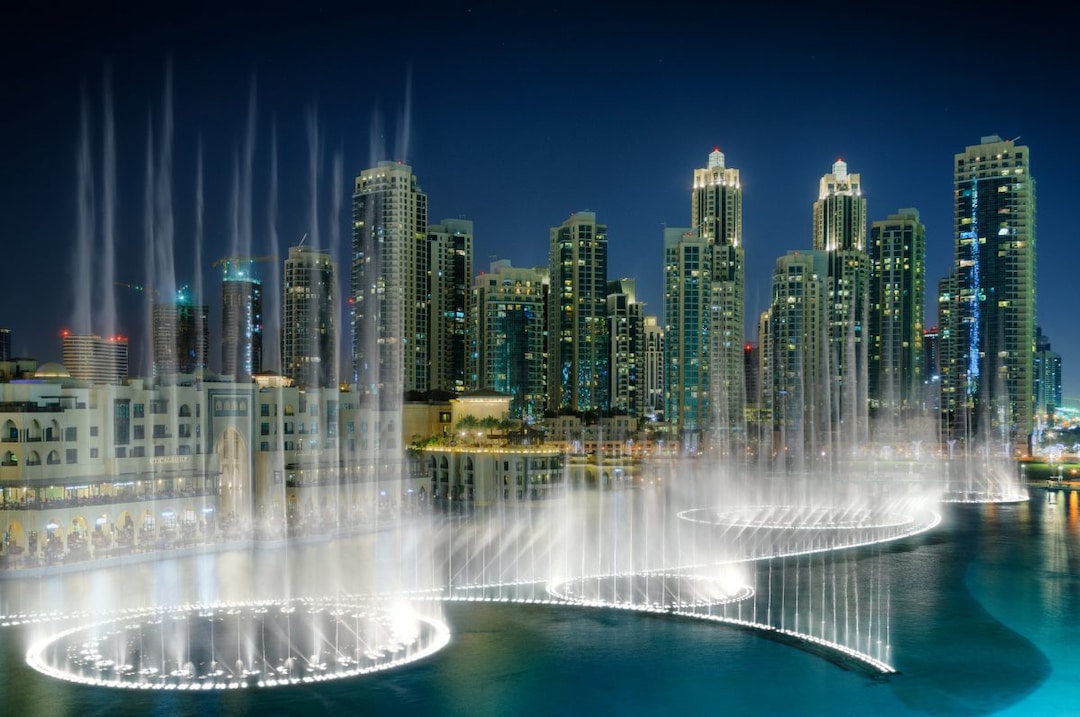 Must-Visit: Do not forget to witness the exquisite display of waterworks at the Dubai Fountain, located right between Burj Khalifa and Dubai Mall! The water fountain shoots jet sprays that are choreographed to form beautiful patterns and set on the tunes of world-renowned music. The musical water fountain show is the world's largest choreographed fountain system and something that should definitely be a part of your sightseeing experience. The afternoon shows are from 1:00 PM to 1:30 PM every day, except on Fridays when the timings are 1:30 PM to 2:00 PM. The evening show timings are from 6:00 PM to 12:00 Midnight every 30 minutes. So, book your slots and get ready to catch a marvellous performance of water, lights and music!
2.) Dubai Mall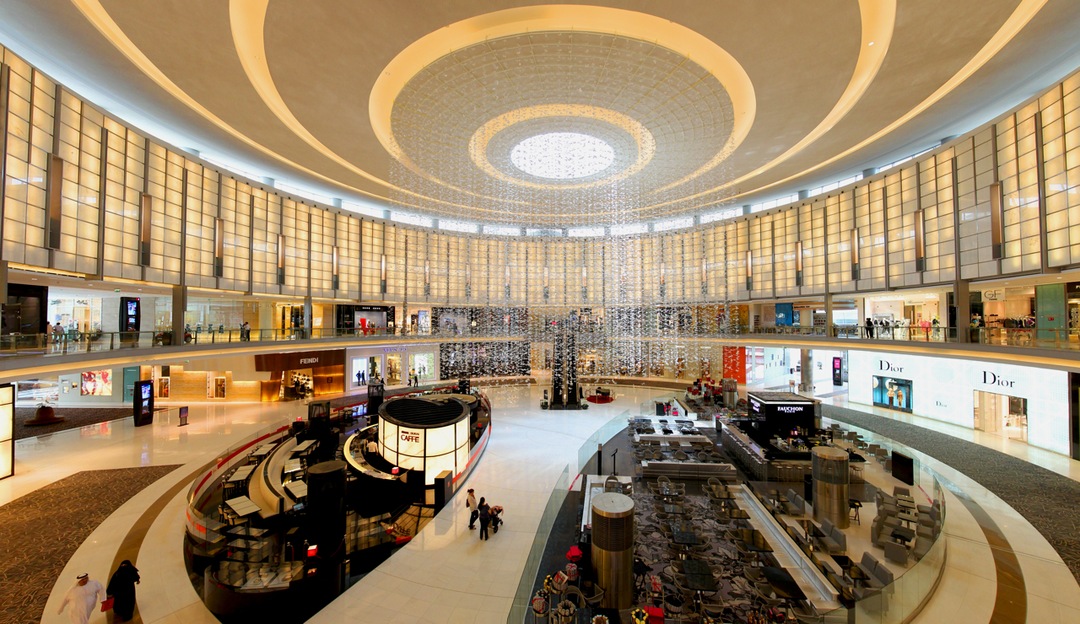 The grandest mall of the Emirate! Dubai Mall is an extravagant shopping complex located in the heart of Downtown Dubai and shopping at this amazing place is undeniably counted as one of the best things to do in Dubai. Covering an internal floor area of over 13 million square feet (equivalent in size to more than 50 football fields), the Dubai Mall is the largest mall in the Middle East and the second largest mall in the entire world. It receives about 80 million visitors annually and dazzles with an array of retail stores, luxury brands, premium outlets, entertainment centres, cafés, restaurants and several prominent art displays and attractions. It is also home to the popular attraction, Dubai Aquarium & Underwater Zoo that features an array of aquatic animals and 270-degree walk-through tunnels. With such amazing shopping, dining and entertainment options, be sure to include Dubai Mall as part of your Dubai tour packages from India.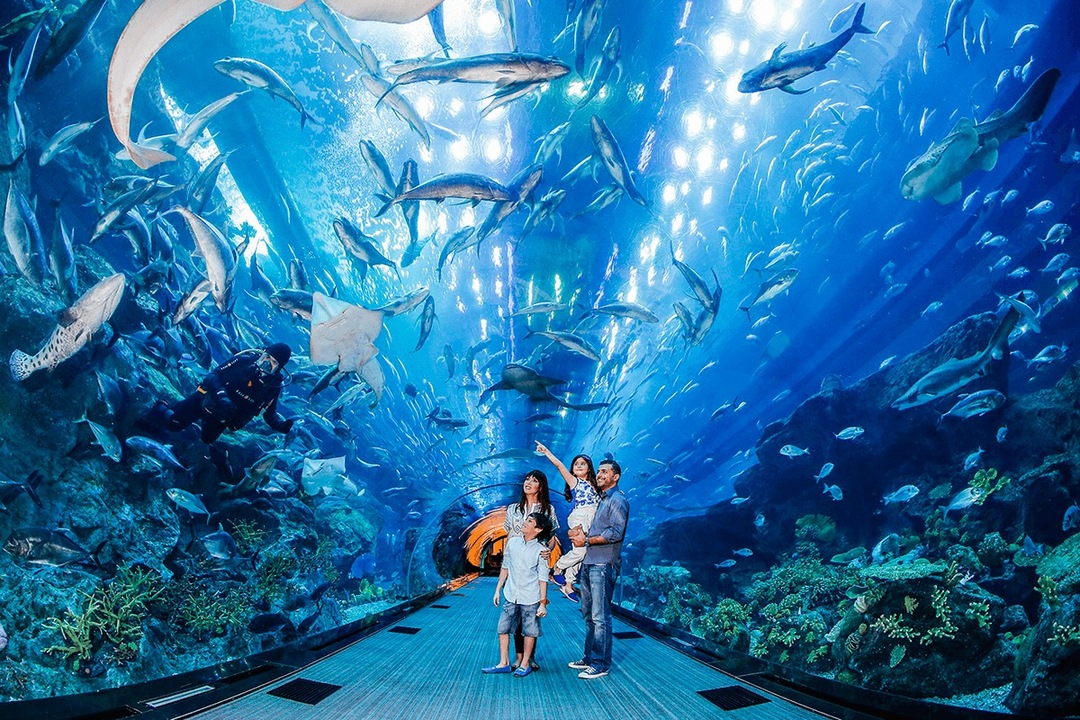 Travel Tip: Plan for Dubai Shopping Festival packages during the months of December to February and enjoy amazing discounts and sales at various malls (including Dubai Mall) and shopping outlets in Dubai.
3.) Desert Safari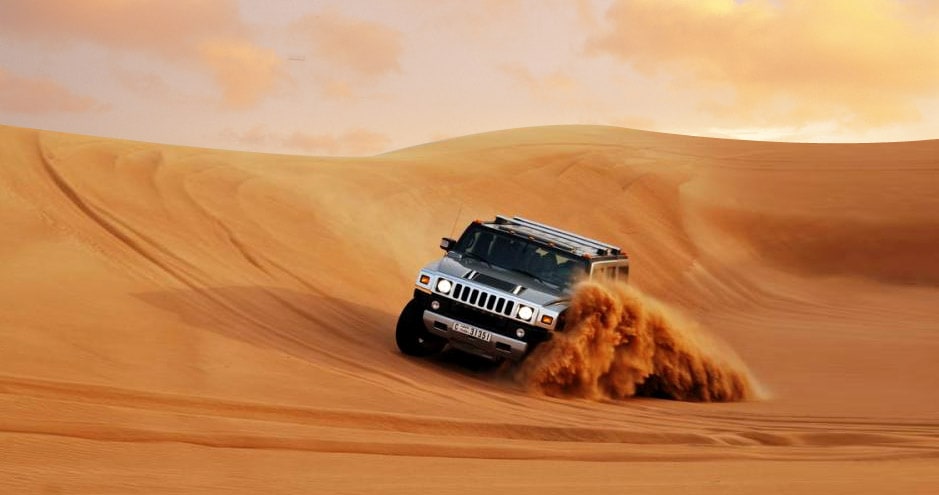 One of the most exclusive and must-do experiences that can form an integral part of your Dubai holiday packages is Desert Safari! Cruise over golden yellow sand dunes in a 4X4 sturdy vehicle and enjoy a rollercoaster-like topsy-turvy ride in the desert. The Desert Safari Dubai is truly an incredible experience that you can enjoy in the deserts of Dubai and a memorable encounter that needs to be a part of your Dubai travel packages. What's more? Enjoy activities such as quad-biking, bottle sand-art, camel rides, falcon spotting, henna painting along with a sumptuous Arabic fare as part of the Desert Safari experience. To get an authentic feel of being in the Arab Land, this experience is usually accompanied by an exotic belly dancing performance. The Desert Safari can be enjoyed from mid-day to sun-down and desert safari operators usually arrange pick-ups and drops from specific points in and around Dubai. So, do not miss out on one of the most amazing Dubai points of interest and immerse yourself in the Middle Eastern land and its culture!
For affordable hotels in Dubai, read our blog: 12 Affordable Hotels near Desert Safari in Dubai – Comfort with Budget!
4.) Bollywood Parks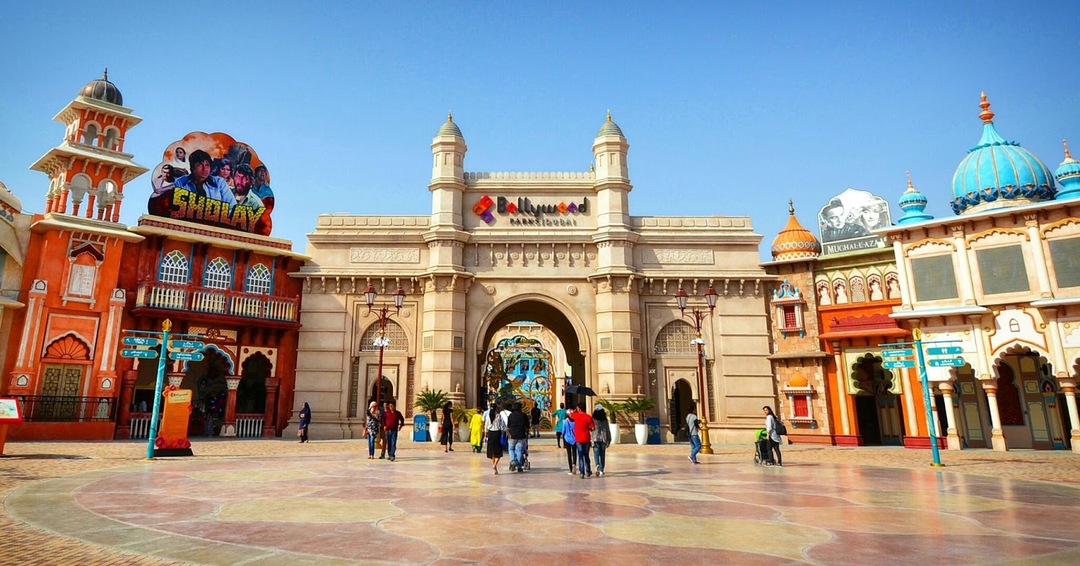 The glittering metropolis of Dubai is a land of fascinating sand dunes, extravagant shopping malls, lively souks, bustling markets and ultra-modern architecture that all together form an interesting part of your Dubai holiday packages from India. Add to that a dash of glamour, drama and the action-packed entertainment of the Bollywood World and you get an experience of a lifetime. That's right! Welcome to the amazing and incredible Bollywood Theme Park Dubai that takes care of your entertainment quota, Bollywood style! Experience action, comedy, drama, grandeur, romance and full on entertainment, all packed into one special Bollywood Theme Park. Feel like a superstar and get your chance to shine in the limelight as you indulge in dance, drama and action. Enjoy the thrill of winning the 'Lagaan Cricket Match', witness the super stunt fights of India's first superhero – Krishh or hunt for 'Gabbar' from the blockbuster yesteryear hit movie, Sholay! One of the best places to visit in Dubai, Bollywood Theme Park is a treat to all the senses and an essential part of your Dubai tour packages!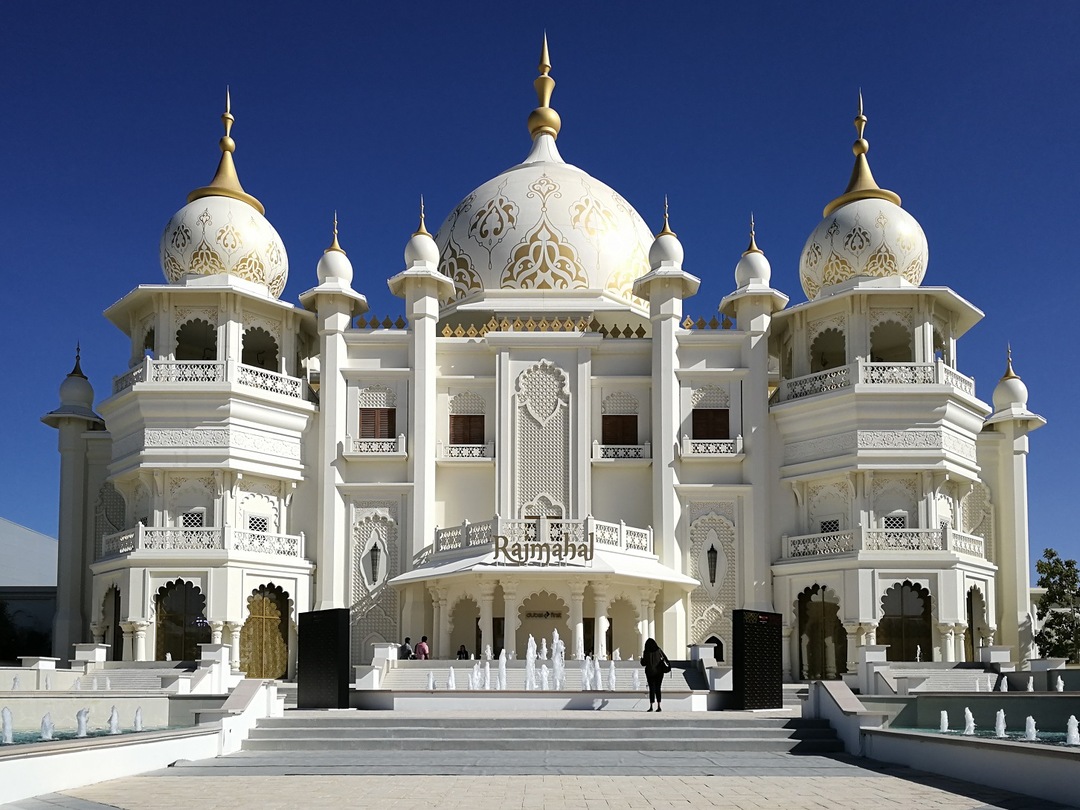 Do Not Miss: Rajmahal Theater – one of the most famous attractions of Bollywood Theme Park Dubai that screens live action-packed shows. Shaped in the form of a royal palace, Rajmahal is a true icon of Indian Bollywood Cinema!
5.) Miracle Garden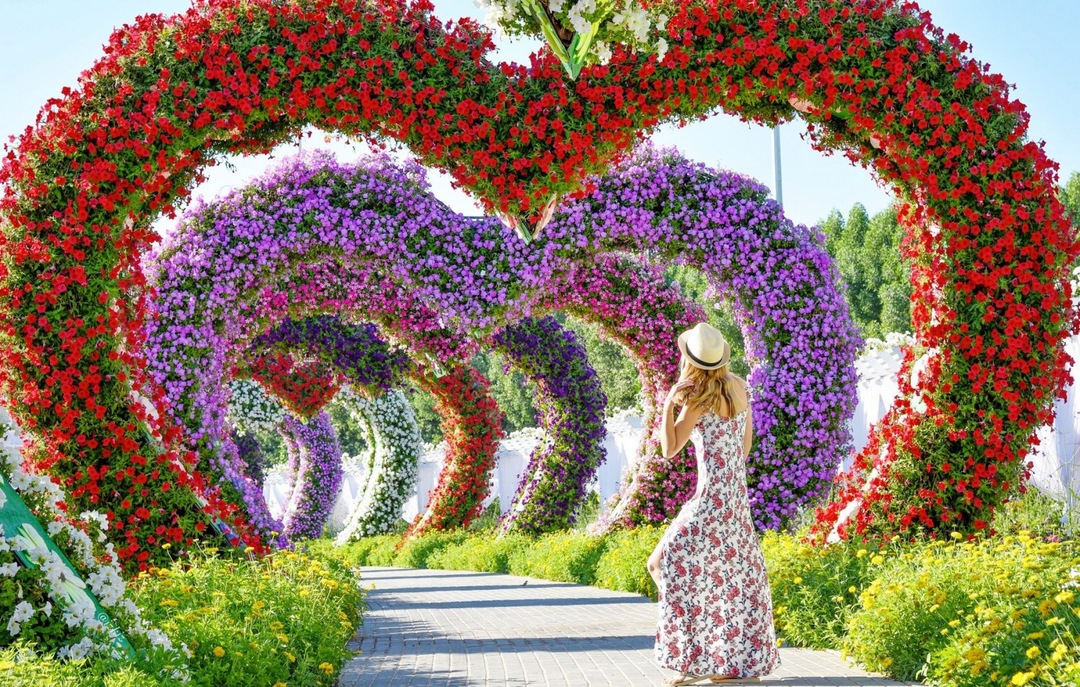 The garden of wonders! Miracle Garden, true to its name, is a miracle in the desert land of Dubai. Who would have imagined a vast expanse (approx. 72,000 sq. km.) of colourful flowers, plants, trees and shrubs, all cultivated and maintained right in the middle of the desert? Truly, a miracle of mankind! The Dubai Miracle Garden is the world's largest natural flower garden inaugurated on the occasion of Valentine's Day on 14th February 2013. Ever since then, the garden has managed to charm visitors from across the world and has maintained a prime position as one of the best places to visit in Dubai. The garden features attractive flower sculptures depicting various shapes such as humans, birds, clock, hearts, teddy bear, an Emirates aeroplane, houses, comic characters and various other remarkable displays.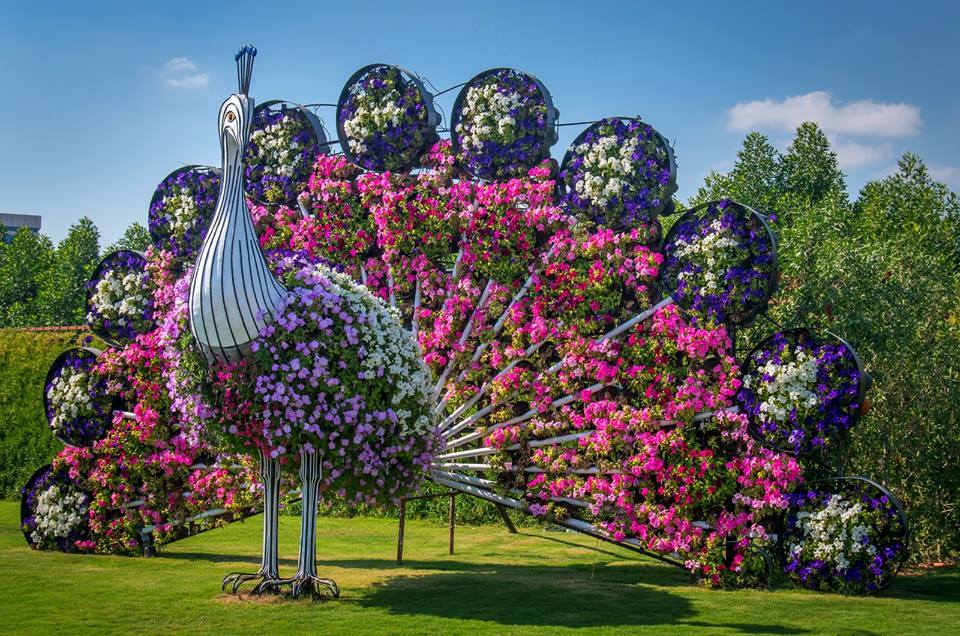 The Dubai Miracle Garden is however only open from October to April which is the favourable climate to visit and view the flowers in Dubai. It remains closed from May to September due to high temperatures, so book Dubai tour packages accordingly and do make this amazing attraction a part of your Dubai holiday packages.
6.) Dubai Frame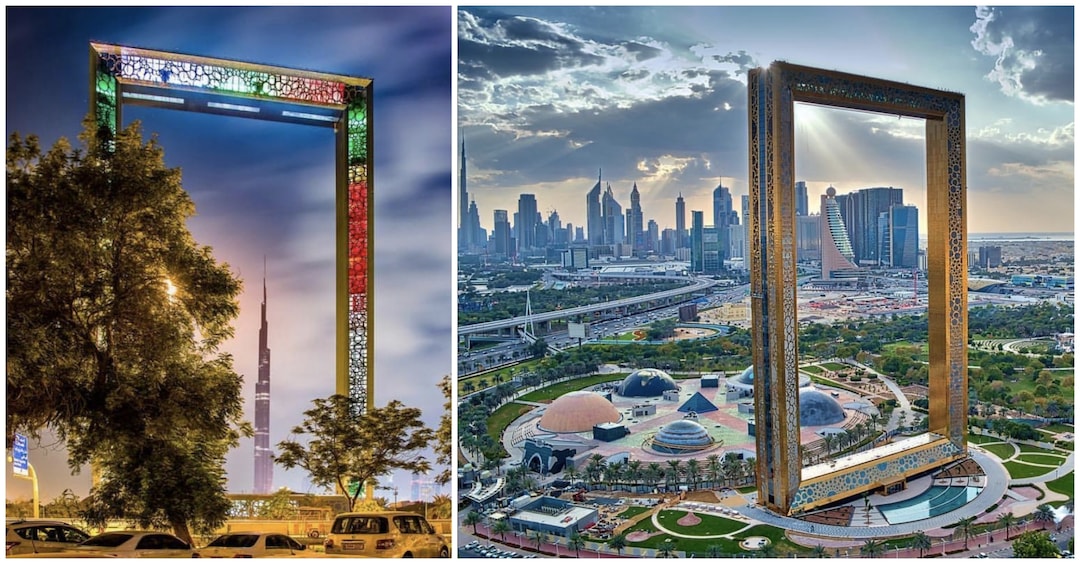 The newest attraction among Dubai points of interest! The Dubai Frame is a gigantic rectangular frame-like structure that was made open to the public on 1st January 2018. The idea of the frame is to present the perfect balance of Dubai; the old and new city existing harmoniously and to display the sheer growth and progress of this Emirate in a span of a few decades. The structure of the Dubai Frame is quite simple; you take a lift from one end of the frame to the linear observatory on top. This observatory deck provides you with a 360-degree panoramic view with the old Dubai quarters on one side and the new upcoming flashy districts of Dubai on the other. The observation deck also features historical facts, figures and timelines about the rise of this metropolis and provides an interesting insight into Dubai, as we know it! The lift on the other end of this rectangular frame takes you back to ground reality and the entire experience simply leaves you in awe of the Dubai Frame. So, don't forget to include this remarkable feat of architecture and engineering in your Dubai tour packages, the next time you visit this Emirate of Inspiration!
7.) Jumeirah Beach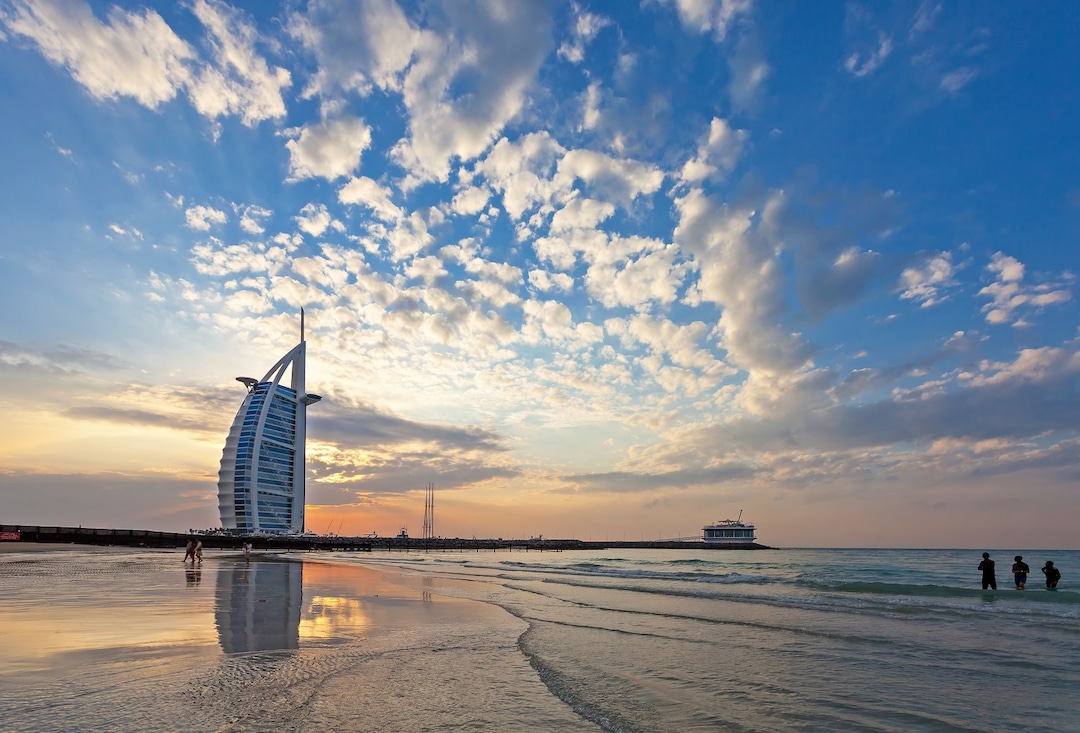 Dubai is blessed with a lot of man-made wonders and the best part, it is also adorned with a beautiful beach that simply completes the picture-perfect image of this city. The Jumeirah Beach is a beautiful strip of soft white sand that laps up the ocean waves of the Persian Gulf and provides a sunny much-needed relief from the otherwise glass and metal cityscape of Dubai. It is the ideal spot to catch a sunset or just spend some quality time with your loved ones! The Jumeirah Beach is located on the southern end of the Jumeirah district and is easily one of the best places to visit in Dubai with family, friends or solo. The options are countless and you can pick among a host of things to do in Dubai, on this beach.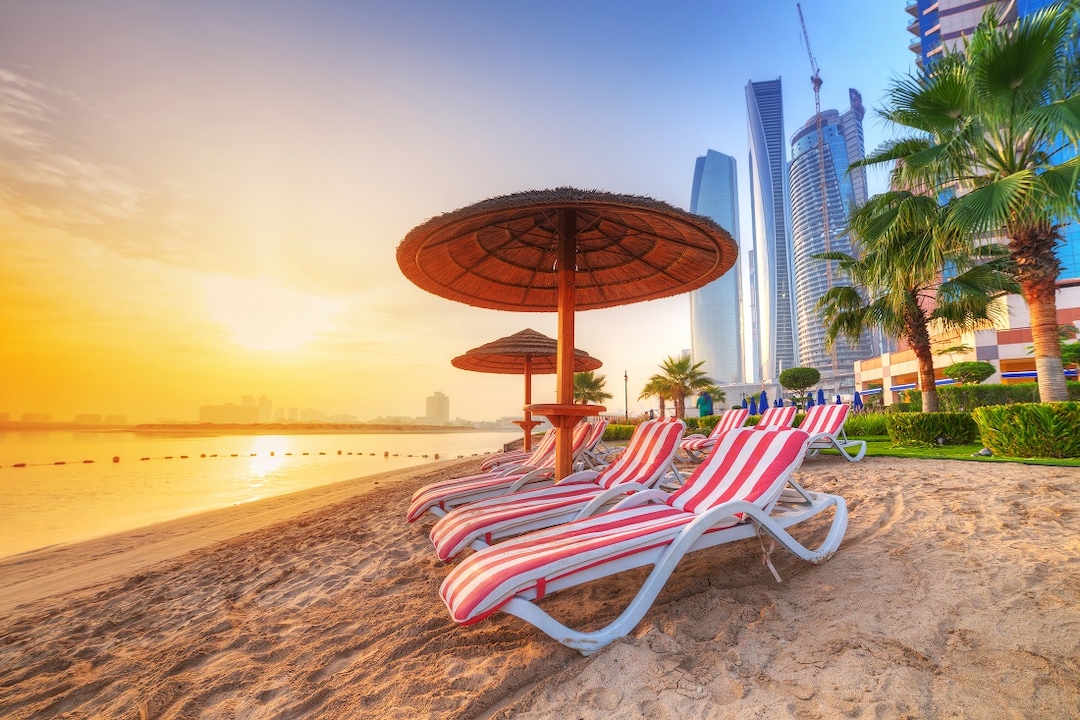 Try adventurous water sports, enjoy a fun-filled barbeque, stroll along the cafés on the beach or simply sit back, relax and soak the glorious sun! Jumeirah Beach is the perfect escape in your Dubai travel packages and one you must take due advantage of when you visit Dubai. The beach also hosts several upscale establishments and hotels such as Burj Al Arab, Jumeirah Beach Hotel, Madinat Jumeirah and Wild Wadi Water Park that can form an exciting part of your Dubai holidays package deals!
Now, let's have a look at some of the most popular things to do in Dubai:
1.) Dhow Dinner Cruise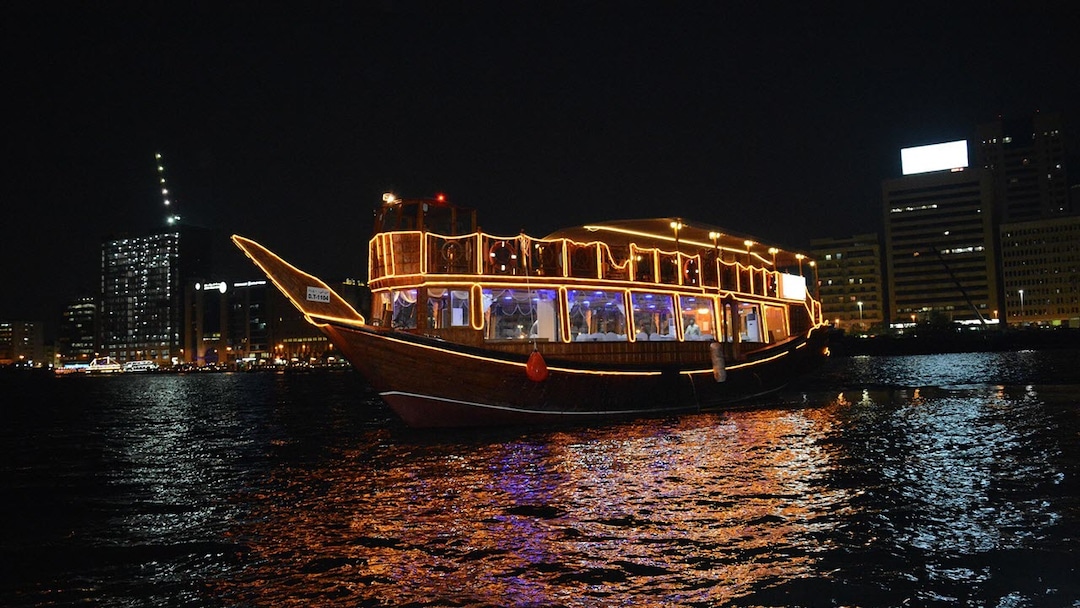 The Dhow Cruise in Dubai is an exciting and unique experience that simply cannot miss as part of your Dubai travel packages! Glide through the calm waters of the Dubai Marina and take in the splendid sights of the Dubai skyline. A Dhow is a traditional wooden boat that is used for the purpose of entertainment where visitors can get a chance to glimpse traditional Bedouin culture. These boats are beautifully decorated with an upper deck and lower deck that is well-equipped to accommodate boat staff, entertainers, guests, table settings and a delicious buffet spread on-board. Be welcomed by a traditional Arabic welcome drink followed by a sumptuous Mediterranean fare that will leave you wanting for more.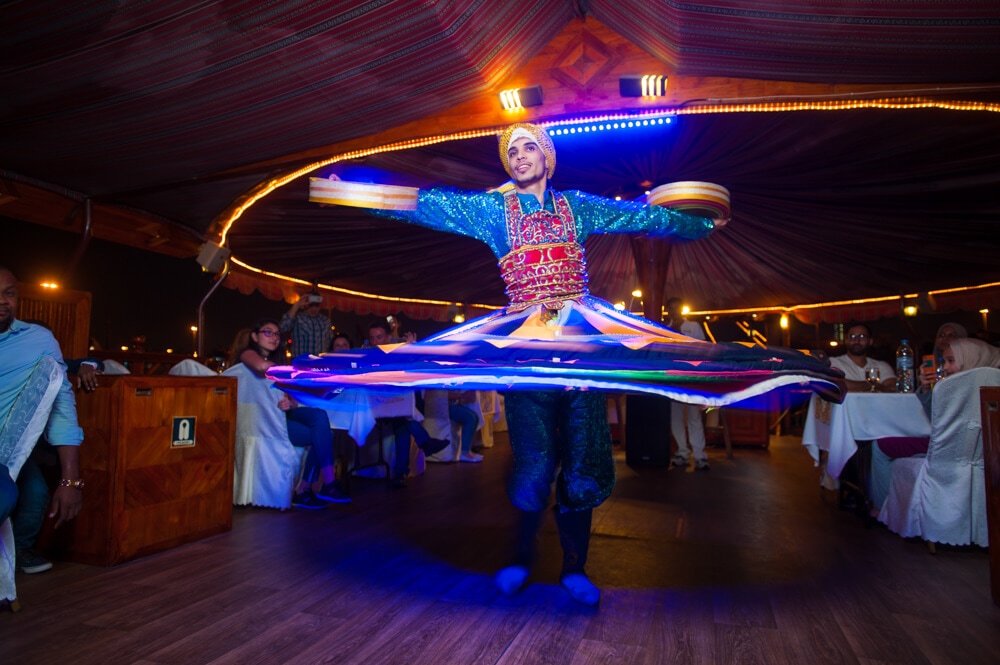 This remarkable Bedouin hospitality is accompanied by an exquisite 'Tanoura' folk dance that combines the graceful moves of the dancer and the kaleidoscopic lights of the Tanoura costume. All this while you effortlessly glide through the shimmering creek and soak in the crisp air and twinkling lights of Dubai! Experience this amazing cruise as part of your Dubai budget tour packages and have the time of your lives…
2.) Shopping at Deira Souks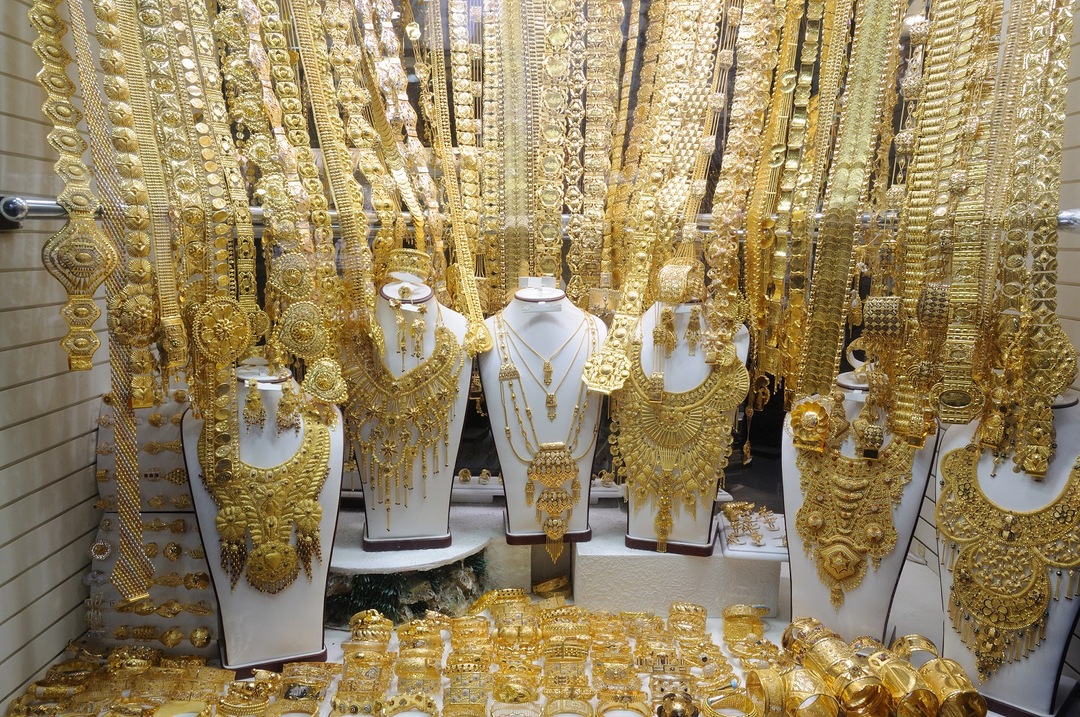 If there was one thing that set Dubai apart from the rest of the metropolises, it is the network of authentic and traditional Souks that you can find in the old quarters of the city! The Deira Souks (markets) of Dubai feel as if you have been transported into a parallel universe that is in complete contrast with the fast-paced lifestyle of Dubai. Here, it seems as if people still belong to the bygone era and structures look as if they belong to an ancient time! Such is the historic charm of this part of the city that it immediately attracts and draws in visitors from around the world.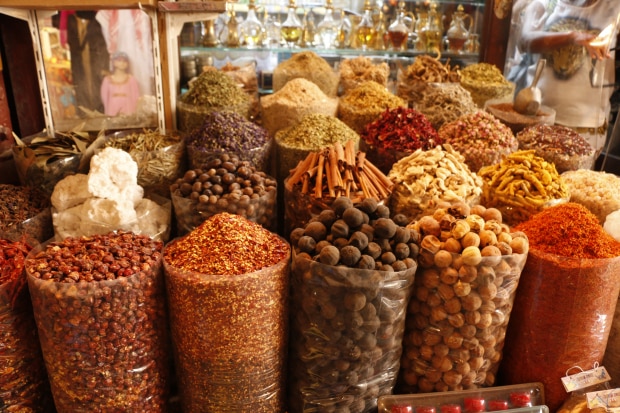 The Deira Souks are famous for a variety of items ranging from spices, handicrafts, textiles, perfumes, souvenirs to jewellery, gold, fashion and electronics. Tradesmen, shopkeepers, artisans, craftsmen all flock to the streets of the Souks and encourage you to explore and buy their phenomenal wares. The most famous of them being the Gold Souk which has some of the widest variety of lavish gold jewellery and the world's biggest gold ring that is worth a fortune. Combine your leisure holiday with the traditional experience of shopping at Deira Souks and include it as part of your Dubai tour packages!
3.) Global Village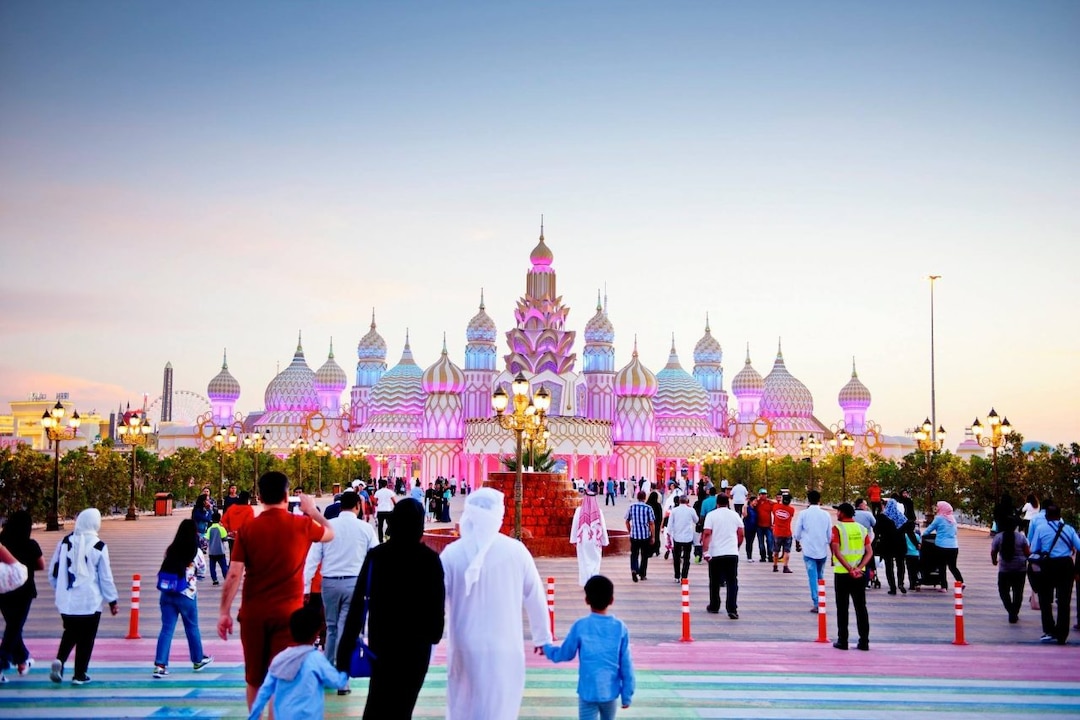 Exploring Global Village is easily one of the best things to do in Dubai and a must-visit that should be a part of your Dubai shopping festival packages! Located in Dubailand, Global Village is a seasonal cultural extravaganza that showcases cultures from all over the world and features various leisure, entertainment, shopping and dining venues, all at one place. It is claimed to be the world's largest tourism project and the region's very first cultural and family destination. A spectacle that draws in people from all over the world and a destination that is ideal for every kind of traveller, be it solo, family or honeymooners. What started as simple kiosks back in the year 1996 gave way to this mega cultural project that is counted as one of the best tourist attractions and among the most incredible Dubai points of interest. Global Village is operational during the winter months starting from November to April, so plan your Dubai tour packages from India accordingly. You can also visit the place during the Dubai Shopping Festival (December to February) when the prices are at their competitive best and the entire city enjoys a discount spree like no other!
4.) High Tea at Burj Al Arab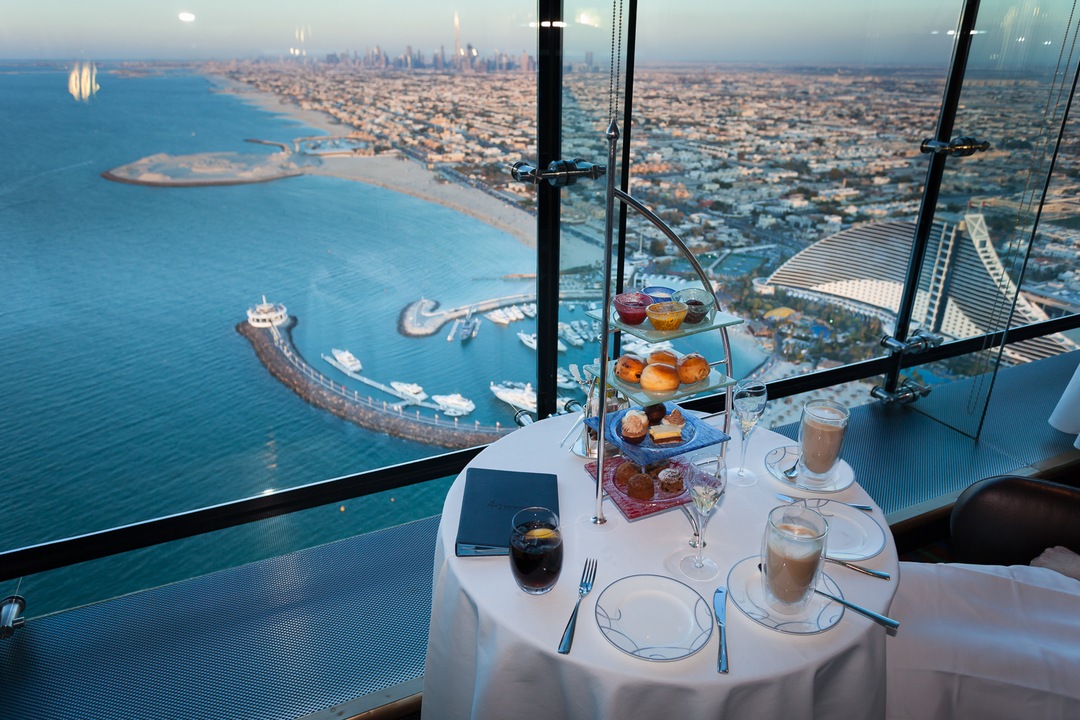 Burj Al Arab, in many ways, has become an iconic structure of Dubai! The boat-sail shaped, world's most luxurious hotel is located strategically on the Jumeirah Beach and provides a glorious backdrop to anyone wishing to capture a scenic frame from the beach. Experience at-par hospitality and facilities fit for a royal when you visit this extravagantly designed and lavishly decorated hotel. With luxurious duplex suites, world-class restaurants, 5 swimming pools, private beach, rejuvenating spa facilities and exceptional services such as chauffeur driven Rolls Royce and free access to Wild Wadi Water Park during your hotel stay, Burj Al Arab is all set to offer the royal treatment that you have always craved for! The High Tea at Burj Al Arab is one of the most sought-after dining experiences that visitors can take advantage of during their Dubai tour packages! There are 2 cafés where you can enjoy scrumptious treats and mouth-watering snacks along with afternoon tea – Skyview Bar on the 27th floor that offers stunning views of Dubai and Sahn Eddar located at the ground level that provides a splendid view of the hotel atrium.
5.) Atlantis the Palm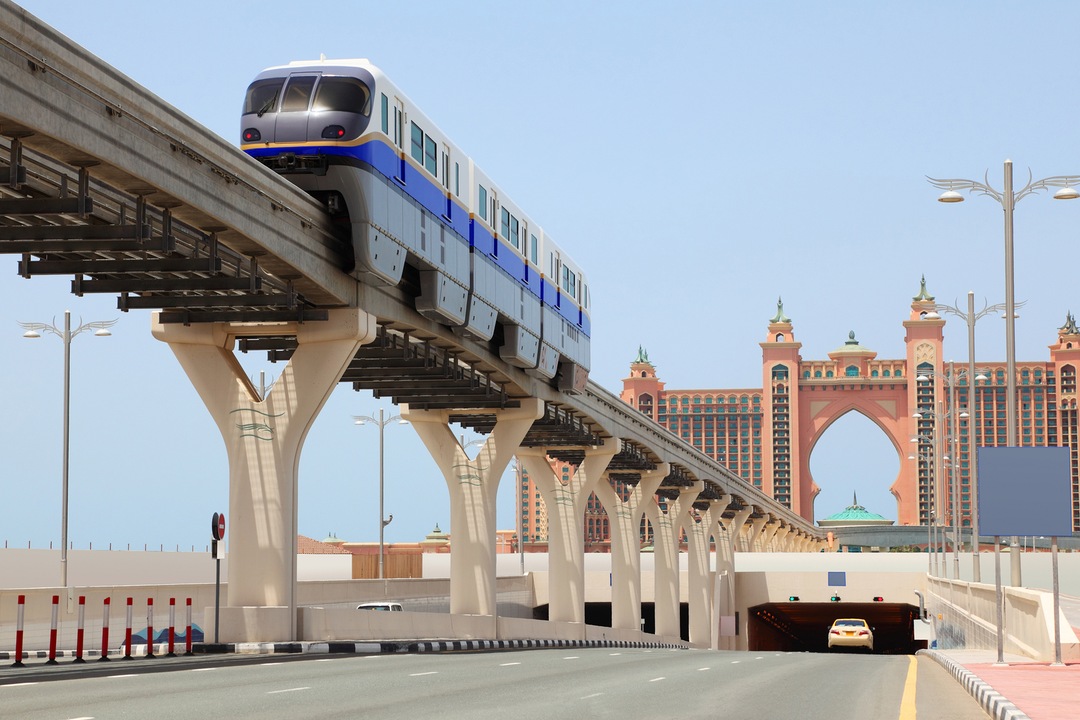 Another exquisite attraction of Dubai is the spectacular 5-star hotel, Atlantis the Palm located at the far end (apex) of the Palm Jumeirah Island in Dubai. The luxurious beach resort offers exciting marine attractions such as The Lost Chambers Aquarium, Dolphin Bay, Aquaventure Waterpark and entertainment activities that can be enjoyed by one and all. Stay at their well-appointed luxury suites and take advantage of their 'Signature Underwater Suite' that will immerse you in the fascinating marine world along with the legendary ruins of the lost city of Atlantis. One of the best views of this majestic hotel and the stunning ocean can be captured in your mind's eye when you take the monorail ride from the city to the last stop of the Atlantis. The monorail offers panoramic views of the surroundings and gives you an opportunity to view the Palm Jumeirah Island up close. There are helicopter tours and sea-plane rides available from this point that take you across the glorious skies of Dubai and offer never-before-seen glimpses of Burj Khalifa, Burj Al Arab and Palm Jumeirah, from high up above. Truly an experience you cannot afford to miss out on when you plan Dubai holiday packages from India!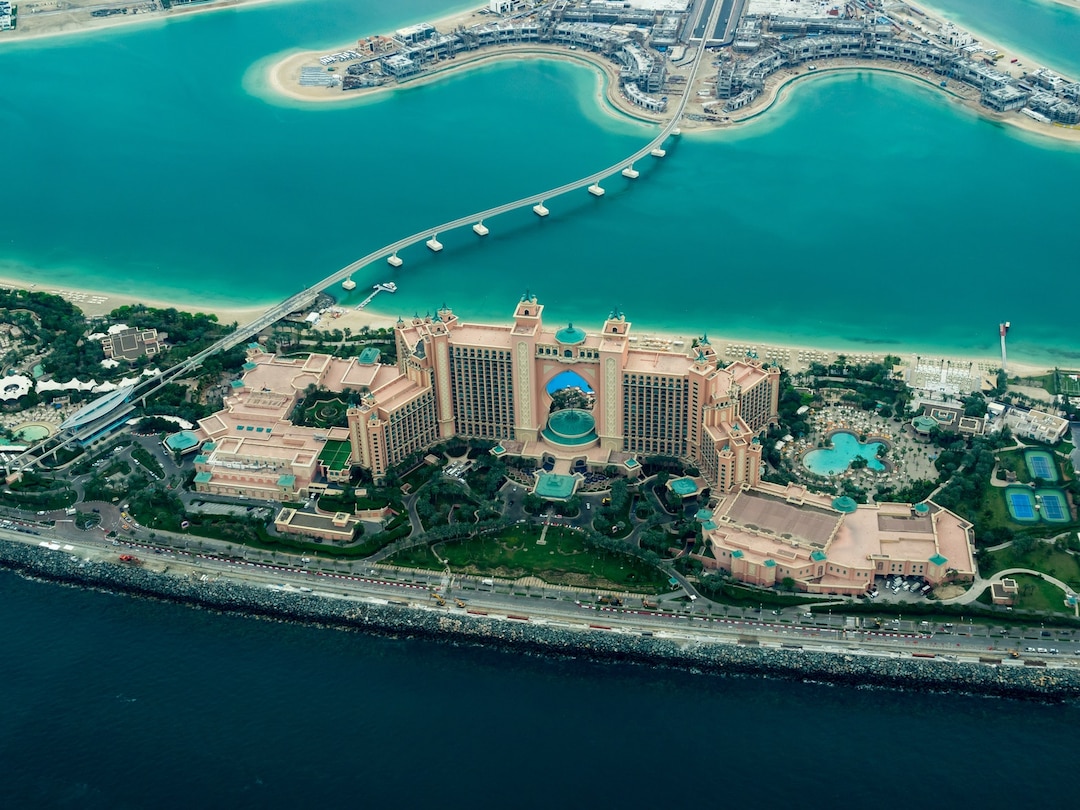 Besides these amazing things to do in Dubai, there are many other adventures that you can take advantage of as part of your Dubai tour packages. Skydiving at iFly Dubai, Underwater Diving at Dubai Mall Aquarium, Skiing at SkiDubai – Mall of Emirates, Zip-lining at Jabal Jais – UAE's highest mountain and the world's longest zip line, watching splendid operas at Dubai Opera and riding on the world's fastest rollercoaster ride at Ferrari World, Abu Dhabi are some of the many wonderful experiences that you can try in Dubai. You could even combine your Dubai travel with Ferrari World packages and enjoy the stunning Emirate of Abu Dhabi on your holiday! Looking at all the amazing possibilities, it is pretty evident that one trip to this metropolis would not be enough to fulfil your senses and satisfy your soul.
Let the city of miracles encourage you to explore more and discover what lies beneath the foundations and success of such a great city… It will not be long before you realize, Dubai not only innovates, it inspires!