The stunning nation of Switzerland is home to scenery characterised by an abundance of spectacular mountains and a variety of lakes that are nothing short of astounding. The sparkling lakes in Switzerland have a unique quality attributed to their elevation, the water's clarity, or the beauty of the surrounding scenery. Numerous picture-perfect lakes are hidden in the four main river basins of the nation and are just waiting to be discovered. All of these are simple to reach thanks to the country's superb transportation system. When on a Switzerland travel package with family or your special someone, you cannot miss discovering the best cafes, scenic views, snow-capped mountains and best lakes in Switzerland.
No trip to Switzerland is complete without visiting some of the most beautiful lakes there, no matter where your travel leads you. Every lake has its collection of entertaining activities, including swimming, fishing, water skiing, and sightseeing tours. Various cultural attractions, including historic fortifications, one-of-a-kind museums, and attractive public gardens, can be found in lakeside resorts, communities, and towns.
Lake Geneva, Switzerland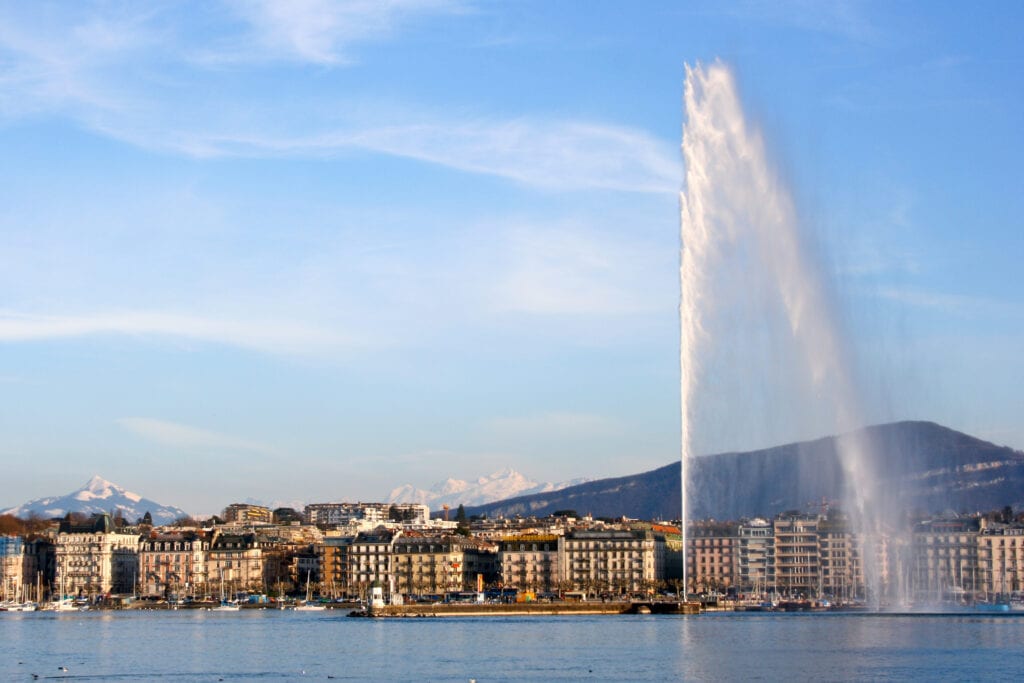 Lake Geneva, the largest lake in Switzerland, borders France and offers a variety of tourist attractions. The crescent-shaped lake is a favoured vacation destination for the affluent and prominent and is located on the northern slope of the Alps. Geneva's cobblestone streets are lined with upscale stores while boats glide serenely on the lake. You will see shoreline castles and vineyards on a beautiful lake tour. Visitors to Lake Geneva are also fascinated by the available outdoor activities there. Less than an hour's drive from the coast are ski areas and mountains with hiking routes. The Geneva Water Fountains (Jet d' Eau), a spectacular lakeside view that shoots water 460 feet [140 metres] into the air, is the equivalent of the Pyramids of Giza in Egypt, the Statue of Liberty in the USA and the Colosseum in Rome. Get on a boat or a cruise, enjoy the spectacular view, and take a memento shot from the shoreline where the River Rhone joins Lake Geneva.
Lake blausee, Switzerland
Lake Blausee, or 'blue lake', is a famous lake in Switzerland because it has a story of its own. A beautiful girl with deep blue eyes died of a shattered heart. The Blue Lake is likewise a deep blue colour in perpetual remembrance of the maiden's love, which endures beyond death. The lake has a perfect blue colour with crystal clear waters to behold anyone's hearts and eyes. It is situated within a 20-hectare natural park whose terrain was shaped by a rock avalanche that created the lake.
Early on, both locals and visitors were enchanted by the lake and the unique vegetation. Blausee was described as a "jewel of a landscape enveloped in enchanting woodland isolation" in a travel book published in 1885. Directly on the lake's edge is a hotel with a spa, and right next to it is a productive organic trout farm. Since there are walking pathways, picnic areas, and places to have a campfire, the site is quite accessible.
Lake Brienz, Switzerland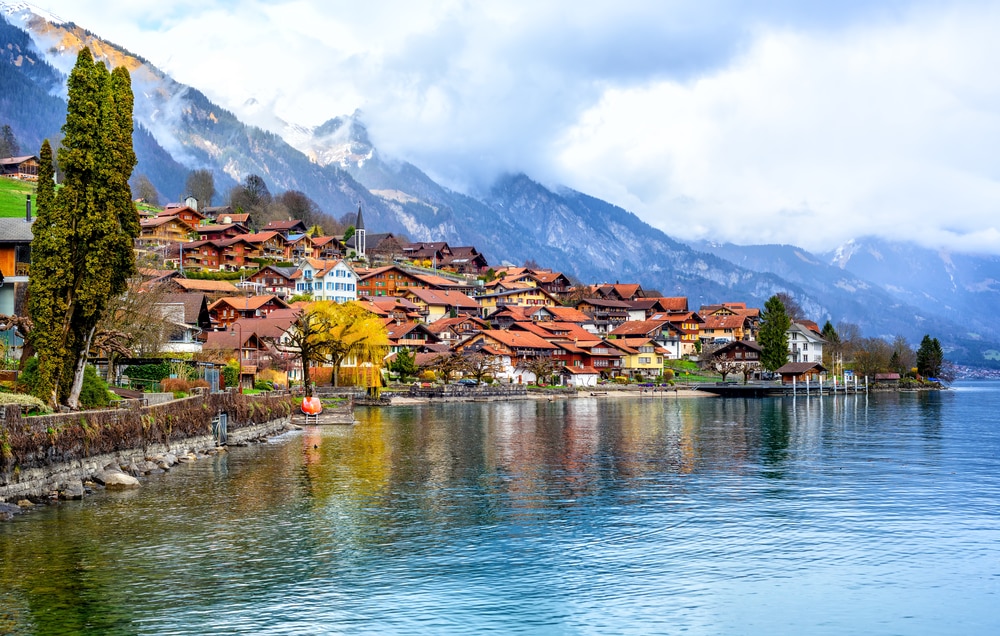 One of the most romantic and charming vacation spots in Switzerland, Lake Brienz is named for the town that lies along its northern coast.
It is brimming with breathtaking scenery, from the enormous icy-green lake and densely forested areas to lovely Bönigen and Giessbach with their waterfalls and towering cliffs. Thanks to the lake's excellent walking and cycling routes, you can stay active while taking in the one-of-a-kind, breathtaking views of Lake Brienz.
Numerous boat services are available in Lake Brienz to help you reach the shoreline's many undiscovered attractions. Visit Giessbach Falls, a funicular-accessible 500-metre-high cascade that empties into a lake. The best way to view Lake Brienz's stunningly coloured water is to take a trip on the Lötschberg in a restored steamboat.
Moreover, for a peaceful vacation in a lakeside community, travel to Bönigen near Lake Brienz. This charming town is full of 16th-century structures. You can also visit the Alte Pinte museum to observe what a Bernese Oberland hut looked like in 1772. Interlaken, formed between two lakes, has plenty of things to keep tourists engaged is only a short bus ride away from here.
Lake Zurich, Switzerland
One of the quaint and largest lakes in Switzerland, Lake Zurich offers sweeping vistas of the distant steel-grey Alps with snow-capped peaks. The lake, which extends to the southeast of Zurich, was formed by the river Linth, which originates from glaciers in the Glarus Alps.
Lake Zurich is surrounded on both sides by a range of wooded hills, with Albis and Zimmerberg hills on its south and Pfannenstiel hills on its north. The lake streams that flow through the city are known as Limmat, with Rapperswil for the downstream section at Seedamm and Obersee for the upstream section. They are both shaped like bananas.
Its attractiveness is accentuated by the presence of aromatic vineyards and orchards on the gentle slopes of the lake's banks. Lake Zurich, which borders Switzerland's largest city, Zurich, on its western side, is now a well-liked destination for outings.
Local Residents and foreigners from all over the globe come here to relax and enjoy a peaceful day. The waves in Zurich are known for their gentle rolling and are often associated with luxury dining and leisure. The most pleasing thing you might do is rent a boat and cruise the unspoiled lake's far-off shores.
On Lake Zurich, several firms provide cruises. A leisurely cruise offers an opportunity to see the city, the lake and its environs from a new perspective. Numerous short and lengthy cruises are available on the lake every day from the various providers. Several special gourmet cruises offer their visitors a variety of food options.
The restaurants near Lake Zurich in Switzerland provide stunning scenery, delectable cuisine, and enjoyable experiences. The area is renowned for its excellent cheese, organic meat, veggies, seafood, and wines. There are several fish restaurants on the lakeshore where you will enjoy fresh Lake Zurich fish.
Lake Constance, Switzerland
Lake Constance, which Switzerland, Germany, and Austria share, is really three separate bodies of water that are joined by the Rhine and is located in the northern foothills of the Alps. You will be astonished to know that it is the third biggest lake in Central Europe, measuring 536 square kilometres.
The 273-kilometre coastline of Lake Constance includes 72 kilometres in Switzerland. This magnificent location has various hiking and biking paths, especially along the 260-kilometre Lake Constance circular route (Bodensee Rundwanderweg).
Every year, almost 70 million people go to the lake to take advantage of the abundance of recreational opportunities and the surrounding natural flora and wildlife. In the summer, swimming, sailing, fishing, and diving are popular activities; skiing is available in the winter.
Lake Lungern, Switzerland
In Obwalden, Switzerland, there is a natural lake called Lake Lungern (sometimes spelt Lungernsee). It is surrounded by stunning nature and towering mountains. The village of Lungern is where the lake gets its name. One can spend many days visiting this region because lodging is nearby. At Lake Lungern, there is a tonne of activities available. It is an outdoor enthusiast's utopia.
The Brünig Safari Walk and Butterfly Trail are two examples of the several hiking routes in the region that winds through meadows full of flowers. From The Local Tour Inform, you can get free advice and maps. The 9-kilometre stroll around the lake is straightforward and simple. You can ride the Lungern - Turren cable car up to get a bird's eye view of the lake. Numerous hiking paths, including Schönbüel and Briezer Rothorn, begin in Turren.
Several beaches are located along Lake Lungern to die for romantic sunsets from lakeside eateries. Nothing is more soothing on a hot summer day than a dip in a mountainous lake that is crystal clean.
Switzerland will always have something to blow your mind, be it the splendid lakes, the marvellous landscapes or the mountains of Switzerland. God has bestowed this place with the best of everything, which is why it is famously titled 'Heaven On Earth'.